ACNH January 2023 Updates & Changes - New Events, Items, Critters, Villagers in January 2023 Animal Crossing
1/5/2023 11:43:27 AM
2022 is over and now we're kick starting the new year 2023, hope this year Nintendo can bring us more activities and a better gaming experience! In today's guide, we take a look at everything we can do in January, including some minor updates and changes to events! We breakdown new seasonal items, critters, ACNH weather patterns throughout the new year, and a special crafting material that will soon stop spawning. We also discuss the latest rumors surrounding ACNH new villagers coming to 2023, the unreleased villagers that have yet to return to the Animal Crossing. In the end, we cover some January 2023 items and events for Animal Crossing Pocket Camp.
ACNH January 2023 Updates & Changes - New Events, Items, Critters, Villagers in January 2023 Animal Crossing
1. January 2023 Seasonal Events (New Years Day, Lunar New Year, Carnival of Venice, Setsubun & More)
Now January 2023 is the biggest January ever, especially for those of you who have joined the community over the holidays. That's because, this is the first January since the launch of New Horizons, to see 8 Seasonal Celebrations begin this month. These include Shogatsu and New Years Day, Nanakusa Gayu, the Big Game Celebration, Seollal, the Lunar New Year, Setsubun, Groundhog Day, and even the Carnival of Venice. Many of these have been brought forward this year from February and now start in January, making it an unusually busy month for hoarding Limited-time Items. Every single Event mentioned here introduces at least 1 item, and are all available from the Nook Stop.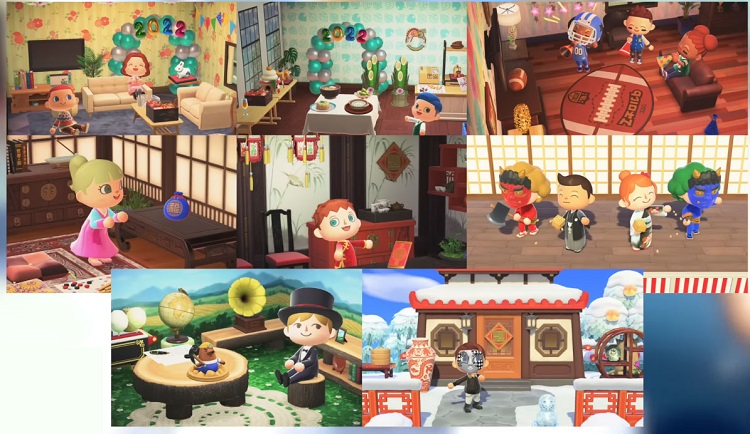 2. Stationary/Post Cards Changes for January 2023 ACNH
If you head to the Post Card stand inside Dodo Airlines, you can write letters and send gifts to pretty much anyone. But something you may have missed is that the designs available change up with Seasons and Holidays, and January 2023 is no different. With the festive period coming to a close, the Festive-Tree Card, the Holiday Card and the Warm-Sweater Card will be removed from January 10th. So if you're late sending out your Holiday Cards, do it now. But, the good news is, the next wave of Stationary will be available from January 16th, including the Chocolate-Heart Card and the Chocolate Card, in preparation for Valentines Day next month. Very efficient from the Dodo's! Anyway, sending and receiving letters is honestly a very underrated feature, so this is a great time to gift some unwanted Christmas presents to your villagers.
3. ACNH Seasonal Recipes Updates
Now with the Festive Season coming to a close, January does say goodbye to one of the more interesting Seasonal furniture sets and their crafting materials. Red, blue and gold Ornaments will no-longer spawn from January 06th, giving us just under a week to shake those Cedar trees, and collect as many Ornaments as you need. This also means their corresponding DIY Recipes, will no-longer be available either. The Festive Series is definitely one of the more exciting Seasonal Series and includes a bunch of unique items, and given it's still winter for several more weeks, you may want to try to complete it if you haven't already!
4. ACNH Bushes January 2023
In the Northern Hemisphere, the Holly Bushes have just stopped flowering which is really sad, but fitting given the Festive Season is basically over. In their place, the pink and red Camellia Bushes bloom from January 01st through to the end of March. Similarly in the Southern Hemisphere, blue and pink Hydrangea Bushes will stop flowering on January 20th, with Red and Yellow Hibiscus blooming instead, for the remaining of Summer.
5. ACNH Tourneys 2023 January
Now January marks the start of a new year, and the beginning of a new wave of Tourney's. Something newer players should probably be really excited about. On the second Saturday of January, CJ stops by to host the first Fishing Tourney of 2023. It takes place on January 14th this year, and allows players to catch fish, earn points, and redeem prizes. This event is available in both Hemisphere and offers up many Fishing Tourney-themed prizes including the Fresh Cooler, the Fish Rug and the Tackle Bag, amongst others. And if that wasn't enough for players in the Southern Hemisphere, the Summer Bug-Offs continue in January, with the first Bug-Off of 2023 taking place on the third Saturday of January, which is January 21st. On this day, Flick will stop by to host the tourney, and once again offer up the chance of catching Bugs and redeeming prizes. Some of the items available include the Artisanal Bug Cage, the Termite Mound and the Butterfly Backpack, amongst others. Plus, both Tourneys offer up 1 of 3 Trophies, depending on how well you do, during the Events.
6. ACNH Critters January 2023
Something else you may want to focus on during the month of January is of course catching critters, including bugs, fish and deep sea creatures. Sadly, with it being the middle of Winter, there are no changes for the Northern Hemisphere, but for anyone playing in the Southern Hemisphere, 21 new critters are available. There's too many to list right now, but the Cicada Shell, the Sweet Fish and the Moon Jelly Fish will begin spawning this month, to name only a few.
7. New Villagers in 2023 ACNH
We can know that the Legend of Zelda Tears of the Kingdom, which is set to be Nintendo's biggest Switch game of 2023, and the long-awaited sequel to the wildly popular Breath of the Wild, is finally releasing on Switch this May. This could be the time Nintendo finally decide some of those unreleased Zelda-inspired Villagers will make their way back to the Animal Crossing. These include Wolf Link, or W. Link, a smug wolf, Medli, a normal Bird, Ganon, a cranky Pig and Epona, a peppy horse. All of which are inspired by characters from the Zelda franchise. Now, this has been one of those rumours for some time. This could happen, it's still nothing more than something the community simply hopes will happen alongside the launch of Zelda.
January 2023 Items in Animal Crossing Pocket Camp
Blathers's zen bus stop (January 1st 2023)

New camper skin (January 2nd 2023)

Tons of reissue items (January 3rd 2023)

4 new villagers

New gift

New stickers

More to come
So that's all about the Animal Crossing January updates 2023. We can know that January is surprisingly busy, most notably because half of February's Seasonal events have been brought forward this year, and now begin in January. But what Seasonal event are you most looking forward to? Are you excited for a specific ACNH seasonal event? Are you Ready to meet new villagers in Animal Crossing 2023?