Animal Crossing New Horizons June Fish and Bugs - New ACNH Fish and Bugs Coming in June
6/4/2020 4:15:50 PM
Due to the seasonal features in Animal Crossing like real nature, there will be a batch of new fish and bugs arrive and others leave in a period of time. What new ACNH fish and bugs coming in June? If you want to catch as many fish and bugs as in the game to earn Animal Crossing bells or complete the museum, you should know the detailed information about the creature, especially where and when to catch them. Here you can check out the list of Animal Crossing New Horizons June fish and bugs for Northern Hemisphere and Southern Hemisphere, plus their catch time, location, and value.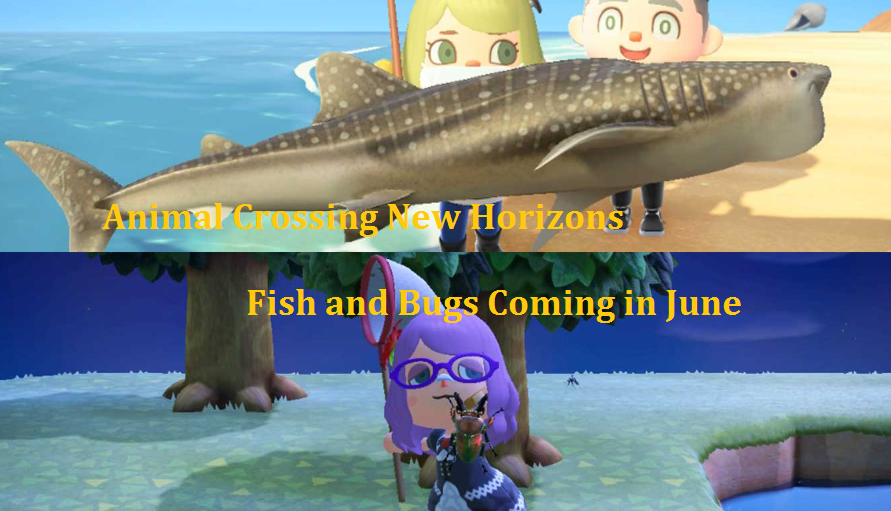 Animal Crossing New Horizons June Fish and Bugs Northern Hemisphere
In Animal Crossing New Horizons, new ACNH fish and bug will arrive on your island each month. You can catch the June fish and bugs to complete the Critterpedia and donate any new finds to Blathers at Museum. Most creatures will be available for several months but some examples can only be found in one month, such as Firefly. You have enough time to catch anyone of them. Once the time out, the Animal Crossing fish and bugs will leave your island. If you miss one type of bug or fish, be patient to wait for it to come again.
List of ACNH fish in June
1. Giant Snakehead
- Time: 9 AM - 4 PM
- Location: ponds
- Price: 5, 500 bells
2. Tilapia
- Time: all day
- Location: rivers
- Price: 800 bells
3. Piranha
- Time: 9 AM - 4 PM, 9 PM - 4 AM
- Location: rivers
- Price: 2, 500 bells
4. Arowana
- Time: 4 PM - 9 AM
- Location: rivers
- Price: 10, 000 bells
5. Dorado
- Time: 4 AM - 9 PM
- Location: rivers
- Price: 15, 000 bells
6. Gar
- Time: 4 PM - 9 AM
- Location: ponds
- Price: 6, 000 bells
7. Arapaima
- Time: 4 PM - 9 AM
- Location: rivers
- Price: 10, 000 bells
8. Saddled Bichir
- Time: 9 PM - 4 AM
- Location: rivers
- Price: 4, 000 bells
9. Ribbon Eel
- Time: all day
- Location: sea
- Price: 600 bells
10. Saw Shark
- Time: 4 PM - 9 AM
- Location: sea
- Price: 12, 000 bells
11. Hammerhead Shark
- Time: 4 PM - 9 AM
- Location: sea
- Price: 8, 000 bells
12. Great White Shark
- Time: 4 PM - 9 AM
- Location: sea
- Price: 15, 000 bells
13. Whale Shark
- Time: all day
- Location: sea
- Price: 13, 000 bells
14. Suckerfish
- Time: all day
- Location: sea
- Price: 1, 500 bells
List of ACNH bugs in June
1. Emperor Butterfly
- Time: 5 PM - 8 AM
- Location: in the air
- Price: 4, 000 bells
2. Firefly
- Time: 7 PM - 4 AM
- Location: in the air
- Price: 300 bells
3. Drone Beetle
- Time: all day
- Location: on trees
- Price: 200 bells
4. Goliath Beetle
- Time: 5 PM - 8 AM
- Location: on palm trees
- Price: 8, 000 bells
5. Rainbow Stag
- Time: 7 PM - 8 AM
- Location: on trees
- Price: 6, 000 bells
6. Mosquito
- Time: 5 PM - 4 AM
- Location: in the air
- Price: 130 bells
Animal Crossing New Horizons June Fish and Bugs Southern Hemisphere
List of ACNH fish in June
1. Pond Smelt
- Time: all day
- Location: rivers
- Price: 500 bells
2. Stringfish
- Time: 4 PM - 9 AM
- Location: clifftop rivers
- Price: 15, 000 bells
3. Sea Butterfly
- Time: all day
- Location: sea
- Price: 1, 000 bells
4. Squid
- Time: all day
- Location: sea
- Price: 500 bells
5. Oarfish
- Time: all day
- Location: sea
- Price: 9, 000 bells
List of ACNH bugs in June
1. Emperor Butterfly
- Time: 5 PM - 8 AM
- Location: in the air
- Price: 4, 000 bells
2. Rajah Brooke's Birdwing
- Time: 8 AM - 5 PM
- Location: in the air
- Price: 2, 500 bells
3. Dung Beetle
- Time: all day
- Location: rolling snowballs on ground
- Price: 3, 000 bells