10 Most Hated Villagers in Animal Crossing New Horizons for June 2020 - Worst ACNH Villagers
6/18/2020 4:01:29 PM
There are near 400 possible villagers to encounter in Animal Crossing. Other than the best villagers to have, people also want to know the Animal Crossing New Horizons worst villagers, to avoid invite them to their islands or remove them as early as possible. Here mtmmo.com presents the list of top 10 Animal Crossing most disliked villagers and ACNH villager tier list with values, hope to help you make a perfect island.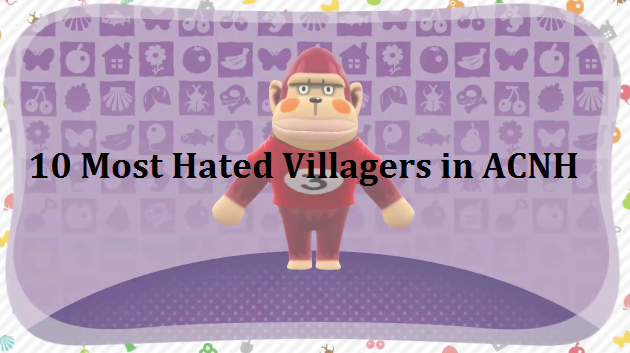 Related Read: How to Get Rid of Villagers in Animal Crossing New Horizons
Animal Crossing New Horizons Villager Tier List
Every player has his own most wanted and most hated villagers in Animal Crossing New Horizons, the villager tier list of ANIMALCROSSINGPORTAL divides the villagers into six levels based on the votes from users, the tier 1 means the most popular and valuable and the tier 6 often contains the worst ACNH villagers that don't need bells to buy. The list will update twice a month, every 15th, and the end of the month (30th or 31st), so you can check the popularity list at the right time and make the best villager trade.
ACNH Villager Tier List and Values
Click here to check the full list of Animal Crossing villager popularity list and vote for June's poll.
Tier 1 - Max worth 15-20M Animal Crossing Bells/1000 Nook Miles Ticket
Tier 2 - Max worth 8M Bells/100 NMT
Tier 3 - Max worth 5M Bells/50 NMT
Tier 4 - Max worth 1 M Bells/25 NMT
Tier 5 - Max worth 250K Bells/10 NMT
Tier 6 - Often giveaways
Top 10 Most Hated Villagers in Animal Crossing New Horizons for June 2020
New result of voting your favorite ACNH villagers has been updated, players often like cute, sweet and supportive characters, now here is the list of top 10 Animal Crossing least popular villagers in June. Who is the most hated villager by players and why he is unpopular? You can find some explanations here.
Top 1 - Boyd
The least popular villager in New Horizons voted by Animal Crossing fans is Boyd, a cranky gorilla villager, he will act to be rude at the start, but try to do tasks and he will be a bit nicer. His furrowed brow may be the thing that turns people off because it makes him appear constantly angry or the fact that he likes to wander around the town with his bot hanging out. Boyd has a custom house looks pretty cool and full of cold hard AC items and Animal Crossing furniture.
Top 2 - Maelle
The top 2 most hated ACNH villager is Maelle, a snooty duck, the snooty personality means her make-up and gossiping. Maelle will first appear rude and arrogant towards the player, often talking about herself and her own experiences, also discuss the style and appearance of other villagers. What makes people duck for cover when they see her waddling their way could be her snooty personality type, but this brash attitude will often soften if you speak to her enough. Additionally, her physical appearance looks a little bit odd.
Top 3 - Croque
Animal Crossing Croque is a cranky frog villager, usually appear in a grouchy or agitated mood and is more difficult to befriend than most other villager types, the villagers with cranky personality also tend to become angry if the player disagrees with them or refuses to do a favor. His constant anger and irritated facial expressions really seal the deal giving him a rather unpleasant vibe. Behind the unwelcoming exterior lies quite a creative character, he also has a rather awesome custom home interior. If this unfriendly frog sends you a letter to ask if he can move on to your Island, make sure you rip it up as soon as possible.
Top 4 - Harry
Animal Crossing Harry is the species hippo with a jock personality, hyperactive and motivated but often come across as egotistical and dense. Jock villagers will be conflict with the lifestyle of lazy villagers and also difficult to get along with snooty animals. When he opens his mouth, his incredibly hairy beard makes his face looks like an armpit is probably why most people want to avoid him, in real-life, hippos generally have very little hair on their bodies, his features are just kind of unnatural and is a rather unsettling overall image.
Top 5 - Bitty
Animal Crossing Bitty is also a hippo, with a snooty personality as well. Bitty will not get along with lazy villagers and jock villagers. Betty has bright colors, pink body, purple eye shadow and three small eyelashes on each eye. She has a big love of fashion but it seems like being fashionable just isn't in her jeans, and she's more of a coat hanger than she is a full-on model villager.
Top 6 - Paula
Animal Crossing Paula is a brown bear with sisterly personality, she has blonde hair and wears a white and brown striped headband. What makes her at the very bottom of the Animal Crossing villager popularity list? Maybe it's just that she's pretty much unremarkable in every way. The inside of her ears, muzzle, and paws are all light beige, even her custom house is boring with standard wood furniture arranged neatly around the room and only the most subtle of starry wallpaper tying everything together, it's just so run-of-the-mill. But she's kind and caring and always puts your needs first.
Top 7 - Rizzo
Animal Crossing Rizzo is a cranky mouse villager. He will find it hard to socialize with peppy villagers, as they will seem overstimulated or immature. Rizzo has an eastern garden-themed house with no music besides the sounds his gyroids make. Rizzo's shifty squint with his half-shut eyes and raised eyebrows creating quite the suspicious and untrustworthy look.
Top 8 - Gigi
Animal Crossing Gigi is a snooty frog. Gigi is a quite classy lady but still can't afford expensive things. Her purple color clashes quite badly with her blonde hair and garish green eyeshadow, this makes her really hard to look at, combine that with those sinister sparkly eyes and her odd human lips which are frozen in a perpetual pucker, people don't want to invite the villager to their island.
Top 9 - T-Bone
Animal Crossing T-Bone is a cranky bull villager, who is a bluish-gray bull with yellow horns, kind of like a buffalo. T-Bone's house is filled with green plants in the interior, and his wallpaper and flooring are both bamboo-like items. Similar to other cranky villagers, T-Bone will be mean and rude to the player at the first.
Top 10 - Snooty
Animal Crossing Snooty is a snooty anteater villager, as her name suggests, her will appear classy and chic but rude, belittling, and snobbish when talking to other villagers, and often criticize their dress sense or fashion. The tier six villagers are full of cranky and snooty personality, people would dislike the disposition because default facial expression which is really unfriendly.