Animal Crossing New Horizons Ladder Guide: How To Get The Ladder DIY Recipe ACNH
6/18/2020 5:42:01 PM
Want to climb up higher areas of elevation to explore? It's time to finally use the brand new ladder tool in Animal Crossing New Horizons! Today we are going to be cover how to unlock a ladder & craft ladder recipe in Animal Crossing New Horizons as many areas of both your starting island and resource islands are elevated out of reach until you can climb up using a ladder.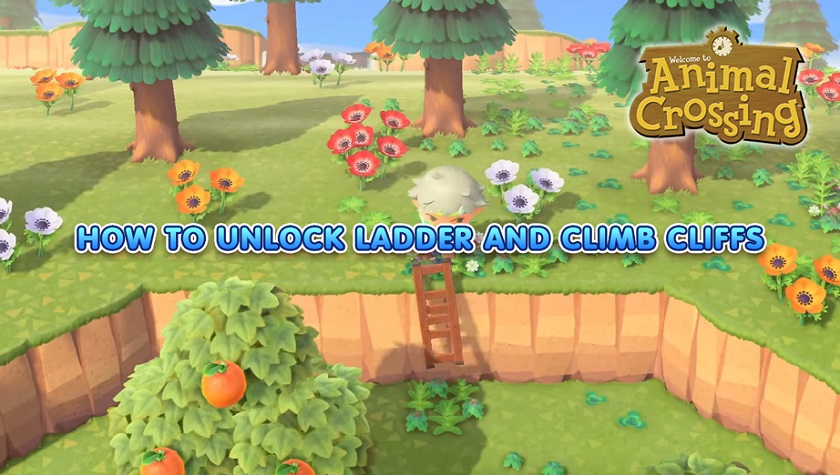 Animal Crossing New Horizons Ladder Guide - Use, Craft & Unlock Ladder ACNH
In Animal Crossing New Horizons, ladder is a very important tool: in the early stage of changing terrain, we want to climb up higher areas of elevation. We usually need to use ladder to climb up, but many people do not know how to get ladder ACNH and when can you get a ladder in Animal Crossing. As we all know that in the New Horizons, we need the corresponding recipe to make the props, and the ladder crafting recipe can be obtained through the following methods - one is to complete Tom Nook's tasks, another is to add friends online.
How Do You Get The Ladder Crafting Recipe - Add Friends Online
The first and easiest way to get a ladder in Animal Crossing New Horizons is to add friends online, so that you can go to the friend's island where the store is built to buy the ladder recipe in Animal Crossing New Horizons directly.
How Do You Unlock The Ladder Recipe - Complete Nook's Task
In the game, we can unlock the ladder recipe on the third day. To unlock the recipe for the ladder ACNH, we need to complete the pre-task first.
1. ACNH Unlock Ladder Recipe - Invite Villagers To Your Island
Start the process off by going to the shop and you get the shop by paying off your Island package in Nook Miles with Tom Nook. So you just need to complete Nook Miles challenges to be able to accrue enough Nook Miles to be able to pay off the island and then Tom Nook will give you the opportunity to become a homeowner. Now that costs 97,000 bells, but he doesn't on this loan deal which you can do instantly and get yourself a house in the same process. You can fly to another island with Nook Miles Tickets ACNH and recruit new residents to your island. You'll need to visit three different islands and invite three different villagers to your island to trigger the ability to build the shop.
2. ACNH Unlock Ladder Recipe - Open Nook's Cranny
The next day, Timmy Nook will let you know about his ambition to build his own shop. He's looking to you to provide the construction materials: 30 wood, 30 softwood and 30 hardwoods and then 30 iron nuggets to be able to complete that project. Once you've done that, the shop build will start and the build of your house will take a whole day to complete, so you can time travel if you wanted to speed that process up.
3. ACNH Unlock Ladder Recipe Step - Craft A Bridge
On the next day that the shop has built, Tom Nook will receive a call letting him know that those three villagers you invited to your island want to move to the area. He wants to make sure it will be easy for the incoming villagers to get around and that there will be enough space for their homes. His solution is that you have to build the bridge for them the following morning.
He'll give you the recipe for a bridge construction kit and you'll need to craft it using four log stakes, four clay, and four stone, and stone can just be mined from any other rocks around the place, just need to hit it with an axe or a shovel and then the log stakes can be constructed with woods. Note that this recipe will disappear from your workbench list once you've created the bridge, so be sure to scout around your island for a good place to place ladder Animal Crossing.
4. ACNH Unlock Ladder Recipe - Prepare Plots For Your Incoming New Residents
Now it's time to build them all a house or set up plot for that, so you just follow that process through find yourself a few plots and start placing the housing kits and then once you've placed the second of them in, Tom calls you and says he needs pretty flowers from up on the cliff and as a result he gives you the AC ladder recipe which you'll be able to use to get up there.
How To Craft Ladder Tool In Animal Crossing New Horizons
4 Wood

4 Hardwood

4 Softwood
You can acquire all three types of wood needed for the ladder tool by hitting a tree with either the Flimsy Axe or Stone Axe, but only once per day. Which type of wood that drops each time is completely random, so keep trying to get them all.
How To Use The Ladder ACNH
Like most tools in Animal Crossing: New Horizons, the ladder can be equipped from either your inventory pockets or your tool wheel, if you have it. Then, just run up to any cliff (whether you're scaling it or want to climb down) and press A to use it. Make sure you bring it every time you go to a resource island, because there's always stuff up top.
And that's everything you need to know about how to climb and how to get the ladder in Animal Crossing new horizons, hopefully the article helps you get the job done.