Animal Crossing New Horizons Dream Suite, Save Data Transfer, New Vegetables & More Upcoming Features
7/11/2020 3:04:52 PM
With the Animal Crossing New Horizons Summer Update first wave has been out for almost a week, the data miners have obviously been trying to get as much new information as they can from it. Some new upcoming ACNH features are revealed this time, covering Dream Suite, Game Data Save, New Plants (Vegetables) and more exciting unreleased information!
Animal Crossing New Horizons New Unreleased Features Revealed From Summer Update
As you know every time there's an update, data miners start digging through the game's code monitoring any changes from previous updates to see what they can find, usually is new algorithms for how things work in the game or hints at upcoming features that may be revealed in the near future. Since the launch of Animal Crossing New Horizons, the data mines have been very successful in confirming things, like leaf and the bushes being added to new horizons back in the spring as well as red and the artwork and most recently revealing diving and the sea creatures would eventually be added. So it's no surprise that the latest summer update that finally introduced these swimming and diving mechanics. Amongst other things has revealed even more potential features that may be added to ACNH in a future update. So today we are discussing the latest unreleased Animal Crossing New Horizons features combining what we already knew with the latest data mine reveals. Thanks to the data miner: Ninji and NWplayer123 posted their discoveries on Twitter, which makes us easily to sum up the blow information for you.
Animal Crossing Dream Suite Building Confirmed
The first major thing to talk about is more dream sweet references have been found. If you weren't aware previously ninja had mentioned why they thought the dream suite would be returning based on what they had found in the code, however now, NWplayer123 has shown that Luna specifically has been mentioned in the code which is extremely exciting because this will hopefully all confirmed the return of the much-beloved dream suite.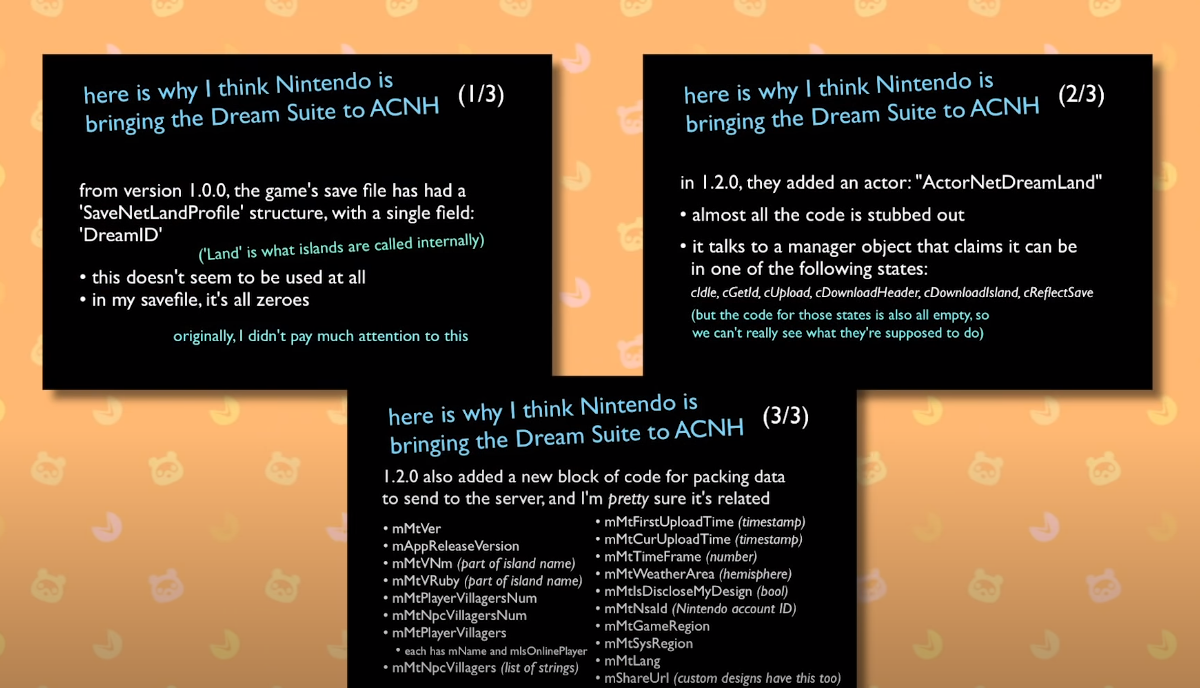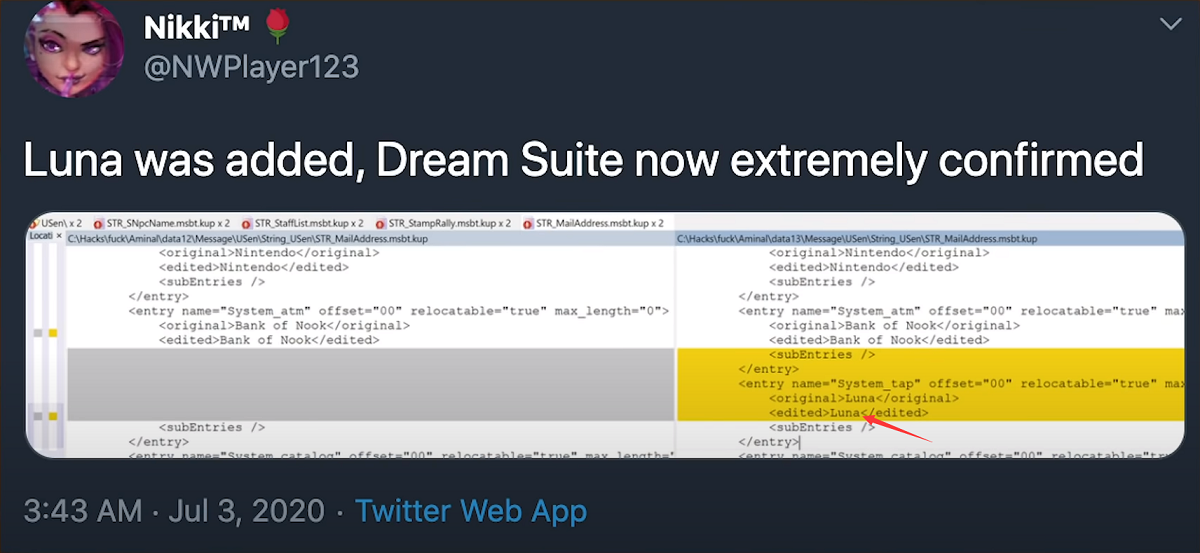 What is Dream Suite in Animal Crossing? If you don't know what the dream suite is, by the way, it was a feature in new leaf that allowed you to visit other people's towns without them having to be online, providing the person has set up their town in their dream suite. The fact Luna has been mentioned by name and more references have been found as a good sign it could be coming soon.
When will the Dream Suite release in Animal Crossing New Horizons? Have not confirmed yet, but we do know wave 2 of the ACNH Summer Update is due to release sometime in early August, so we could see it in the Animal Crossing August update.
ACNH Game Data Save and Transfer
The next big thing is more of an update into the progress that's been made in to save data backup. As you probably know the game doesn't support a Nintendo online cloud save data functionality, which is terrifying but we've all accepted our fate by now. But Nintendo did say that later in the year we'd be able to recover data from the server if our consoles were lost stolen or broken, so hopefully this next bit will mean we'll get more information on this soon. Nintendo also said that save data transfers were not possible whether a function specifically for Animal Crossing was planned for later this year, it's possible we've reached later this year. Both data miners revealed there is a string of texts exclusively in Japanese which refers to a data transfer method.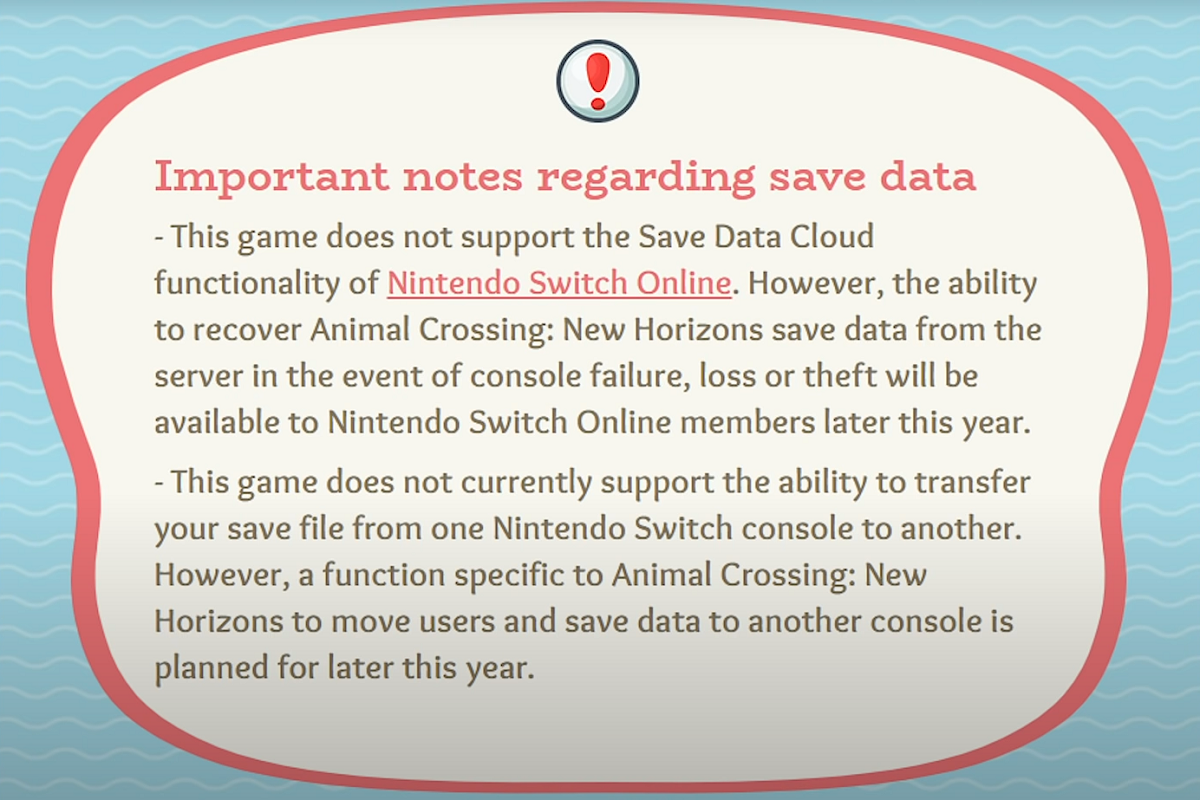 It basically recognizes there is a save data for the game on your switch and asks if you want to move it to another console for a moving application, where it says okay. I believe this is a text string for the user to say whether or not you want it to go ahead like saying yes or no when you connect online at the airport. But this is pretty cool knowing something like this could be coming soon.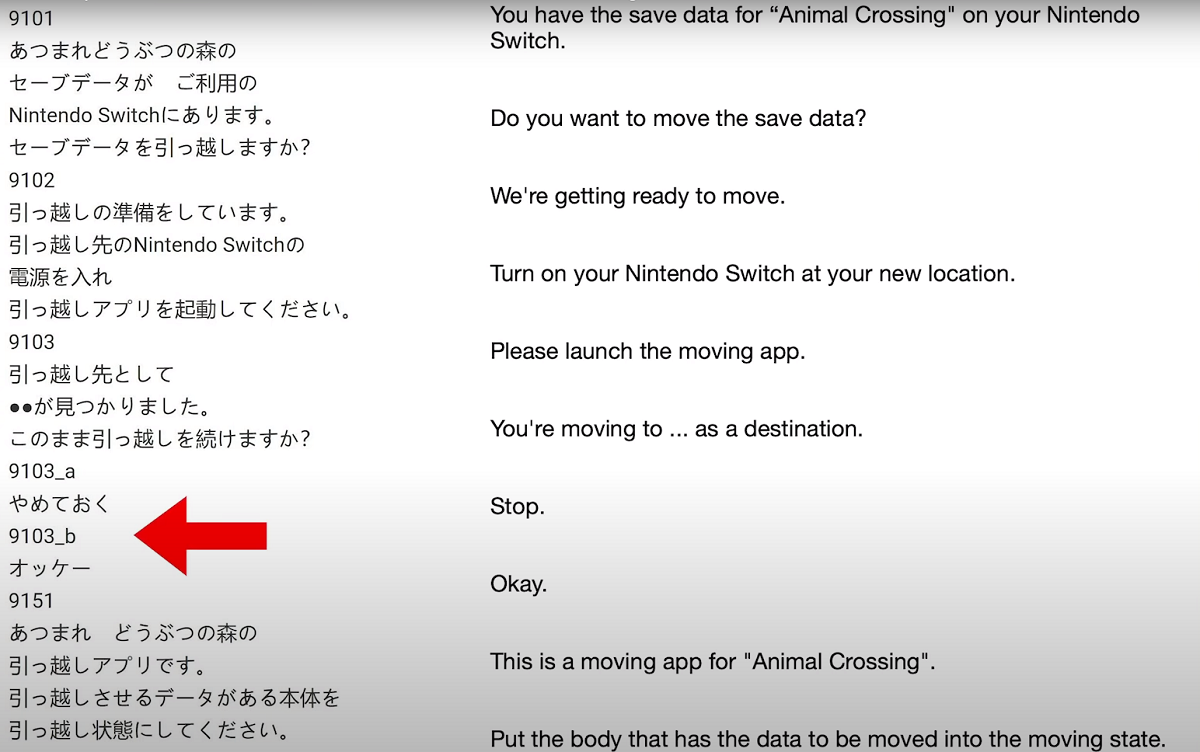 New ACNH Vegetables Precess & Plants
One last kind of new thing is regarding the vegetable text ninja found in April. If you didn't know about this it was that a new plant type had been discovered with the name vegetables, and there were six round - tomatoes, potatoes, carrots, pumpkins, wheat, and sugar. This was found in a loop for growing plants whether is this a vegetable text string, it was rather exciting but if you also hadn't heard Nintendo are beginning to cover their tracks and hide certain things in the code and vegetables is apparently one of them. We know there is a function to grow a vegetable and pick it up, so hopefully this means there will be a new feature surrounding these new things, like maybe a farming one or something. That would be really good for an autumnal update to fit in with the harvest season.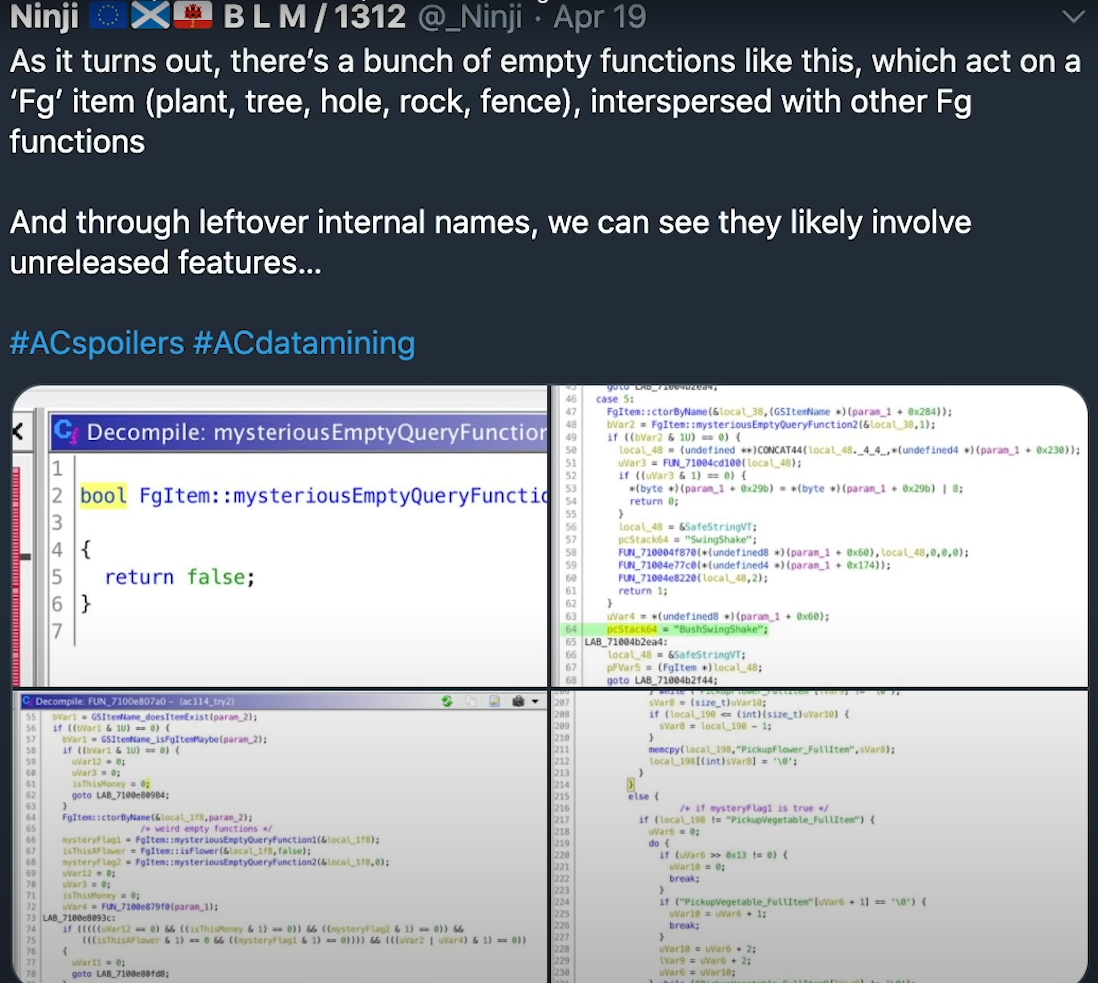 Animal Crossing Summer Updates New Features Updated
There are a few other things that have changed in the update:
Weather patterns have now been slightly updated, giving you more hours in which stars can appear on the Fine02 and Fine06 patterns (2 of the 3 kinds of light showers)

Saharah can now sell multiple Animal Crossing New Horizons items at once. I don't think this means that Sahara will now sell you multiple wallpapers or anything, she'll still sell one of each to you per visit but it just means you won't have to reinitiate the conversation with her.

The way meteor showers work is also changed. Now stars appear in all hours from 7pm-4am, not just those with clear/fine weather.

Finally, there happen some more adjustments to how visiting MPC's work on screen is Ninh Gees diagram of the adjustments for your viewing pleasure. The gist is that they have adjusted it, so you won't have to go weeks without seeing a certain visitor like it has been. Each day of the week should have the chance of being someone you haven't seen yet. The exception being wisp who can show up in the week as a bonus appearance despite having a set day, and Daisy Mae who will show up on Sundays as usual. Celeste is also an exception to the rule due to her being tied to meteor shower nights and will show up if you have a meteor shower in the week and we'll pick a heavy one over a lights one if you have multiple.