New ACNH Inventory Expansion Tips - How to Increase Storage in Animal Crossing New Horizons
7/27/2020 2:13:29 PM
With so many creatures, recipes, materials, and more useful items to collect in Animal Crossing, it's easy to fill all of the slots in your pockets, then how to upgrade the inventory space and how to increase storage in Animal Crossing New Horizons? Follow us to learn about a new tip for ACNH inventory expansion and the basics about inventory and storage upgrades.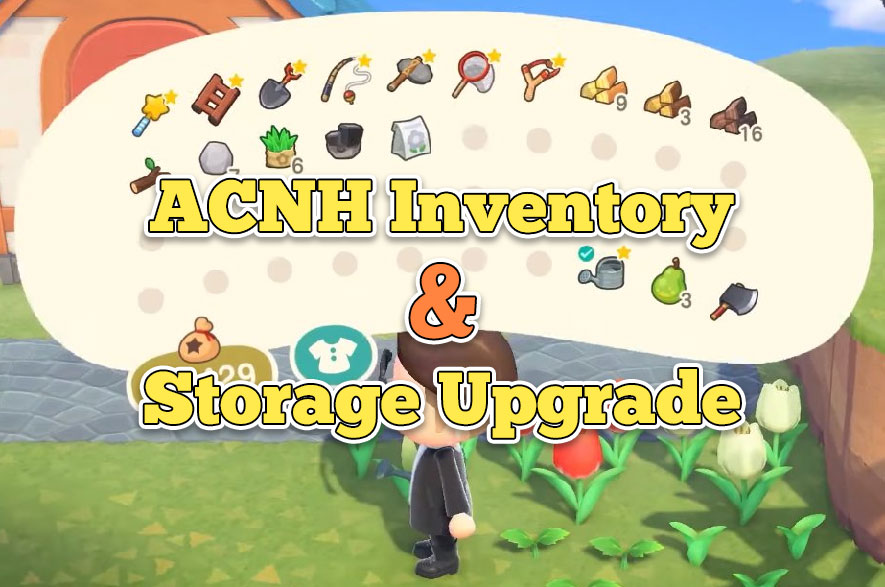 New ACNH Inventory Expansion Tips
Too many duplicate DIY recipes in Animal Crossing New Horizons will take a lot of ACNH storage space, here is a trick for how to deal with your recipes if you have problems with them. It can also be used for other Animal Crossing items.
1. First to open your inventory. What you should do is place your biggest table, which is going to be the most effective table, such as the ACNH Diner Dining Table, you can use another table.
2. Click one of your duplicate Animal Crossing DIY recipes or the one that you used on the workbench for crafting, select Drop Item, then the recipe will drop on one side of the table. Go to the other side of the table and repeat, you can put four ACNH recipes on the Diner Dining Table. A smaller table may hold only two recipes. If you have two dining tables, eight of the recipes can be packed, which allows you to have greater inventory space.
3. Take out your Nook Phone, and open up the Island Designer app, choose Request cleanup, you can utilize Resident Services, use the cleanup service to send items around you to the recycle box, the Recycle box inside Resident Services can hold 80 items in New Horizons, 60 of them are visible and the other 20 are hidden. Please note only items and fencing will be sent to the recycle box. You can take the item back from the box when you require to use it.
Beginners Tips for How to Upgrade Inventory Space in Animal Crossing New Horizons
The inventory or pocket in Animal Crossing New Horizons is used to hold items including fish, bugs, flowers, fruits, recipes, crafting materials, clothing, furniture and more, but at the beginning of the game, players have only two lines of slots to store the items you catch or collect, in a total count of 20, with the progression in the game, you are going to want to expand or upgrade your pockets in ACNH.
There are two separate upgrades you can unlock: Pocket Organization Guide and Ultimate Pocket Stuffing, requires 5000 and 8000 Nook Miles, respectively. You can purchase these two upgrades from the Nook Stop, then a third row and a fourth row of 10 more new slots will be added into your inventory space. Finally, you can get a maximum of 40 slots in the pockets.
How to Increase Storage in Animal Crossing New Horizons
To manage your inventory in a more convenient way, there is a storage space in New Horizons, which is separate from inventory space and house, you need to press the right button for getting into the storage when you inside the house. Besides the "Everything" tab, there are also 9 categories for storing different types of ACNH items, including Housewares, Miscellaneous, Wall-mounted, Wallpaper, Floors, Rug, Fashion Items, Creatures, and Others. The storage will automatically expand when you upgrade your house. When you living in a tent instead of the house, you don't have access to the storage space.
House built - 80 storage spaces
First house upgrade - 120 storage spaces
Second house upgrade - 240 storage spaces
Third house upgrade - 320 storage spaces
Fourth house upgrade - 400 storage spaces
Fifth house upgrade - 800 storage spaces
Sixth house upgrade - 1,600 storage spaces