Animal Crossing New Horizons Dream Island Tips: How To Get Dream Address Code & Access Dream Suite?
7/30/2020 12:31:38 PM
The most rumored Dream Suite comes back to Animal Crossing New Horizons as the Dream Island event! Find out everything we know about this new ACNH Dream Suite, which will be available with the July 30 Summer update.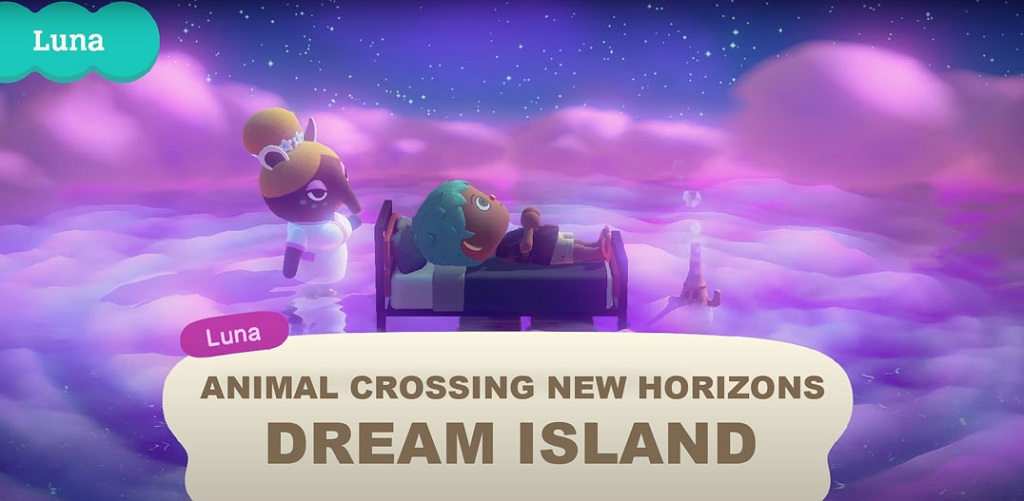 Animal Crossing New Horizons Dream Island (Dream Suite)
As expected, DREAM SUITE, which has been rumored since April, finally returned to Animal Crossing New Horizons in the ACNH summer update wave 2. Like other traditional Animal Crossing events that have been added to New Horizons, DREAM SUITE inherits the essence of the old version and also are refurbished with new features, so it is renamed to DREAM ISLAND.
Animal Crossing New Horizons Dream Island (Dream Suite) Start Time
Starting from July 30 after the ACNH Summer Update Wave 2 update has been deployed.
How Does Dream Island Work in ANCH?
Dream Suite is actually the ability for players to visit other players' islands in a dream. You could visit other players towns without actually going online with them so it was effectively a way to explore their town without actually affecting anything. Sleep in a bed in your home and you'll be visited by Luna! Visit someone else's island as a dream or share yours with a Dream Address.
How To Access Dream Visiting Others' Island?
1. Active Nintendo Switch Online Membership to upload your island to Nintendo's servers and get a Dream Address code

2. Have a bed furniture item in your house (rent is not feasible)

3. Go to take a nap or sleep on the bed and meet Luna, take her assist to visit someone else's island

4. If you want to someone else sleepwalk in your island, share your Dream Address code to him/her.

5. You also can visit other islands around the world easily in the same manner by entering another Dream Address code.
How To Get Dream Address Code IDs In Animal Crossing New Horizons?
1. Active Nintendo Switch Online subscription service

2. Upload your island to Nintendo's servers

3. A unique Dream Address code will be given to you after uploading your island

4. Share your dream address code to others
What To Get From Dream Island in Animal Crossing?
1. While you're visiting someone else's island in a dream, you can meet the Resident Representative of that island and take home a custom design made by them in the Custom Design Portal.

2. Dream Island makes you view and explore island design ideas to use on your own island easier and faster.
5 Useful Animal Crossing New Horizons Dream Island Tips
Here are five dream island tips from Youtuher Crossing Channel's video which you can use to make sure players have the best time possible when visiting your island within a dream:
1. Leave some tools out near resident services, so that players can navigate your island easily. An island that is incredibly difficult to navigate won't be much fun for potential visitors, so be sure to help them out where you can. You can even leave a shovel if you want players to dig up some more hidden items around your dream island. Remember nothing they dig up will affect your actual island, so feel free to be as creative as you want. When it comes to hiding things and making your island interesting to navigate around. For a bonus effect consider wrapping up your tools in gift wrapping to make them even more inviting to potential visitors.

2. If you've got some of cupcakes or maybe even some eggs, why not leave them around so players can pick them up and have a refreshing little treat once again. Even if they eat these in a dream, they won't actually be eating the item you've put down, so don't worry about losing it or going to waste in dreams cupcakes are unlimited. Once you get a hold of some of the cute new items like balloons and pinwheels, you could leave those around too so that visitors can have something fun to hold on to whilst exploring your dream island.

3. If your island has a strong theme, it's always a good idea to leave an outfit out somewhere so that players can pick it up and dress up with it. For example, if you have a city theme maybe give the player a business suit to wear as their themed outfit whilst exploring your dream island. Dressing up in a dream is always a lot of fun so it's definitely something to do for your visitors. It's also important to dress up your character how you're dressed, when you save your dream island is how you will appear to visitors, so be sure to dress your best and show yourself off how you want people to see you.

4. When you save your dream island with Luna, your island will be saved at whatever time you're playing in, so for example if you save at 12pm players who visit will always see your island at 12pm until you save it again at another time. You may want to consider this when saving so visitors can get the full effect of your island. For example cities may want to save at night and other people out there may want to save in the evening to have a beautiful sunset shown off. Ultimately it's up to you when you want to save your island just remember that when you save it is when people will get their impression of it.

5. Consider making a second player so that visitors can have two or more houses to visit on their trip to your dream island. It'll give them more to do and with a second home you can make some pretty cool and unique themes such as a resort hotel or something similar. A lot of the creepy dream towns from animal crossing new leaf utilize second characters really well, so you may want to do this just to have your island feel a bit bigger and a bit more creative. To do this, you can create a new profile on your switch and load up new horizons through that.