Animal Crossing New Horizons Halloween Event - Date, Jack, Creepy & Spooky Items and Rewards
9/7/2020 3:40:57 PM
Halloween is one of the major in-game events of Animal Crossing New Horizon in Autumn, similar to other holiday events, it will bring brand new content to the game such as the Halloween themed free rewards, limited-time pumpkin, and creepy items. In ACNH Halloween event guide, we present all details of the event you should know.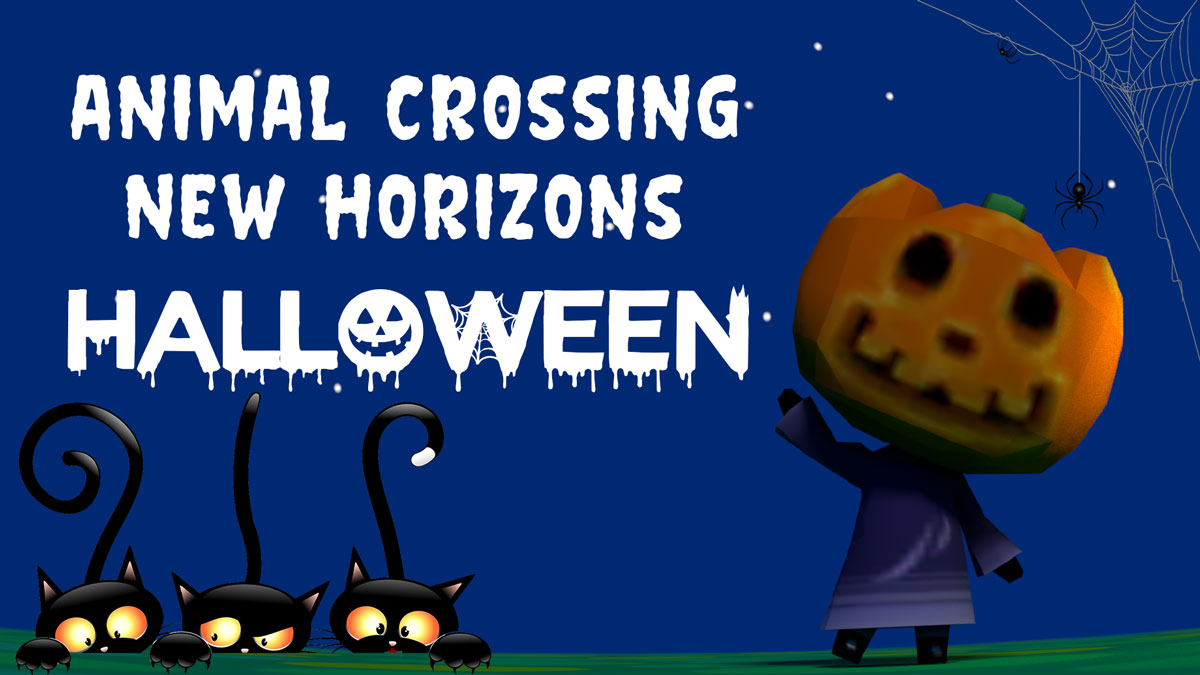 ACNH Halloween Event Star Date & Details
As you know, Nintendo always adds new content to Animal Crossing New Horizons in accordance with limited-time festivals to keep the game fresh. So when Halloween comes, we can also celebrate the holiday in ACNH. And like all major events in Animal Crossing, a new character - Jack will be added to interact with the player and distribute Halloween prizes and time-limited items.
Animal Crossing New Horizons Halloween Event Release Date
ACNH Halloween Event Start Time: 6:00 pm on October 31st

ACNH Halloween Jack Appear Time: October 1st (Prepare for Halloween)
Animal Crossing New Horizons Halloween Event Content
ACNH Jack's Halloween Trick or Treat
From the beginning of October, you will be able to meet Jack in your city. He will ask you to help him collect candy on Halloween by scaring the villagers. You have all the month of October to purchase the series of masks sold at the Able Sisters, for 1,031 Animal Crossing bells each.
Tip: Do not spend your bells by buying candies from Timmy and Tommy. You'll get enough of it by participating in the mini-games on D-Day.
Scare Your Villagers To Win Lollipops
The ACNH Halloween festivities begin on October 31 at 6:00 p.m. From then on, you can scare the inhabitants who have stayed at home to stock up on sweets. And be approached by the disguised villagers who roam the city in search of sweets and bad tricks to do.
Accomplish your mission for Jack! Go scare the inhabitants back home by putting on the mask that scares them! If you go to their house wearing the correct mask, you will get a lollipop, Jack's favorite treat. Otherwise, the villager will offer you a mini-game, which will earn you a candy if you win it.
Scared By Villagers - Give Candy or Play Mini-Games To Win
Walk around town, and prepare to be harassed. While moving in town, you will be approached by the villagers disguised in search of candies,
One of two things: either you give them what they ask for, and you will get a clue (often imprecise, but sometimes really useful) on the fears of the villagers who remain at home.
Either you keep your candies and accept the "spell"! The villager will then offer you a mini-game (a game of mime or rock-paper-scissors), which will bring you a candy if you win it.
Minigames you can play to win Candy:
Rock-paper-scissors - The classic game. VIllagers choose randomly.

Made-ya-look - Look the same way as a villager using the D-pad and you will win. Again, random.

Charades - You can actually win this. Follow the villagers' clues and choose the answer based on their emotions and clues. Some correct answers include Fireplace, Superhero and Teapot.
On the other hand, if you lose, be prepared for a trick:
See yourself wearing a pumpkin identical to the one worn by the winner of the mini-game.

Find a shabby floor or wall in your inventory, which villagers will only take back in exchange for a recycling package.

Find a Halloween smart box in your inventory.

See your outfit transformed into a patched garment.
Tips: Avoid wearing Carla's witchy dress, which costs the eyes of the head. Rather wear a pattern, which will make you immune to the trick of "patched clothing". And provide a trash can to get rid of seedy ACNH items without paying.
Exchange Halloween-themed Creepy Items/Spooky furniture From Jack With Lollipops
Find your master and flood him with lollipops! All you have to do is bring your loot to Jack! He will always exchange a lollipop for a piece of furniture from the Spooky Series.
A candy will allow you to obtain, according to your choice, a mask, or a piece of furniture. Most of the time, this is Halloween Series furniture, but hopefully, you'll get a Creepy Series furniture in exchange for your candy!

Do you wish to parade decked out in the same pumpkin as your Lord and Master? Just talk to him and refuse to give him candy so that he can dress your head with the coveted pumpkin.

The only problem? Jack will disappear after each given candy, and you will have to go looking for it again.
Animal Crossing New Horizons Halloween Items to Collect During Event
Halloween is the time to get your hands on some special furniture. Those of the Halloween Series are on sale throughout the month of October at Timmy and Tommy, for 4,124 bells. On the other hand, the Spooky Series can only be obtained by bribing Jack.
ACNH Creepy Theme Items
How To Get: Exchange From Jack With Lollipops
The Creepy Theme is a collection of haunted house-inspired furniture items that first appeared as a series in Animal Crossing: City Folk, distributed as DLC. The collection reappears in Animal Crossing: New Leaf as a theme, and can be obtained by giving Jack lollipops during Halloween.
Creepy Skeleton

Creepy Cauldron

Creepy Bat Stone

Creepy Stone

Creepy Coffin

Creepy Crystal

Creepy Clock

Creepy Statue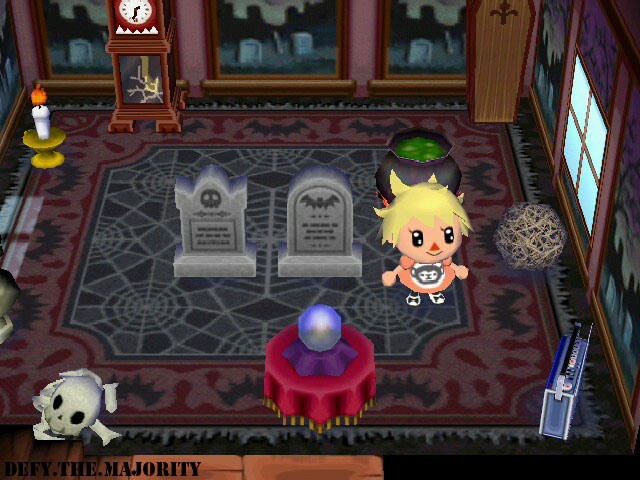 ACNH Spooky Series Items
How To Collect: Buy From Timmy and Tommy's store or Exchange From Jack With Lollipops
The Halloween series also called Spooky series is a series of furniture appearing throughout the Animal Crossing series. It is made up of 13 items including the carpet, wallpaper and wall cabinet. All items are pumpkin orange in color and can be purchased for 4,124 Bells for a sale of 1,031 Bells. The Halloween Spooky items series also can be obtained by giving candy to Jack on Halloween day, i.e. October 31, or from October 1 in the village furniture store run by Tom Nook or Timmy and Tommy depending on the game (one wallpaper or one rug and one piece of furniture per day only).
Spooky Bed

Spooky Bookcase

Spooky Chair

Spooky Clock

Spooky Dresser

Spooky Lamp

Spooky Sofa

Spooky Table

Spooky Vanity

Spooky Wall Lamp

Spooky Wardrobe

Spooky Wall

Spooky Carpet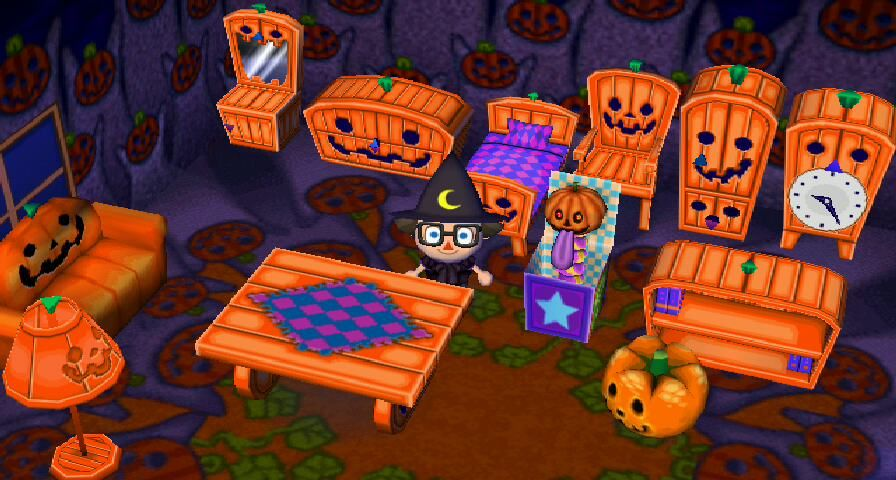 Pumpkin Head, Halloween Creepy Mask & Smart Box
Finally, this is the only opportunity to get the pumpkin-themed items like head, mask and the smart box.
How To Get Pumpkin Heads: Obtained via mailbox as a Special Event Gift and by logging in during October 10 to October 24

How To Get Halloween Masks: Buy From Able Sisters for 1,031 Bells throughout October.

How To Get Smart Box: Get from play Halloween Mini-Games