New ACNH Character Cards Will Be Released - Animal Crossing Trading Cards
9/14/2020 12:01:11 PM
Even though Animal Crossing is a virtual life game simulating the real world, Nintendo also released a series of physical trading cards related to the game for fans collection or adding some functions in the game. After the popular amiibo cards, there will be a new batch of Animal Crossing trading cards launch in November, including new ACNH character cards and scenery cards, learn about what information these cards will be included and how to get them.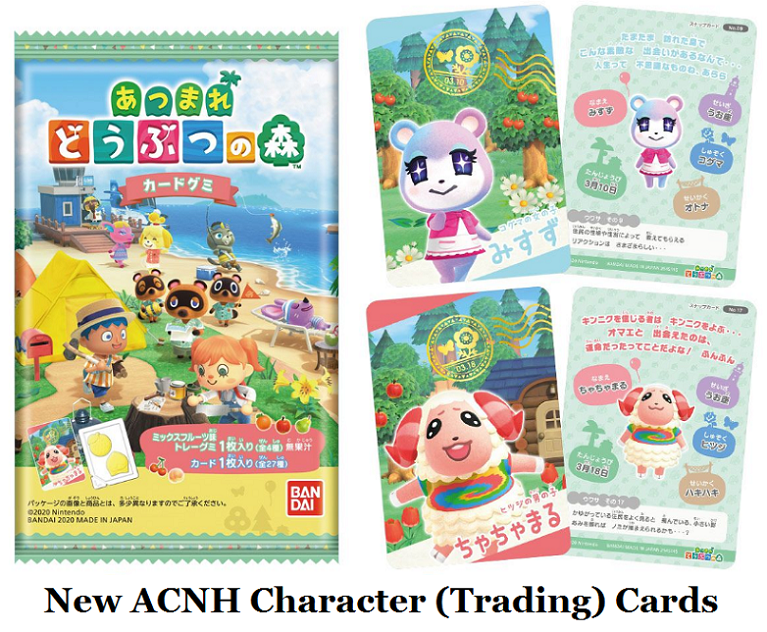 Animal Crossing Trading Cards
Animal Crossing trading cards are the merchandise of Nintendo, released for playing with the game or collection. For example, the Animal Crossing e-Reader cards are sets of collectible cards that provide players a chance to obtain specific AC items, some of them are not available in any other way. And in recent Animal Crossing series, amiibo cards have largely superseded any features that e-Cards provided in previous games.
There is also a wide variety of gummy cards and character cards that were released alongside games including Wild World, City Folk and New Leaf. These cards focus more on the collectible aspect of trading cards rather than adding any functionality to the game. Now in Animal Crossing New Horizons, Animal Crossing amiibo cards are much like e-Reader cards in that they add functionality to the games, with amiibo functionality from Nintendo for use of inviting specific villagers in ACNH. Five different series of Animal Crossing Amiibo Cards have been released in 2020.
New Animal Crossing New Horizons Character Cards and Scenery Cards are Coming
The next batch of Animal Crossing trading cards are scheduled on November, we can expect a new series of ACNH character cards. These are randomly packed gummy cards, you can get one card and four mixed-fruit-flavor gummies in each pack randomly, and 20 packs are included in one box. Dive into the Animal Crossing New Horizons world with these fun cards from Bandai!
When you can get the ACNH Card Gummy? Its release date is scheduled in November 2020 and the pre-order started on August 22. The sales price of 20 pieces of cards (1 box) is around $18. They set the release date in November in Japan and the cards can be pre-ordered now in lots of online shops and sites including Amazon, but it's not known right now whether these cards or any similar cards will be released outside of Japan.
What you can get from the new ACNH cards? There are a total of 27 cards to collect and trade, including 20 snap cards that show off some of the unique residents of New Horizons and 7 visual cards that show the scenery of various locations of a typical island. The first snap card confirmed shows the villager Judy, we'll get a lovely snap of her photo, name, and birthday on the front of the card along with a bunch of information on the back, as well as some tips about the game. Another leaked card is for Dom, who is a jock sheep villager introduced in New Horizons. We can also get some scenery cards as below. Please note that each set will not come with the full set of designs and may have duplicates as well.