Animal Crossing New Horizons Characters Downgrades - 5 Characters Who Were Downgraded In ACNH
9/21/2020 11:19:18 AM
Since the new characters cards added into Animal Crossing New Horizons, it has definitely made a lot of changes to certain characters. Some old ones have been improved while some of the returning cast have been downgraded. In this article, we cover 5 characters who were downgraded in Animal Crossing New Horizons and give an overview of their personality.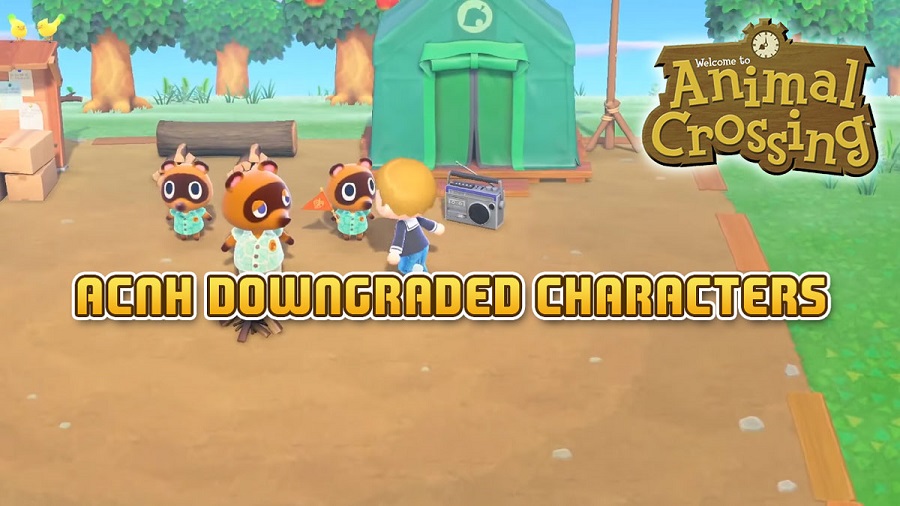 Animal Crossing New Horizons Characters Downgrades
In Animal Crossing series games, a lot of quality life updates sadly came at the cot of beloved characters. Since we are getting the new characters and new features, some old villagers got a downgrade, it's sad to see some absolutely beloved characters lose their worth.
Tom Nook, after taking on a much less important role in New Leaf, he's returned to the spotlight in New Horizons recapturing his rightful mantle of face of the game. But not every character was lucky enough to get the same treatment. New Horizons is missing most of the series memorable cast and some of the characters that did make their return have seen noticeable downgrades either in their role or personality. So we'll go over five characters who were affected the most in the transition between games.
The list of Animal Crossing New Horizons downgraded characters:
Gulliver
Gulliver is probably most people's favorite Animal Crossing characters. Design wise and seeing him wash up on the beach. In New Leaf, Gulliver would have amnesia after being woken up and forget where he was heading, he would then give you a short description of the country and provide a small list of potential locations. These pieces of trivia were rarely hard to crack but they were pretty fun and kept every interaction with Gulliver fresh. He would also reward you with a piece of furniture representing the country he ended up visiting the next day, which was a nice touch in New Horizons, interactions with the seagull have ironically become pretty dry, he asks you to dig up communicator parts so he can contact his crew to pick him up something. Gulliver helps diversify the task by having you dive instead of dig. It's so sad to see him downgraded.
Celeste
Celeste's character has been on a decline since she was introduced. In Wild World and City Folk she ran the observatory on the second floor of the museum allowing you to create constellations, it was a unique role and one that was very befitting of Celeste with you know her name and all New Leaf didn't feature an observatory at all. So instead Celeste ran the gift shop allowing players to buy a multitude of special items including certain silver tools and special furniture. In New Horizons, she's been demoted to simply handing out DIY recipes during meteor showers, it's just such an uninteresting role, the devs literally could have added an atm machine that spits out special DIY recipes during star-related events and it would essentially play the exact same role that Celeste does in New Horizons.
Isabelle
In Animal Crossing New Leaf, Isabelle rose to popularity very quickly even becoming the face of the series in the eyes of many and earning herself a spot in the largest crossover game of all time. She was definitely one of the most interesting characters in that game and was always a delight to talk to. But in New Horizons, Isabelle's most notable role is being in charge of the morning announcements. She serves a similar role to New Leaf in resident services allowing you to change your island's flag, make an island tune, check your island status, etc. But when her most recognizable trait in the game is being annoying and repetitive. I feel like Isabelle has been downgraded in New Horizons because she really took the spotlight in New Leaf and Tom Nook didn't do as much. So it's understandable is having her not do as much.
Harvey
Harvey is actually one of the newest Animal Crossing characters. There is making his debut in New Leaf's welcome amiibo update in 2016, and his role was pretty major, he ran the campground a very charming and atmospheric area where special characters would visit in rvs and you could pick out rare furniture from the moment he was introduced. Harvey was already oozing with personality and his actions within the campground only cemented this because of his late appearance.
Harvey was given his own island where he allows you to use photopia a building where you can take pictures of all your animal friends, it's such a great way to create fun screenshots. New Horizons had the perfect opportunity to expand Harvey's role and make him a more recognizable character in the franchise but instead his personality was almost completely stripped away and he was sent to an island that players rarely visit with ACNH NMT. It's such an unharvey-like role as well, there isn't really anything about photopia.
Resetti
This is the biggest character downgrade in Animal Crossing New Horizons. Resetti's personality differentiated himself from every other character in the series and made him stand out in the best way possible. But Nintendo got some complaints about the him being a little too passionate and ended up reducing his role in New Leaf, making him an optional feature. But when New Horizons was revealed, the Animal Crossing team announced that auto saving would be a new feature meaning that Rossetti would have to get new jobs. But the result is that, instead of rising to his former glory, Rossetti has become even more hidden than ever before he runs the rescue service - an app that nobody ever uses and never even makes himself known.
More ACNH Downgraded Characters
Rover: Rover may also be the most downgraded character in ACNH, he went from being the first character you saw in New Leaf, to being restricted to 1 DAY IN A WHOLE YEAR! He could be in a future cafe update, where he could appear once in a while to give you travel DIYs or give you a task to do for furniture!

Wisp: He used to have such a fun role taking the form of other characters and being able to bring villagers into your town, now he's just an annoying side quest.

Lloid: Since tortimer island was removed Lloid only has one role which is unfortunately his least interesting role, being a donations box.