ACNH Grow Pumpkins Confirmed, Halloween & Fall Update - How To Get And Grow Pumpkins
9/27/2020 2:12:19 PM
The highly anticipated Fall update releases just in time for the month of October, and adds all new characters, furniture, Jack's Halloween event and other fun additions like pumpkin growing & farming into the game, and players can start growing them as soon as the update launches on September 30. Now let's take a look!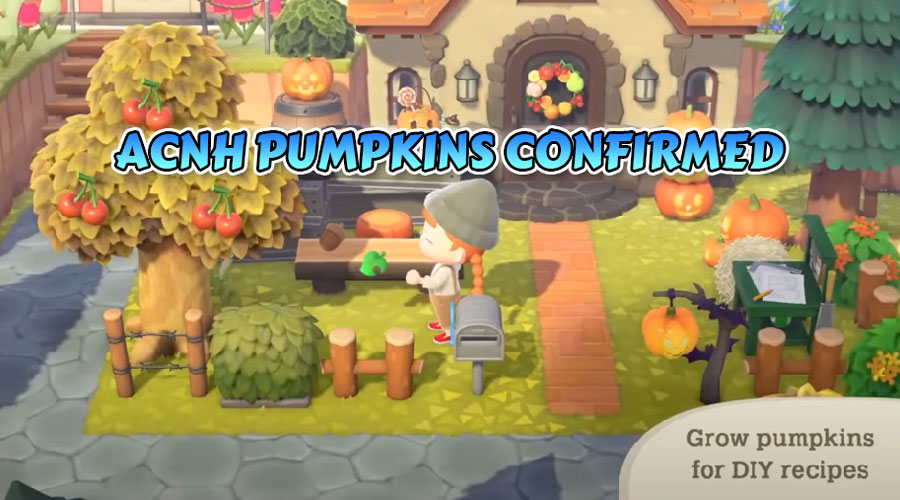 ACNH Fall Update Brings Halloween Event, Furniture, Confirmed Pumpkin Growing
It's confirmed that the Fall update will bring pumpkins growing into Animal Crossing New Horizons, which seems to be the highlight of the update, with additional emotions and characters coming to the game. The update also previews the next update, due out in November, that will add both Franklin and Jingle, 2 familiar Animal Crossing special characters to the game.
Here are all the details about pumpkins confirmed, Halloween & fall update.
Grow Pumpkins: Pumpkin starts are available in-game from Leif year-round or from Nook's Cranny during October. You'll be able to grow pumpkins to craft the pumpkin furniture & use them for pumpkin-based DIY projects. The pumpkin comes in different colors: dark orange pumpkins, light orange or yellow pumpkins, light yellow or white pumpkins, green pumpkins.
How To Grow Pumpkins? You first need to buy pumpkin seeds from Nook's Cranny or Leif (both sell them for 280 ACNH Bells). Then plant pumpkins and water them every day. And you will have your pumpkins by taking good care of them.
What To Use Pumpkins For? Pumpkins can be used as a DIY crafting material that you can use to decorate and liven up your island even outside of the Halloween season.
Halloween Preparations: Pumpkins are just the beginning of the Halloween-themed festivities coming up. With the big day just around the corner, players can start stocking up on candy early. You can also use your Nook Miles to buy body paint and coloured eye contacts to make yourself look scary, as well as purchase costumes from the Able Sisters shop throughout October.




Halloween Night: The Halloween night arrives on 31st October 5pm to midnight, we get to dress up in all different Halloween costumes. And Jack -"czar of Halloween"will be returning and you'll be able to trade him Candy and Lollipops for rewards. You can also share Candy with islanders, too, and can learn some new Reactions.




New Dream Suite Features: The ability to take a nap and visit other islands within dreams was introduced this summer. Now, you'll be able to easily revisit a past dream island by accessing a new in-game list of past dreams you've had, making it even easier to visit some of your favorite islands.




NookLink App Update: NookLink update planned for early October. You can use the smart device to perform reactions in the game.




Free Update: The free update coming in November which will bring Franklin and Jingle, with Nintedo teasing some Thanksgiving costumes and the build up to Christmas.
Conclusion: The Fall update starting September, so there's gonna be pumpkin furniture and scary outfits and costumes and Jack will be returning and there's some furniture can be bought in Nooks Cranny. We can buy candy and seedlings or pumpkin seeds from Nooks Cranny. We can plant them, grow pumpkins. There's different kind of pumpkins it looks like at least three there and we use them to craft pumpkin DIY recipes. Once we get the actual update on the 30th loads more stuff will come to light.
So are you happy to see pumpkins added to Animal Crossing New Horizons? Do you like the idea of growing a new crafting material?