ACNH Ceiling Furniture Items & Villager House Visits In Animal Crossing Fall Halloween Update Datamine
10/9/2020 7:45:34 PM
Thanks to the hard work of data miners, new upcoming features including the Ceiling Furniture Items and Villager Visit Player's House have been discovered from the code for the Animal Crossing New Horizons Fall Halloween Update.
Update: ACNH Ceiling Items in 2.0 Update - How To Get & Hang Ceiling Items in Animal Crossing New Horizons?
Animal Crossing New Horizons Ceiling Furniture Items
Some new keywords were discovered in the games code from the latest ACNH fall update along with small adjustments. The new variable names revealed include "cRoomEditCeilingNear", "cRoomEditCeilingNormal", "cRoomEditCeilingFar". As you probably already guessed hint that a new type of furniture for ceilings is currently being worked on. This isn't actually that surprising because not only do we know new content and features are regularly being added to New Horizons over the coming months but ceiling furniture items have existed in past games. In fact, the ability to place furniture on ceilings was introduced as far back as Happy Home Designer on the 3DS, and as you can see several ceiling lights even featured on the game's artwork.

What Exactly The Ceiling Furniture Items Are?
Given these variable names closely resemble the existing names for floor furniture, it's fairly likely ceiling furniture is at the very least being tested. Like many other features accurately revealed in data mines is probably coming in a future New Horizons update. Now in the past, ceiling furniture was basically a type of ACNH Items that could be fastened to the ceiling and moved around accordingly just like the lights shown. However, ceiling furniture wasn't limited to lights in Happy Home Designer, and also introduced a number of items including chandeliers, ceiling fans, shelving, and even disco balls, which were really cool.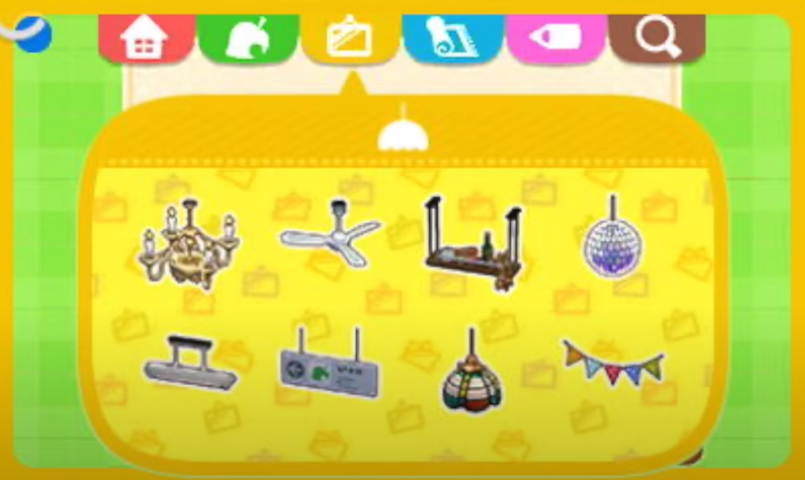 When Would The Ceiling Items Come In Animal Crossing New Horizons?
So based on these keywords and the fact we've actually had this features before, it's looking promising that ceiling furniture will return to ACNH in the near future (in the upcoming November Winter Update later this year or perhaps a different update early next year) and will likely introduce chandeliers, free-hanging TVs and monitors, and a bunch of other things like plants and shelves for us to decorate our ceilings well.
Villager Visit Your House & Interaction With You
In addition to the ceiling items, data miner Ninji also found a new mechanics which was hinted in the new added villager-comments-on-your-stuff dialogue in Version 1.5. These new dialogues are related to that the villagers' comment on categories of furniture you have on display in your own house and interaction for when a villager spots their own photo portrait item on display in your house. Does it seem Nintendo is preparing to finally add villagers visiting you in an upcoming update? We can not sure yet. While this was the feature existed in the Animal Crossing: New Leaf on 3DS, and Ninji said that "versions 1.0 to 1.2 had EventFlow scripts for it, but they hid them in 1.3", so maybe we could expect villagers could find their way into your home in Animal Crossing: New Horizons like in ACNL.
Anyway please remember the keywords included in the post have been extracted in a data mine, but the discussion and what this could mean for Animal Crossing New Horizons is pure speculation at this point, and nothing has been officially announced. All we can do is wait and see.