Custom ACNH Pumpkin Design Codes - Animal Crossing Pumpkin Patch Sign, Path, Floor and More
10/29/2020 10:55:11 AM
Since the launch of Animal Crossing New Horizons version 1.5.0 with ACNH fall update, many players have started to grow pumpkins and harvest them for crafting spooky furniture. Pumpkin is also a popular element in various Halloween theme designs, including paths, floors, clothing, stall, flag, tiles, pumpkin patch sign, and everywhere on the island. Now we bring an array of great custom designs applying pumpkins in different forms, let's check out the ACNH pumpkin design codes, if you like the design style of the creator, you can also search for with the creator ID.
Custom ACNH Pumpkin Design Codes - ACNH Pumpkin Designs for Patch Sign, Path, Floor, and Clothing
The addition of pumpkins not only gives players the ability to farm in the game but also can they using the pumpkin in various decorations. While October is going to the end, the pumpkin seeds are not available from next month in the game. Don't worry, you can buy pumpkin start, pumpkins in different stages, and grown pumpkins in different colors easily at our Animal Crossing items collection. People created and shared lots of creative and incredible pumpkin ideas online, here are some of the most amazing ones. You can use these designs on your pumpkin patches, shop, paths, floors, tiles, Halloween signs, simple panel, vegetable garden, etc.
1. Pumpkin for Vegetable Garden by Mony (@monya483)
Design code: MO-VLWH-S536-SFSL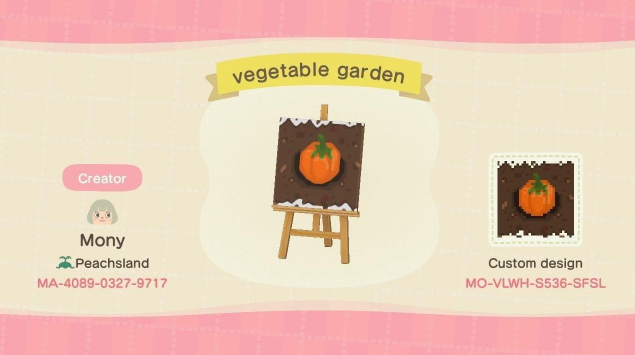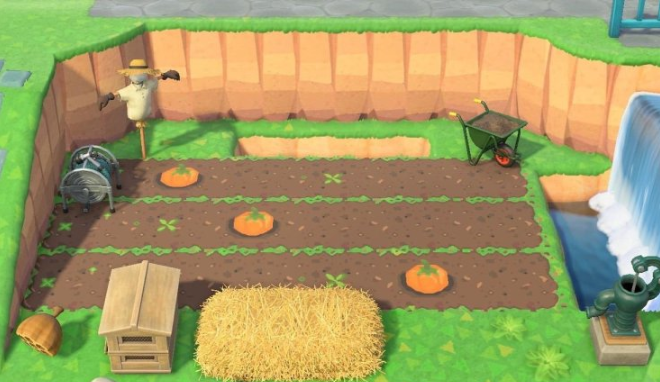 2. Pumpkin Sign by Christine (u/peaceloveandgranola)
Design code: MO-DBBR-P7K8-BMRW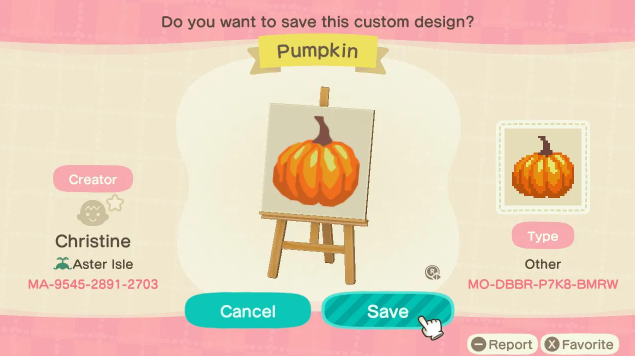 3. Pumpkin Patch Sign by みお (@mitreeo)
Design code: MO-QXSF-0HY9-VYDJ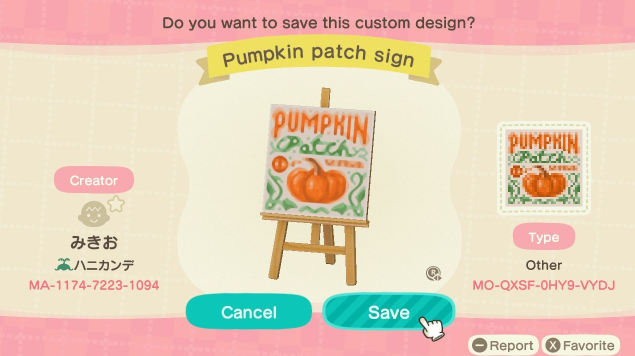 4. Pumpkin Infographic Sign by Pammers (@pammercakes)
Design code: MO-QX89-0GQ5-5SJN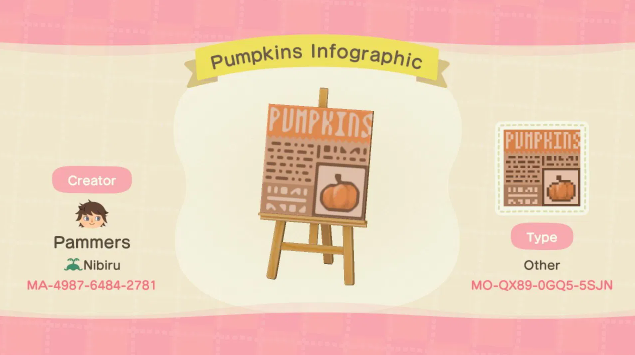 5. Pumpkin Patch Sign by Tabi (@maybetabi)
Design code: MO-8M66-W41S-TT1F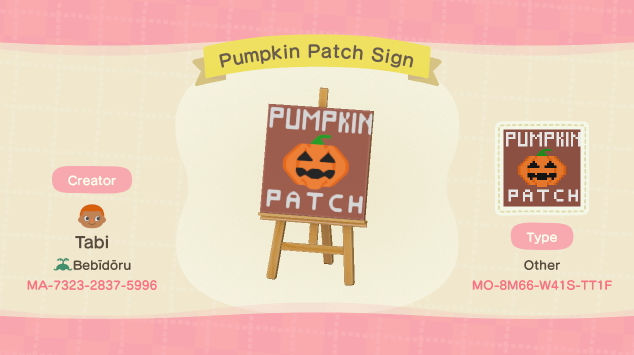 6. Pumpkin Facepaint by Wrennie (@BirdSpittle)
Design code: MO-8RV3-PVWW-KSKT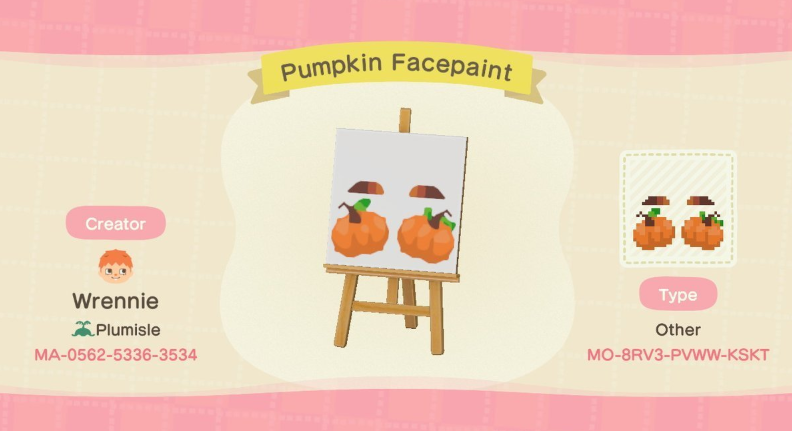 7. Halloween Pumpkin Outfit by Suds (@sudsofsplash)
Design code: MO-CFKK-5W4F-5TQN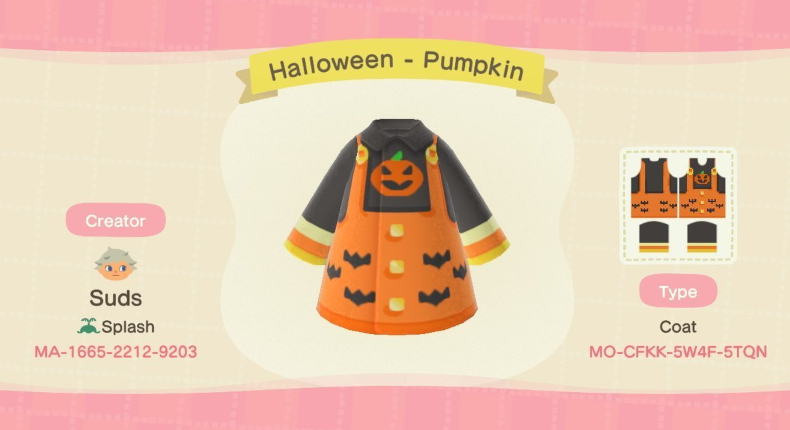 8. Halloween Cobblestone Path by Jay (@hedgewicked)
Creator ID: MA-3716-0662-9443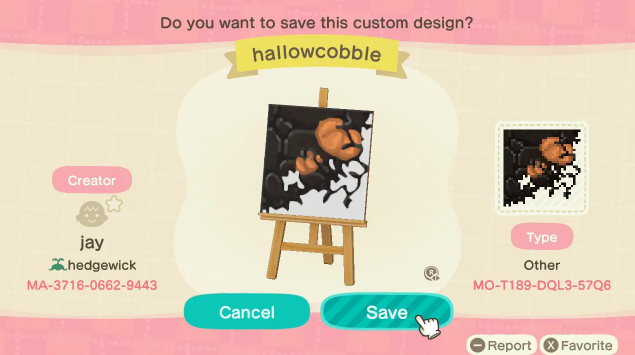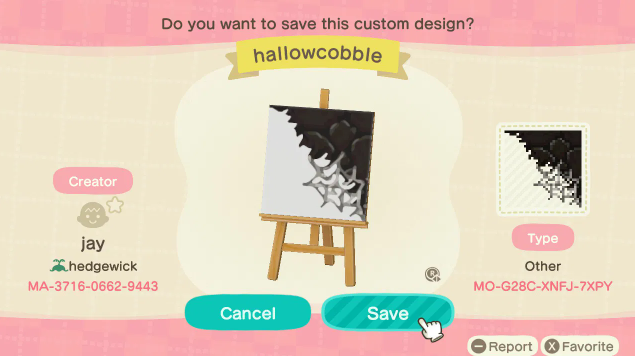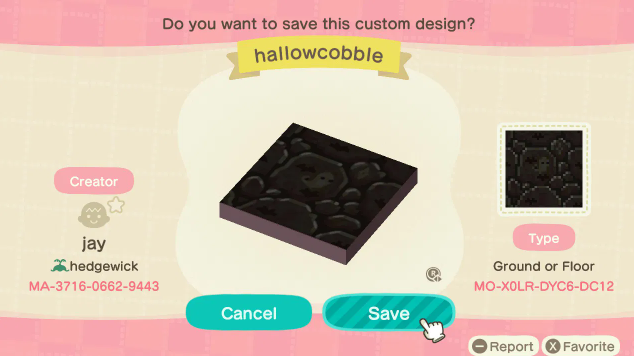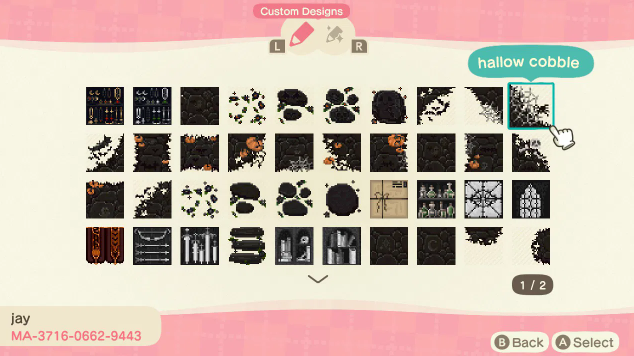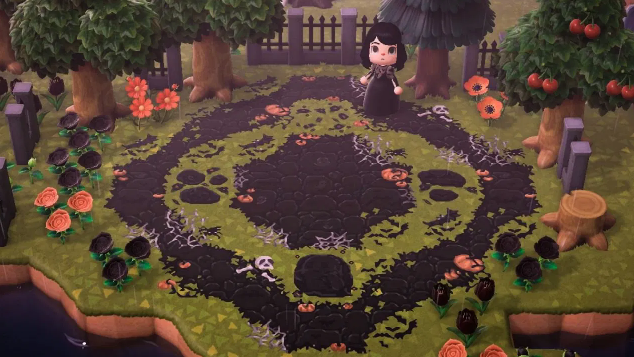 9. Halloween Tiles Set by ヨヨ (@plus3380C)
Creator ID: MA-5761-5187-4060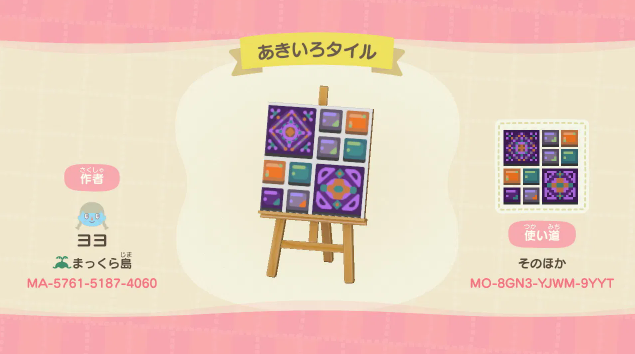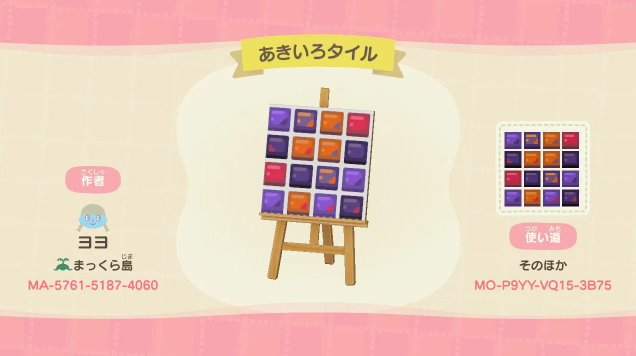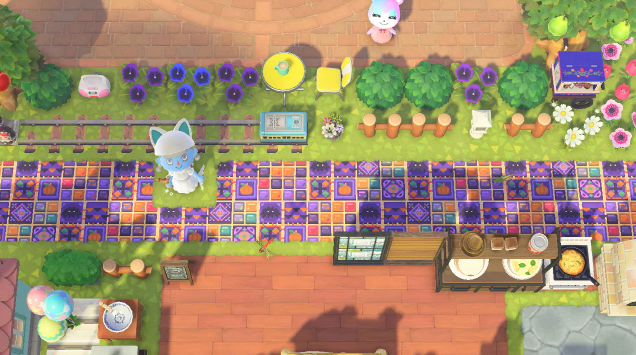 10. Halloween Path by Donnie (@GalacticPvppy)
Design code: MO-PG47-K37P-VT1Q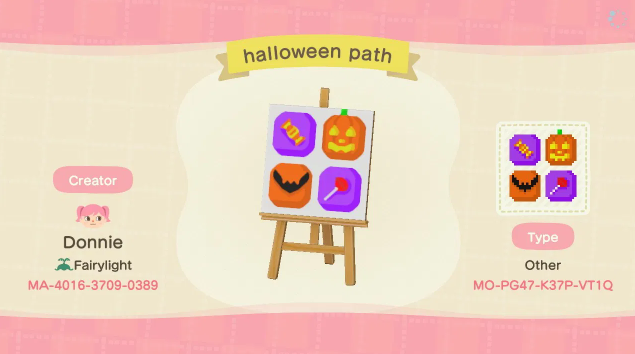 11. Happy Halloween Sign by nana#あつ (@6nano3)
Design code: MO-CR1K-LDPR-CF19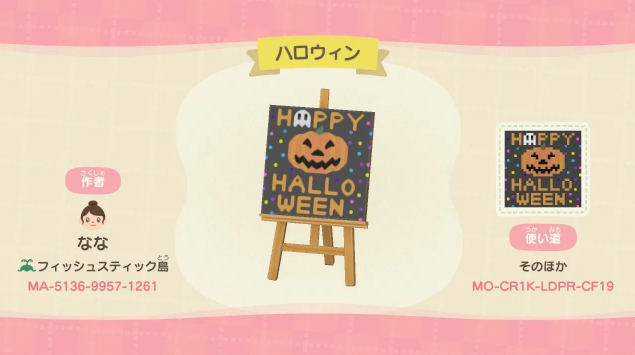 12. Halloween Flag by Maddie (@mxdixxz)
Design code: MO-8RDQ-PPHK-S3VV