ACNH November & December Winter Update - Release Date, Turkey Day, Toy Day, New Items, Storage Upgrade & More
11/18/2020 12:30:56 AM
Finally, we ushered in the official news about Animal Crossing New Horizons November and Winter Update. The latest trailer revealed the release time of the next winter update, along with Turkey day on Thanksgiving, toy day on Christmas, the new Hip Reaction Collection and Top 6 Stylish Hairstyles added to redeem with Nook Miles, new seasonal items, house storage upgrade, save data transfer, and more new content in November and December.
Animal Crossing New Horizons Winter Update Date
The free ACNH November & December Winter update comes to Animal Crossing: New Horizons on November 19.
Animal Crossing New Horizons Winter Update New Content & Features
1. ACNH Thanksgiving Event - Turkey Day
Release Date: November 26th
Basically, an Animal Crossing twist on Thanksgiving awaits you at the Feast. The turkey and star chef Franklin comes to your island at the same time. He celebrates a feast with you that you have to prepare yourself. Give him ingredients that he then uses for a delicious recipe. It is not known whether more farming and proper cooking will come into play.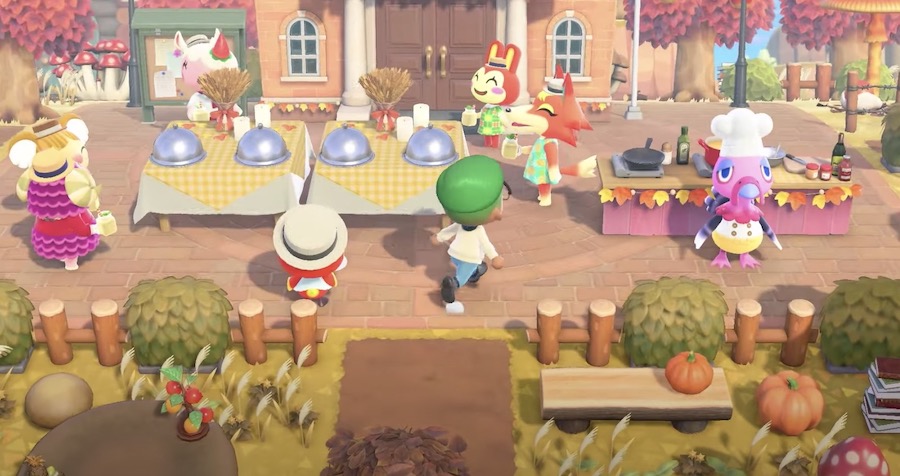 2. ACNH Christmas Event - Toy Day
Release Date: December 24th
Animal Crossing also celebrates a kind of Christmas. That's why you meet Jingle, the black-nosed reindeer. You have to help him and distribute gifts from Santa Claus to your residents.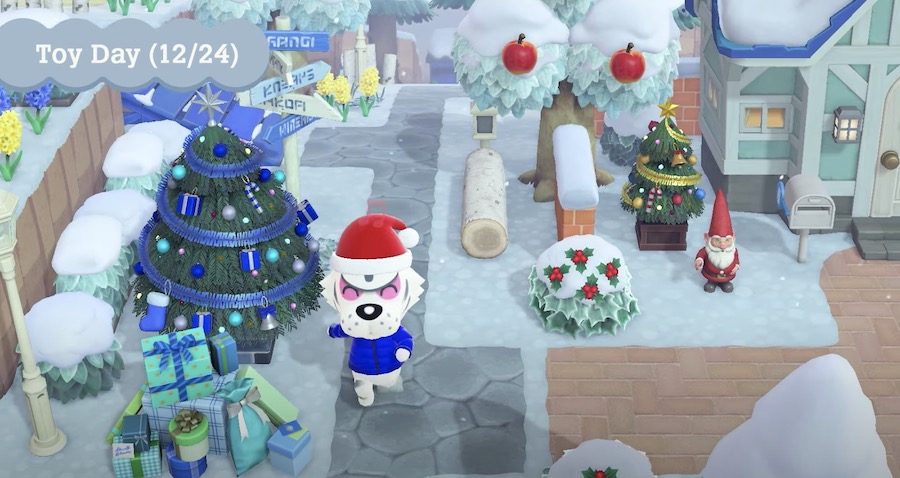 3. New Hip Reaction Collection
Similar in the previous Holloween update, Nintendo adds new reactions to the game for players to enjoy the festival fun better, means you can use them to interact with the residents of the island and your friends. For example, you will be able to impress your joy when you are receiving a gift from villagers or your friends with "Excited" reaction.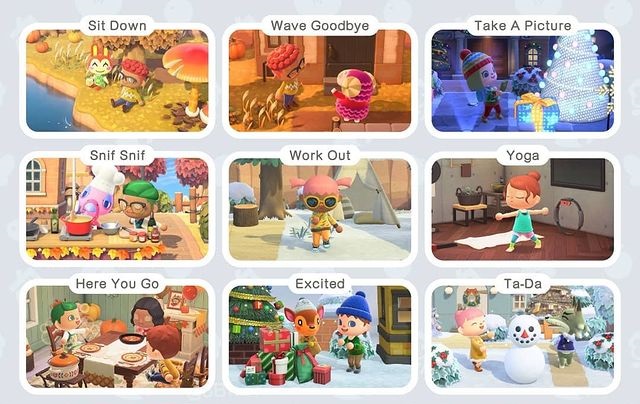 The following 9 new reactions you can exchange with 2700 Nook Miles at Nook Shopping:
Sit Down

Wave Goodbye

Take A Picture

Sniff Sniff

Work Out

Yoga

Here You Go

Excited

Ta-da
4. New Top 6 Stylish Hairstyles
It seems that the range of styles will expand more and more. 6 brand new hairstyles will be available to exchange with Nook Miles at the Nook Stop terminal resembling an ATM inside of Resident Services.
Here are the 6 new hairstyles in Animal Crossing New Horizons winter update: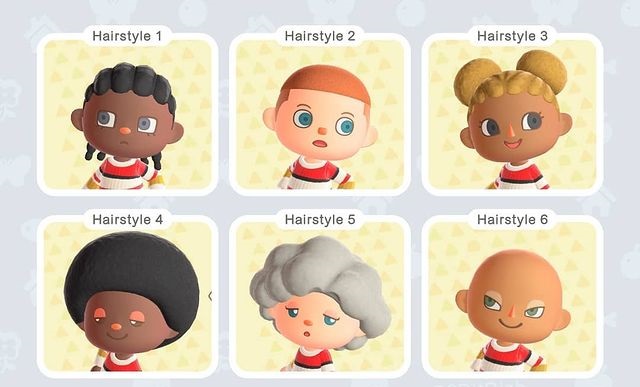 5. ACNH House Storage Upgrade
To satisfy the compulsive hoarders, the players who have completed the extension of their own home to the maximum and have also paid off the loan will be able to consult with Tom Nook about expanding your house storage from 1600 to 2400 ACNH items. Then you will be able to store more furniture and clothes than ever before!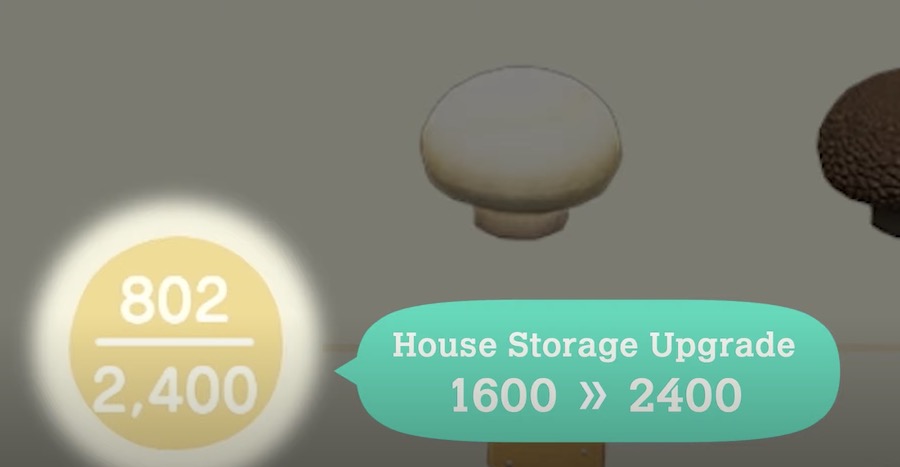 6. ACNH December New Items
There are surely some brand new items will be added in the the winter update: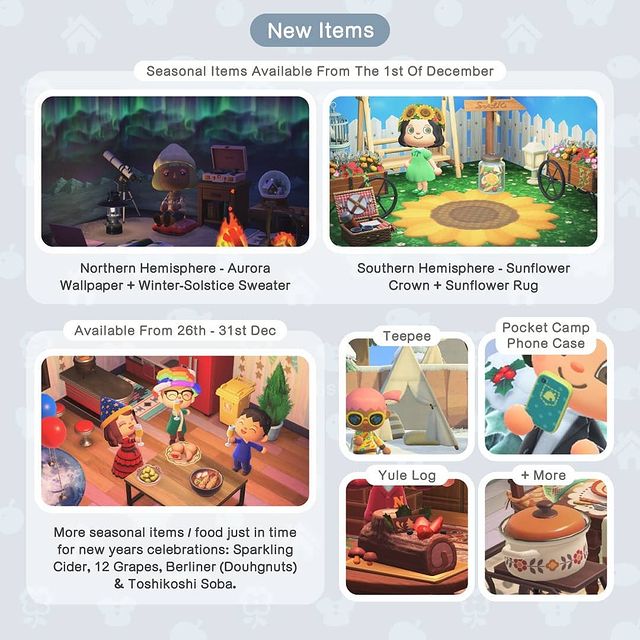 December Seasonal Items - Something that always being special about Animal Crossing New Horizons is different kinds of items you can get in different times of the year. Something weren't shown in the winter update trailer, the below new seasonal items will be available in December update.
Mafuyu sweater / Aurora Wall
Northern Hemisphere: Available On Nook Shopping from December 1st to December 31st
Sunflower Crown / Sunflower Rug
Southern Hemisphere: Available On Nook Shopping from December 1st to December 31st
New Years Items - There are other items that can be purchased during the holiday season. It seems that items that are perfect for the year-end and New Year holidays are lined up, so you can take a look from time to time.
Sparkling Cider / 12 Tsubu no Grape / Berliner / Toshikoshi Soba
Available on Nook Shopping from December 26th to December 31st
Animal Crossing Pocket Camp Theme Items In ACNH - To celebrate the 3rd anniversary of the Animal Crossing: Pocket Camp, various in-game items including Rocket Camp phone case, T-shirt and board will be available in Animal Crossing New Horizons for those who play ACPC.
For this Nook Phone design, after the update, prepare a smart device playing ACPC linked with a Nintendo services and a Nintendo Switch playing ACNH, and follow the procedure on this page. Please refer to and order.
7. Random Dream Island Update
With this free winter update, you will be able to entrust the dream of the island that Luna will show you. Luna will select and show you one of the island dreams, so you can easily dream without knowing the dream address. If you would like someone to see your island as a candidate for "Random", please publish it.
To dream or publish the island, you need to subscribe to Nintendo Switch Online (charged).
8. Save Date Transfer
Nintendo seems to have listened to the players and enables their own transfer of saved data from one console to another. How exactly this works will not be announced until November 19th. So far, Nintendo only says the following: "This game does not support the transfer of saved data from one Nintendo Switch console to another. Starting November 19th, you will be able to use a feature made especially for Animal Crossing: New Horizons that allows users and saved data to be transferred to another console More information will be available here after the service is released."
9. The ACNH January Update & Confirmed Upcoming Character Pave
As usual with an Animal Crossing: New Horizons update, Nintendo also tells Nintendo when the next update will appear. This time the waiting time is a little longer again. Because only towards the end of January, Nintendo wants to announce more.
A confirmed character: Even if the features for the January update are not yet known, an event is as good as confirmed. With Pave, the carnival bird, Carnival will be celebrated next year at Animal Crossing.