ACNH Toy Day Villager Present/Gift Guide - How to Get Jingle's Rewards & Items in ACNH
11/18/2020 3:38:36 PM
Christmas is one of the biggest festival each year, and the Toy Day event is held in most Animal Crossing series on Christmas Eve, ACNH is no exception. Before we going to the Animal Crossing New Horizons Toy Day, some preparations can be made, such as add Christmas themed designs on your island, and know about what's the best gift for villagers. Here is an ACNH Toy Day Gift Guide for fast to get Jingle series items and rewards.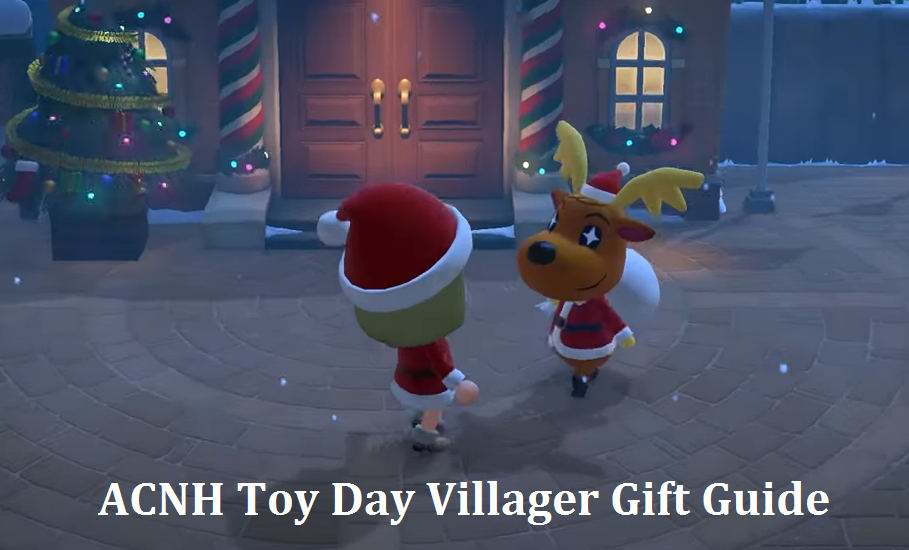 ACNH Toy Day Present Guide - How to Get Jingles Series Items & Rewards?
Update (December 18)
According to the latest video of Mayor Mori, there is no real preparation required for Toy Day, you can simply log in the game on that day and take part in the event, it's possible to participate in Toy Day whether you dressed as Santa or not, in addition, in New Horizons, there will no hints that related to the gifts when villagers chatting as well. The only thing you need to do is check out your update.
Original text:

The winter update is confirmed to launch on November 19, with the announcement of Turkey Day and Toy Day, as well as a series of changes and adjustments in the game. Toy Day is a typical Animal Crossing event for Christmas celebration, will return to New Horizons as well. Similar to previous games, Jingle will visit your island on Toy Day, and ask for players to deliver villager presents like a Santa. But if you want to get all the Jingle's rewards, you need to give the right gift to villagers. There are some things to note for the ACNH Toy Day villager gift, especially for new AC players.
1. Talk with your villagers
Before the festival comes, the preparation you can make for Toy Day is to know more about what your villagers want for Toy Day. When you updated the game to the latest version (1.6.0), in December, start to walk around the island and talk to your animal friends often, they may give you hints about the colors or other features of the item they want, remember what they said.
2. Dress up as Santa
In the trailer of the ACNH free winter update, we can see a player who wears a complete set of Santa clothes talking with Jingle and help him deliver the presents for villagers. To prepare for the Toy Day, you'd better buy the Santa costumes once it's available in the game, in New Leaf, there are Santa Coat, Santa Pants, Santa Hat, Santa Beard, and Santa s can be purchased with Animal Crossing bells in Able Sisters and Kicks. In New Horizons, the look and form of Santa clothes may be different, but you still need to dress like Santa Claus.
3. Meet Jingle on Toy Day
On Toy Day, the event will kick off at some time of that day, maybe at 6 PM, remember to wear a complete set of Santa outfit and find Jingle, he will give you a magical Santa bag which contains all the presents you need to deliver, the next thing you need to do is speak to each villager and pick the correct gift from the bag, then send the present to the villager. Deliver all the present to correct villagers and talk back to Jingle, you can receive a reward from Jingle and probably a photo of Jingle on the next day. The Jingle series is a collection of furniture including Jingle Bed, Jingle Shelves, Jingle Piano, Jingle Dresser, Jingle Table, Jingle Wardrobe, Jingle Sofa, Jingle Lamp, Jingle Clock, and Jingle TV.
You can check the list of possible items your villager wants based on ACNL.
Toys
Red: Executive Toy
Blue: Elephant Slide
Green: Tennis Table
Brown: Foosball Table
Yellow: Bingo Wheel
White: Bowling Pins
Gray: Mini Circuit
Colorful: Colorful Wheel
Electronics
Black: Wide-screen TV
Blue: Upright Vacuum
Red: Vacuum Cleaner
Orange: Deluxe Washer
Gray: TV with VCR
White: Refrigerator
Brown: Retro TV
Green: Retro Fridge
Food
Colorful: Candy Jar
Brown: Box of chocolates
Orange: An orange
Green: A pear
Yellow: A banana
Pink: A peach
Gray: lunch tray
Red: An apple
Furniture
Blue: Blue Cabinet
Colorful: Kiddie Bureau
Orange: Grapefruit Table
White: Cream Sofa
Gray: Tall Lantern
Beige: Pine Chair
Green: Lily Pad Table
Aqua: Backyard Pool
Black: Weight Bench
Brown: Writing Desk
Pink: Lovely Table
Red: Juicy Apple Clock
Yellow: Lemon Table
Wallpaper
Blue: Blue Wall
Brown: Exotic Wall
Aqua: Backyard Fence
Colorful: Kiddie Wall
Orange: Astro Wall
Gray: Concrete Wall
Yellow: Cheese Wall
Beige: Paw print Wall
Black: Sleek Wall
Green: Green Wall
White: Modern Screen
Pink: Lovely Wall
Carpeting
Blue: Blue Flooring
Red: Plush Carpet
Brown: Exotic Rug
Colorful: Kiddie Carpet
Yellow: Ceramic Tile
Orange: KitschyTile
White: Birch Floor
Beige: Neutral Floor
Gray: Modern Tile
Green: Green Rug
Pink: Lovely Carpet
Dolls
Pink: Wobbelina
Yellow: Lucky Gold Cat
Orange: Baby Bear
Black: Lucky Black Cat
Red: Garden Gnome
Purple: Papa Panda
Green: Hula Doll
Aqua: Fancy Doll
Umbrellas
Aqua: Blue Dot Parasol
Blue: Blue Umbrella
Red: Red Umbrella
Pink: Candy Umbrella
Yellow: Yellow Umbrella
Black: Bat Umbrella
Colorful: Gelato Umbrella
Green: Leaf Umbrella
Orange: Maple Umbrella
White: Lacy Parasol
Shirts
Red: Red Warm Up Suit
Orange: Orange Jacket
Green: Grass Tee
Gray: Gray Tank
Purple: Purple Tie-Dye
Aqua: Cloudy Tee
Pink: Heart Tee
Black: BB Tee
Yellow: Leopard Tee
Brown: Swell Tee
Blue: Blue Diamond Tee
Beige: Beige Knit Shirt
White: Snow Shirt
Colorful: Rainbow Tee
Instruments
Brown: Folk Guitar
Black: Upright Piano
Green: Rock Guitar
Red: Metal Guitar
Beige: Timpano Drum
Yellow: Drum Set
Plants
Pink: Plum Bonsai
White: Moth Orchid
Yellow: Jasmine Bonsai
Green: Tall Cactus
Red: Poinsettia
Purple: Purple Violets
Lamps
White: Minimalist Lamp
Black: Small Spotlight
Gray: Mini Lamp
Red: Polka Dot Lamp
Brown: Modern Wood Lamp
Green: Green Lamp
Aqua: Lava Lamp
Pink: Lotus Lamp