Best Aesthetic Winter Animal Crossing Island Design - 10 ACNH Winter Town Decoration Ideas
11/20/2020 10:02:05 AM
The long-awaited new winter update is available for Animal Crossing New Horizons. The most exciting thing is redecorating your island into Animal Crossing winter town covered with beautiful snow. Winter is coming, mtmmo.com prepared ACNH 10 best winter design ideas for you to create a unique winter island.
How To Download New Animal Crossing Winter Update?
The ACNH winter update is available to download and stall in every region, once installed will bring animal crossing to sizable version 1.6. It brings a whole bunch of events Turkey Day, Toy Day and winter-themed items. This new version should be updated automatically for most people, but it isn't don't worry, you can easily update it manually by pressing the plus button on the joy-con or controller when one the New Horizons icon on the switch's home screen and click the software update via internet. Once installed all the new Animal Crossing features will be available again, go decorate a fantastic winter snow town for your Animal Crossing New Horizons Island.
Best Animal Crossing Snow Island – Aesthetic Winter Design Ideas For Animal Crossing New Horizons
This winter is coming just in time, with Animal Crossing new winter seasonable items came out can design more creative. We share wonderful winter island ideas collect from Youtube tinylibrarys, Tania - Heath Horizons and GreatFairyCari. Once you know the winter exterior decoration tips, it's definitely worth an Animal Crossing Nook Miles Tickets to visit your aesthetic island tour.
Winter Design Idea 1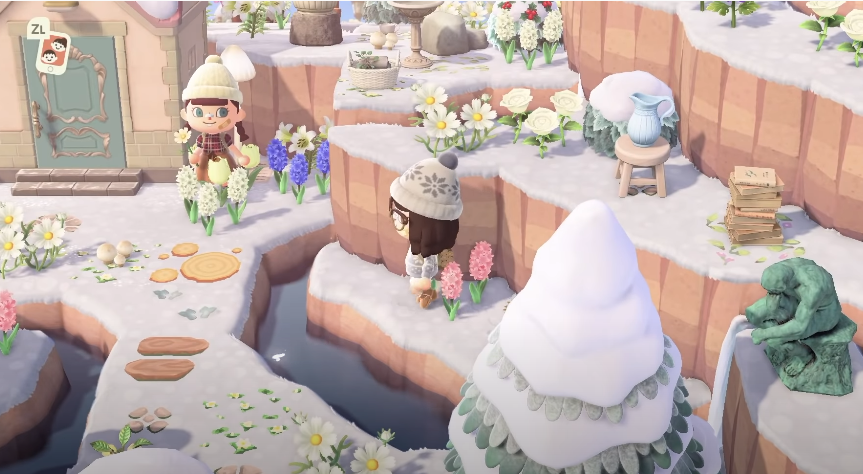 The decoration of the cliff is so artistic, placing work of art on the edge of the cliff for exhibition, unique and pretty custom path combines flower cosmos plant, rose plant, tulip plant and lily plant makes the area more fairy.
Winter Design Idea 2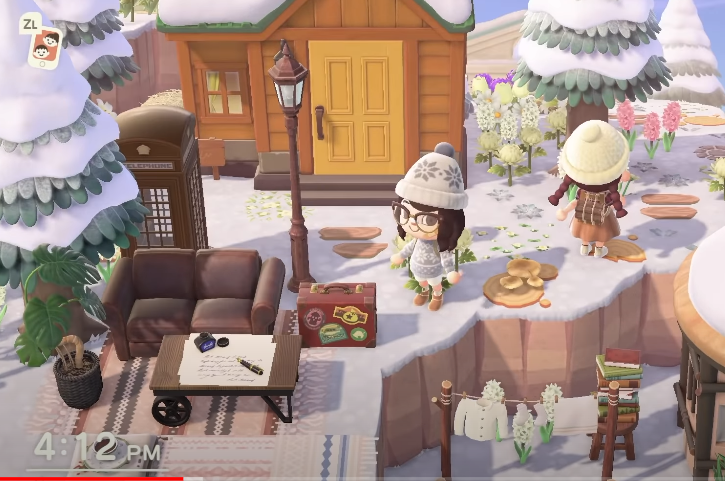 If you don't know how to surprise your lovely Animal Crossing villagers, prepare this fancy outdoor working space for them! Giving them such a fancy exterior area to read, study and have a rest, also can sit outside enjoy the breathtaking winter view in Aimal Crossin New Horizons. Place vintage brown items go well with white snow.
Winter Design Idea 3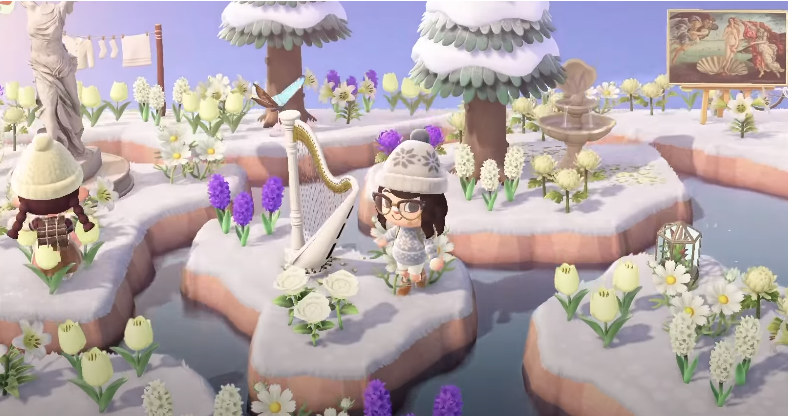 Look, how elegant this area is, with decorations of shell fountain, valiant statue and white harp create a place where fairy lives. This beautiful winter design is absolutely shocking, you can try your self placing noble, classic, vintage white color items to build an ACNH wonderland.
Winter Design Idea 4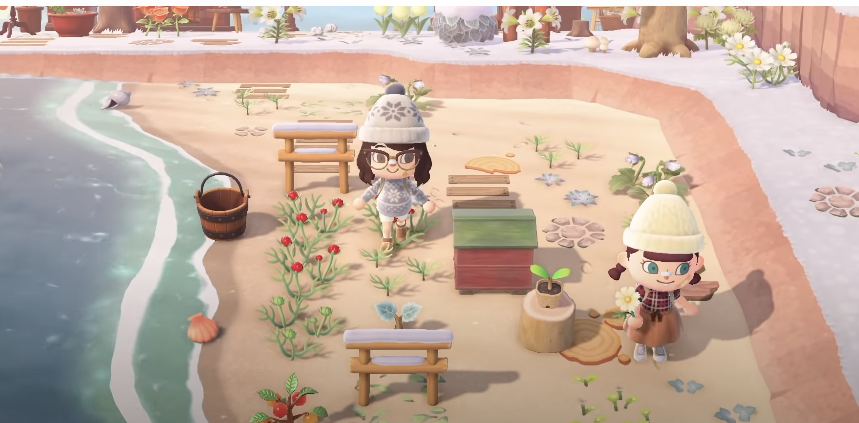 Here is the design of the ACNH beach ideas. At the junction of snow and water, you can see that the ground above is covered with snow, and the beach is still a summer vibe. The green plants and the custom floor pattern have built the beachside a rustic style.
Winter Design Idea 5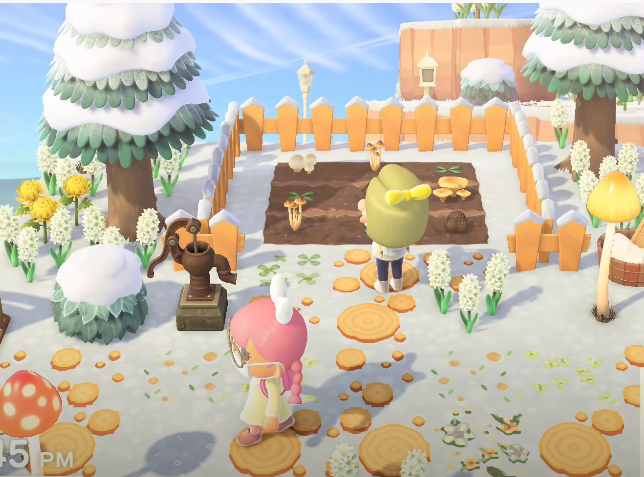 This is a woodsy mushroom garden farming various kinds of mushrooms. Things are covered with snow the fence, bushes and trees. Add mushroom lamps, with floral and wood custom path pattern can show off a natural cottage for winter!
Winter Design Idea 6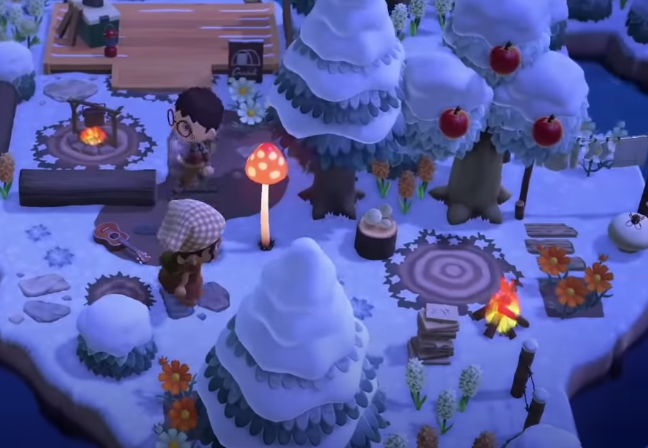 The most important place in winter is the fire campsite, you can sit by the fire that keeps you warm, there are so many things you can do like play guitar, sing, cook, tell stories, enjoy the winter scenery with your besties. Create a campsite is a great ACNH winter island idea to chase all the coldness away.
Winter Design Idea 7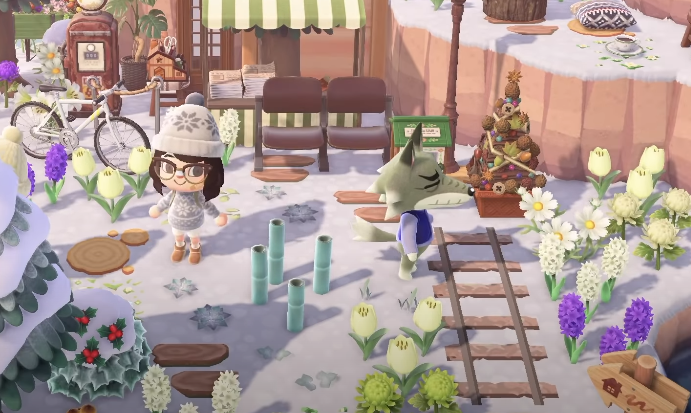 A wonderful place for couples to have a date, they can sit on the bench for hours to chat. Riding bicycle along the beautiful winter island in Animal Crossing. Have coffee and snacks at this spot surrounded by flowers, bamboo and trees.
Winter Design Idea 8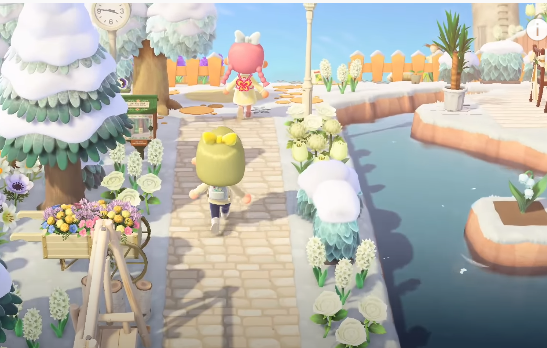 Have you seen this romantic themed winter riverwalk, the sunlight is shining all around the river, this winter design idea is one of the best. There are swings, flower stall, flowers and bushes by the streets add more characteristics of the Animal Crossing winter idea.
Winter Design Idea 9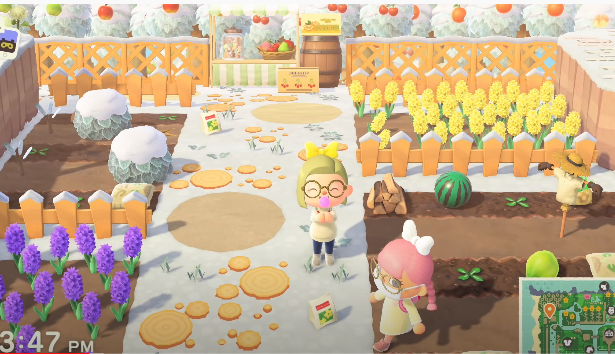 Winter is also the season of planting in Animal Crossing New Horizons. This winter farm is adoration for the beauty and culture of the island.
Winter Design Idea 10
This lovely front door ACNH winter decorations is perfect for every household, with big trees coved ice and gorgeous flowers surrounded, a real like winter scenery in Animal Crossing New Horizons. You can even place outside a table for things you need for example stools, tables, pools, swings, children's' toys and so on.
That's all 10 best ACNH winter design ideas for island, new winter season arrived get yourself ready to create your own 5-star winter/christmas island. You can also buy cheap price Animal Crossing bells here.