ACNH Snowflakes Items - How To Get All Snowflakes DIYs Easy In Animal Crossing | Snowflakes & Ornaments Season Guide
12/2/2020 5:38:22 PM
Winter is here and snowflakes are falling from the skies. Today we're going to show you everything you need to know about the upcoming snowflake season in Animal Crossing New Horizons, we cover the snowflake season release dates, ways on how to get snowflakes & large snowflakes, as well as how to get all of the seasonal DIY recipes that are involved with the snowflakes.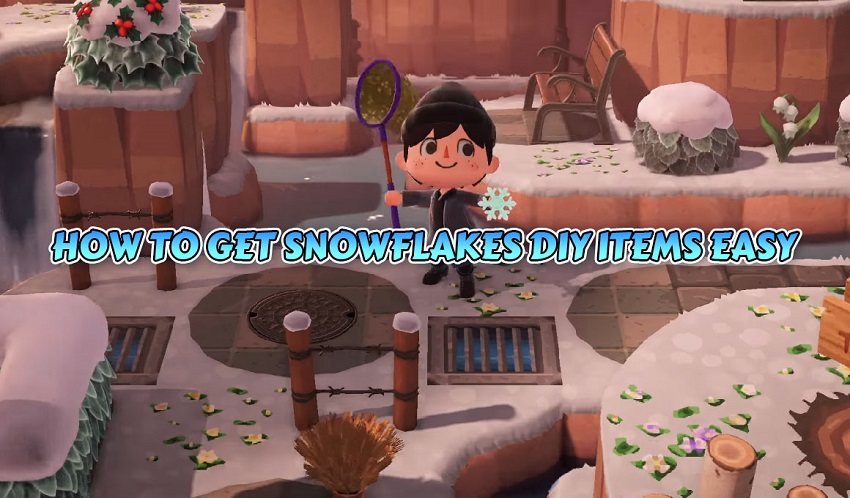 When Is The Snowflake Season In Animal Crossing New Horizons
It's not in every day in December, whenever you're playing you may not get snowflakes just yet the dates for snowflakes are as follows:
December 11th for northern hemisphere all the way through February 24th.

June 11th for southern hemisphere all the way through August 24th.
That's a huge time to collect any kinds of these little flying snowflakes and you'll notice that if they have a little shadow and they're floating around in front of you, that is a snowflake that you can easily grab your net and catch if you have good accuracy.
How To Get Snowflakes & Large Snowflakes
Catch them with your net: Snowflakes can be obtained by swinging your net while they float in the air around you. Snowflakes will flutter about your island many times during the day, so you should be able to find some by just wandering around your island.

Find Snowballs and build your very own Snowboy: Many of the snowflakes can only be obtained from Snowboy, roll up snowballs, and create a snowman, you can get winter recipes from him. Each day for three more days afterwards until melting, a Perfect Snowboy will give you an extra Large Snowflake. That means you can get a total of four Large Snowflakes from each Snowboy you perfectly create if you talk to them every day.
Snowfake & Large Snowflake Sell Price at Nook's Cranny
Snowflakes can be sold for 200 ACNH Bells and Large Snowflakes Large Snowflake can be sold for 2500 Bells to Timmy & Tommy at Nook's Cranny. Regular Snowflakes can be found plentifully throughout the winter season and can be sold without concern.
How To Get Snowflakes DIY Recipes Fast
In order to get all of the snow DIY recipes for the snowflake set, you are going to need to try your hand at shooting down all of different balloons. If you see a balloon over there, turn up your volume you'll hear the little sounds. And then once you're good and ready you can fire them as with all seasonal DIYs. This is the only way that you're going to get it. You only have four days to get them until the snowflake DIYs go into the mixed pool of all the ornament DIYs.
Another way is to get Snowflakes DIY items is to buy ACNH DIY Recipes from online game store. At mtmmo.com, all DIY Recipes in New Horizons including ACNH snow recipes are offered here at the cheapest prices, this is one of the fastest and easiest ways.
ACNH Ornament Season
You have a limited time in order to get the maximized optimized amount of getting these DIY recipes. So since December 11th is exactly when it starts, there's a brand new season that happens directly after that. Starting on the 15th of December all the way through January 6th in both northern hemisphere and southern hemisphere, we have the ornament season when all of the cedar trees are going to have all sorts of different decorations on them, and then you could shake those trees in order to get ornaments to drop. But at the same time the balloons that come on board will also be mixed with ornament DIYs and the snowflake DIYs.
Animal Crossing Snowflake DIY Crafting Recipes List
There are three different types of furniture sets for this upcoming winter, there is the snowflake one, there is the ornament set and the frozen set as well. Check out the list of all winter items and DIY recipes in ACNH so you can prepare exactly how many materials you're going to need.
Snowflake wreath
Snowflake × 4
Snowflake pochette
Snowflake × 6
Iceberg wall
Snowflake × 10
Iceberg flooring
Snowflake × 10
Ski-slope wall
Snowflake × 8
Ski-slope flooring
Snowflake × 8
Snowflake wall
Snowflake × 12
Ice tree
Large tree snowflake × 1
Snowflake × 8
Ice wand
Large snowflake × 1
Snowfake × 3
Ice candy
Large snowflake × 1
Snowflake × 1
Glacier wall
Snowflake × 10
Ski wallpaper
Snowflake × 8
Drifting ice floor
Snowflake × 10
Snowman hat
Large snowflake × 1
Snowflake × 5
3 tier snowman
Large snowflake × 1
Snowflake × 6
Tree branch × 2
Frozen sculpture
Large snowflake × 1
Snowflake × 4
Frozen pillar
Large snowflake × 1
Snowflake × 3
Frozen arch
Large snowflake × 1
Snowflake × 10
Frozen partition
Large snowflake × 1
Snowflake × 6
Frozen bed
Large snowflake × 1
Snowflake × 10
Frozen table
Large snowflake × 1
Snowflake × 8
Frozen counter
Large snowflake × 1
Snowflake × 5
Frozen chair
Large snowflake × 1
Snowflake × 5