Best Animal Crossing Island Dream Codes - ACNH Christmas Theme Dream Address
12/4/2020 4:03:31 PM
Christmas will soon arrive on December 25th this month. Have you prepared a Christmas hat, Christmas socks, Christmas card and Christmas tree for your Animal Crossing: New Horizons? Or you just want a tour to some great Christmas theme island covered with Christmas trees. Don't worry, here we bring you the best ACNH Christmas Island Dream Address, hope you can get some inspiration to create your own festive town for Christmas season.
Best Animal Crossing New Horizons Christmas Island Dream Codes
Christmas update is here, new festive themed items for Christmas is already available in shops. Let's explore some wonderful islands with the best Christmas ACNH dream addresses, which is decorated with Christmas theme items. Furthermore, that has everything you need for decorating a winter island. You can enjoy decorative ACNH island design ideas for the Xmas-themed cute toy shop, campsite, livingroom, beachside, resident district and more. You don't have to struggle with making your island more Christmassy. Following is the Animal Crossing New Horizons Xmas dream codes that we collected from Youtube and Instagram.
1.DA-9848-4876-6976 (NintenTalk)
This is kids' favorite Animal Crossing Christmas decoration toy shop, placed with new updated Toy Day items and ACNH Christmas themed furniture festive rug, Big Festive Tree, Jingle's photo, tin robot, dinosaur toy and mini circuit. I am sure you will love this cute festive shop and won't leave!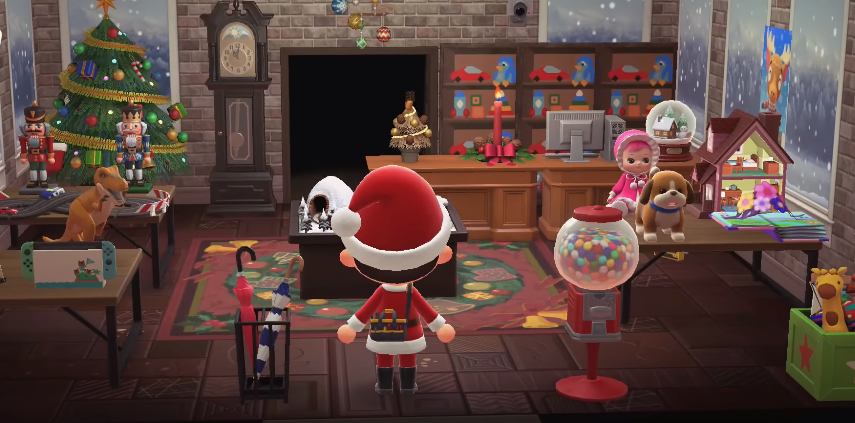 2. DA-4043-1369-9071 (Landonia)
This is an ACNH Christmas beachside design ideas, it's a pretty decorative idea for building a restaurant at the beachside. Decorated Big Christmas trees, illuminating presents, and Nutcrackers. There's a campfire spot to keep you warm, and soup and food to feed you!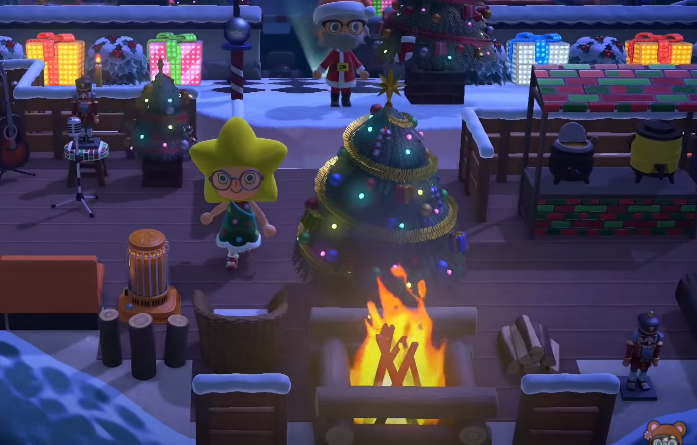 3. DA-3591-2632-4025 (Sophie Charlotte Gaming)
This amazing Animal Crossing Christmas house is on the outside of the island, the dark greens and dark browns just dripping in, make this interior super Christmassy! If you want to come up with some brilliant design ideas for ACNH interior space, this Christmas themed living room is perfect for you.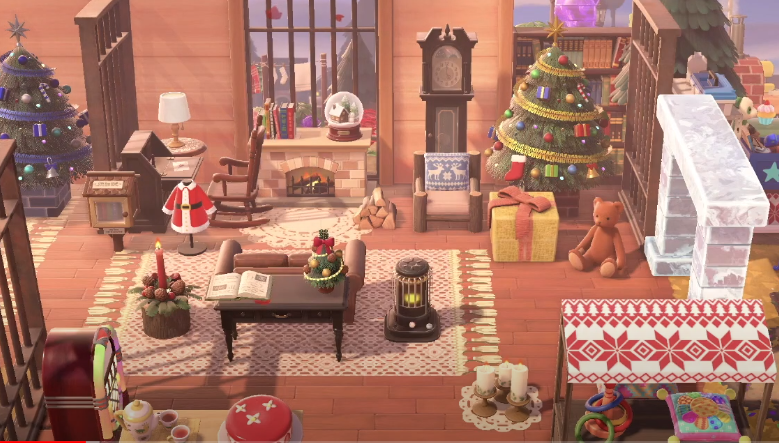 This fantastic Christmassy walkway leads us to the house, there are illuminating reindeers, illuminating snowflakes, illuminating Christmas trees and illuminating presents light up the whole front door! It's so magical, and who doesn't want to live in a house that has such a beautiful night view.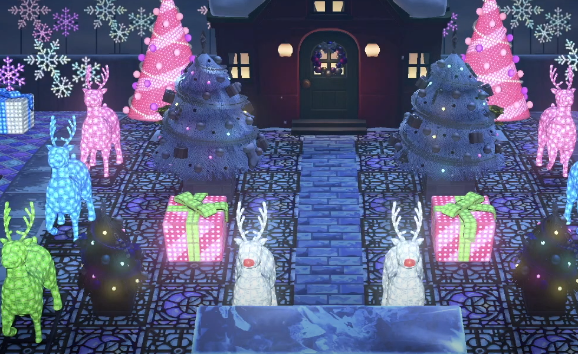 4. 8418 3998 3588 (@blushfaiiry)
This is a 5 star Christmas fairly core island, here is a little cute ice skating district decorated with pinky Christmas trees, pink Illuminated Snowflakes, flowers, and snowball. They're so adorable star fragment and snowflakes on the ground. Do you attract by these Chirmascore island design ideas? Get this ACNH Christmas theme dream code to have a fairy island tour.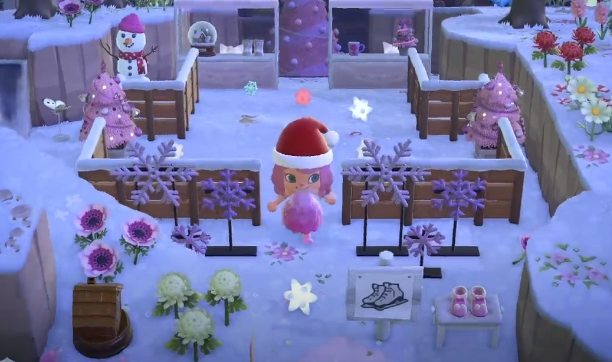 5. DA–9793–1588-5075 (Barkenos)
A festive Christmas gift wrapping area, placed with Christmas trees, gifts, candles, red ornaments, candy pillow, you can invite friends to this meaningful place to celebrate Xmas.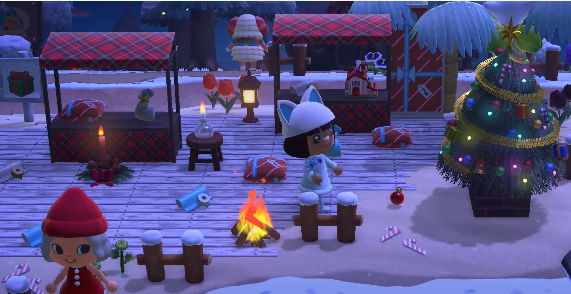 Here is a festive dock just for dating, only 2 people can seat on the bench and enjoy the sea view. Used custom Christmas floor pattern items, festive candles and little Christmas trees can create a sweet dating spot.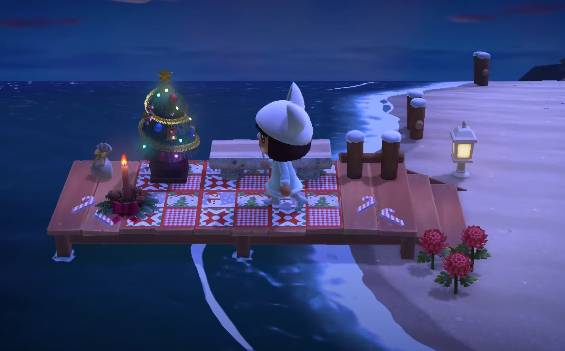 6. DA-4096-5496-8452 (EmmaUniverse)
This is absolutely a decorative ACNH winter island design idea. Sitting on a cold Christmas day waiting for the train. How fabulous to have a dream tour to this vintage Animal Crossing Christmas town, to feel this festive vibe.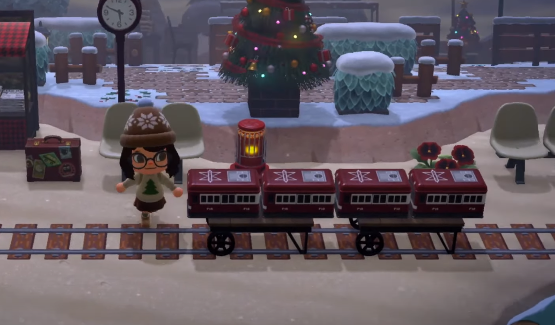 Each individual house has its own decoration styles, if you want to surprise your villagers, those various Christmas house exterior décor ideas of ACNH are really worth trying. Here are different styles of ways to building a Christmassy residential area, hope to get your inspiration.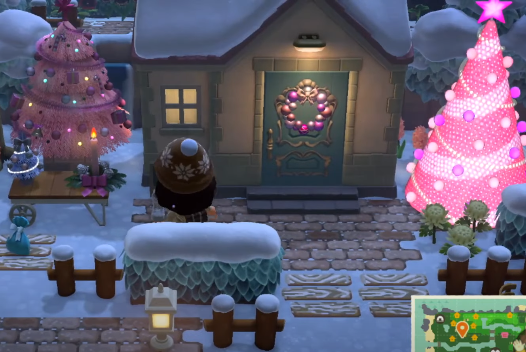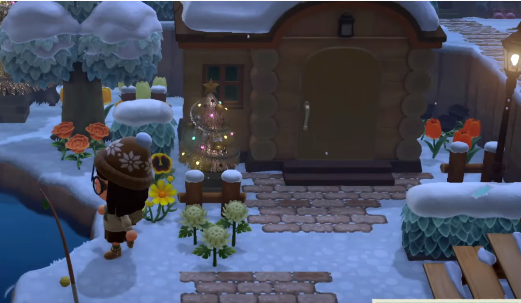 Overall, is the greatest Animal Crossing winter Christmas theme dream codes that can help you build a five-star woodland island. Here at mtmmo.com you can buy ACNH Christmas furniture items for sale!