10 Amazing Winter Island Ideas In Animal Crossing New Horizons - ACNH Winter & Christmas Design Ideas
12/11/2020 10:08:51 AM
Want a warm and cozy island during the cold and gloomy months of winter? Want to make your island stand out at Christmas? The best way to achieve that is by applying some cheerful winter decor ideas. So today we're going to be taking a look at 10 amazing winter ideas and inspiration for your own islands, these are some really great designs that we've collected from Youtube and Instagram.
ACNH Winter Design Ideas For Your Island - How To Decorate Your Island For Christmas & Winter
Winter is the perfect time to get decorating and working on your island. After all, the season offers a range of wonderful, cosy themes that are bang on trend and will help you to deal with the cold weather outside. We can transform the island into an icy winter wonderland by taking advantage of chilly ACNH items and clothing styles. Using custom designs, adding a white icy glaze to furniture, plants, and other items, and adding a few festive objects. Here are 10 amazing winter island designs & ideas for ACNH, from festive ideas to cosy inspiration.
1. Ski Lift
Created by ALOLACROSSINGS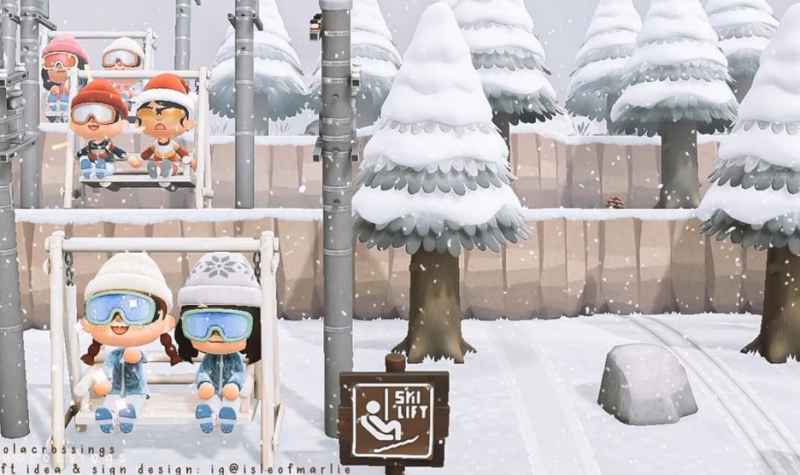 It looks like the design of the ski lift which is really cool. Having a ski lift in Animal Crossing is such an inventive idea. This could really work on any sort of winter themed island and can bring a piece of winter fun home with you year round.
2. Cafe
Created by AFTERGLOW.HORIZONS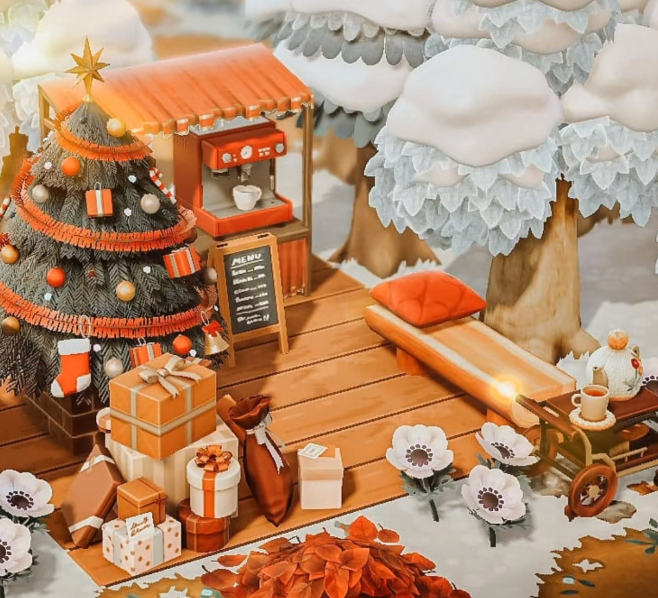 It's almost like a little coffee place in a way to kind of sit down and have coffee. It's just a cute little nook.
3. Deck Design
Created by AFTERGLOW.HORIZONS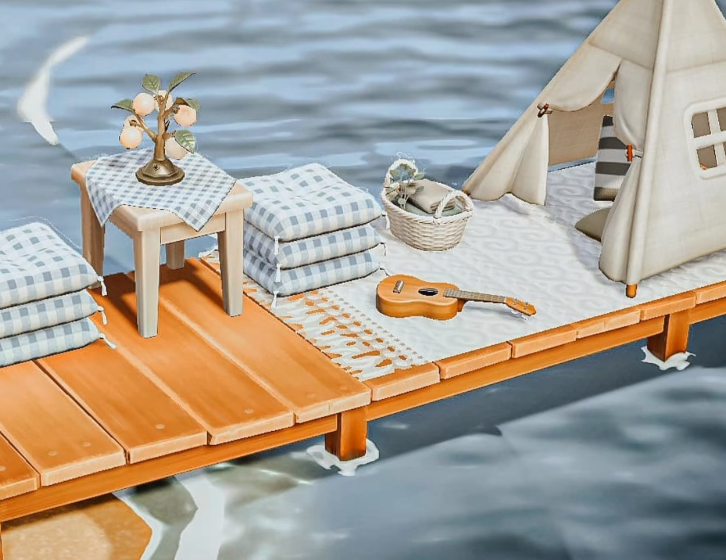 If you are not sure what to do with your deck, you could make something really cute like this. This is absolutely perfect, it is utilizing a custom design but it's utilizing that great new kids 10 item, the little rattan basket, some pillows that have been customized that looks like a custom pattern, on top of those, a little ukulele and then something from the sort of harvest set of items. So that is really cool, it just looks so magical and enchanting, really cute little winter idea that you could use on your deck if you're perhaps struggling to figure out what to do with it.
4. Indoor Living Room Design For Winter
Created by AFTERGLOW.HORIZONS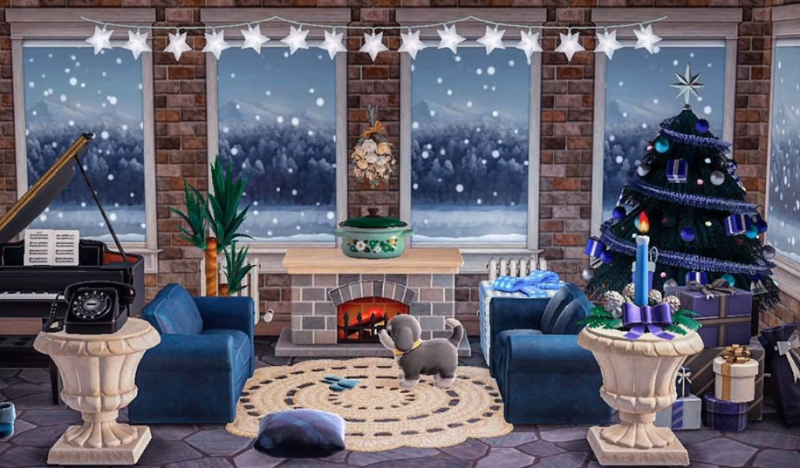 This is sort of like a very sophisticated as they described kind of living room on Christmas. These blues work so well on sort of a Christmassy kind of setting, it's really great it's great to see them use some of the new items like the garden stand and they've got the cute little puppy item. In the background is a new type of wall, you'll be getting that some point this winter, it might be one of those items you get via the nook stop. Here is really great little house setup, it looks like they've done it in the bedroom because of the length of it. It even could work in the basement too.
5. Winter Path
Created by JASMINEISLAND.CROSSING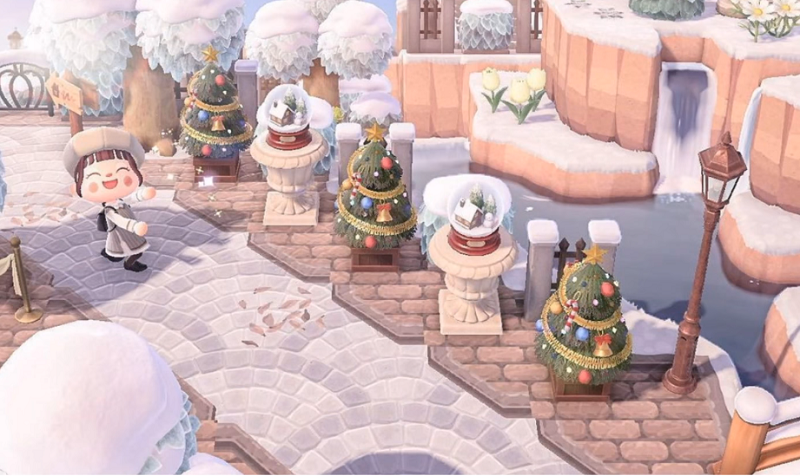 It is really cute like little diagonal path. This design is so cool, you don't see people do diagonal paths. This is the mixing of the normal path that you get in the game, going through the middle and then the custom paths to the side is really fantastic. The little globes and the little Christmas trees really help set the scene, so it's just a really amazing design.
6. Village House Design For Christmas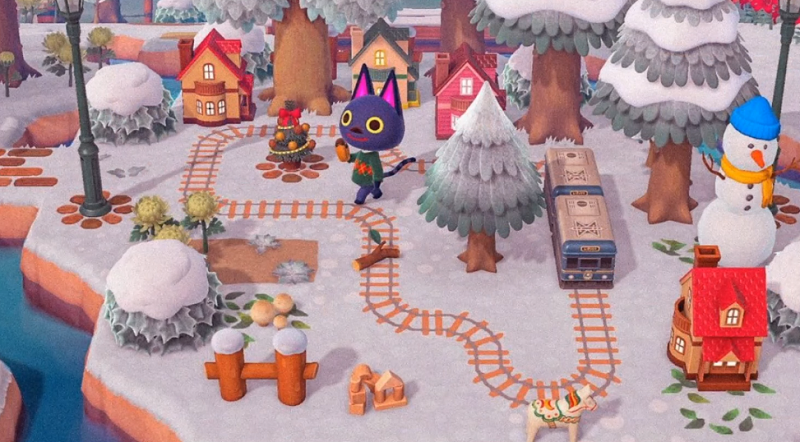 This is a little village with a little train track going through it which is so adorable. It's Kiki walking through the middle with a little donut, she's like just the cutest, but this tiny little village is really special, this really makes you feel Christmasy. Miniature villages and stuff is often a big part of Christmas imagery.
7. Road & Street Design In Winter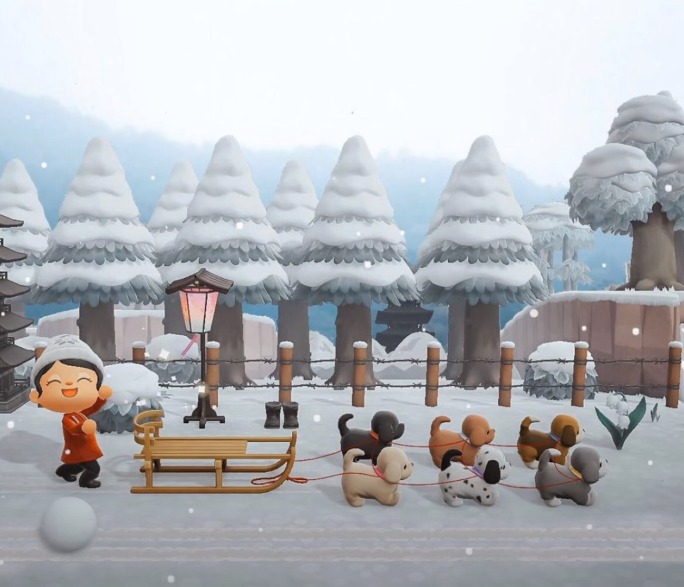 This one's amazing. The creativity here is just so fantastic, they've got these little doggies all chained up to the sleigh. You must be fall in love with the idea of having all these little puppies pull along a sleigh.
8. Winter Terraforming Idea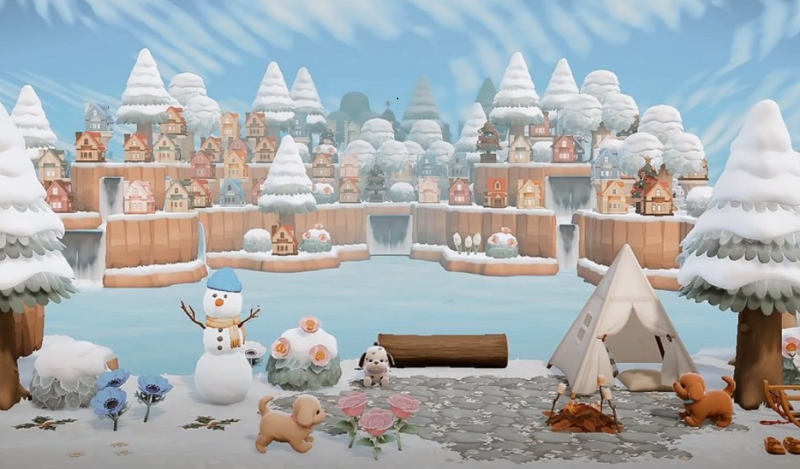 We can see the tiny little village in the back there, terraforming master class here really wonderful great use of all the different Christmasy toy day items. It just looks so great. The stuff off in the distance really makes a fantastic little scene and a great vista, so really big kudos to them.
9. Creating A Skating Rink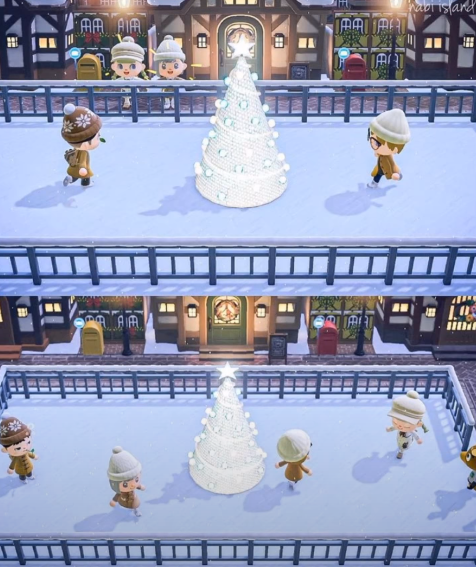 It's an ice skating rink, behind is a very cozy looking like winter village. This is so great, if you've never been ice skating before in the real life and you don't want to hurt yourself, you could just make your own ice skating rink in Animal Crossing New Horizons.
10. Christmas Design In ACNH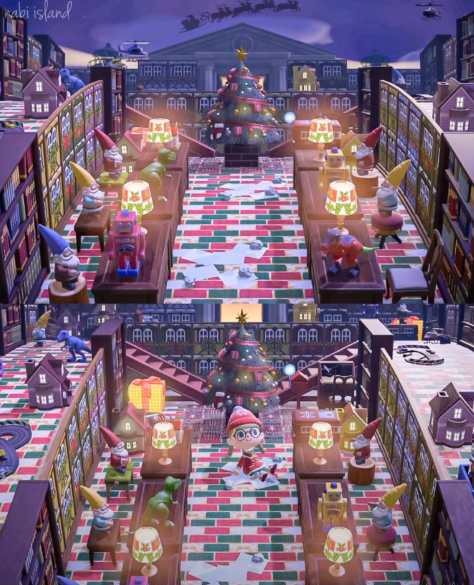 It's so Christmassy, you have the little gnomes or elves, they're working at the Santa's workshop making a bunch of presents. What a wonderful little scene filled with great colors and items and attention to detail fantastic job from them.