ACNH Fishing Tourney 2021 - Fishing Tourney Dates, Prize Items, Points and Rules in Animal Crossing
1/4/2021 11:15:54 AM
Happy New Year! With the arrival of January, many new events, items, and contents are coming to Animal Crossing New Horizons. One of the things we can expect in ACNH January 2021 is the Fishing Tourney event, here let's take a look at the ACNH Fishing Tourney 2021 dates, items, rewards, points, and some rules, continue your game journey in the new year.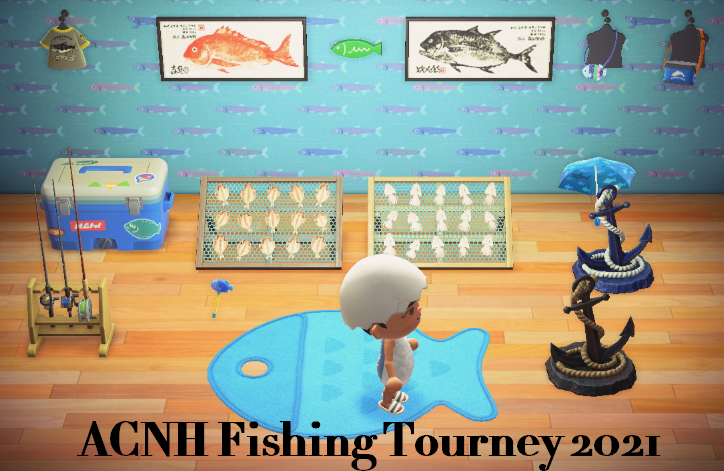 ACNH Fishing Tourney 2021 - Animal Crossing New Horizons Fishing Tourney Dates
Fishing Tourney is a seasonal event in Animal Crossing New Horizons, each season, players can take part in the event for fish-related prize items, it takes place on the second Saturday of January, April, July, and October. Both players in Northern Hemisphere and Southern Hemisphere can enjoy the event. Here is the complete calendar of ACNH Fishing Tourney 2021:
Winter Fishing Tourney - January 9, 2021
Spring Fishing Tourney - April 10, 2021
Summer Fishing Tourney - July 10, 2021
Fall Fishing Tourney - October 9, 2021
The dates of the Fishing Tourney for Northern and Southern Hemisphere players will always be the same, it's just the season is different. If you miss the day of the event, you can use time travel to participate it.
How to Get Prize Items & Rewards in ACNH Fishing Tourney
To get started in Fishing Tourney, you need to talk to the special character C.J. outside of Resident Services and ask him to start a challenge. You can do unlimited challenges but only the first one is free, every one of the other challenges requires 500 ACNH bells. In each challenge, you have three minutes to catch as many fish as you can. A timer and fish caught counter will be displayed at the top of the screen to show your progress.
Once you catch one fish, you can get one point, if you catch at least three fish, a bonus of 2 points will be rewarded. You can use Fish Bait to catch more fish faster and improve your score. The ACNH Fishing Tourney points are used to exchange exclusive Animal Crossing items. Each Fishing Tourney item needs 10 points to redeem. Once you get at least 100 points, you will receive a fishing trophy in your mail the next day.
To exchange your points, talk to C.J. and choose the "Swap my points for swag!" option, then you can know how many points you have and exchange for one Fishing Tourney item with 10 points. The exclusive Swag item you'll receive will be selected randomly. There are a total of 13 items available, so you need at least 130 points to get the whole set of Fishing Tourney items.
What You Can Do with the Fish Caught?
The fish you caught during the challenges will be stored in the cooler outside of Resident Services, while don't take up the space of your pocket inventory. What you can do with these fish?
Firstly, check if there are some new species that have not been donated to the museum, manually grab them from the cooler and donate. If there are no new fish, speak with C.J. and sell all of the fish in the cooler to him, C.J. will pay you a premium rate of 150% of the regular sell price.
Animal Crossing New Horizons Fishing Tourney Items and Rewards
What items you can get from Fishing Tourney is depending on the count of your points.
ACNH Fishing Tourney Items/Swag
Anchor Statue
Fish Doorplate
Fish-Drying Rack
Fish Pochette
Fish Print
Fish-Print Tee
Fish Rug
Fish Umbrella
Fish Wand
Fishing-Rod Stand
Fresh Cooler
Marine Pop Wall
Tackle Bag
ACNH Fishing Tourney Rewards
100 Points - Bronze Fish Trophy
200 Points - Silver Fish Trophy
300 Points - Gold Fish Trophy