ACNH Desert Island Dream Code & Design Ideas - Animal Crossing Desert Island Tour
4/15/2021 5:20:14 PM
Desert style design has a natural and wild beauty, if you are going to change the theme of your island, maybe you can have a try. Here are some ACNH desert island dream address (codes) from different creators, we introduced these ideas in brief. Take an actual tour of these islands to feel different scenery and amazing ACNH desert island ideas.
ACNH Desert Island Dream Code - ACNH Desert Island Design Ideas
1. DA-5775-7385-2072 (HoneyBerry)
HoneyBerry is super fun and creative desert island design, starting at the entrance, she put the museum right in front, there are lots of gifts for visitors, including some Egypt-style golden Animal Crossing items like King Tut mask, you can also wear a whole set of outfit. Go up the stairs, the museum is right at the entrance and it has so many artifacts and art, the color of the sitting area matches well with the color of the ground, looks like orange sandy terracotta, then a bunch of custom patterns and tiles. The panels behind the Log Extra-long Sofa are gorgeous, with the Retro Fan placed, this is a cool area. Go to the left and follow the tunnel, at the front of the Resident Services building, you can see two sewing spots with a campsite next to them, they do always making rugs for everywhere around the island. Then we got a market area like the country fair, with so many ACNH items for sale, a campsite area for people to live in, cute fruits stall next to the villager house, antique door style face standees, a cool relaxing area with multiple hammocks, a lookout area where you can look at the Sphinx and Pyramid, casual sitting area with fruits prepared, awesome cabanas, rug market, and shopping district, etc., so many other creative designs and fully applied desert theme, use the dream address of this desert island to take the tour now!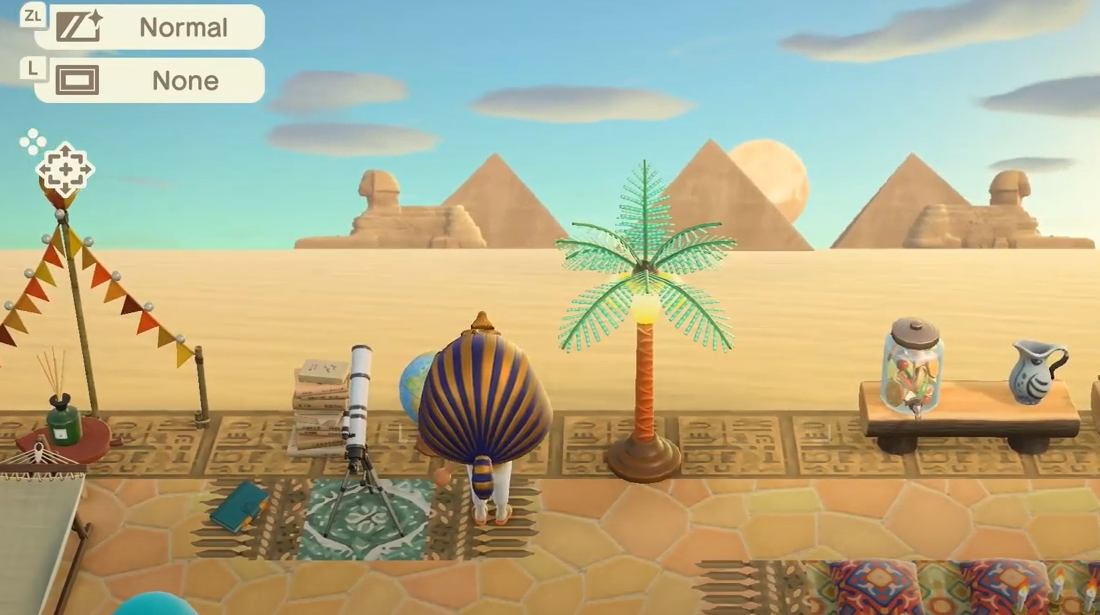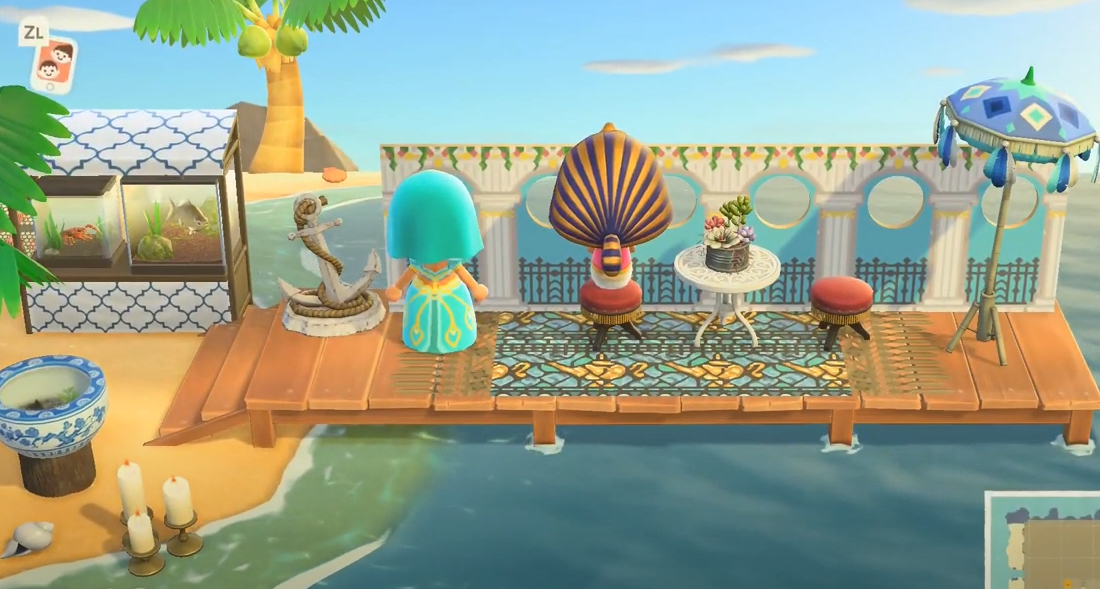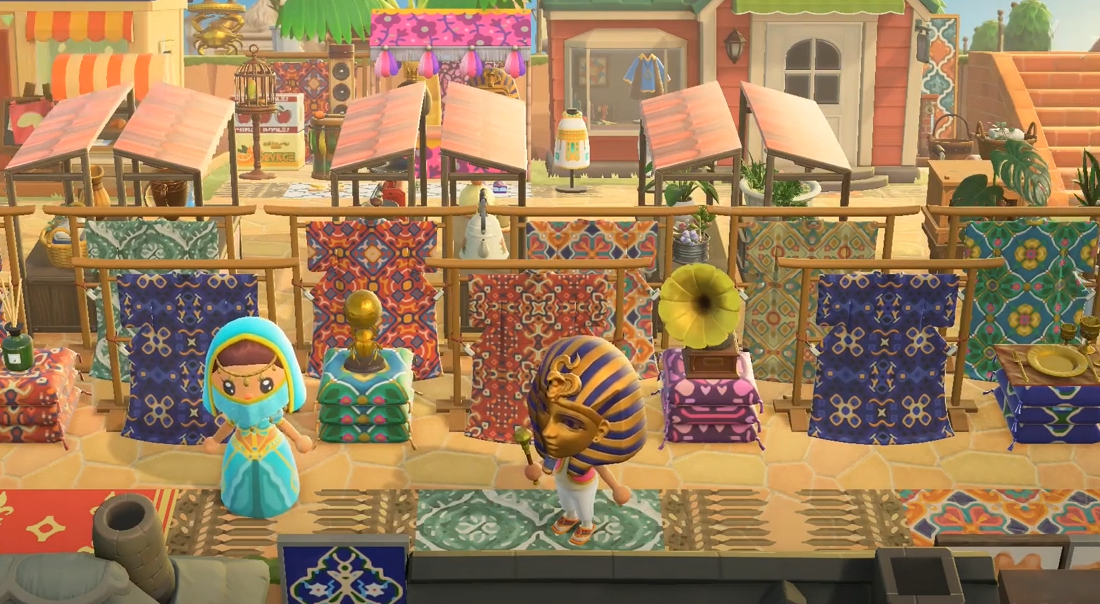 2. DA-2856-0082-8302 (Sonojima)
Sonojima is an incredible wild high desert island inspired by the Mojave in California and wild landscapes of New Mexico, like Joshua Tree area and different Epic canyons. The entrance is stunning, natural, and chill, the fall weeds are gorgeous, little rest stop, everything is realistic and harmonious. Go up the wooden stairs, the pinwheel is super cute, a little turtle is put aside, you can see an amazing picnic spot, the combination of these blankets and cushions, all these items are perfect for a desert island. The front of the villager house placed with different green botanical items. Stone or rock garden, lookout spot where you can see amazing train track, vintage picnic area, windmill always running in the background, pine cone on the piano bench and customized van sets a little touch of cute. You can't miss the canyon, which is incredible, this way to construct space is awe-inspiring, the custom rock patterns are so realistic, you can go down and explore it. Little rodeo area, a cool construction incorporated all sorts of amazing parts of desert scenes, abandoned farm, beehives area, weaving studio, beautiful laundry area, spa and camps on the beach, each corner is worth exploring. You can also use the Pipe to change your location quickly.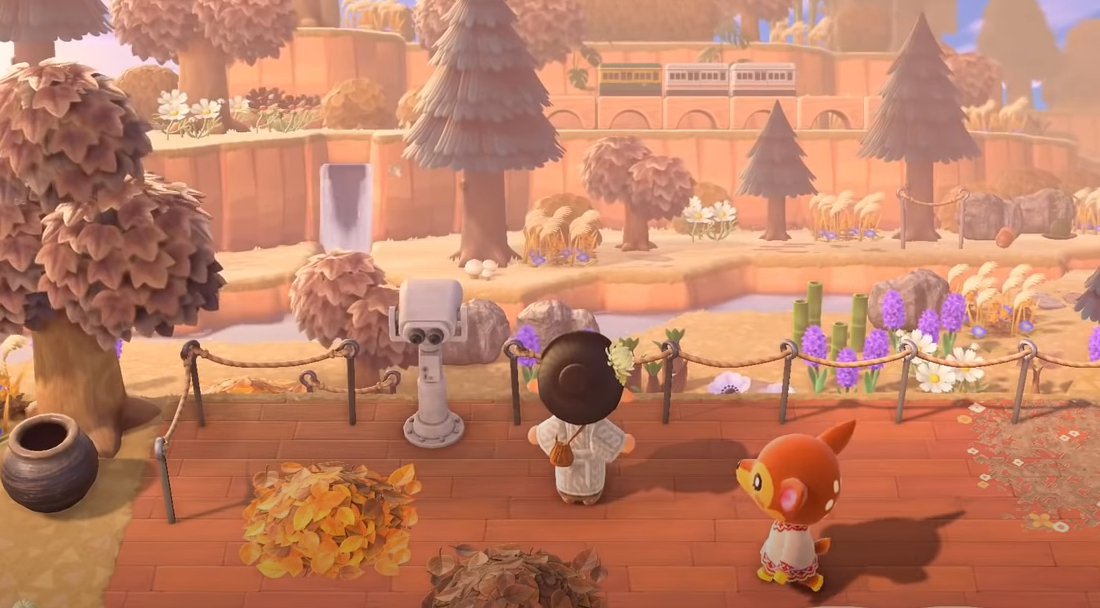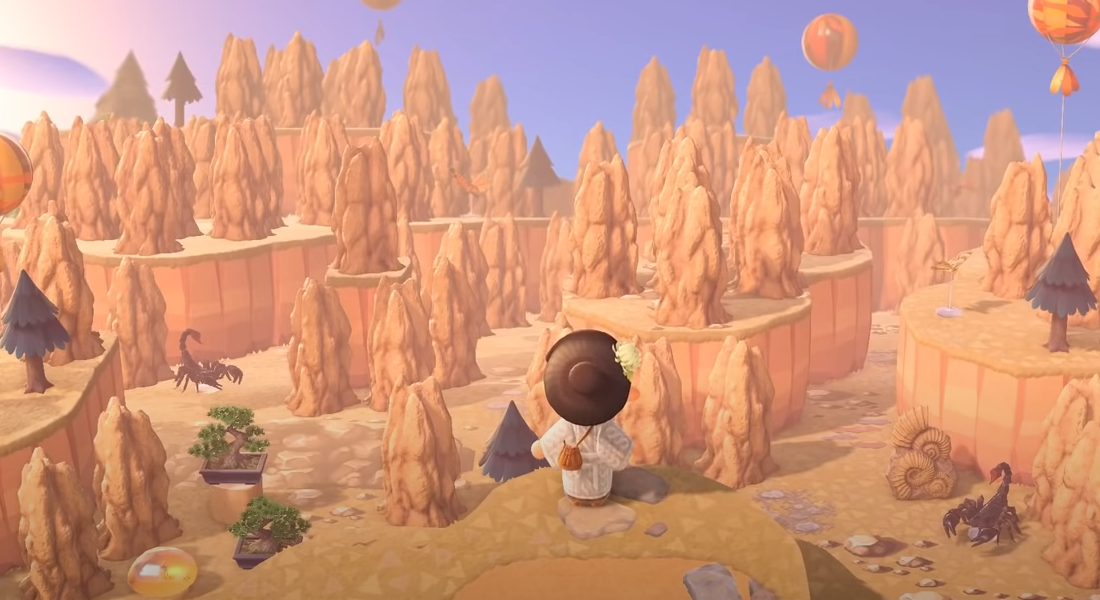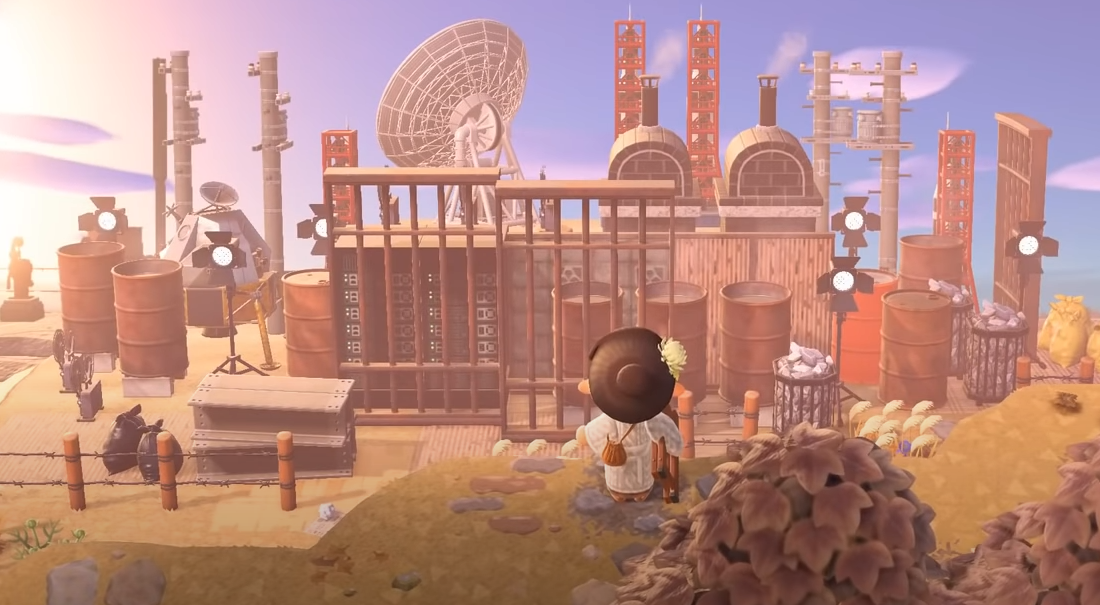 3. DA-6435-7619-3708 (New Bark)
New Bark is built a few months ago, so the creator may have made lots of changes to it, you can take a tour in Tiger's video. The plaza is covered with red brick walls, a huge marketplace is nearby, with so many stalls and things on sale, rugs on the ground look fantastic and like desert vibes, sitting area with lots of coconut juices on the ground, she has pots and planters around all over. Sphinx statues and the fossil in front of the museum, the spa area is so cool, we got the cypress bathtubs and the little poolside beds, one of the craziest thing on this island is the huge desert, which is so wild, and it looks like a city in the background, she also has the termite mounds. The large kimono stands area looks like tapestries, we have even more colorful vibrant rugs and cushions everywhere. All of her villagers have really nice homes and the details are unique.