ACNH Camper Van Design Ideas - Animal Crossing Custom Designs for Camper Vans & Food Trucks
5/12/2021 12:05:54 PM
Inspired by the face cutout standee designs, there is a trend to create various camper vans, food trucks, or shops in Animal Crossing New Horizons. Using several stalls and standees, as well as diner sofa, you can build a camper van fast. What makes it different is the custom patterns on it. Here follow us to take a look at some amazing ACNH camper van & truck design ideas.
ACNH Camper Van Design Ideas - Animal Crossing Camper Van & Food Truck Custom Designs
The camper van or food truck is often put together with some setups like trees, tents, or tables, to make it more realistic and practical. Lots of people are actually using stall designs because they kind of provide the roof for the entire camper van and you can also decorate the inside. Some people put Animal Crossing furniture items to fit the theme, such as puppy plushies, plants, or a coffee machine. Then in front of the camper van, people tend to put diner sofas which just kind of creates this perfect illusion. Let's take a look at these amazing ACNH camper van ideas with unique designs.
1. ACNH book van in yellow by @wapi_kingyo: MA-0056-8784-8529
This camper van is super cute, it comes in yellow, these bookshelves in the front and back are adorable, you can do more books all around it and have it either on the campsite or in the forest, or on the beach, wherever you want to place.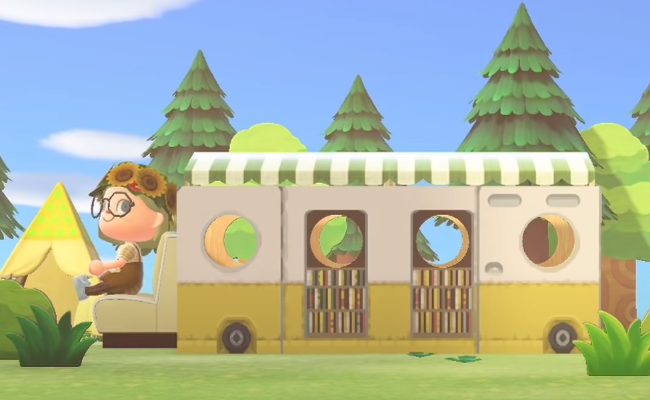 2. ACNH book van by @acnh.sugargrove: MA-8345-5825-2784
This book van is different from other designs, it is split using open space, and put book stands in front of it, it likes a moving library, offers books for people passing by to read. The cute pink camper van also matches well with the cherry blossom trees.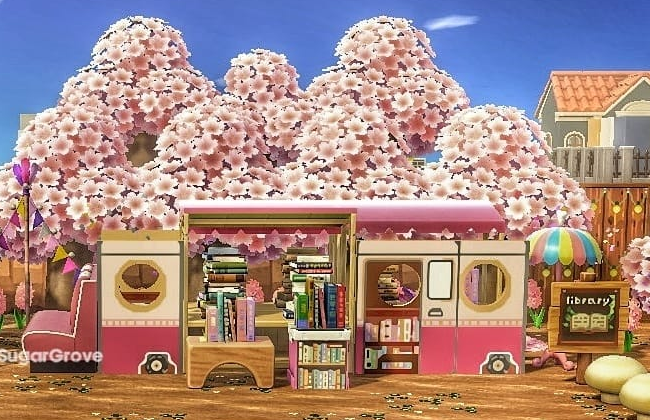 3. ACNH painted springcore camper by @kisskabuki: MA-8064-9451-5252
This is a yellowish-green camper van, it is pretty lovely and fresh with two giant flowers, the door is also gorgeous, if you focus on the details, you can the cute flowers at the bottom, in addition, the users implemented similar colors to decorate around, this is an absolute eye-catcher and suitable for your spring or summer island.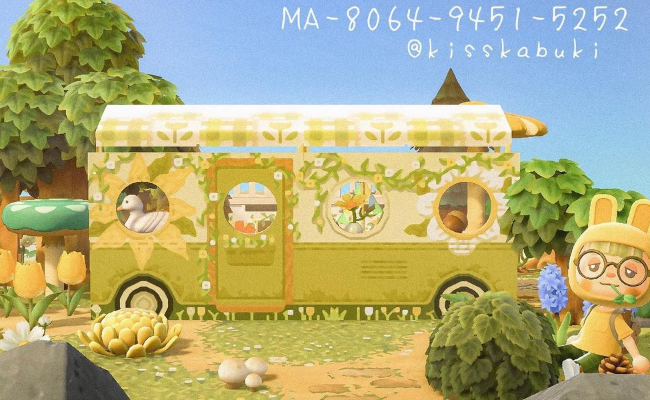 4. ACNH vintage van with animals by @tobimoriamiM: MA-2431-0044-5829
Look at this vintage camper van with cute animals on the cut-out standees, the wheels are a bit smaller, you can only do three pieces, put it the forest with trees all around it.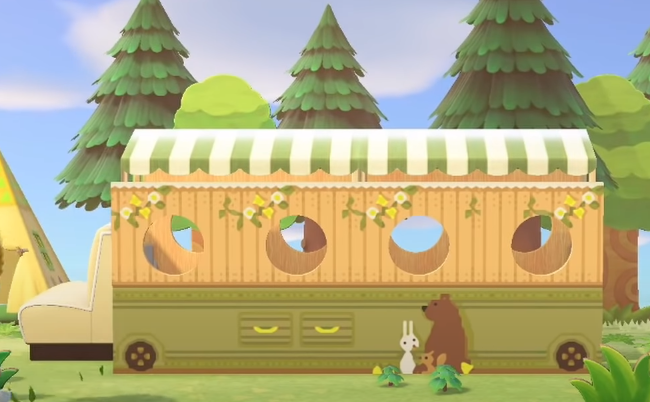 5. ACNH plant truck by u/Medorthophobia1: MA-4015-2075-5702
This is a plant truck without diner sofas, cut plants put on the window and there is a vine at the top of the window, it works perfectly with the in-game style design and easy to work with your island theme.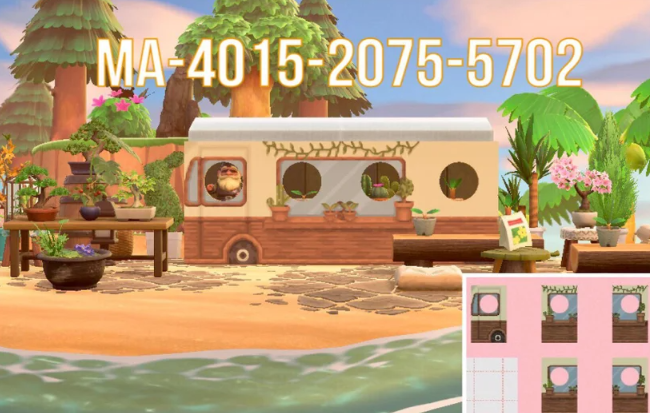 6. ACNH honey truck with lemonade by @gracechang._: MA-2506-2092-5997
A honey truck with abundant details, such as the honey bottles, fresh lemonade, custom green grassland with little white flowers, honey shop signs, cutting area, and more. It's adorable to be put on a sprinkler island or a kidcore or actually any other type of island.