ACNH Zelda Crossover at E3 Rumored - Zelda Themed Items & Villagers In Animal Crossing
6/11/2021 9:19:18 AM
We are taking a look at the latest E3 rumor for a Zelda Crossover and recapping what Zelda Crossovers have looked like in the past which should give us a good idea of what to expect for Animal Crossing New Horizons if the rumors are true.
Animal Crossing New Horizons Zelda Crossover Rumor Explained
As E3 is fast approaching, there seems to be more and more chatter within the Animal Crossing community about the potential Zelda Crossover in New Horizons being showcased at the E3 event. And before we take a look at what this could look like here's why:
For those that don't know, E3 is one of the largest video game convention and ignorant last year for obvious reasons happens annually bringing together publishers, developers, the media, thousands of video game fans and communities. Although only digital E3 2021 will take place next week from June 12th through to June 15th, Nintendo are partnered with the event and will be hosting a 40-minute Nintendo direct focusing on upcoming games along with a three hour treehouse live stream afterwards. Anyway as usual, Nintendo are pretty hush about their schedule and no one really knows for sure what projects will be showcased or what games and updates will be revealed. However, 2021 marks the 35th anniversary of the Legend of Zelda, and there's a lot of speculation within the Zelda community and various media atlas that this E3 will be heavily focused around the Zelda franchise.
Why Will Zelda Crossover Will Happen In Animal Crossing New Horizons?
There's a few reasons why but basically it's a huge milestone and obviously it's been two years since breath of the wild two was teased, so it's pretty likely the Zelda franchise will have a large presence during the show. Naturally, this has led many people to believe that in efforts to promote the Zelda franchise and potentially the upcoming Legend of Zelda Breath of The Wild 2, that they will also showcase a bunch of new Zelda celebrations, merchandise and other goodies, as well as cross-promoting it within other Nintendo IPs. We've seen this before back in Super Mario's 35th Anniversary just last year that saw Mario themed events in splatoon for example and of course the announcement of Super Mario themed items coming to New Horizons seven months before they were actually revealed. So it's kind of expected at this point that the Zelda Anniversary less than a year later will see a very similar marketing strategy to promote any announcements they have for the franchise.
Anyway for this reason, the idea of a Zelda crossover coming to New Horizons is getting more and more traction and to be honest isn't that unrealistic, but if it did what would it look like.
Animal Crossing Zelda Items
Zelda items have actually featured in Animal Crossing games in the past with the iconic master sword featuring in the game as far back as the original. Furthermore, as recent as the first release of Animal Crossing New Leaf, players could buy fortune cookies that contain Nintendo themed prizes including the triforce and master sword from previous games. But also the heroes outfit and additional Zelda theme masks which are all pretty popular. However the biggest Zelda crossover seen in Animal Crossing didn't appear until the welcome amiibo update to New Leaf, this not only added over 30 exclusive Zelda items to villager RVS making it one of the largest steam sets in Animal Crossing but also four brand new Zelda inspired villagers, which made actually getting these items in the game possible.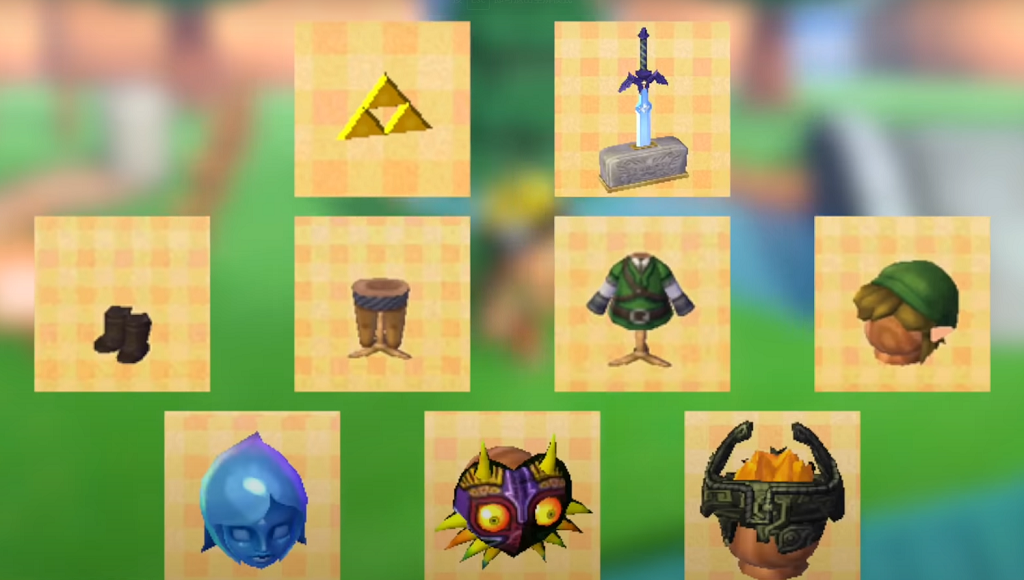 Animal Crossing Zelda Crossover Villagers & Items
These villages include Wolflink, O'Wlink, Epona, Medley and Gallon, all of which are beyond awesome and could be moved into town if you wanted to.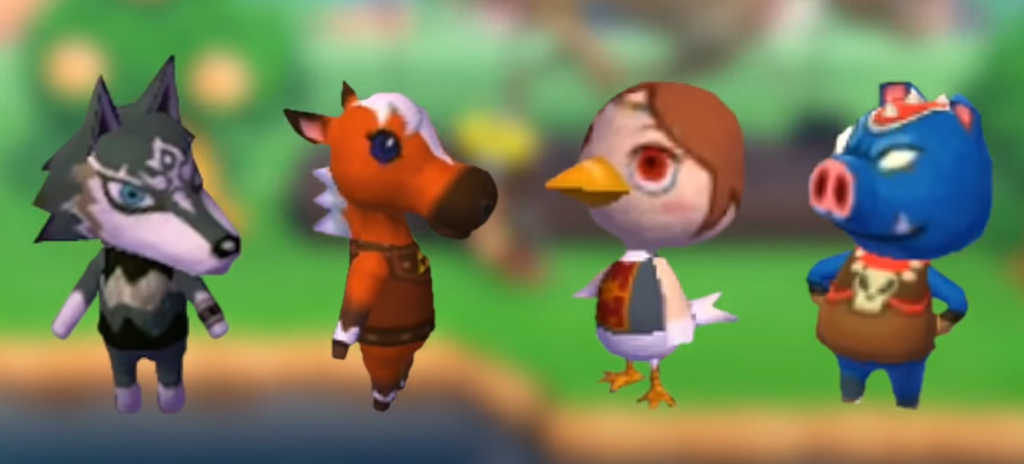 Wolflink is a smug wolf who of course is based on the wolf from twilight princess and introduced Animal Crossing items such as the Hyrulean Treasure, Hylian Shield and Princess Zelda Dress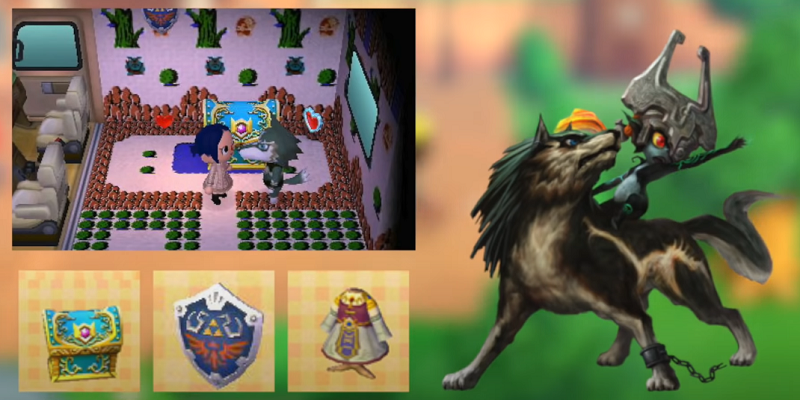 Epona is a peppy horse who for any Zelda fan is obviously based on opponent the horse who featured in several Zelda games including Breath of the Wild and introduced items such as the Terminus Moon, Lonlon Milk and the Gossip Stone.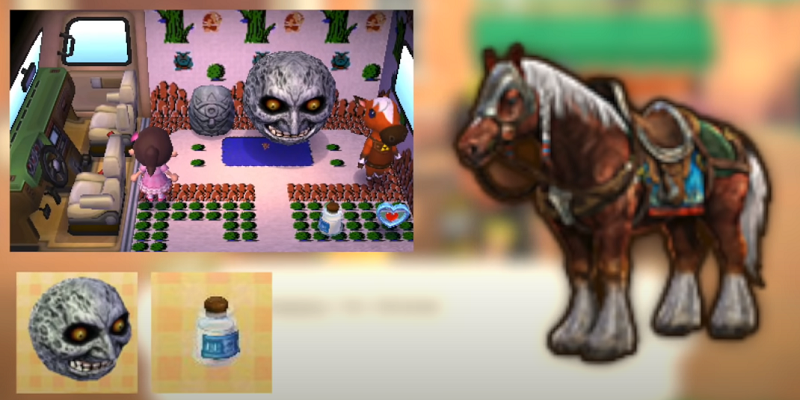 Medley is a normal bird based on none other than her namesake in wind waker who introduced items such as the Cuckoo Ornament, Fairy Bottle and Hero of Time Scroll.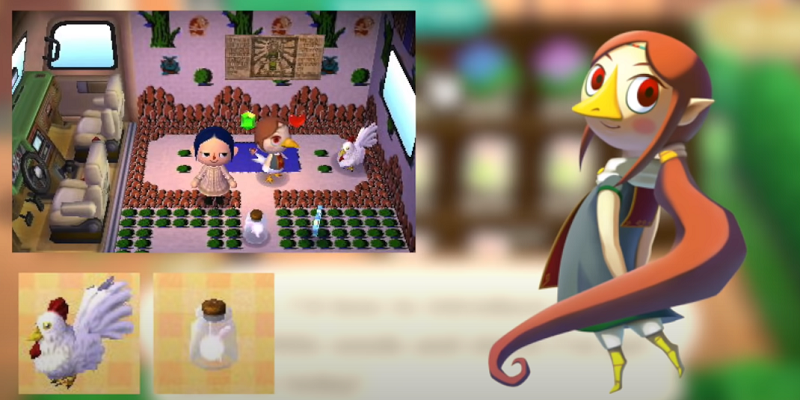 Gallon is the cranky pig prince of darkness who is the main antagonist in many of the early Zelda games and introduces items such as the Bomb, Rupee and his very own outfit.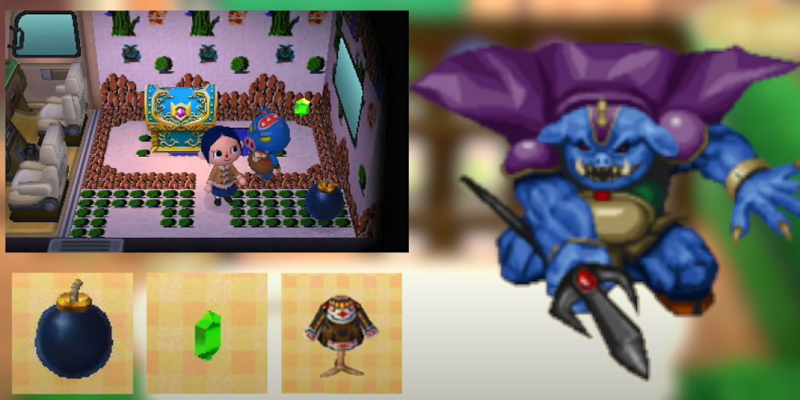 That's just to name a few there were several other outfits and Zelda items added alongside these new Zelda themed villagers.
How Will The Zelda Crossover Work In Animal Crossing New Horizons?
Anyway given we already know how crossovers are handled in New Horizons and that they are handled much in the same way as they were in previous versions of Animal Crossing, this gives us a pretty good idea of what a new Zelda crossover could look like in New Horizons, especially if we compare it to both the Super Mario crossover that introduced Super Mario items and the Sanrio crossover that we saw earlier this year that introduced new items as well as villagers, all of which just like these Zelda items we've mentioned have featured in past Animal Crossing games.
So should these Zelda rumors come to fruition and a Zelda crossover for New Horizons is announced during the E3 presentation? We think there's a good chance we'll see the four Zelda villages added just like the Sanrio ones with a mountain of Zelda themed items added to the promotional tab in the Nook Stop for Animal Crossing bells.
And most of these Zelda items would be added in an update to the Nook Stop but the Zelda villagers could still be limited to their amiibo. Anyway that's a bit long-winded but based on how Nintendo seemed to be promoting games at the moment and how crossovers have worked in the past we would say it's looking like this is the way Nintendo would go should a Zelda crossover actually materialize.
There we have it that's pretty much everything you need to know about how Zelda crossovers featured in past games and probably what it would look like in New Horizons if it ever happened, as well as a quick roundup as to why this is even a rumor in the first place.