Top 10 Rarest ACNH Island Themes - Ocean, Desert, Rainbow, Canyon, Imperial Island in Animal Crossing New Horizons
8/20/2021 6:59:21 PM
On Animal Crossing: New Horizons, the possibility of customization of our island is certainly predominant, totally absent or almost in the previous chapters, especially if compared with the latter. Let's see together Top 10 creative ACNH island themes and design ideas that would be interesting to build in Animal Crossing New Horizons!
Top 10 Unique Animal Crossing New Horizons Island Themes You Should Build
Animal Crossing: New Horizons is certainly a very innovative title compared to the previous ones, thanks to the enormous possibility of customization that we have: not only is it possible to furnish the exteriors, but we can also put our hand to our own island to define its characters in almost all its entirety thanks to terraforming. However, now there are several users who complain about the lack of content in the last title of the series.
If you no longer have activities that keep you busy in-game, why not redo your island from scratch, and wait for some more substantial update from the Japanese company. Here are the rarest island themes that can be made in-game which will surely occupy a lot of in-game time.
Top 1 - Under The Sea Theme Island
Atlantic Island (Dream Code: DA-5922-2030-3780)
Certainly very little obsolete and original, of islands of the underwater type there are very few! To achieve them it is essential to wallpaper your island with the license of the sand soil, obtainable at the Nook Point of the Service Center in exchange for miles and then let your imagination run wild!
Certainly elements of the mermaid series and the shell series are not enough to build it, but taking inspiration from the image we have attached to it, it will also be interesting to use elements of the iceberg series, such as the Frozen tree (Orange), and the mushroom series, such as the Mush partition (White), to create the illusion of marine fauna and the various corals naturally present in the seabed.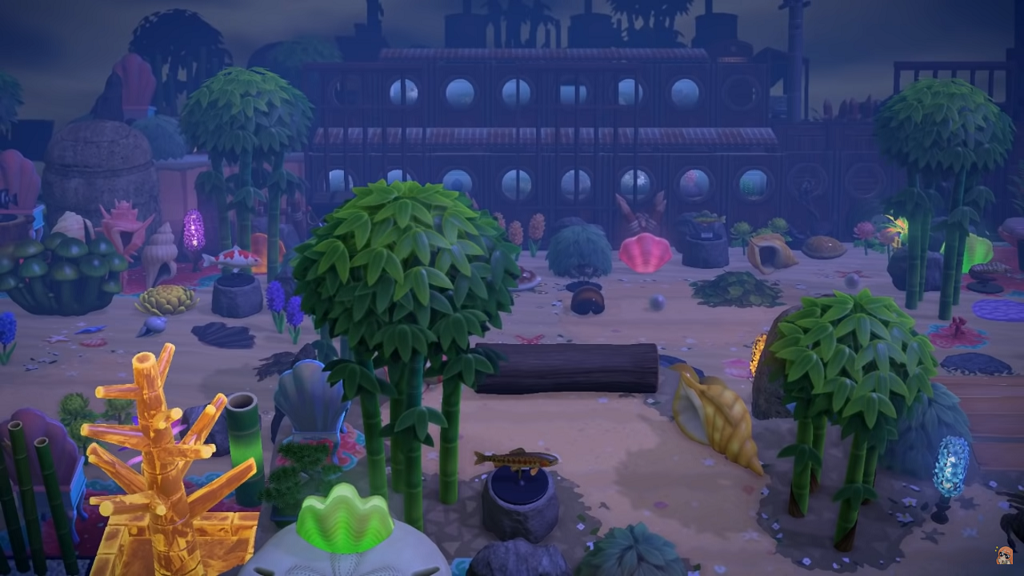 Top 2 - Desert Theme Island
New Bark Island (Dream Code: DA-6435-7619-3708)
Also to create a desert-themed island there will be essential the sand soil license, just like for the underwater type, but here surely we can wink at the green by allocating some small area to oasis, which in this case can certainly not be missing!
It can also be interesting to set up oriental-style markets, varying a lot with geometric patterns and warm colors, and surely it will be impossible not to use some object that Gulliver has given us as a reward after one of its many shipwrecks: the Pyramid and Sphinx will be indispensable, of course, but it could also be intriguing to place the Katana (Black), although it is not exactly the same style.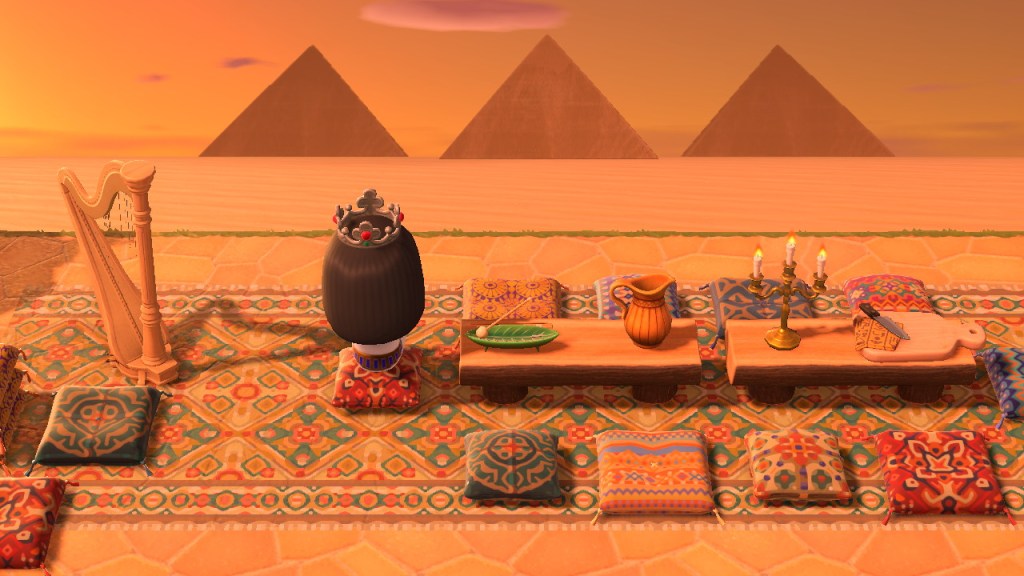 Top 3 - Rainbow Theme Island
Irisalia (Dream Code: DA-7237-0054-5823)
Rainbow theme island is surely loved by girls or young people, in this kind of island, everything is just so colorful with rainbow pattern path and colorful items. All the furniture fits in really well here when you're trying to represent all the colors. In the neighborhood area, the houses are arranged by colors and their yards match the color schemes so clever.
So to create the unique rainbow island, from the pathways to the furniture, try to use the colorful cute items (Star Fragments, Easter Eggs) but you have to make sure every color matching in a harmonious manner. What's more, place the rainbow custom pattern on floor, path and other Animal Crossing items is essential.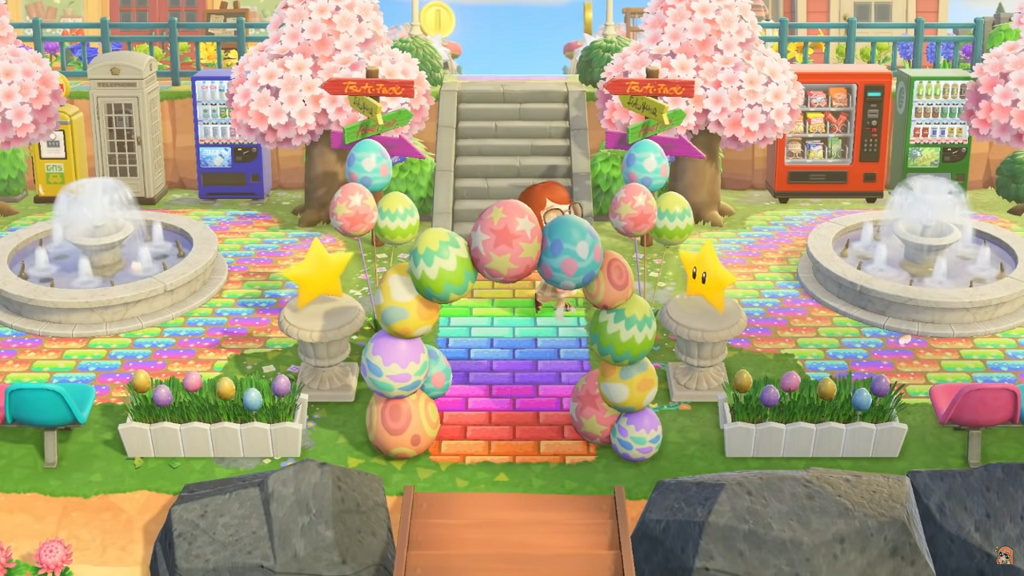 Top 4 - Grand Canyon Theme Island
Miacanyon (Dream Code: DA-4509–4120-9489)
Interesting to explore and realize also the western-themed islands, which bring with them spectacular views and the possibility of being able to create gigantic canyons. In this case the fundamental license to buy at Punto Nook will be that land, but it will also be important to work on your island in autumn, when the grass takes that yellowish color perfect to harmonize with rough landscapes.
Important, in addition to terraforming to prepare the differences in height, is also the Termite mound, obtainable from Flick, of which many specimens will be needed. How else can you recreate the iconic steep rock walls of these places?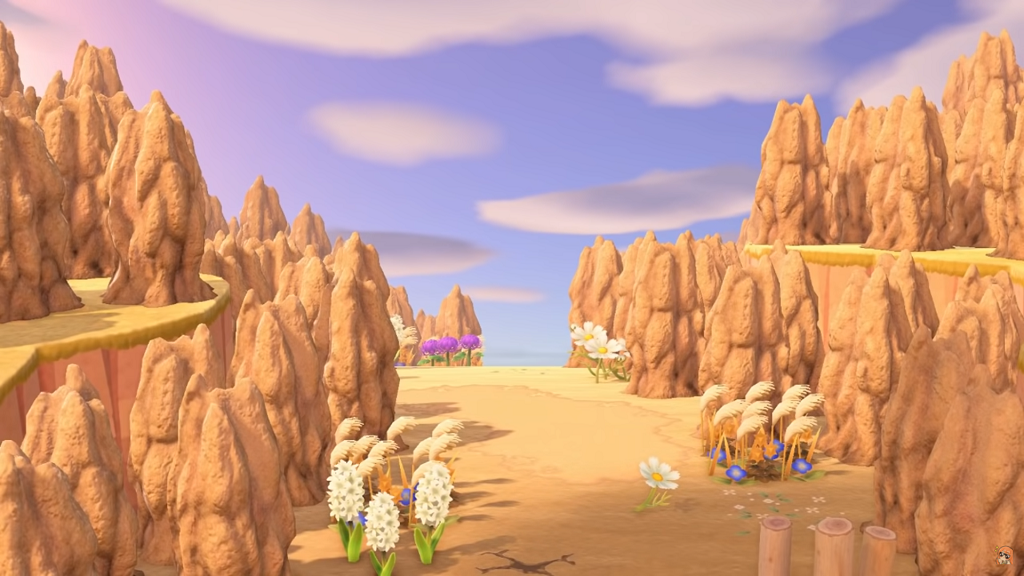 Top 5 - Adventure Theme Island
Pawslandia (Dream code: DA-1883-4873-8161)
Adventure theme is also a creative island design idea. The entire Pawslandia island is built to be a sort of adventure like a quest,if you don't have a map, you will surely be lost. To build up this theme of island, you need some great ideas to create illusion with the exist items in Animal Crossing New Horizons, such in the Pawslandia island, creator used the cypress plants to create the tree illusion and make the areas feel more elevated. What's more, creating some interesting mazes to enhance the adventure experience, such as a dragon zone with brailliant terraforming and decor.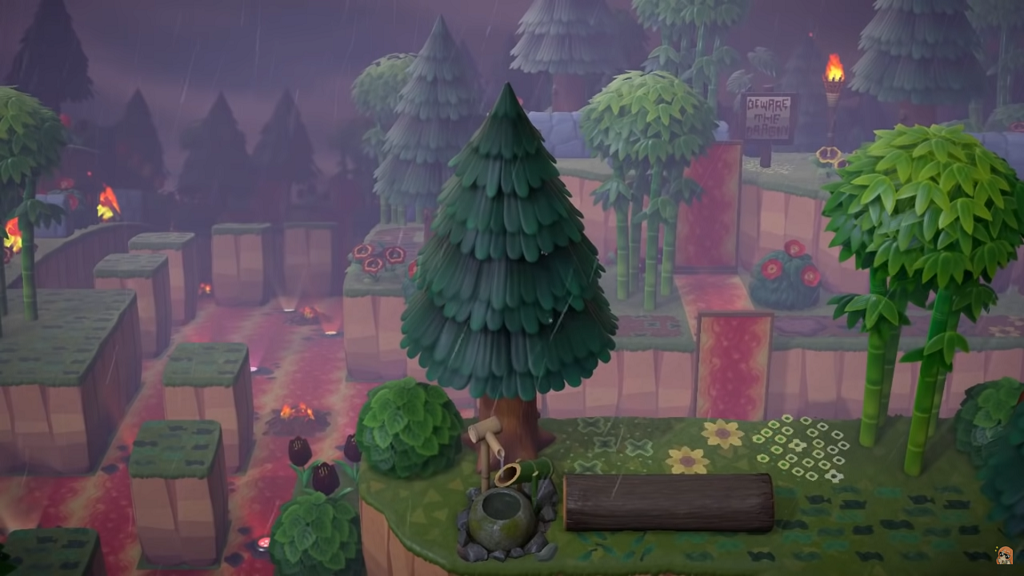 Top 6 - World Big City Inspired Island
JIMPEREZ (Dream Code: DA-5772-6499-5461)
You must have indulged in the landscape of those famous metropolises. It is possible to replicate your ideal city in ACNH. JIMPEREZ Island is a multi-theme destination wherein the core is ILLUMINATION. From cosmic to fun festive with a taste of Roman, Greek, Egyptian, Turkish and Japanese vibes. There is no doubt that if you want to create an island with the theme of an international metropolis, you need to spend a lot of energy on custom patterns and collection of related themed items.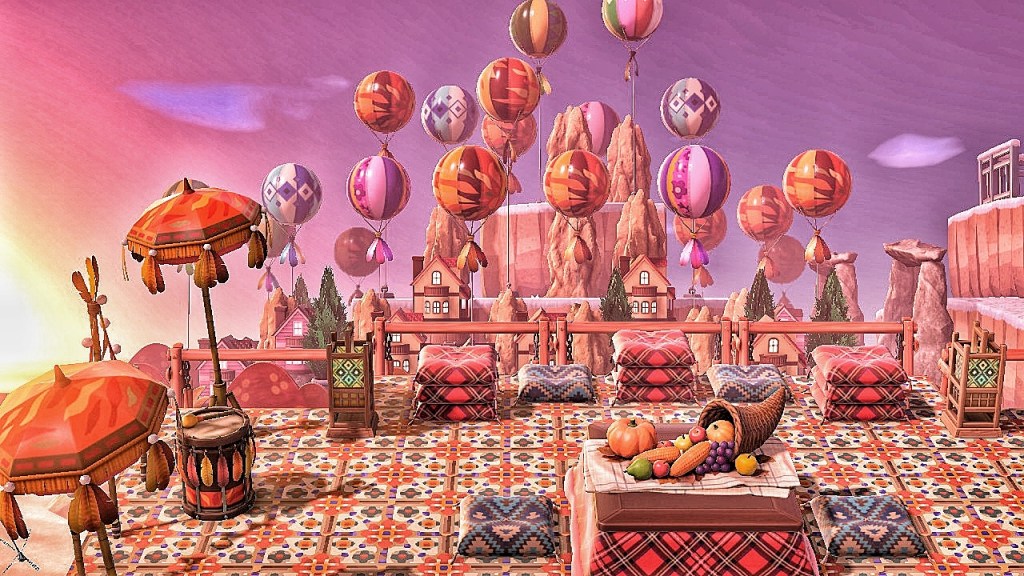 Top 7 - Abandoned City
Coco (Dream code: DA-0432-4629-4476)
Very particular, and also wanting a little disturbing, the last type of island that we will treat, or the abandoned islands. Whether they are uninhabited towns with the signs of a very recent escape, so much so that the environments seem still alive, or that it is an island with a more natural component, certainly the originality of the theme is not lacking.
In this case there will be no particular fundamental items to be placed to make the theme recognizable, but it will be important to be able to create the atmosphere of general abandonment: this can only succeed by combining several elements in combinations that can communicate what we want, such as the pool that you can admire in the image here. Who knows who might wander among these abandoned environments!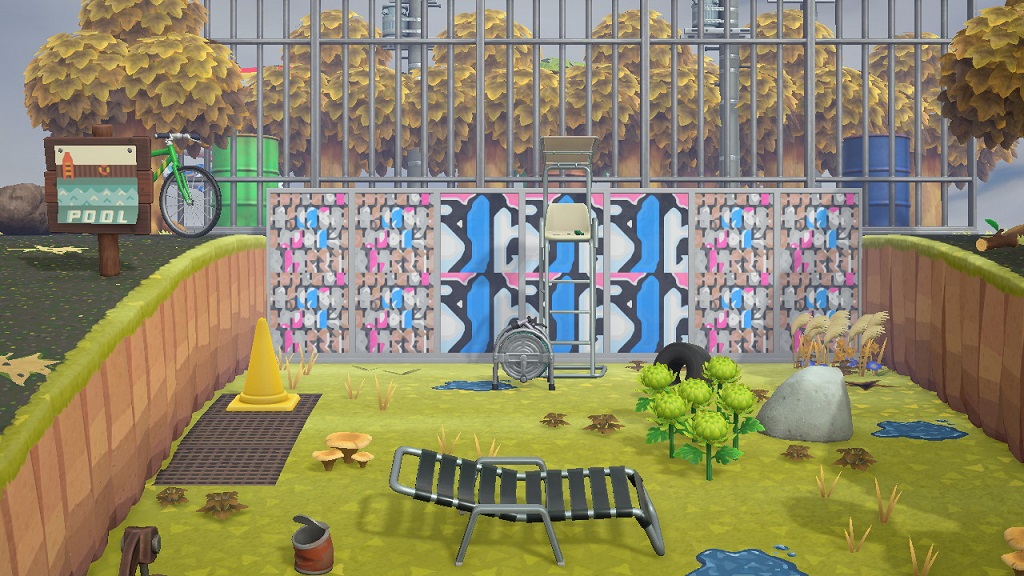 Top 8 - Shopping Centre Island
Graceland Island (Dream code: DA-6052-4323-0532)
Even this type is really not widespread and difficult to find: we are talking about the islands themed shopping center. Very varied because they bring with them a multitude of different environments, to realize them it will really take a great creativity and inventiveness, and above all it will be necessary to be decisive to be able to choose which shops to recreate and which not, there is not enough space for everyone!
To create this type of island, the fundamental item is the Simple panel (Light Brown), which must be customized with one of the various patterns and act, together with the differences in height created with terraforming, as an element of division between the various environments created. We must not forget to build the façade of our shopping center with parking!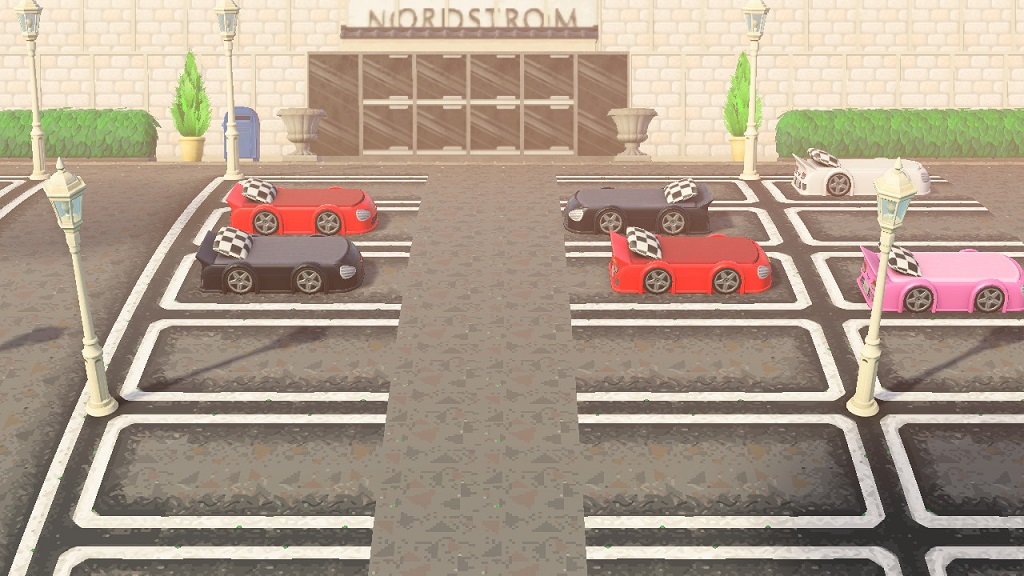 Top 9 - Halloween Theme Island
Madagascar (Dream Code: DA-0294-3609-7063)
Certainly it is not yet the right time, but for all lovers of this holiday, why not set up a completely Halloween-themed island? After all, for fans it is always the right time to show off their pumpkins and add a hint of terror and mystery to the island.
The thrills series will be fundamental to recreate this type of island, and soon there will be available as schemes and as items that can be purchased at the Nook Stop also three new items: the Spooky Tree (Orange), the Spooky Lantern (Orange) and Spooky Treats Basket (Orange), which certainly will not be missed to make your island more spooky and captivating than ever. Add a good dose of fog this autumn and even Jack will not be able to resist the charm of your island!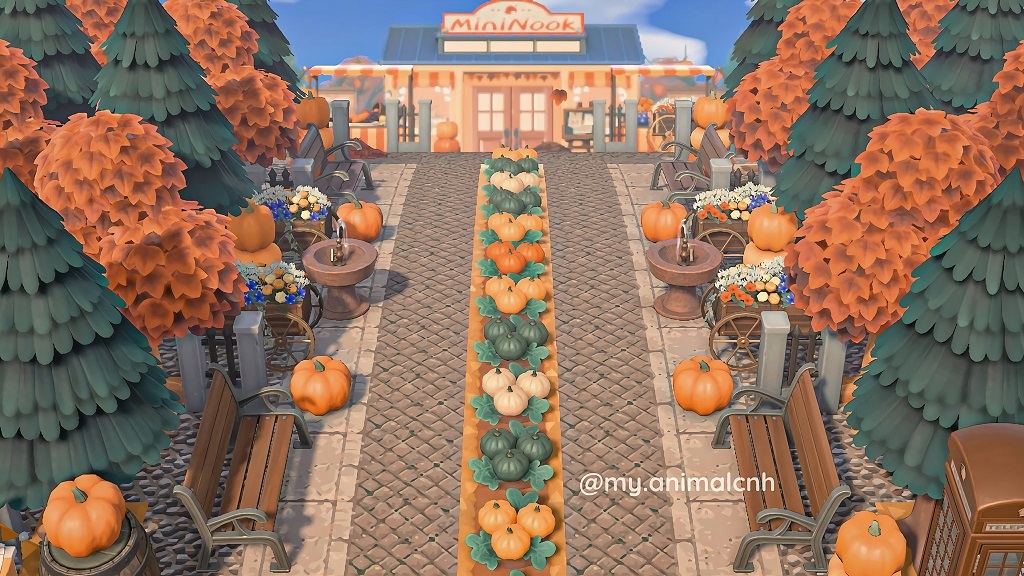 Top 10 - Imperial Theme Island
Provenance (Dream Code: DA-3087-9818-4165)
If you are big fan of Oriental culture, imperial theme island will surely inspire you. This red theme Chinese ancient city is incredible, build with a ton of Japanese style furniture, stone items and imperial series, all these items will help you to reproduce the classic oriental royal gardens on your island. All the builds are so structured and come with classic vibe. The gold trimmed red carpet on path enhance the Chinese royal touch. Don't forget to add some clever details by place small decorations on every areas.