ACNH Donation Box 2.0 Guide: How to Use Donation Box in Animal Crossing & Purposes
11/5/2021 11:53:50 AM
Among a large amount of ACNH 2.0 update new items, there is a special one - Donation Box, which is likely to have an impact on the trading mechanic and economy in the game. Now let's figure out what is the purpose of the donation box in Animal Crossing New Horizons and how to use the ACNH donation box.
ACNH Donation Box 2.0 Guide - What is Donation Box in New Horizons and Purpose of Donation Box
What do donation boxes do in ACNH? The Donation Box added with the Animal Crossing New Horizons 2.0 version is a new wooden furniture item, which allows players to put ACNH bells in it. And you can collect these bells from the Donation Box on your island. It also shows the number of bells in it.
How to get Donation Box in ACNH?
To get ACNH 2.0 Donation Box, you need to download and install the latest 2.0 version firstly, and here are the following steps.
- Go to the Nook Stop at Resident Services
- Choose "Redeem Nook Miles"
- Select the DIY Recipes
- Scroll down the list to find the Donation Box recipe
- Buy the recipe with 800 Nook Miles and it will be delivered immediately
- Learn the recipe of Donation Box and collect required materials (4 wood and 4 softwood)
- Make the Donation Box with crafting materials, it can be customized to different finishes and adorning stickers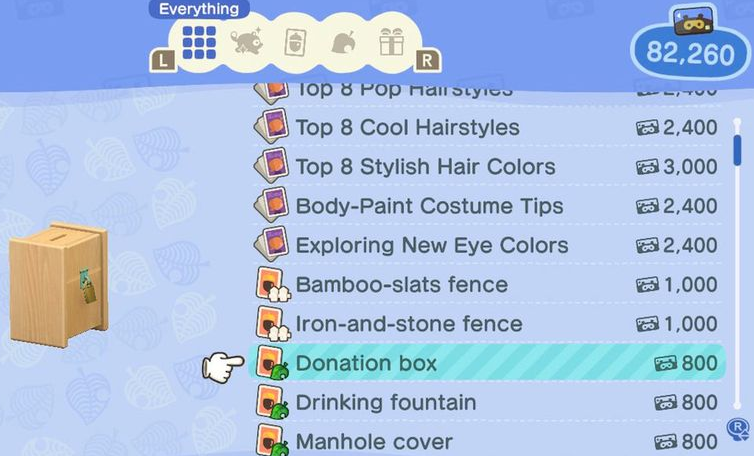 ACNH Donation Box 2.0 Guide - How to Use Donation Box in ACNH
The use of donation box is not limited to one way, you can put it in a place where the visitors can easily find it. When other players visit your island and interact with the Donation Box, it will ask if you'd like to make a 1,000 Animal Crossing bell donation. And if the player donated some bells in the box, you can see the actual quantity of bells and take them out. In a word, there are different options for using the Donation Box:
- Visitors can interact with the box and deposit a certain number of bells into it
- The island owner can withdraw bells for the box at any time
The Donation Box is a great way for visitors to thank the island owner, or when you want to leave some money for taking items from other islands. Before the Donation Box was added in the Animal Crossing New Horizons 2.0 update, the bag of bells is allowed to drop on the ground directly, now it makes the host pick up the bells in a more secure way.