Best ACNH Villager Neighborhood Ideas (2022) - 10 Ways To Design A Neighborhood For Your Villagers
1/14/2022 2:15:15 PM
Looking to create a neighborhood for your villagers but not sure where to start? This guide will help make your vision a reality. We cover 10 best ACNH villager neighborhood design ideas & codes, and explain how to build a residential area in Animal Crossing New Horizons.
Best ACNH Villager Neighborhood Ideas (2022) – Building Tips & Design Ideas
In Animal Crossing New Horizons, players can put and relocate house plots wherever they wish, giving them the greatest creative freedom yet when it comes to town design and construction. This means that creating proper neighborhoods is not just possible, but enjoyable and accessible. So in order to make your island an ideal wonderland, how do you layout the villagers' houses and design your living area perfectly? Read on and let's explore design solutions!
ACNH Residential Area (Villager Neighborhood) Design Tips
Prepare a large location: For the sake of a densely populated area, you'll need plenty of room to plant your seeds. Get rid of any trees or other obstructions that might get in the way of your path first.

Have approximately 200 squares: A space of around 200 squares is required to house all 10 villager homes. If you plan to have your house with them, prepare at least 300 squares.

Move 1 person per day: Once you've leveled the ground you're going to use, you can move a villager's house by talking to Tom Nook at Resident Services.

Decorate as you like: Once you've successfully moved your villagers' houses, all that's left to do is decorate the area to your heart's content. Add fences and other custom designs around the houses.
ACNH Villager Neighborhood Design Ideas & Codes - 10 Ways To Design A Neighborhood For Your Villagers
1. Best Villager Neighborhood Design Code - DA-7102-2258-9935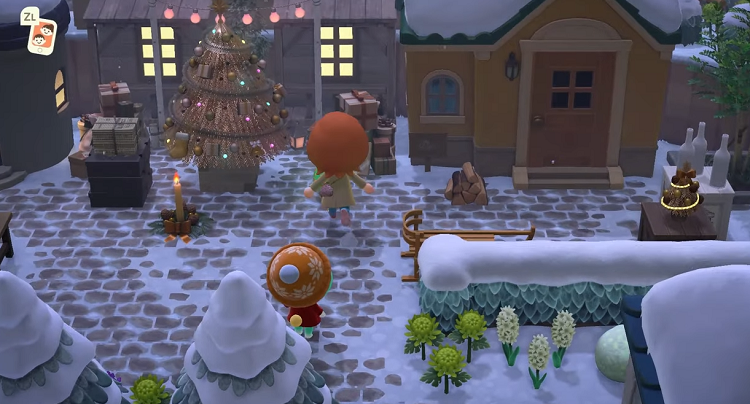 This island is set in winter, it's always cool to see other people actually making this season work. There were new frozen things like the mini snowman and the frozen fence, it looks so pretty. There were some more houses in the back here and that's so gorgeous. This was a very cute island, it was very festive.
2. ACNH Neighborhood For Villager - DA-5251-7746-8396
This island has a neighborhood at the very back and the houses are in a straight line. But the catch is that each of them has its own little mini theme, so they're encapsulated within little hedges, fences, each house has its own very distinct yard. They managed to incorporate so many custom designs, so many different colors and themes on this one island and it was still so cohesive. All of them were so impressive, a ton of use of the new items in the game, so many ACNH 2.0 items coming into play here. So this creator has been busy since the update came out. That's definitely a testament to the uniqueness of this island setup though because the creator choosing to give each resident their own very distinct and very unique yard. It offers this opportunity to use all kinds of furniture you might otherwise not be able to incorporate on your island.
3. Best Neighborhood Area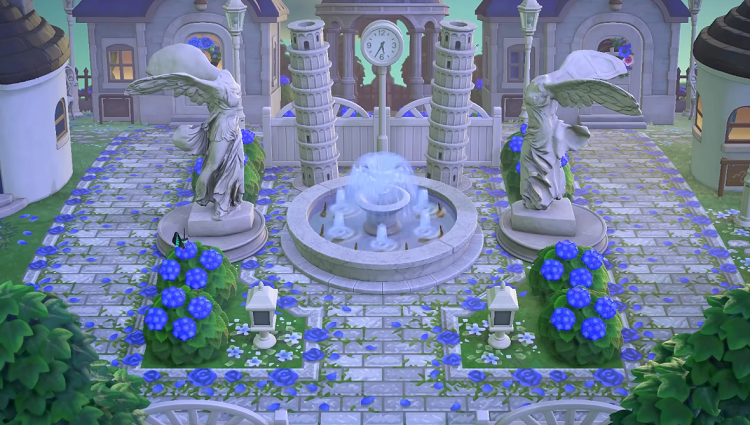 This is an example of a more elegant towny neighborhood. The centerpiece was so well done. The structure of the cul-de-sac is just amazing and you can go through the gazebo in the back. We've also got a second cul-de-sac in the very back with another centerpiece. This one is different but still gorgeous.
4. Best Way To Design Villager Neighborhood - DA-7076-2646-9908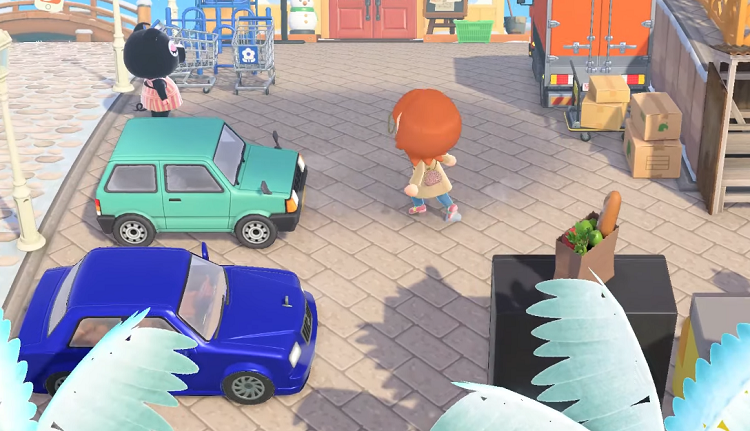 Creators make little sections outside of the neighborhood like that bus stop. This island has another example of an uber structured neighborhood and it is compact. This is a good example of how you can place houses very close together if you don't want them to take up a ton of space, but you still want to have a designated neighborhood on your island. These houses were so close together but they were still so beautiful and elegant, there was still the opportunity for all of this decor that you could place, they're like beach front houses, they're on the coastline and there was also a house on the beach which might be the resident representative. We actually have a beachfront home, when people incorporate their own houses into the villager neighborhood, it just feels more like island togetherness. Also take a look at the little bus stop and the fact that the neighborhood borders, the shopping district, so you can come park your little car here and go for a shopping day.
5. Residential Area Design Code - DA-5388-6352-7082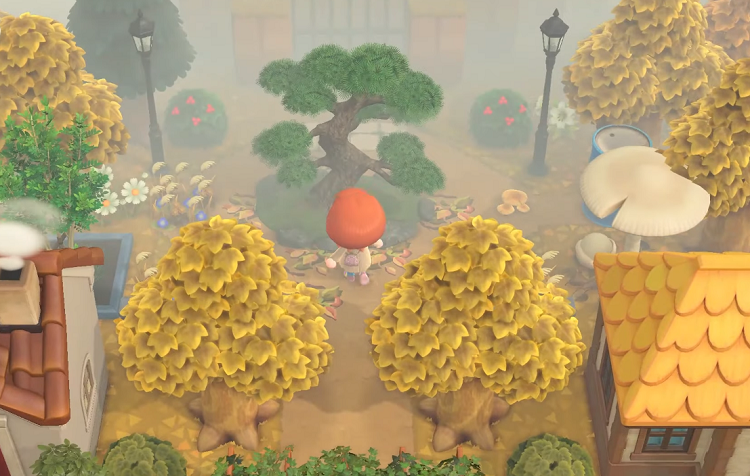 What else is unique is a very foggy ruined area. The color scheme of this space is so great, the use of castle walls here and the pergola, everything was just so beautiful. The pergola was placed on that custom pathing too. The pine tree is a sort of centerpiece between the houses and because of the fog, you get this illusion with the jail bars.
6. Ideas For Residential Areas In ACNH - DA-7076-2646-9908
It's like a docks area, you can feel like you are walking through a seaside. The color scheme is so great, all of the gentle whites and off-whites and blues were just so pretty, kind of enhancing that seaside aesthetic. All of these boats placed around were really impressive, they're huge items and they definitely draw the eye.
7. ACNH Villager Neighborhood Design Code - DA-1907-1617-5869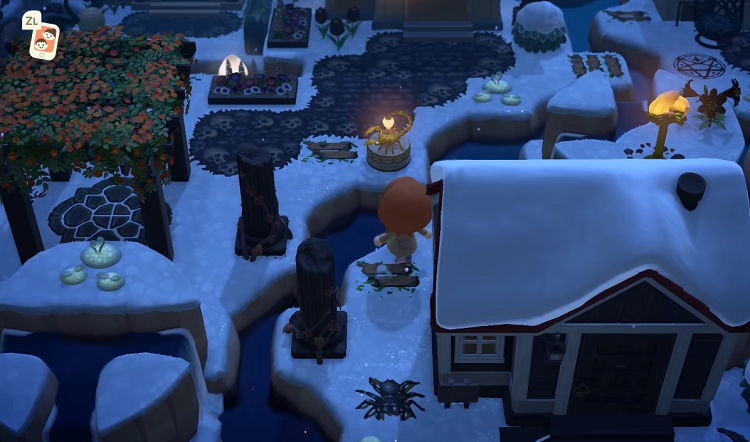 It was so spooky, take on the pillars with all of these illuminated items that come into play, all of these lamps and star items were so beautiful. There was a demonic summoning circle, the altar in the middle was super cool, you should definitely go and explore this neighborhood on your own because there is so much dimension to it. It's layered, there was a lower level to the neighborhood.
8. Best Neighborhood Design For Villager - DA-2632-7175-1730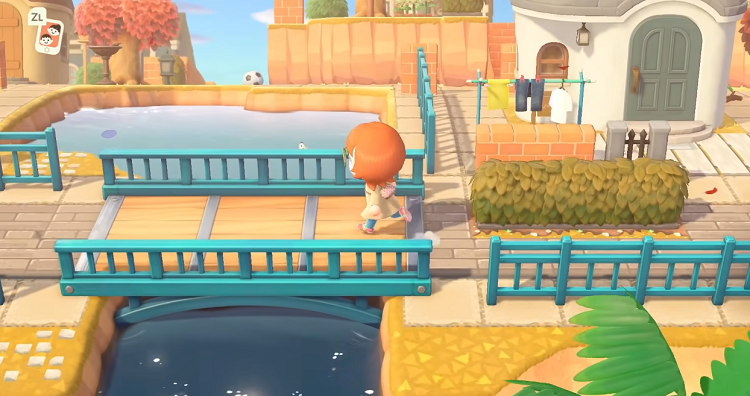 The differing décor is very unique, the bridge being used, but it was so gorgeous, also got hung up on that fence for a second, but it's so unique too because the houses weren't lined up. The decor on the peninsula is like a little community sitting area. There was also a mini café, very cute, in this island, all the houses felt like such a compact area, they also have other little community spaces which were so cute. Stalking around the neighborhood and there was an incline that would lead you up to the upper level and it's very pronounced. The fact that the houses are a little haphazardly placed, it was so unique seeing all of the houses placed not in straight neat lines, despite the fact that it had very neat organized sidewalks, the houses were still off-center not lined up and it still worked out perfectly. The island was beautiful.
9. ACNH Best Residential Area Design Code - DA-9414-2200-8120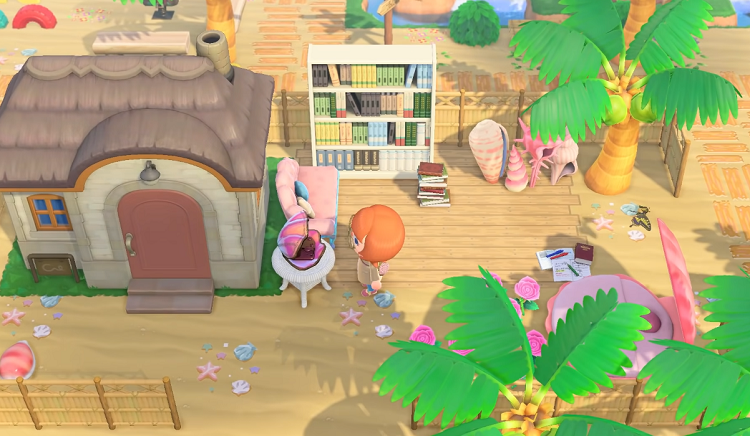 There are alternating planks down as a pathway between the houses and it's kind of like a mixture of organized and loosely placed. This neighborhood also featured a playground which was so fitting, this would be like a family beach house zone, All of the colors really fit with the aesthetic of the island.
10. Villager Neighborhood Design Shared From Reddit - DA-0748-0541-0070
Put villagers on two tiers, the 2nd and 3rd, and have the back of their house plus one square on each side built up to give it kind of a "built into the landscape" look. 6 houses on the top tier, 4 on the middle, and house and storage house will be on the main level with giant yards.
The villager yards are infront of their houses, not to the side like you often see, and surrounded by the hedge fencing. Its a small yard but it helps not overcomplicate the furniture I decorate with.
In the middle of half the houses, have inclines and space for decorated areas. Top tier has a library and the middle tier has not been decorated yet, waterfall is great. The house yard is the graveyard, the secondart storage house yard has not been built yet.