Top 10 Most Popular Villagers For January 2022 In Animal Crossing - Best ACNH Villagers January 2022
2/4/2022 11:21:20 PM
We are officially in the new year 2022 which means that we're just now beginning to see which villagers might rank as the most popular all year long. Here is the list of the top 10 most popular villagers for January 2022 in Animal Crossing New Horizons.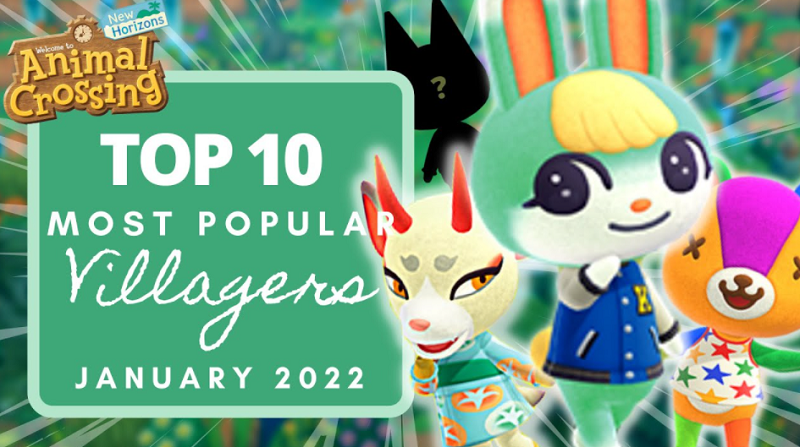 Animal Crossing New Horizons Tier List January 2022
Because of the massive version 2.0 update for Animal Crossing New Horizons and new ACNH 2.0 items added, back in November of 2021, 16 new villagers have joined our game. Three of those new villagers have already claimed spots in the top 10 this year. This is from an online poll where you get to vote each and every month on which villagers you think to deserve to be top tier. Animalcrossingportal hosts a villager list that you can sort by personality, species, or simply see which villagers are the most sought after, all rankings are ordered based on your votes.

The popularity is compiled into 6 tiers, with Villagers in the top tier being the most valuable/sought and worth between 10-20 million ACNH Bells, or 1,000 Nook Miles Tickets. While the list shows which villagers are the most popular. The popularity list will be updated twice a month, on the 15th and at the end of the month (30th or 31st), so that you may examine it at the appropriate time and make the best villager trade.
Tier List At A Glance (Updated 2/04, 2022)
Click here to check the full list of Animal Crossing villagers popularity list and vote for 2022 January's poll.
S-Tier: Super popular. Just about everyone wants them on their island.
A-Tier: A great villager. You should consider adding them to your island.
B-Tier: Above average.
C-Tier: Average villager.
D-Tier: Below average or awful.
Villager tier list with values:
Tier 1 - Max worth 15-20M Animal Crossing Bells/1000 NMT
Tier 2 - Max worth 8M Bells/100 NMT
Tier 3 - Max worth 5M Bells/50 NMT
Tier 4 - Max worth 1 M Bells/25 NMT
Tier 5 - Max worth 250K Bells/10 NMT
2022 January Top 10 Most Popular Villagers ACNH – Top Tier ACNH Villagers 2022
Now let's take a look at the best villagers for January 2022 in Animal Crossing New Horizons, we explain what makes these sweet NPCs so rare, featuring Stitches, Ankha, Marshal, Raymond, and more!
Top 10 - Fauna
Fauna's birthday is March 26th and she is a normal deer villager, she makes frequent appearances on cottage core and forest core themed islands since she resembles a real-life fawn, and her catchphrase deary is a direct reference to her species. Since she is a normal villager, she frequently asks how you're doing and she's always happy to chat with you which makes her a super pleasant villager to have around. No wonder this precious villager afana made it back into our top 10 list for January 2022.
Top 9 – Stitches
The lazy cub villager was born on February 10th, Stitches. One of the reasons stitches is so beloved is because he is based on a young child's worn stuffed Animal indicated by his name and the many colorful patches of fabric making up his body. His childlike home is super colorful full of toys resembling a playroom perfectly fit for a sweet little teddy to reside in. Stitches' adorable demeanor and laid-back nature definitely makes him one of the most cuddly and sweet villagers to look out for, no wonder he is back in our top 10 most popular villagers for January of 2022.
Top 8 - Ione
Ione is our first new villager added to the top 10 most popular villagers January 2022 list and she was added to Animal Crossing New Horizons as a part of the 2.0 free update back in November has the birthday of September 11th and is a normal squirrel villager. The name Ione is ancient greek for the violet flower and the name of a nymph in Greek mythology. Besides her amazing interior to her home, Ione's most notable feature is her tail which instead of having a spiral design like most other squirrel villagers in Animal Crossing New Horizons is solid blue with several star-like sparkles on it. Not only that, but in the dark ion's inner ears will glow.
Top 7 - Ankha
Ankha is a snooty cat villager born on September 22nd whose name likely derived from the ankh which is the Egyptian hieroglyphic character meaning life. Ankha's design alludes to how ancient egyptians worshipped cats and it's no surprise that her immaculate home interior is themed after a pyramid benefiting her Egyptian styled appearance.
Top 6 – Zucker
The lazy octopus villager born on march 8th. As we know, there are very few octopus villagers and Animal Crossing New Horizons only four in fact and Zucker continues to reign supreme as the most sought after and the only octopus villager in our top 10 list this month. Zucker's appearance is based on a takoyaki treat with brown hair on the top of his head resembling takoyaki sauce. He also has what appears to be a small wooden stick protruding from his head as takoyaki is frequently eaten with toothpicks.
Top 5 - Sasha
Our second brand new villager added to this ACNH 2022 January popular villager list is Sasha. Sasha is a lazy rabbit villager born on may 19th with beautiful large sparkling eyes and an adorable seafoam green coat. Sasha's profile says that he loves taking selfies and he is the only male villager in Animal Crossing history to have the fashion hobby. Because of his lazy personality, Sasha often talks about food and can be incredibly humorous or a little naïve during conversations.
Top 4 - Sherb
Another best ACNH villager for January 2022 in ACNH is Sherb, the lazy goat born on January 18th. Sherb has a chill laid-back lifestyle and his catchphrase ba resembles that of a goat's bleat. Not only is his personality sweet, but the name is also inspired to be from Sherbert that tangy fruity ice cream dessert that we all know and love.
Top 3 - Marshal
The top 3 most popular January 2022 villager in ACNH is Marshal, the smug squirrel born on September 29th. Although he may look like he is scowling and he uses the catchphrase sulky, don't let his face fool you. Marshall, the smug squirrel gets along with just about everyone. Not only is he sweet, but his name marshall could also allude to his somewhat marshmallow-like appearance. The interior of marshall's home is that of a coffee shop atmosphere and it has a piano ready for the music lover to play in the corner.
Top 2 - Raymond
Our runner-up spot this month goes to the smug cat Raymond born on October 1st. Raymond was one of the most popular new villagers introduced with Animal Crossing New Horizons in early 2020 and for months on end, he was ranking at our number one spot as a smug villager. Raymond is polite gentleman-like and friendly, but he does tend to stroke his own ego from time to time going on about how cool he is. Raymond also has heterochromia which means his right eye is brown and his left eye is green, another very unique feature many animal crossing players fell in love with.
Top 1 - Shino
The first champion for 2022 of being the most popular Animal Crossing New Horizons villager is Shino. Shino is a deer villager who was revealed in the Animal Crossing New Horizons direct on October 15 2021 and people loved her immediately before she was even in our game. She was eventually added in the version 2.0 update and everyone is still fawning over this sweet little deer. Her name shino stems from two Japanese words meaning deer and theater which perfectly fits her peppy personality and her search for stardom. In fact, Shino appears to be based off of the hanya masks that are used in Japanese no theater to represent a jealous female demon. She shares her horns, fangs and curved eyebrows in common with the way these demons are depicted.