ACNH 2.0 Secret Features: Time Travel, Seasonal Recipes, Seasonal Holidays, Item Names and More
2/9/2022 11:45:34 AM
As you know, ACNH 2.0 is a huge update that contains a host of new items, features, and changes in it. Some of the updates are not that obvious, but can also affect the game experience. Thanks to Crossing Channel, let's go through five important ACNH 2.0 secret features you may have missed.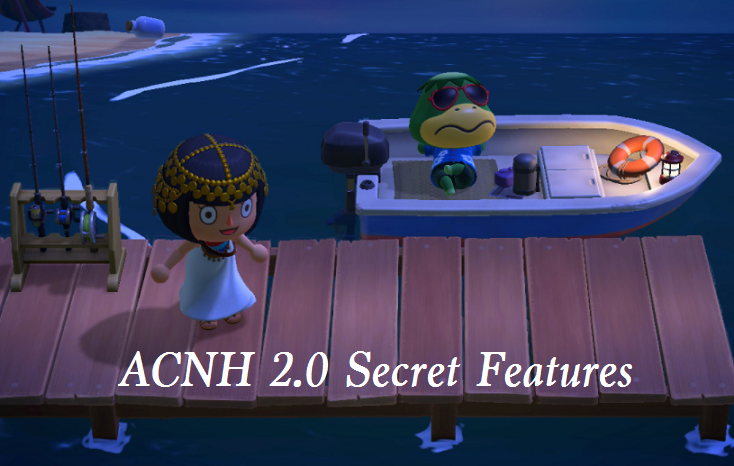 ACNH 2.0 Secret Features: Time Travel, Seasonal Recipes, Seasonal Holidays, Item Names and More
Since the 2.0 Version, lots of mechanics start to work in a different way in the game and a large number of ACNH 2.0 items are available, have you discovered them? New items, sets, interactions, and improvements in numerous details, other than the big ones, what else should you know?
1. No more time lock
Can you time travel in Animal Crossing New Horizons now? Yes. The first hidden feature in Animal Crossing New Horizons 2.0 Free Update is that every single event is no longer time-locked, including regular and seasonal holidays. Previously, we used to get updates that would bring the events into the game and they would be unlocked in real-time, however, they've changed it. This means that you can time travel whenever you want and play the event.
2. Seasonal recipes from villagers
The next one is the way you can receive seasonal recipes has actually changed, now you can get some seasonal recipes from your villagers, crafting them in their homes rather than having to hunt them through balloons, this is definitely a really great change. If you already have the recipe, then they'll give you free of the corresponding amount of material that relates to the seasonal recipe. This change makes it a lot easier to get the recipes and materials.
3. Updated names of some ACNH items
Quite a few different Animal Crossing New Horizons items actually had their names updated permanently in the 2.0 Version, such as the Teacup Ride is now called the Plaza Teacup Ride, which makes it a part of the plaza set. And the Beige Desert-Tile Wall, is Beige Moroccan Wall now, become a new set as well.
4. Camera in a diagonal angle
The camera has actually been updated so that now when using the bird's eye view, you can actually move the camera diagonally. The items and fences and such aren't diagonal, but you can move the camera in a diagonal way, which is a brand new feature, it allows you to look at Animal Crossing New Horizons in a way that most of us have never ever seen before.
5. New seasonal events and items
Since the time lock was canceled, all of the seasonal items which you can get by Nook Shopping are now available as well. Nintendo also introduced some free brand new seasonal holidays to the game, the first holiday is Nanakusa Gayu, which takes place from January 5th to January 7th and it is a new food item that you can get your hands on. Then we have the Carnival of Venice where you can get a brand new mask and it says the date varies. There's also the Tomato Festival, which goes from August 20th to August 31st. You can time travel forward to get these items now if you want to or you can wait in real-time to unlock them when they're supposed to be in the game. For existing ACNH seasonal events, we may have more items for sale at Nook Shopping, such as the Sunflower Sunglasses and Maypole for Summer Solstice.
There are more interesting and useful additions, for example, you can interact with K.K. concerts in a new way, there are more types of interactions you can enjoy, a new page has been added when you get the patterns from Sable by interacting with her, the villagers will contribute more AC bells than before to public work project in the game, etc.