ACNH Bunny Day 2022 Guide: Date, Eggs, Easter Set Items, Changes of Animal Crossing New Horizons Easter Event
3/1/2022 10:52:16 AM
In April 2022, we will once again receive the visit of Zipper T. Bunny in Animal Crossing New Horizons during the Easter holiday. In this guide, we have summarized all the information about ACNH Bunny Day Event 2022 for you.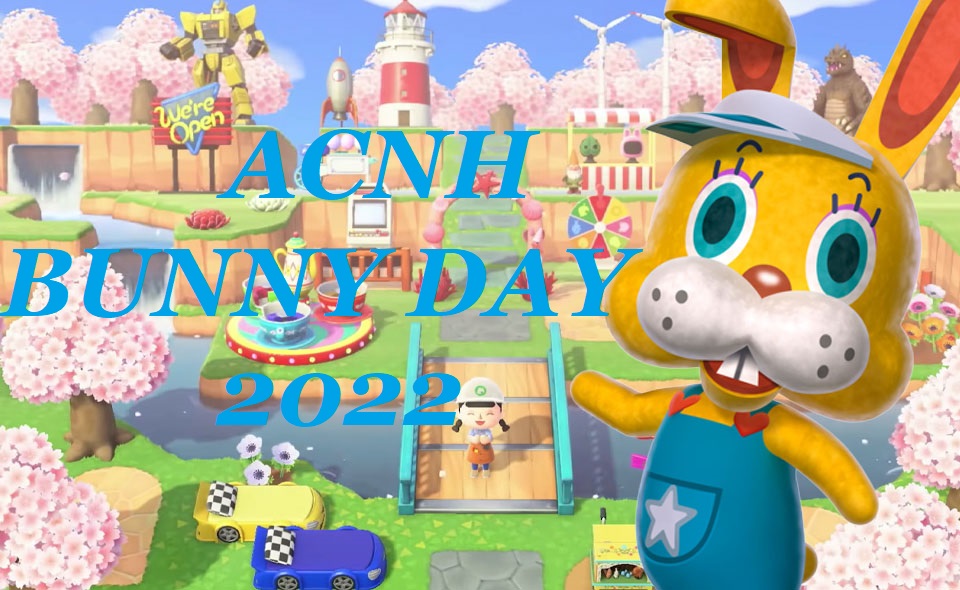 ACNH Bunny Day 2022 Guide: Date, Eggs, Easter Set Items, Changes of Animal Crossing New Horizons Easter Event
What does the Catholic Church have to do with Animal Crossing: New Horizons? That's right, it determines when Easter is and thus when the Bunny Day event happens on your Animal Crossing New Horizon island. This year, of course, there will be another Bunny Day, and we've compiled all the important facts about the colorful Easter event for you, keep reading.
ACNH Bunny Day 2022 Release Date
When is actually Bunny Day 2022 rollout in Animal Crossing New Horizons?
Easter is relatively late this year, on April 17. However, Zipper T. Bunny will arrive on your island a week earlier. Accordingly, the ACNH Easter event will take place on the following days: April 10 - April 17, 2022
ACNH Bunny Day 2022 Changes
Compared with last year's egg hunt, this year's Bunny Day has been delayed by 10 days and will be held in mid-April, which means that it will stagger the cherry blossom season. So you'll have more time to collect eggs and get Easter theme DIY recipes from balloon presents.

Additionally, ACNH Bunny Day 2022 event will be a shorter version compared to most years and now only runs for 8 days instead of the 12 days it used to.

You are able to hunt water eggs from the water like fishing after enacting the beautiful ordinance, which makes it easier to find water eggs during the event.

You are able to search for eggs on mystery islands, which increases the chances of finding the certain eggs you are looking for, since eggs as a craft material have a higher drop rate on mystery islands, this is good news to the players who have few trees or rivers on their islands.
ACNH Bunny Day 2022 Items (Easter Eggs, Furniture, Clothes, DIYs)
What Activities You Can Experience on Bunny Day?
How does the Bunny Day event exactly go on in Animal Crossing New Horizons? Starting on April 10, you will find Zipper on the plaza of the resident's service. Here he calls for the Easter egg hunt. The goal until Bunny Day is to find all of his recipes and implement them as craft ACNH Seasonal items with the help of different eggs. Actually, if you want to collect all Bunny Day items and enjoy the event completely, do the following activities:
On April 10, find Zipper T. Bunny on your island, talk with him to get the Bunny Day Bed DIY recipe.

During April 10 - 17, hunt Bunny Day Eggs across your island, whether they're tucked away in trees, balloons, rocks, or underwater.

During April 10 - 17, purchase the complete collection of 2022 Bunny Day items at Nook's Cranny in the seasonal slot

During April 10 - 17, collect Bunny Day DIY recipes (for Easter themed furniture & clothes) by finding egg bottles, shooting balloons, talking with Zipper T. Bunny & villagers, gathering Easter eggs, and crafting Bunny Day items

During April 10 - 17, craft all Bunny Day furniture items on your DIY Workbench with eggs and DIY recipes

On April 17th, talk to Zipper T. Bunny to get four additional items: Bunny Day Arch Recipe (speak to Zipper directly), Bunny Day Basket (exchange with eggs), Wobbling Zipper Toy Recipe ( craft all Bunny Day furniture items), Bunny Day Wand Recipe (craft Wobbling Zipper Toy)
What Items You Can Collect During Bunny Day?
Bunny Day Easter Eggs
The following eggs are available, and how to find them:
Leaf Eggs: These hang like fruit on trees.

Earth Eggs: Look for cracked areas in the ground like fossils.

Wood Eggs: Instead of wood, an egg may fall out when chopping trees.

Stone Eggs: When mining rocks, there are also eggs.

Sky Eggs: Shoots packets that float over the island on a colorful balloon.

Water Eggs: In addition to fish, eggs can also land on the fishing rod.
Residents help: If you are still missing eggs of one kind, you can also turn to the islanders. They will trade with you if you ask them nicely. Since you will probably have to collect over 200 eggs again in 2022 to be able to implement all recipes, this is a great help.
Bunny Day Easter Set Furniture & DIY Recipes
How To Get Bunny Day Easter Themed Items: Purchase from Nook's Granny Store with bells or Craft with DIY recipes & Easter eggs
How To Find Bunny Day DIY Recipes: Zipper has hidden the crafting DIY recipes in quite a few different places. Look for messages in bottles, balloons flying around, or just ask your residents if they've found anything. The following are all the Bunny Day furniture are available & the way to get each of them:
Bunny Day Garden Flag - Purchase from Nook's Cranny store with 1,500 bells

Bunny Day Planter Box - Purchase from Nook's Cranny store with 2,300 bells

Bunny Day Candy - Purchase from Nook's Cranny store with 1,300 bells

Bunny Day Topiary - Purchase from Nook's Cranny store with 2,000 bells

Bunny Day Tree - Purchase from Nook's Cranny store with 3,800 bells

Bunny Day Arch - Craft with DIY Recipe: 2 Earth Eggs, 2 Stone Eggs, 2 Leaf Eggs, 2 Wood Eggs, 2 Sky Eggs, 2 Water Eggs

Bunny Day Basket - Exchange with Zipper T with 1 Earth Eggs, 1 Stone Eggs, 1 Leaf Eggs, 1 Wood Eggs, 1 Sky Eggs, 1 Water Eggs

Bunny Day Bed - Craft with DIY Recipe: 1 Earth Eggs, 1 Stone Eggs, 1 Leaf Eggs, 1 Wood Eggs, 1 Sky Eggs, 1 Water Eggs

Bunny Day Fence - Craft with DIY Recipe: 1 Earth Eggs, 1 Stone Eggs, 1 Leaf Eggs, 1 Wood Eggs, 1 Sky Eggs, 1 Water Eggs

Bunny Day Festive Balloons - Craft with DIY Recipe: 1 Stone Eggs, 1 Wood Eggs, 1 Water Eggs

Bunny Day Flooring - Craft with DIY Recipe: 2 Earth Eggs, 2 Stone Eggs, 2 Leaf Eggs, 2 Wood Eggs, 2 Sky Eggs, 2 Water Eggs

Bunny Day Glowy Garland - Craft with DIY Recipe: 1 Earth Eggs, 1 Stone Eggs, 1 Leaf Eggs, 1 Wood Eggs, 1 Sky Eggs, 1 Water Eggs

Bunny Day Lamp - Craft with DIY Recipe: 4 Wood Eggs

Bunny Day Merry Balloons - Craft with DIY Recipe: 1 Earth Eggs, 1 Leaf Eggs, 1 Sky Eggs

Bunny Day Rug - Craft with DIY Recipe: 1 Earth Eggs, 1 Stone Eggs, 1 Leaf Eggs, 1 Wood Eggs, 1 Sky Eggs, 1 Water Eggs

Bunny Day Stool - Craft with DIY Recipe: 3 Water Eggs

Bunny Day Table - Craft with DIY Recipe: 4 Earth Eggs

Bunny Day Vanity - Craft with DIY Recipe: 4 Leaf Eggs

Bunny Day Wall - Craft with DIY Recipe: 2 Earth Eggs, 2 Stone Eggs, 2 Leaf Eggs, 2 Wood Eggs, 2 Sky Eggs, 2 Water Eggs

Bunny Day Wall Clock - Craft with DIY Recipe: 3 Sky Eggs

Bunny Day Wardrobe - Craft with DIY Recipe: 4 Stone Eggs

Bunny Day Wreath - Craft with DIY Recipe: 1 Earth Eggs, 1 Stone Eggs, 1 Leaf Eggs, 1 Wood Eggs, 1 Sky Eggs, 1 Water Eggs

Wobbling Zipper Toy - Craft with DIY Recipe: 4 Earth Eggs, 4 Stone Eggs, 4 Leaf Eggs, 4 Wood Eggs, 4 Sky Eggs, 4 Water Eggs
Bunny Day Clothes & DIY Recipes
Clothing made from eggs: For each type of egg, you can also make three items of clothing (eggshell, outfit, and shoes). Once you have all 18 pieces, you will be rewarded with three more items:
Bunny Day Wand
Craft with DIY Recipe: 1 Wobbling Zipper Toy, 3 Star Fragments

Get DIY Recipe from Zipper T after crafting the Wobbling Zipper Toy item
Bunny Day Bag (Backpack)
Craft with DIY Recipe: 1 Earth Eggs, 1 Stone Eggs, 1 Leaf Eggs, 1 Wood Eggs, 1 Sky Eggs, 1 Water Eggs

Get DIY Recipe by talking with a villager randomly
Bunny Day Crown
Craft with DIY Recipe: 1 Earth Eggs, 1 Stone Eggs, 1 Leaf Eggs, 1 Wood Eggs, 1 Sky Eggs, 1 Water Eggs

Get DIY Recipe by talking with a villager randomly
Egg Party Dress
Craft with DIY Recipe: 3 Earth Eggs, 3 Stone Eggs, 3 Leaf Eggs, 3 Wood Eggs, 3 Sky Eggs, 3 Water Eggs
Egg Party Hat
Craft with DIY Recipe: 2 Earth Eggs, 2 Stone Eggs, 2 Leaf Eggs, 2 Wood Eggs, 2 Sky Eggs, 2 Water Eggs

Get DIY Recipe after crafting all six Easter Eggs Themed Clothing sets
Earth-Egg Outfit, Shell (Hat), Shoes
Craft with DIY Recipe: 3 Earth Eggs (Outfit), 2 Earth Eggs (Shell), 2 Earth Eggs Shoes)

Get DIY Recipe by collecting enough (12+) Earth Eggs
Leaf-Egg Outfit, Shell (Hat), Shoes
Craft with DIY Recipe: 3 Leaf Eggs (Outfit), 2 Leaf Eggs (Shell), 2 Leaf Eggs Shoes)

Get DIY Recipe by collecting enough (12+) Leaf Eggs
Sky-Egg Outfit, Shell (Hat), Shoes
Craft with DIY Recipe: 3 Sky Eggs (Outfit), 2 Sky Eggs (Shell), 2 Sky Eggs Shoes)

Get DIY Recipe by collecting enough (12+) Sky Eggs
Stone-Egg Outfit, Shell (Hat), Shoes
Craft with DIY Recipe: 3 Stone Eggs (Outfit), 2 Stone Eggs (Shell), 2 Stone Eggs Shoes)

Get DIY Recipe by collecting enough (12+) Stone Eggs
Water-Egg Outfit, Shell (Hat), Shoes
Craft with DIY Recipe: 3 Water Eggs (Outfit), 2 Water Eggs (Shell), 2 Water Eggs Shoes)

Get DIY Recipe by collecting enough (12+) Water Eggs
Wood-Egg Outfit, Shell (Hat), Shoes
Craft with DIY Recipe: 3 Wood Eggs (Outfit), 2 Wood Eggs (Shell), 2 Wood Eggs (Shoes)

Get DIY Recipe by collecting enough (12+) Wood Eggs