ACNH Wedding Season & Event 2022: Dates, Items, Reese and Cyrus Rewards, Heart Crystals and More
5/17/2022 10:44:10 AM
The Wedding Event is held in Animal Crossing New Horizons every year since its release, to bless anyone who is married in June with a lifetime of happiness. As we are approaching the beginning of June, it's time to look ahead to the big holiday. In this ACNH Wedding Season 2022 guide, we'll go over the dates, themed items (furniture & clothes), photo shoots, rewards from Reese and Cyrus, and Harvey, as well as how to get all Wedding items and maximum heart crystals.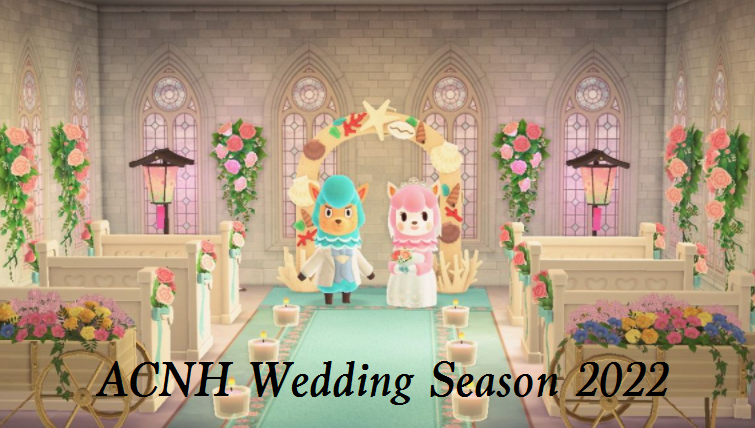 ACNH Wedding Season 2022 Release Date - When Will Wedding Event Start and End?
Wedding Season is a standard event in Animal Crossing New Horizons and is celebrated yearly throughout the month of June. The date of this event often does not change. So, ACNH Wedding Season 2022 is expected to run from June 1 to June 30, 2022, and players in both hemispheres can play the event.
What to Do During ACNH Wedding Event 2022?
On the first day of June, when you hear Isabelle announce the event in the morning announcement, the Wedding event will start then.
1. Leave your house, you'll be invited to Harvey's island through a phone call to help him with a photo shoot.
2. Head to your airport and talk to Orville at the counter, tell him you want to fly, and select the option "Visit Harv's Island".
3. After arrives at Harv's Island, he will take you to a room with Cyrus and Reese, a couple who celebrated their wedding anniversary.
4. Cyrus and Reese will ask you to help them decorate the room using Wedding Season furniture.
5. Talk to Reese to know about what kind of photo shoot they want you to take for them.
6. When you finished the decoration of the Wedding studio, press the ZL button on your Switch to open the Camera and press + button to take the wedding anniversary photo of Reese and Cyrus.
7. Talk to Reese after you have taken a photo the first time, you'll get a Wedding Bench item and some Heart Crystals as the reward.
8. You can take a different themed photo shoot for Reese each day and unlock new ACNH furniture items.
9. Lastly, Reese will ask you to set up a wedding party, once completed, you can earn a Reese & Cyrus Photo Plate from the couple and a Wedding Fence DIY recipe from Harvey.
10. Talk to Cyrus the next day, and you'll earn a Wedding Wand DIY recipe.
How to Get Maximum Heart Crystals in ACNH?
Heart Crystals are the most important crafting materials for the Animal Crossing New Horizons items featured in the Wedding series, so winning more Heart Crystals allows you to craft more items you want. During the first days of Wedding Season, you can get a maximum of 14 Heart Crystals every day, and starting from the seventh day, the customization will be unlocked and you can get a maximum of 18 heart crystals.
To maximize the amount of ACNH Heart Crystals, the first thing you should do is to speak with Reese every single day to enter the studio and take a different photo shoot for the couple. Then try to place a ton of Wedding Season items in the studio, you can even put the same items. Another helpful tip would be decorating the room according to the theme that Reese requested on the seventh day, changing the item variation, or customizing it to fit the theme.
All ACNH Wedding Season Items 2022 & How to Get Them
There are a wide variety of Wedding Event items that can be obtained in different ways in Animal Crossing New Horizons. Nintendo has not added new items this year, so the Wedding items 2022 in ACNH are the same as that last year, but you can use new features and items introduced in 2.0 version to decorate the room.
1. Wedding Season Items from Cyrus by exchanging Heart Crystals:
Wedding Bench (5 Heart Crystals)
Wedding Table (6 Heart Crystals)
Wedding Flower Stand (4 Heart Crystals)
Wedding Head Table (6 Heart Crystals)
Wedding Pipe Organ (40 Heart Crystals)
Wedding Arch (20 Heart Crystals)
Wedding Cake (5 Heart Crystals)
Wedding Candle Set (4 Heart Crystals)
Wedding Chair (3 Heart Crystals)
Wedding Decoration (3 Heart Crystals)
Wedding Welcome Board (5 Heart Crystals)
Wedding Flooring - White, Brown (12 Heart Crystals)
Wedding Wall - White, Green, Brown (12 Heart Crystals)
Wedding-Party Wall (12 Heart Crystals)
Wedding Rug - White, Red, Blue (4 Heart Crystals)
Bridal Veil (12 Heart Crystals)
Wedding Dress (20 Heart Crystals)
Wedding Pumps (6 Heart Crystals)
Wedding Shoes (6 Heart Crystals)
Wedding Tuxedo (20 Heart Crystals)
Cake Dress (20 Heart Crystals)
2. Wedding Season Items can be obtained by taking enough photo shoots:
Reese & Cyrus Photo Plate (from Reese)
Wedding Fence DIY Recipe (from Harvey)
Wedding Wand (from Cyrus)
3. Wedding Season Items can be purchased at Able Sisters:
Shiromuku
Tsunokakushi
White Hakama with Crest
4. Wedding Season Items can be purchased at Nook Shopping:
Nuptial Bell
Nuptial Ring Pillow
Nuptial Doorplate
Flower-Petal Basket