ACNH 2.0 Truck Design Ideas & Codes - 8 Best Ways To Decorate Your Truck In Animal Crossing
6/14/2022 3:53:46 PM
Are you love trucks in Animal Crossing New Horizon? If you cast your minds way back to November when the ACNH 2.0 update dropped, there were a few items that everyone was super excited about, and immediately couldn't wait to use them. Then there were the vehicles, but realistically what should we do with them? However, there is one vehicle that has stood out amongst all the rest and that vehicle is the humble truck. Let's check the 8 best 2.0 ACNH food truck designs and codes.
ACNH 2.0 Truck Design Ideas & Codes - 8 Best Ways To Decorate Your Truck In Animal Crossing
The truck is just one of the great things to come out of the ACNH 2.0 update. And yes, the community has come up with the best ACNH truck design, super cute little custom designs that you can put on your trucks to make the perfect little area. These are great filler areas as well. If you're struggling and we are going to show you the best ACNH truck custom designs.
1. ACNH Food Truck Design - Vegetable Truck
Code: MA-8837-1841-0784
This is a really cute vegetable truck design in Animal Crossing New Horizons. If you're not quite prepared to go full all out with a farmer's market on your island, this is a good alternative. All you need to do is place your truck down, surround it with a kind of vegetables, maybe even a little stool with a cash register on. You can just go all out with like the rustic ACNH items surrounding it with some wheat fields and it looks cute. This is kind of a really nice little simple design ready for any kind of farm court island or any farm areas that you may have on your islands. It's quite versatile in the sense that you could make the area larger. There are some cute designs out there with cushion designs and things like that maybe even put like a plot of carrots or potatoes around it.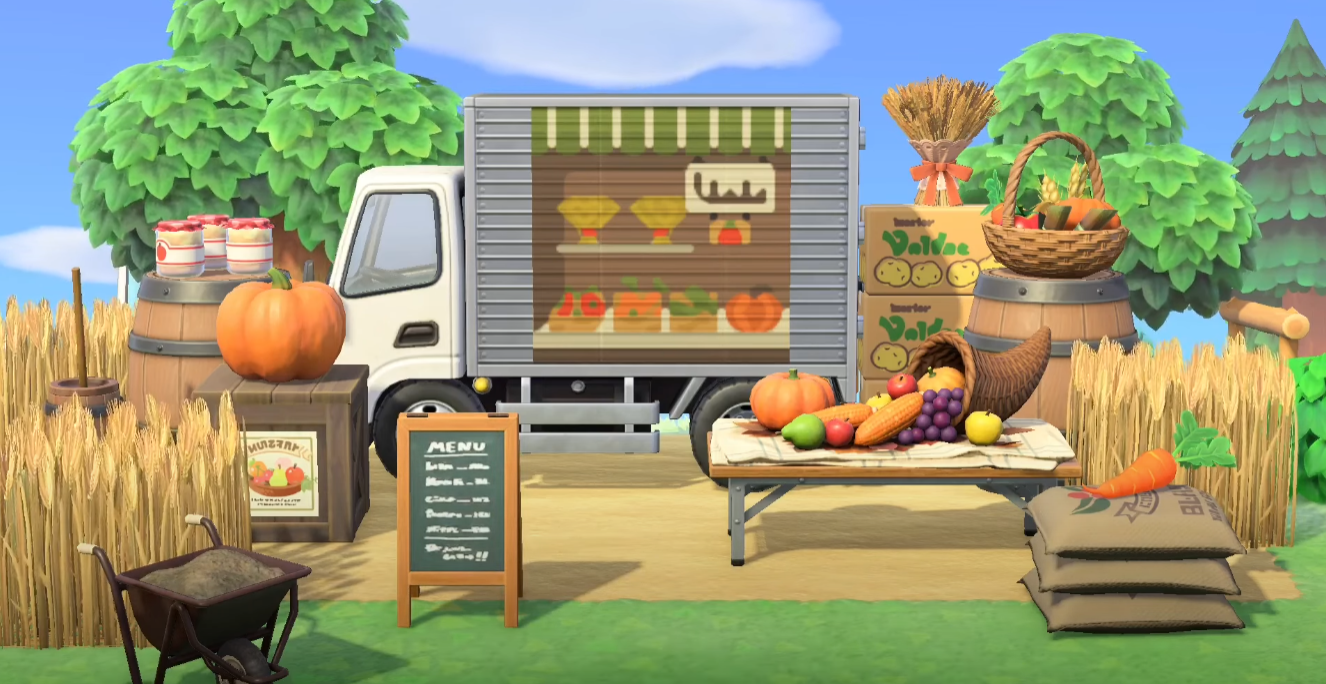 2. ACNH Tacos Truck Design
Code: MA-2727-7968-6591
Who doesn't love tacos? This Animal Crossing food truck design is all about tacos. We have a cute design on it. It's got oranges and yellows in it. Those bright colors it's a nice contrast from what we usually do. We've got whites on the floor which is a really nice kind of sidewalk idea, so it's like right by the road. A little bit of yellow fencing and some pops of orange and then there are just some other areas it really does feel like a kind of street food sort of area where you come to get a quick lunch or maybe a quick evening meal out in the sun.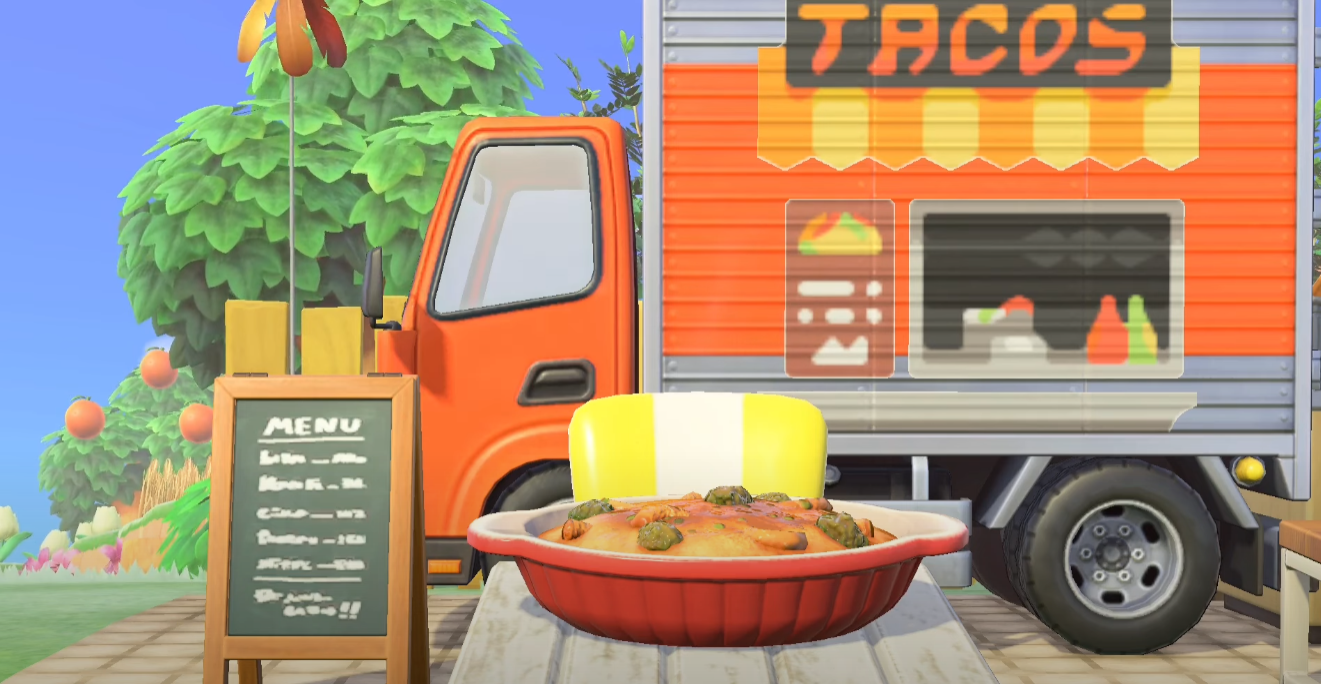 3. ACNH Florist Truck Design - Cottagecore Truck
Code: MA-9621-3166-1068 by @littlepoppyhill
This s probably our only non-food truck design and that's because it's a florist. This design's one of the cutest things we've seen, it's kind of very cottagecore, spring core, cutesy quaint, love it. If you don't want to do an actual shop, you could definitely do a florist this way. Think of it as a traveling flower salesman. You can also use the castle walls behind them, just to give some height, and add some trees. We've got the countertop upfront because it would be nice to have like a little stool area. Then the truck behind because that's how it would be in reality. We've got a few little displays and a few kinds of flower-related items. This path on the ground is so cute and just kind of ties in the whole flower kind of theme that we're going for here.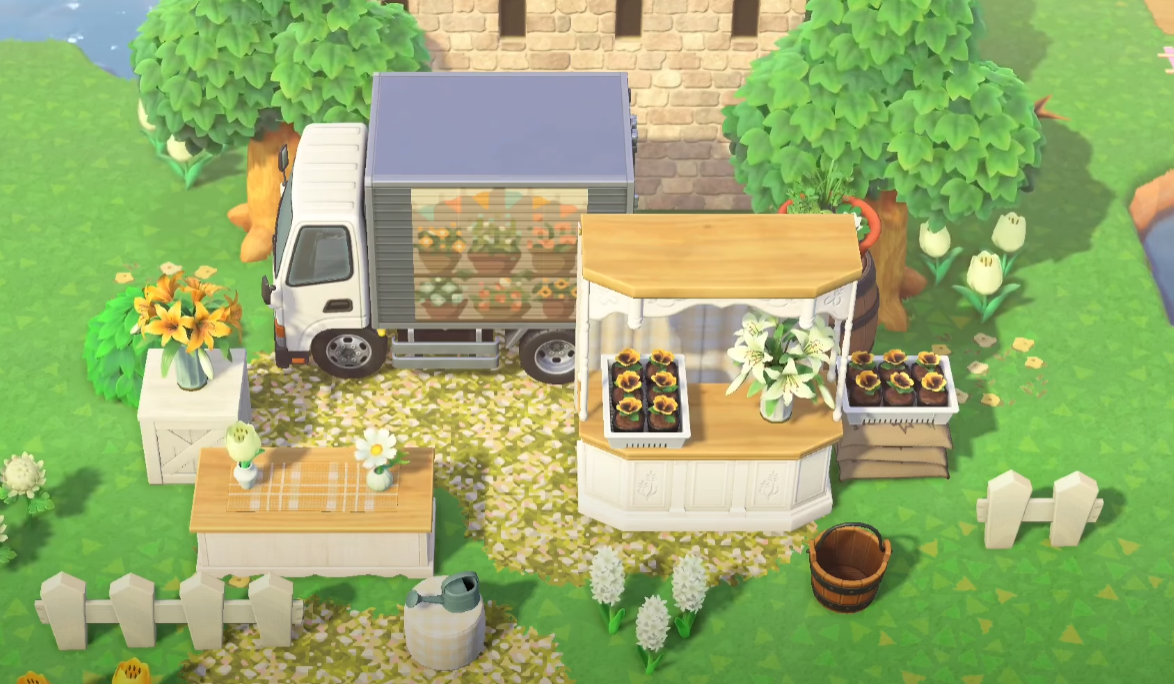 4. ACNH Ice Cream Truck Design - Kidcore Truck
Code: MA-9221-8349-7767
We have an ice cream truck! It's super cute. The fact that you've got the different ice cream types and they're all brightly colored and then you have the little awning up top very cute design. For this them of this Animal Crossing New Horizons truck design, we go for kidcore, and cutesy which is what we feel like when we think of an ice cream palette. It's all those pastel colors, so we've run with that, added in some details behind it, added in some tree standees, a little place to sit and enjoy your ice cream, and also a little place to get a drink as well. Finally, the balloons are just a must, and then some flowers to tie it all in.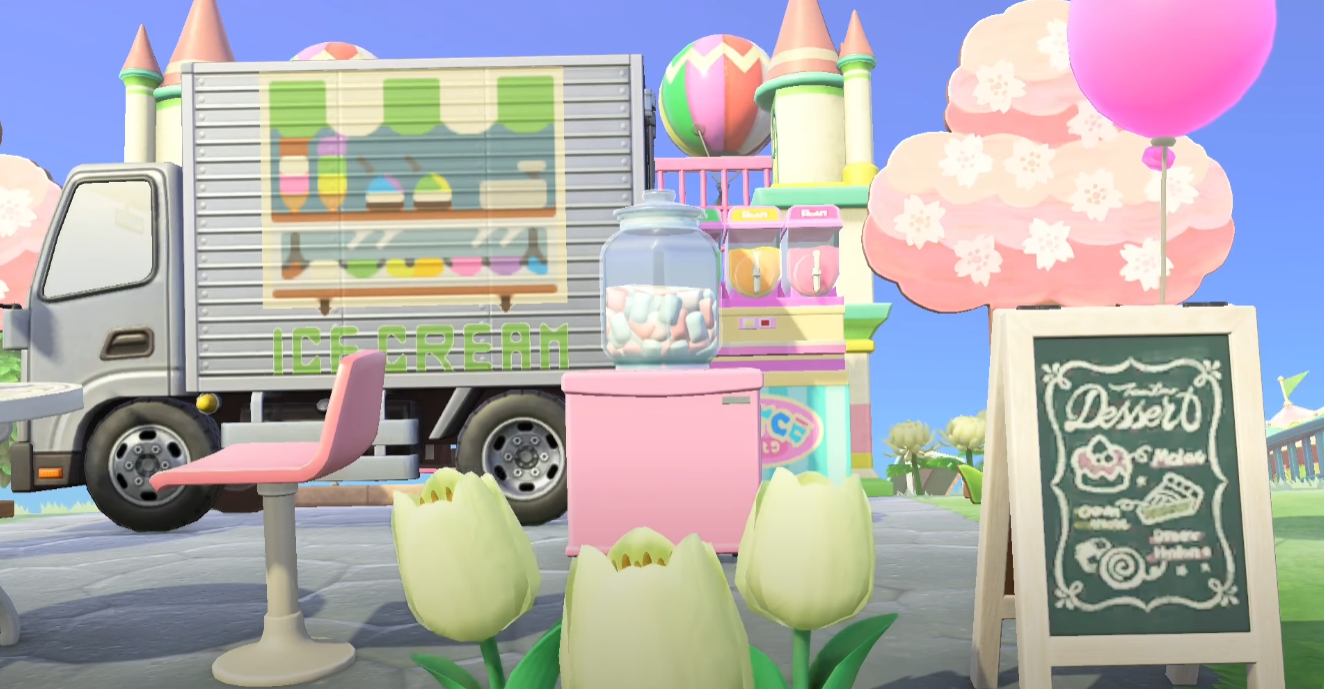 5. ACNH Farm Core Truck Design
Code: MA-7075-6507-2277 by @linymini
This is an orange stool design for a truck and it is so cute. Look at all the oranges there sat waiting to be eaten, just gorgeous. This would be perfect for an orchard if you're doing an orange orchard, this would look amazing, and adorable, especially on sort of like an autumn kind of farm. Can you imagine this fitting perfectly? Because it is an orchard, obviously surrounded by orange trees somewhere to sit and enjoy some orange-related products and somewhere to have a drink of orange. Just some boxes, dropped oranges, just those little details for this absolutely adorable little build.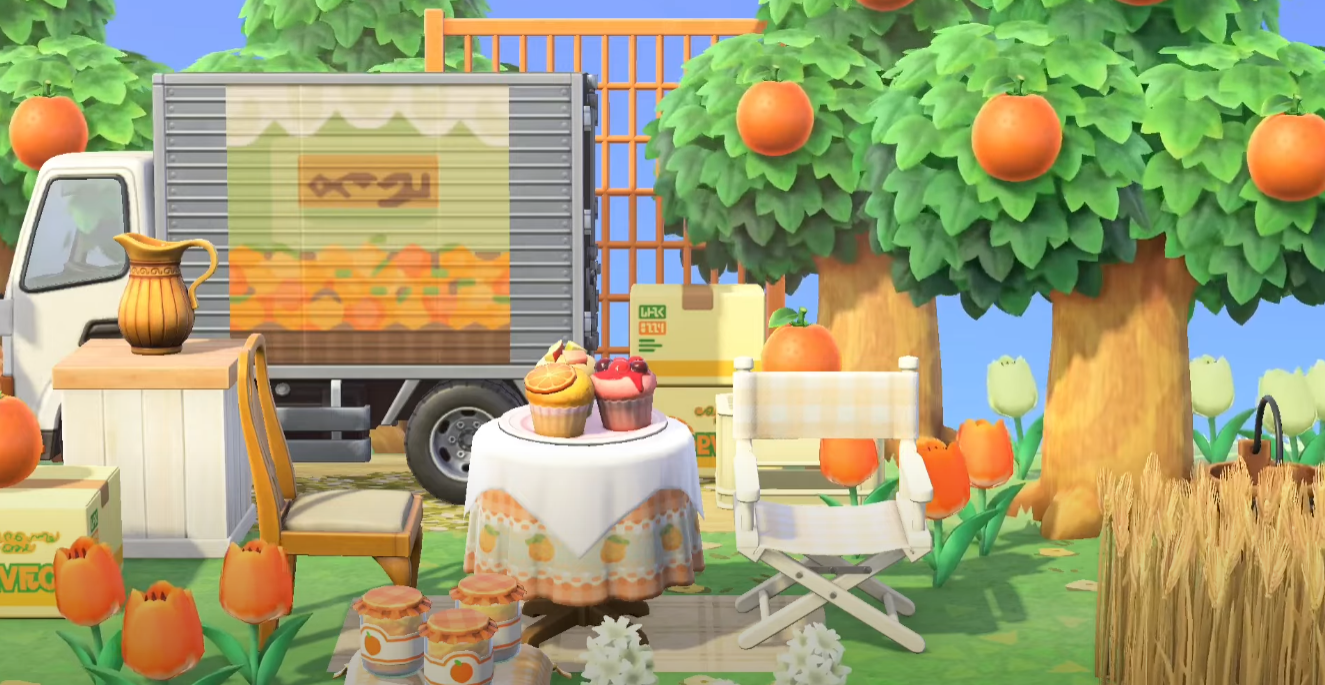 6. ACNH Milk Truck Design - Spring Core Truck
Code: MA-7233-2315-5582
Next up we have a fresh milk delivery early in the morning. This lovely little milk truck with all the bottles and the milk churn on it. Obviously, for this one, you just have to go crazy with all of the bottles and the milkshand surrounding it. You can even get a little cash register because this is in a little farmer's market. If you're doing like a nice kind of spring island or farm island, this is a must and it's a great filler area. The idea that the milk is being transported, fresh to all of the villagers on the island is just adorable. The white truck with this is definitely a must!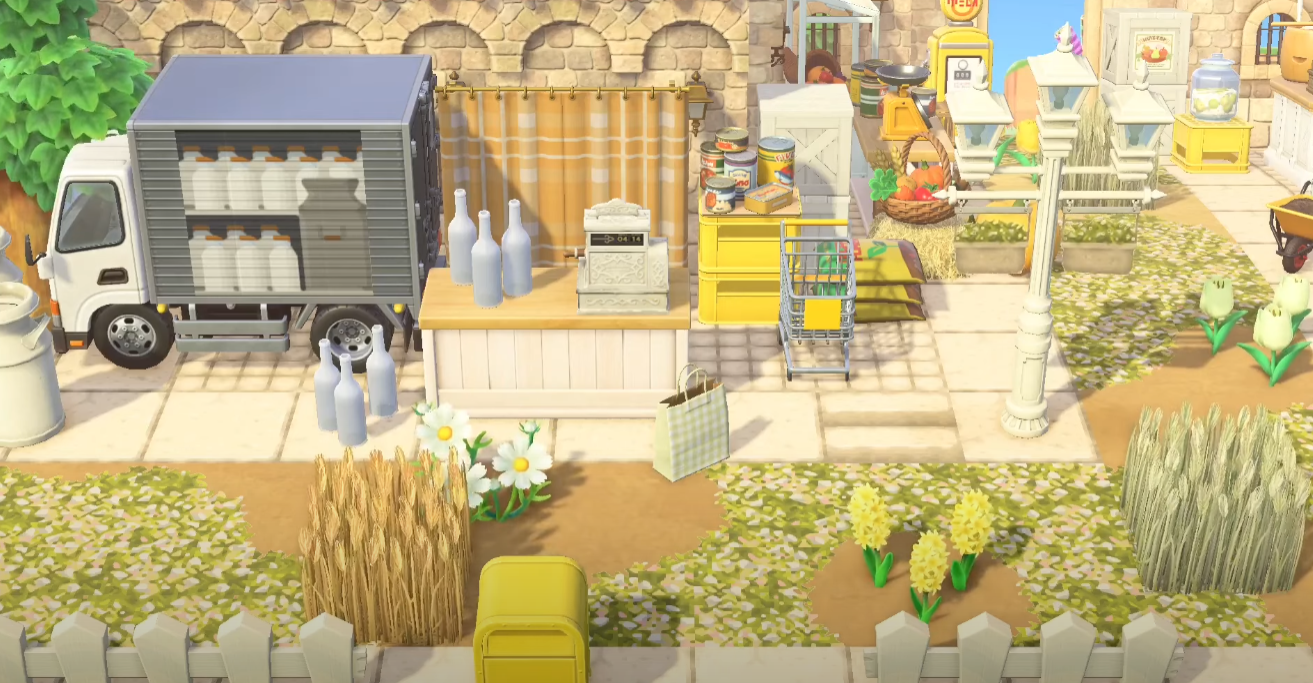 7. ACNH Coffee Truck Design
Code: MA-4768-4586-1946 by @Doremi_no1
Here is a coffee truck, it's brewster's coffee on the go. So you can come and get a take-out cup and just sit outside or go for a stroll in the park after getting your favorite espresso, cappuccino whatever it is that you like to drink. We go for more dark-toned woods here with some pops of green to match the custom design which is very cute. You've got the menu on the right-hand side and kind of the awning above in that lovely green color. You can add a stool at the end as well and just give the idea that there's more kind of prep area and some coffee beans for sale.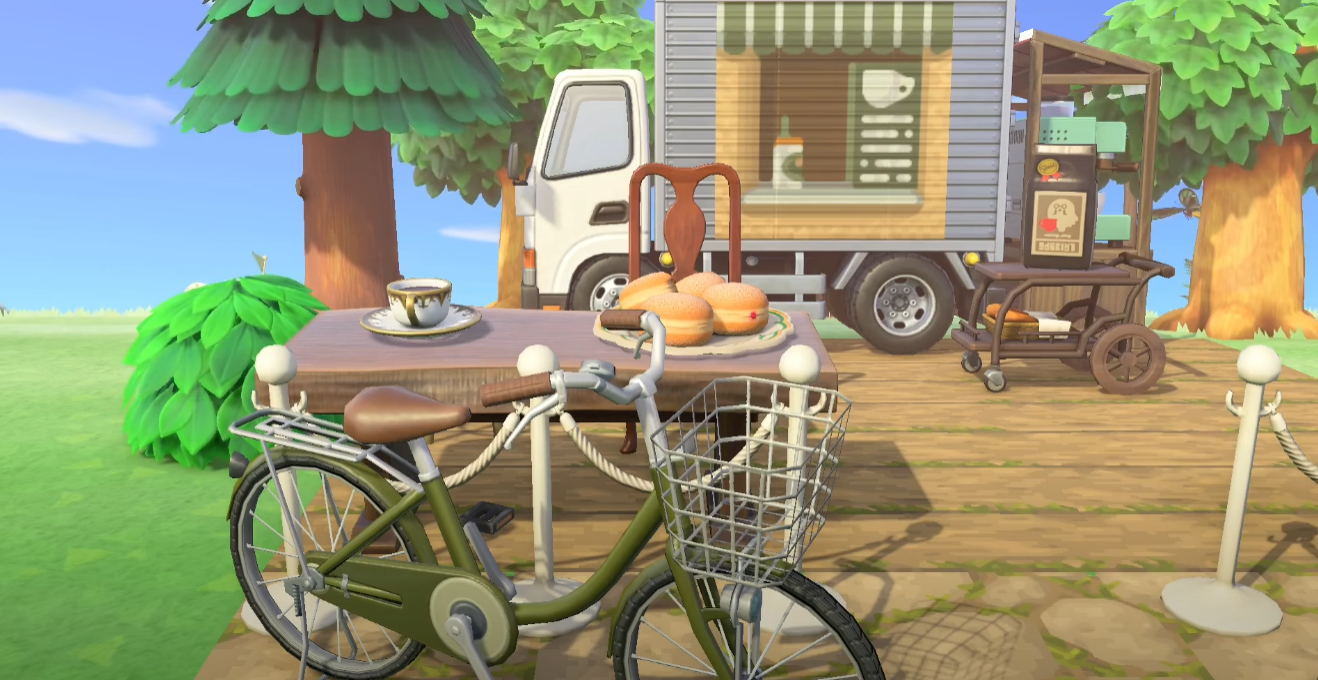 8. ACNH Truck Fish Design
The final ACNH truck design idea doesn't use a custom design at all. This is one of the default truck designs that you can customize, so you don't have to use a whole custom design code slot on it if you don't want to. It's just this cute little fish market area. A lot of people like to do fish markets, but why not put a twist on it and add in a truck to make it feel slightly more commercial. This design is kind of cute with the little fishy on the side. To make the area, we've added in a yacht, because we're by the beach. So maybe that's the fisherman's boat and then you've got lots of different fish stacked up waiting to be sorted. You can also add in some buckets and some rubbish as well um. So if you're looking for a fish market, why not think about adding a track to it as well.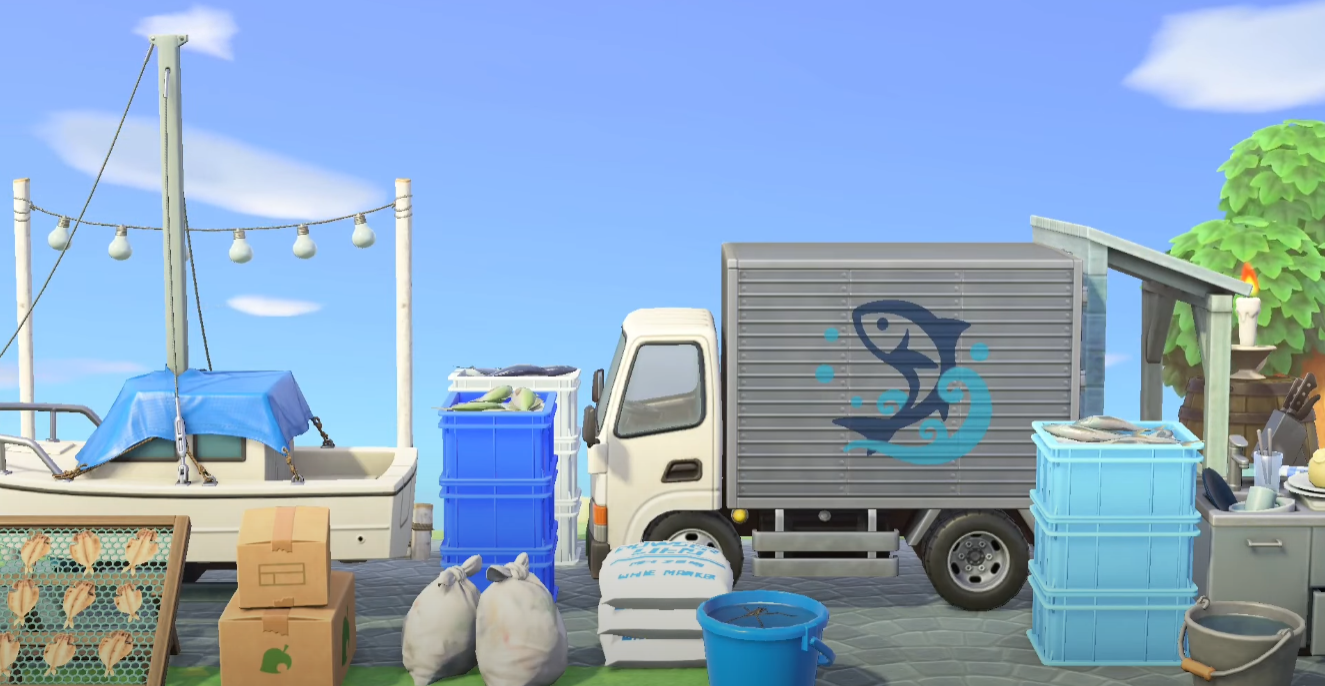 If you hadn't used trucks before, why not look at them a bit differently with the best ACNH truck design ideas 2.0? You don't just have to use custom designs that have been specifically made for trucks, so you can also use shelves, simple panel designs also work really well. Stickers and labels would add a cute little detail to them as well. If you're looking to try and build a little area, be creative, step outside your box and you never know you might come up with something absolutely beautiful.