7 New ACNH Summer & July Updates 2022 - New Features, Special Rewards & More Improvements
6/21/2022 4:58:32 PM
Since it launched in March 2020, Animal Crossing New Horizons has had a lot of updates, 27 in fact if you include the minor patches as well. When we think about the game's updates, we generally think about the big changes that really impact the game such as additions that we got later on like the Brewster captain and so many more. So in this guide, we're going to be taking a look at 7 of these summer updates that you might have missed.
7 ACNH Summer & July New Updates 2022 - New Features, Special Rewards & More Improvements
1. New Sorting Feature of HHP
With the introduction of the happy home paradise dlc in the 2.0 update, a new feature was added to our homes to make sorting a lot easier. You can activate this new sorting feature when you use your inventory within your home and also in happy in paradise. Basically, it allows you to select and jump to certain types of items within their own categories by holding down the right stick. This is an incredibly convenient way of skipping to the items that you want to get to. For example, if you're in your storage and you want to go immediately to gyroids, then you can speed it up and scroll right down to them without having to trek through your entire inventory. People using it in happy home designer but you can also use it in your own home as well which does make decorating there a lot easier.
2. First-Anniversary Cake
It is the first anniversary cake which was given out to players on the first anniversary of Animal Crossing New Horizons. However, we didn't get one for the second anniversary because this cake's meaning actually changed, no longer is this cake intended to be celebrating the anniversary of the game as some kind of gift. Now it is given out to players who celebrate their own first anniversary in the game. That means that Tom Nook will actually mail this to you on the date that marks one year of living on the island. When this item first came out it was gifted to us by Nintendo to celebrate the game's anniversary rather than our own. So if you did play the game during that period sadly you won't be able to get this in the mail from Tom Nook. So it's really an interaction that a lot of players will never see.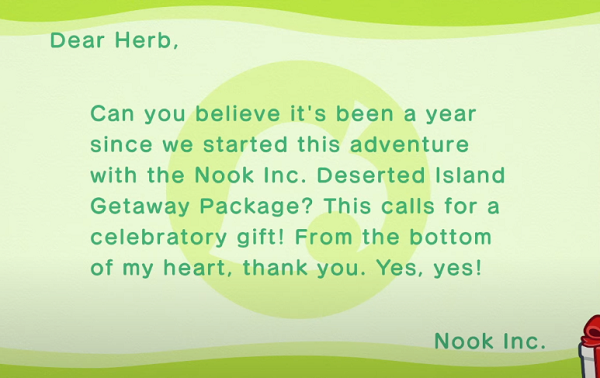 It's a really cool idea to repurpose this cake so that they don't have to add ones for every single anniversary, that would be quite a lot although, it would have been cool if they had kept that up somehow. So if you ever decide to restart your island or you're a new player and you hit that first anniversary, definitely check your mail for this gift from tom nook it's definitely a nice one, you can display it or you can eat it.
3. Orville Insisting on Isabelle's Announcement
This cool interaction happens under very specific circumstances. If you're starting up the game just before the day change is over at 5:00 am and you head into the airport and then it becomes 5:00 am, Orville will stop you and not let you take a plane to anywhere else, you will have to leave the airport in order to trigger isabelle's announcement.
This is definitely something that wasn't in the game at launch, maybe you used to be able to just travel anywhere without seeing isabelle's announcement which technically would be the only way of really skipping the announcement, but it is interesting that they added this in, it shows that Orville has a little bit of respect for isabelle wanting to make sure that players definitely see the announcement, he doesn't want to miss it himself either, so you will have to see it if you want to travel anywhere if you're playing at this time. Yyou could reload the game but then you would just get the announcements, so everything would basically work out exactly as it is supposed.
4. Celeste's Appearance
The update giving you the Brewster basically allows you to tell if Celeste is gonna be on your island before shooting stars happen. If she's due to appear on your island for shooting stars, then head into the roost from 5 pm to 7 pm and if she's there, you'll be able to find her around your island later on. This is definitely a really useful update as it could be pretty tricky to tell if she was actually going to appear or not, especially if you do kind of play during specific times. She isn't guaranteed to appear every single time either, so this is a really useful way of finding her. You can also use group stretching to see if she is there but this will only work if she's already around on your island. So this is basically how you would tell if it's already past 7 pm and the shooting stars are going on and you can't seem to find her anywhere around our island. If she doesn't appear in group stretching, then she's probably not there.
5. Turkey Day
One event that received a very subtle update is turkey day. Turkey day got a little update to change the ingredients that you'll need to create the dishes which actually makes a lot of sense given that in the 2.0 version they added in more vegetables. Initially, the only vegetable we had in the game was pumpkins, so they made sure to alter this event so that you could have new types of vegetables in there. This was a really cool idea and it gives your vegetables more use. They even updated this event with some new food recipes that you can unlock as well. So this event definitely got a big glow up with the 2.0 version.
6. Get Villagers to Wear Custom Designs in Photopia
When you invite your villagers to photopia, they can now wear custom designs which is something they couldn't originally do before the 2.0 version. A lot of people display custom designs in their able sisters which the villagers pick up on. So it's strange that it didn't really work with photopia.
7. Get Posters for Free
It seemed to surprise some people that you can actually buy posters from blabbers in the museum once you've completed certain exhibits. But there's actually more to this. If you're someone who plays with multiple switch profiles and you have other characters on your island, whether this is your family, real life, friends or just other characters that you've made up, then they will actually receive these posters in the mail from blabbers for free meaning they will never have to purchase them as long as you manage to complete the exhibit. They will be able to head over to the museum and purchase more of them if they would like to, but they'll never be required to actually spend ACNH bells to get them. So this is a pretty nice update where if players want to get these posters without really having to spend the bells, they do get them. Basically they are just relying on your hard work.