Lost Ark Fast & Cheap Alts 1415 Honing Methods | Lost Ark Atls Gear Upgrade Guide
7/5/2022 4:38:41 PM
In this Lost Ark Guide, we dive into the cheapest and the most efficient way to get your alts to 1415 item level!
Lost Ark Atls 1415 Gear Honing Guide: Fast & Cheap Methods To Get Alts To 1415 Item Level
In Lost Ark, your alts will be the biggest sponsor of your main account, so you definitely don't want them stuck in the initial stages, either for financial or fun reasons. But at the same time, you don't want to spend too much effort and money to upgrade them. So in this Lost Ark Guide, we'll share the cheapest and most efficient tips for upgrading your alts to the 1415 item level.
To upgrade your alts' gear level to 1415, you're going to need your main at least at 1460, so you can get your stronghold research for the buff because it will make your life much easier - is going to be much cheaper to push around to Normal Valtan, Deskaluda, and just basic real relic items. So let's quickly go with our calculations and three ways you can go for honing alts to 1415, as well as we are going to tell you which one is for what classes are the best.
Method 1 - Standard Way Works For All Classes
This one is not the really cheapest one but one of the cheaper ones. Your plan here is to get all your gears and weapon to plus 15, so this is like a standard way of doing all the stuff like optimal, but this one is not the cheapest one.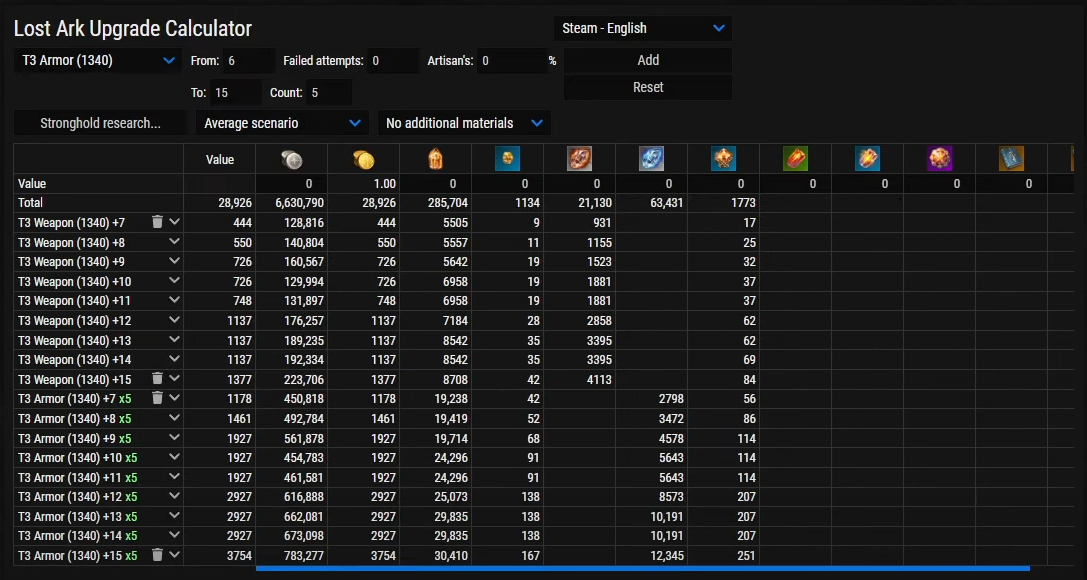 The standard honing way is quite balanced but it's probably one of the most expensive ones among the 3 methods, so you need about 29K gold (this is the average scenario, so it could go worse and could go better) without additional material use. If you use full additional materials, it's going to cost you way less but the numbers for additional materials are super high, so we're going to go with no additional materials because it's kind of ways to use for your alts, science you need them on your main mostly. If you're going this route - the standard way, plus 15 to everything cost 29k Lost Ark gold, 1000 gold for 100 Oreha Fusions, 21K gold for Crystallized Destruction Stones. These are probably one of the most expensive items on the US server. With this method, you will need more leapstones and could get unlucky because you go up all the way to up 15.
Method 2 - Cheapest & Most Effective Way For DPS Supports
This method is going to be a very good option as well and one of the cheapest ones. The plan is to get most of your items to plus 12 and then have two pieces of armor to plus 17, so this is actually good for either class you want to go because your weapon is going to be 12 that is not going to be expensive and can be used for supports for DPS as well because you do get a lot of DPS just from getting two pieces to plus 17.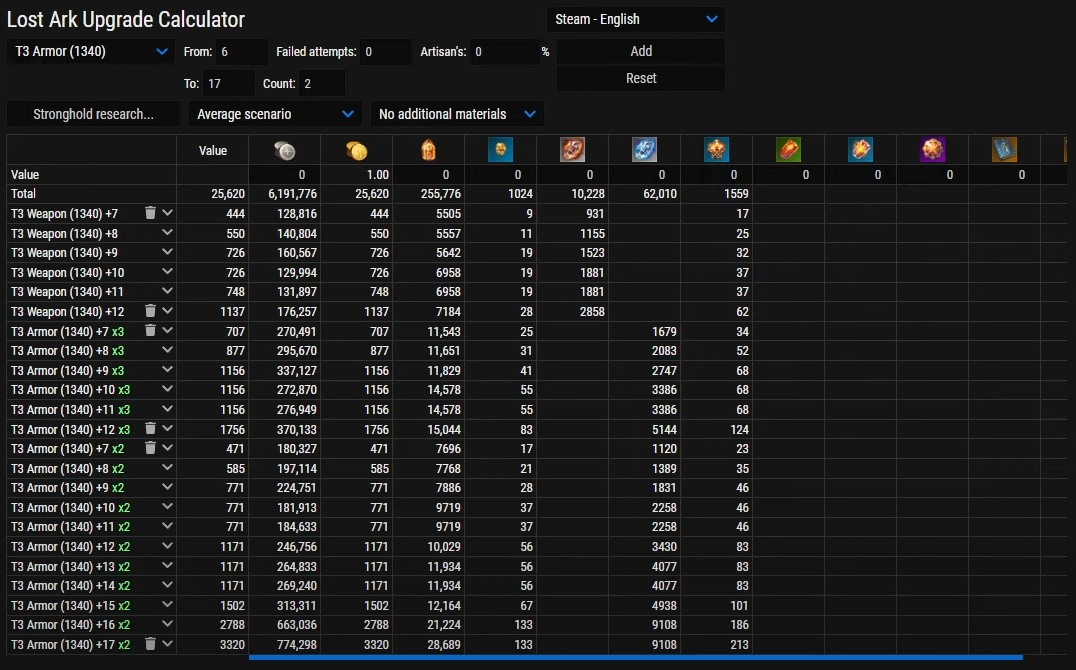 The optimal way is going to be much cheaper, because you just need your weapon plus 12 that cost around 25-26k gold, only 1000 gold for a little bit the less 10K Oreha Fusions, then get your destruction stones for 10k gold which as well is much lower than compared to the standard method where you need 20K gold. On this one, you actually need fewer leapstones like 200 fewer leapstones and even less crystallized guardian stones because plus 15 takes a lot of enchants.
Method 3 - Cheapest & Most Effective Way To Support Alts
This way is mostly for support because it uses weapon plus 8, then there are two pieces plus 17, one piece plus 13, one-piece plus 15, and the rest is plus 12. This one is an interesting one and actually quite cheap as well especially if you are a support.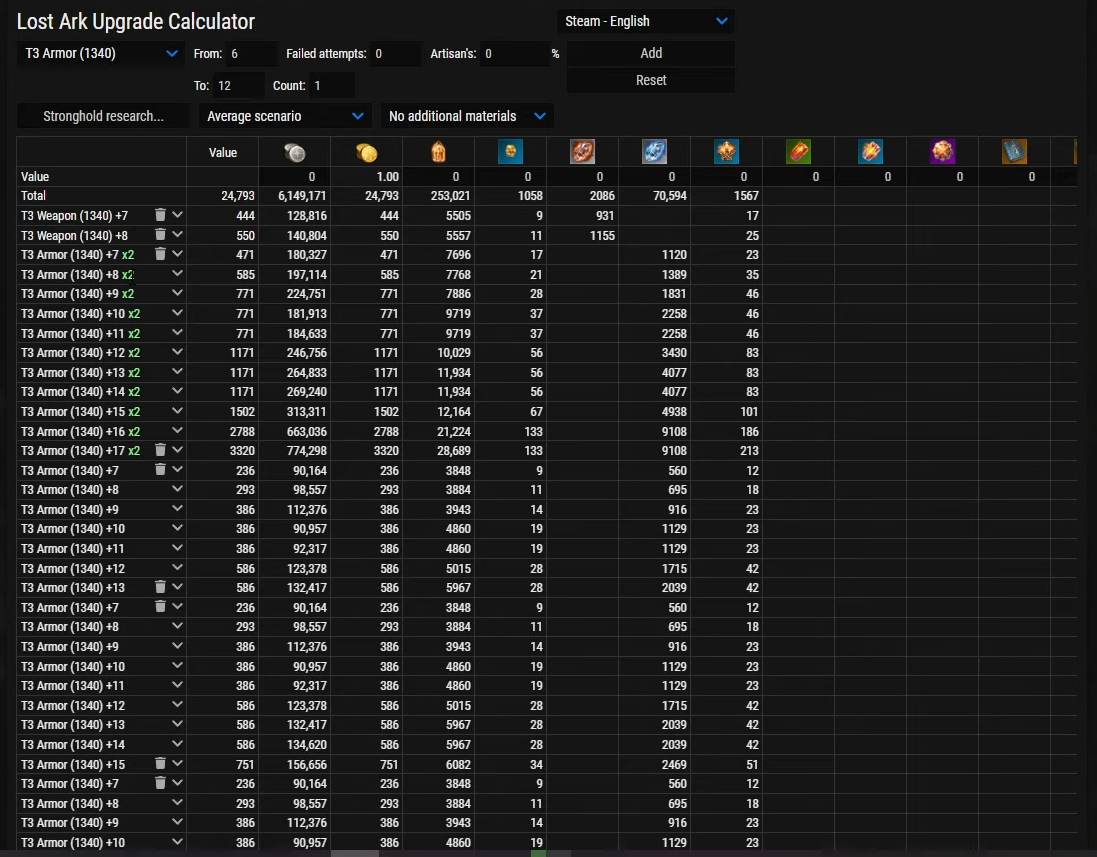 This way is going to be quite cheap because you don't really need almost any destruction stones as you're leaving your weapon to plus 8. So basically when you transfer your gear to 1314, you're going to have your weapon already at 6, and to go up to plus 8, it's basically one taps at most of the times, so you could even say if you go with best case scenario you could end up using just that you know. They cost a little bit more than guardian stones but they are much cheaper compared to the destruction stones. For leapstones, the cost is quite the same as the second method. But it tends to be much cheaper on the gold side because the weapons do cost more gold to enchant as well and you don't need to collect your destruction stones, you can actually sell them. This strategy is really well used if you have a lot of supports as your alts because you can reach Valtan pretty quickly with this gear honing method, save a lot of gold, and already farm Valtan raids by just reaching 1415.