ACNH September (Fall) Update 2022: New Events, Items, DIYs, Critters In Animal Crossing New Horizons Autumn
8/1/2022 10:51:11 AM
Welcome to our guide of ACNH September Update 2022, let's discover the new events (holidays) to celebrate, the new seasonal items & DIY recipes to collect, and the new critters (bugs, fish, sea creatures) to capture in the first month of the new season on both hemispheres.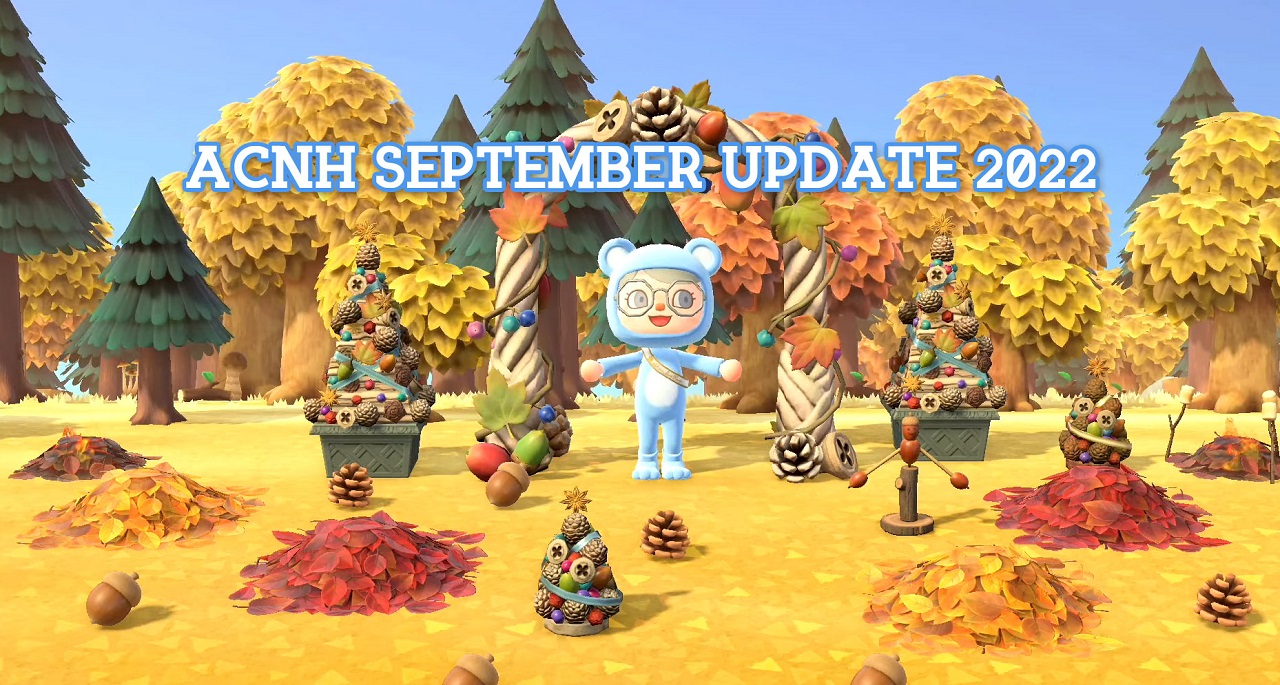 Animal Crossing New Horizons September Update 2022
Time flies, we are soon in the second half of 2022, and the arrival of September brings a new season. This means that not only will the aesthetics and weather phenomena change on our Animal Crossing New Horizons islands, but a new wave of seasonal-related events and items will return to our island life with a new look. So follow us to know more details about ACNH September Update 2022!
ACNH September Scenery Changes
September is the start of new in Animal Crossing New Horizons, Fall is starting in Northern Hemisphere and winter is leaving in Southern Hemisphere, which means that you'll start to see a few adjustments to the natural scenery around your island, including tree color, grass color, brush flowers, weather phenomenon, and decorations.
Northern Hemisphere - Grass has already kind of subtly changed to be lighter green as opposed to August's more dark green, however, it will cintinute to change even more throughout the month where it'll sort of becoming a more faded green before it turns into the orange color associated with autumn. Nook's Cranny gets a very nice fall look with some pumpkins outside. And once again, we will be able to encounter heavy fog and river fog covering our island,
Southern Hemisphere - Spring has already happened here for you and the grass should be faded and moldy looking, by the end of the month the grass should be properly green again. Clouds stop spawning, instead of we will be able to experience rainbows from the start of spring.
ACNH September Events & Seasonal Items 2022
Surely, September will bring back new events to celebrate on our island, which is associated with the fall season. Some are returning from last year, however, others are the result of refreshed content, any way you will get a lot of new seasonal items to hand off:
Grape Harvest Festival
Date: September 1 to 30 (Both Hemisphere)
Available Items: Grape-Harvest Basket
The first holiday in September, the Grape Harvest Festival is usually inspired by celebrations in Europe centered around grapes and the food they were used to produce. This festival is exactly the same as last year's; it will begin in September to usher in the Northern Hemisphere's fall harvest season. It will also bring with it the gorgeous seasonal item, the Grape-Harvest Basket, which will be available for purchase in the Special Goods of Nook Shopping.
Moon-Viewing Day
Date: September 10 to 19 (Both Hemisphere)
Available Items: Tsukimi Dango, Moon Cakes, Moon Rug
This celebration is of Chinese origin and known as Mid-Autumn Day, and was introduced in Japan in the Heian era (794-1185) and is celebrated on the fifteenth day of the eighth month of the Japanese lunar calendar. During the Tsukimi decorations are made with Susuki (known in the West as Miscanthus), an ornamental plant, and moon-shaped sweets are made, called Tsukimi Dango. While in China, Moon Cakes are made to celebrate the holiday, which will be available for sale on Nook's Cranny alongside the Moon Rug and Tsukimi Dango.
Chuseok
Date: September 10 to 19 (Both Hemisphere)
Available Items: Songpyeon
Chuseok is an ancient festival of Korean tradition and celebrates the harvest. The name derives from the ancient term "hangawi", meaning "the great half of autumn", in fact the event is celebrated in the second half of the autumn season. Tradition involves going to their native country and having a feast in honor of the ancestors to protect the harvest. Soon we will also be able to celebrate Chuseok in Animal Crossing: New Horizons thanks to the introduction of a brand new seasonal item typical of this holiday!
Bug Off
Date: September 24th (Northern Hemisphere)
Available Items: Bronze/Silver/Gold Bug Off Trophy, Artisanal Bug Cage, Bug Aloha Shirt, Bug Cage, Bug Wand, Butterfly Backpack, Butterfly Wall, Ladybug Rug, Ladybug Umbrella, Spider Doorplate, Termite Mound, Toy Centipede, Toy Cockroach
In September, the last and the forth bug-off of this year will take place, and if you want to earn the bug-off trophies and other limited-time bug-themed items from Flick, don't miss the opportunity.
ACNH September DIY Recipes, Materials & Items To Craft
In September, the seasonal DIY recipes and materials that will be available on the Animal Crossing New Horizons island will change as a result of the arrival of the new seasons.
Tree's Bounty Series Furniture & Item Recipes
Date: September 1 to December 10 (Northern Hemisphere)
Craft Material To Collect: Acorn, Pine Cone
Items To Craft:
Acorn Pochette
Leaf Campfire
Pile of Leaves
Pine Bonsai Tree
Traditional Balancing Toy
Tree-Branch Wand
Tree's Bounty Arch
Tree's Bounty Lamp
Tree's Bounty Big Tree
Tree's Bounty Little Tree
Tree's Bounty Mobile
Yellow-Leaf Pile
Bamboo Series Furniture & Item Recipes
Date: August 25 to November 30 (Southern Hemisphere)
Materials To Collect: Bamboo Piece, Young Spring Bamboo
Items To Craft:
Bamboo Basket
Bamboo Bench
Bamboo Candleholder
Bamboo Drum
Bamboo Floor Lamp
Bamboo Flooring
Bamboo Lattice Fence
Bamboo Lunch Box
Bamboo Partition
Bamboo Shelf
Bamboo Speaker
Bamboo Sphere
Bamboo Stool
Bamboo Stopblock
Bamboo Wall
Bamboo Wall Decoration
Dark Bamboo Rug
Hearth
ACNH September Bugs, Fish, Sea Creatures 2022
While September is technically the first month of Fall in the Northern Hemisphere, there are still a lot of fish, bugs, and sea creatures from the summertime, that said a lot of them will be leaving after September. While with 8 new fish, 9 bugs, 5 sea creatures appearing this month for the first, it's another busy month of collectibles for your crudipedioa. While in the Southern Hemisphere, as the Spring is starting, a bulk of new critters are also returning to our islands!

New Bugs in September
Northern Hemisphere
Common Butterfly
Yellow Butterfly
Monarch Butterfly
Cricket
Bell Cricket
Red Dragonfly
Violin Beetle
Pill Bug
Centipede
Southern Hemisphere
Yellow Butterfly
Tiger Butterfly
Peacock Butterfly
Mantis
Orchid Mantis
Honeybee
Stinkbug
Man-Faced Stink Bug
Ladybug
New Fish in September
Northern Hemisphere
Pike
Cherry Salmon
Char
Golden Trout
Salmon
King Salmon
Mitten Crab
Sturgeon
Southern Hemisphere
Tadpole
Loach
Cherry Salmon
Char
Golden Trout
Barred Knifejaw
New Sea Creatures In September
Northern Hemisphere
Oyster
Turban Shell
Chambered Nautilus
Umbrella Octopus
Sweet Shrimp
Southern Hemisphere
Turban Shell
Chambered Nautilus
Umbrella Octopus
Firefly Squid
Spider Crab
So here are all the events, seasonal items, DIY recipes, and critters we can expect to see in ACNH Spetember Update 2022! If you don't want to miss the best opportunity to grab some current items, don't forget to check back our guide anytime to determine the schedule of each event.