Elden Ring 1.06 White Mask Varre Quest Guide - Varre Questline Tips & New NPC Location In Patch 1.06
8/19/2022 5:12:53 PM
With Elden Ring patch 1.06 update, we obtained a new NPC called Magnus, the Beast Claw. In Today's Elden Ring 1.06 White Mask Varre guide, we'll show you how to do the Varre questline step by step and the location of the new NPC. Now you can utilize this for the main Varre quest and this is going to be really helpful for those of you who don't like PVP. Or you can utilize this just as an overall to get yourself an extra weapon.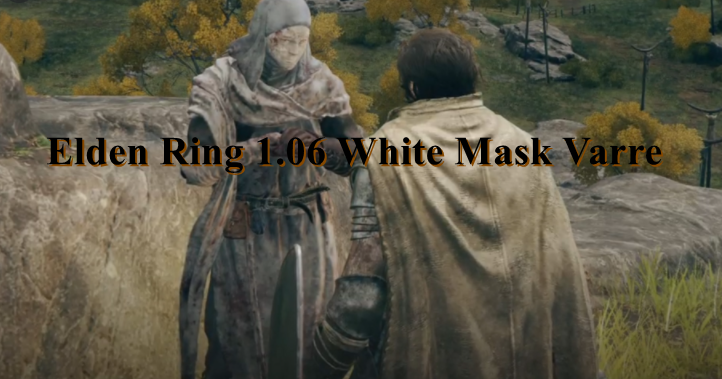 Elden Ring 1.06 Varre Questline Walkthrough - White Mask Varre Guide & New NPC Location
This Elden Ring 1.06 new NPC is an interesting one indeed. It is more you invading them rather than them invading you and it causes a cool little bit of gameplay even if it's just for the basis of seeing a brand new NPC. This thing does give you a very cool weapon, but it's not really anything you haven't seen before. Elden Ring Varre questline 1.06 is now available offline. Also, see the Best Rune Farm Area in the Game (Mohgwyn Palace). Next, check all the secrets and tips to complete Elden Ring Varre quest offline.
Elden Ring White Mask Varre Questline 1.06 Guide
Step 1: Talk with Varre
Step 2: Defeat Godrick. Cheese to kill him.
Step 3: Talk to 2 Fingers in Round Table
Step 4: Go back to Varre, he will leave you a message with his new location.
Step 5: Find Varre in his new location and talk to him.
Step 6: (Option 1 Online) You must make 3 invasions, it doesn't matter if you win or lose.
(Option 2 Offline) Defeat the Elden Ring Patch 1.06 new NPC Magnus the Beast Claw.
Step 7: Go with Varre for your next mission.
Step 8: Find the Lord of Blood's Favor.
Step 9: Talk to Varre, he will give you the Pureblood Knight's Metal.
Step 10: Use Pureblood Knight's Medal.
Step 11: You are already at the Mohgwyn Palace, happy Elden Ring runes farming.
Step 12: Defeat all the invaders, one of them will give you Varre's White Mask.
Step 13: Defeat White Mask Varre
Elden Ring 1.06 Varre Quest New NPC Location
We're going to be starting at the Church of Elleh and we want to make our way through the main area until we get to the first Castle. You can go through there or you can revert around the back and start making your way to the Grand Lift of Dectus where you are going to need two half medallions to get through the Grand Lift Dectus into the main city. We're just going to make a giant loop round and it's going to take us to the Writheblood Ruins.
But the Bridge of Iniquity is the place we are going to want to head. So we're going to head on to this location and show you how to get there. from here we are going to spawn in and start making our way over the bridge. Once we get to Writheblood Ruins, you are going to find there are a couple of dog slurry scarlet rot bad boys. Once you've taken those out, you will see a little stone on the floor that you can examine. By examining that, it will send you through to invade this new NPC in Elden Ring 1.06 White Mask.
Once you see Magnus The Beast Claw, you will need to defeat him. He does not look intimidating whatsoever and that's because he's not. Even with the nerf on the Rivers of Blood, this is still something that you will find easy. So with that being said you just want to take out good old Magnus here and this is literally going to be as simple as that.
Elden Ring 1.06 Varre Quest New NPC Rewards
We'll gain a Rune Arc and a Furlcalling Finger Remedy for the action of doing it and it will take you straight back to your main game world. After doing that, you will receive a nice little object called the Great Stars this is a relatively good weapon and is dual wieldable and especially after the latest update to the great axes. This is going to make for quite a decent usage, it causes a blood loss build up on a standard of 55. This thing has endured which assumes the end could stand to brace it for incoming attacks this does cause for quite a very good weapon, it is a lot quicker now, especially after the most latest updates for the standard attacks. You can dual-wield these and create a build that will give blood loss a whole new meaning to the spikey ball genre.
That's everything you need to know about finding this new NPC and completing Varre questline after Elden Ring 1.06 update.