ACNH Halloween Changes 2022: New Events, Limited-Time Items, Spooky Changes & More in Animal Crossing October
10/7/2022 4:44:32 PM
October is here and that means that it is Halloween season, the spookiest Time of the Year. This 2022, we're enjoying our first Halloween since the huge 2.0 update last November. That means whilst we can still enjoy many of the usual Halloween changes that we know and love, there are plenty of new ones as well. So let's check out some Halloween theme changes around your Island this October 2022, including the events, limited time seasonal items & more.
ACNH Halloween Changes 2022 & Spooky Changes - Candy, Pumpkins, Costumes, New Events, More
The Halloween season has officially begun during October 2022 in Animal Crossing New Horizons with pumpkins on display throughout the game this month and there are a bunch of spooky changes around your island. Let's take a look at these new event activities you can enjoy during Halloween 2022!
Halloween Items & Spooky Items
As we've come to expect by now Nooks cranny will be the first place around your Island to get a Halloween makeover with some really cool pumpkins outside, it looks very spooky. Inside spooky items will become available for sale, you can craft many of these using the cooking feature, but they're here if you just want to buy them quickly and get it over with. Some other Halloween items include the Spooky Treats Basket, Spooky Tree, and Spooky Trick Lamp. In total, there are 20 different Halloween-themed Spooky Set items that you can collect in Animal Crossing: New Horizons throughout October including the incredible Spooky Arch, Spooky Carriage, Spooky Fence, and Spooky Tower.
How To Get Spooky Set Items?
Buy Spooky Set items in the special seasonal slot at Nook's Cranny, found in the bottom left corner of the store.

Unlock Spooky Set DIY Crafting Recipes from villagers, balloon presents, and message in a bottles.

Give Halloween Candy and Lollipops to villagers or Jack during the Halloween Night event on October 31st.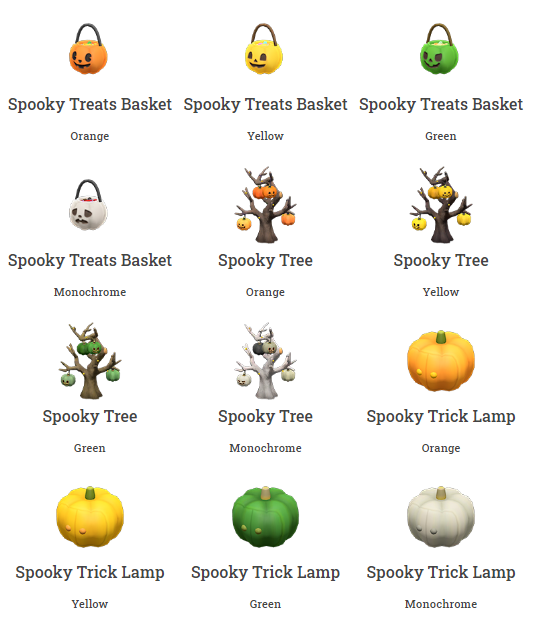 Halloween Candy & Pumpkins
In the cabinet, Timmy and Tommy will start to sell candy and you need to stockpile this for the main event which will be happening on October the 31st. They'll also start to sell pumpkins, but it's not recommended buying them from Timmy and Tommy as a special new event is actually going on over on Harvey's Island. Lelf will be running a cell on pumpkins over on halves which means you can get a nice discount.
Pumpkins are great for growing during the season because you will need them in order to craft many of the spooky items that you'll get. Like other produce as well, you can turn them into food and they can be a great source for making money, so definitely get some pumpkins from Lelf. Over in the Happy Home Paradise archipelago, Lottie has set up her own Halloween display for the first time and it's adorable. Sadly, they don't really do much else for Halloween but it's still nice to see them celebrate with the rest of the island and a really cute detail that you might not have noticed is that this pumpkin is carved based around Lottie, it has her eyelashes. That's amazing and it's a shame that you can't get these really cute adorable tiny little pumpkins as an item to collect yourself.
Halloween-Themed Postcards
Over in the airport, some Halloween themed postcards will become available. If you send letters in this game, there's some new postcards you can enjoy for a limited amount of time. You should also receive a letter from Jack in the mail where he will give you his very spooky portray, you can get this item from him so early on and even if Jack already gave this picture to you in previous years, you can still get another one this year.
Halloween Changes 2022 ACNH
From the 28th, you get a few more Halloween Island changes as well, for example, the characters will start wearing really adorable little hats around the island. Isabelle will get a really cute witch's hat which you can even see during her announcements, even Tom Nook will be dressed up in resident services, he doesn't seem too bothered by my spooky reaction though. If you head into the Able Sisters, Mabel will have some devil horns on to celebrate the occasion while Sable will actually decide not to. Even Orville will be wearing a spooky hat for the Halloween season which is very adorable.
If you head into the museum, blathers will not be dressing up for Halloween and neither will Brewster, so there's no Halloween festivities at all going on in the roost Saturday. Now this is more of a fun little extra but you can do group stretches with Jack during this event and you can also see some of the other characters around your Island wearing their Halloween costumes as well just for this one day of the year. In the resident services Plaza, you can enjoy some Halloween decorations for a limited amount of time including some Bunting and even carved pumpkins.
Day of the Dead Seasonal Event
From October 25th to November 3rd, 2022, Animal Crossing New Horizons will host the seasonal event Day of the Dead. These dates are the same for every other year as well. For a limited time, the Marigold Decoration will be available in the Special Goods section of Nook's Shopping under the Seasonal tab. This is a wonderful way to honor the traditions of this important Mexican celebration!