How To Unlock Terraforming In Animal Crossing New Horizons - ACNH Terraforming Guide
5/8/2020 2:24:32 PM
At Animal Crossing New Horizons, one of the most interesting new features is the new terraforming feature or Island designer, a lot of people have been asking how to get it, so mtmmo is here to teach you exactly how to unlock this new feature and will give you some terraforming tips ideas and inspiration you can use on your own islands.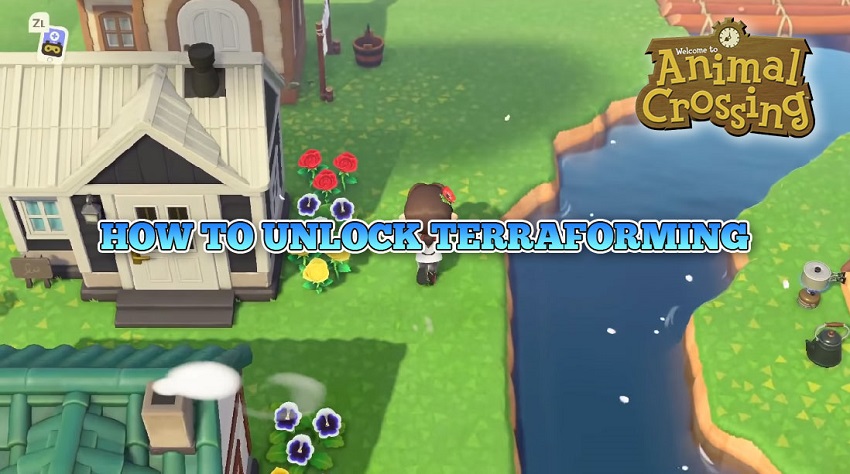 How To Unlock Terraforming In Animal Crossing New Horizons
1. Get a three-star island rating
The way to get it is to follow Tom Nooks objectives, he at a certain point will start telling you that he really wants to have a KK Slider concert on your island and what he doesn't tell you is that if you get that to happen, he's going to unlock the island designer app for you to get a KK slider concert. You basically have to reach a certain island level and island levels are only made available once you've built out a certain number of houses, so essentially to unlock Island levels you need to move residents onto your Island at which point they'll start saying that they need you to beautify the island, so to unlock the KK slider concert you need to have an island level of three, and the easiest way to do this is to fill your town with 7 to 10 residents, you'll need to purchase and place plots from Tom Nook. Residents will move in slowly, but you can travel to a nearby island and recruit a random animal recruit from the campground or use amiibo to invite your favorite animals to town to make it faster.
2. Place furniture all over your island
The other big difference you can make is placing furniture all over your island. You can place trash cans, street lamps behind your house or use the chance to make a cool garden or a beach hangout. Isabelle suggests filling out the island by both crafting ACNH items and purchasing them with your nook miles from the Nook Stop. Isabelle might also ask you to weed your town entirely, plant tons of flowers or place fencing, follow her guidance and you should have that 3 star rating soon. Once you reach island level three, the concert will happen, KK slider appears in town, so talk to him and watch the credits roll.
3. Purchase waterscaping and cliff construction permits
After the concert, Tom Nook will contact you and install the island designer app for you. Once you have the island designer app, however you still don't have the permits for cliff building and water scaping to get those, you then need to go back to the Nook stop and they are purchasable for 6000 nuke miles each, meaning you'll need a total of 12,000 nuke miles to unlock both water scaping and landscaping, from there you can also purchase different road types for two thousand milk miles a piece. With these you can fully landscape the island.
Animal Crossing New Horizons Terraforming Tips & Ideas
ACNH terraforming can be a pretty overwhelming feature with so much potential, it can be really difficult to decide exactly what to do with it, I'm sure you have seen some really cool islands online that have utilize, this feature at times it can definitely be demotivating if you feel your island might be lagging behind the rest, but in all honesty there's no right or wrong way to design your Island, all that matters is that you enjoy it so I want to give you a few of my own ideas that you might find helpful.
1. Waterfalls
Creating waterfalls with the terraforming app is such a cool feature and you can make some pretty unique looking way out of this. I have a pretty wide waterfall in my hot spring area, this is a special place, you'll never see a waterfall this wide normally in the game, so it's cool you can do things like this with the island designer app.
2. Stepping stones
Creating tiny little stepping stones in the river is so much fun, you can jump on them or even put furniture pieces on top to make you look really cool, they feel like little natural islands forming in the river and make the plain old River look a lot more interesting and diverse. Sometimes they can even save you from needing a bridge in a certain area which is really great. Since as we know those bridges can be really expensive and you can only have up to eight on your island, so if you ever stuck you could just add some stepping stones.
3. Miniature cliffs
Around my island, I have tons of them, they feel really natural since we are on a deserted island and you probably would see more sort of rocky structures around an island. Add a little stream on top to make them look cool, they look a lot plainer if they didn't have that stream, it helps fill up an area of an island that might feel a bit more empty as well, so if you're looking for some filler this is a really good idea just the elevation makes the areas look really cool.
4. Trains
There is no town tree in this game like a new leaf, so make your own tree at near resident services, this would look really neat and be a special little area on the island that visitors and even your residents could enjoy, it looks pretty cool and add the lion statue to make it seem even more special.