Animal Crossing: New Horizons Summer Updates, Tips, Events And More Changes
6/4/2020 2:29:26 PM
It's the start of the Animal Crossing New Horizons Summer Season, and the Summer means a whole hot of new features have been added to the game. So today we are taking a look at some of the changes and new additions to ranked June in New Horizons, including summer updates and events we can expect to see throughout June.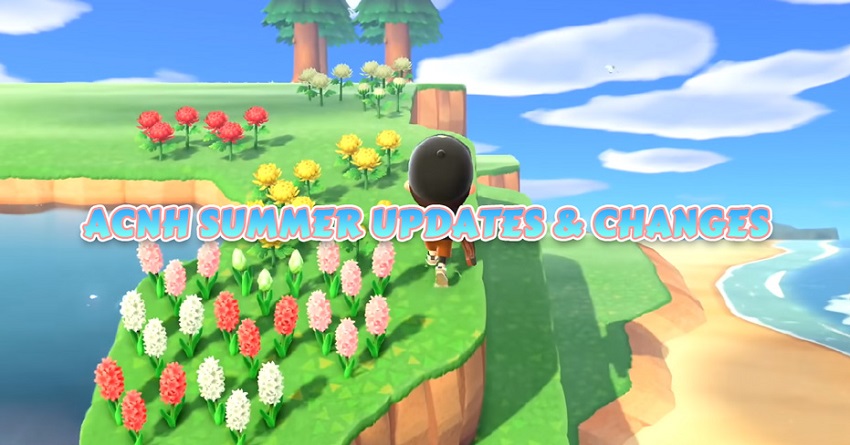 8 Animal Crossing: New Horizons Summer Updates & Tips
We are now a couple of days into June in New Horizons and a month that brings quite a lot of changes to our islands, some of these changes are seasonal adjustments while others are new ACNH events and celebrations we'll be seeing over the coming weeks. Some of what we're about to cover maybe a bit spoilery depending on how well you avoid announcements and things like that. So here are 10 Animal Crossing New Horizons changes and new additions during the month of June.
1. Animal Crossing: New Horizons Children's Day
This may have slipped under the radar for many players, but from June the first International Children's Day is celebrated in New Horizons with exclusive items available to purchase at the Nook stop. The Nook stop is of course found at the Residence services or through the Nook stop app if you have it unlocked, if you head to the Nook stop and scroll across to the seasonal items you can purchase both a handmade cape and a handmade crown which these are super adorable items in Animal Crossing New Horizons. So I definitely recommend you get them while you can, plus they're really cheap to buy.
Check out the guide Animal Crossing New Horizons International Children's and Father's Day Event: Date, Seasonal Items and More
2. Bushes
June is pretty much the start of the summer season in Animal Crossing New Horizons despite the rainy weather you may have been having recently. But because of this, many of our ACNH bushes will have changed in the last couple of days. Of course bushes can be bought from leaf when he stops by the islands Plaza and can be planted all year round. However, certain ACNH bushes flower and bloom at certain times of the year. At the start of June, you'll probably have noticed the beautiful azalea bushes you planted everywhere now looked boring with only plain green leaves. Unfortunately, these weren't flower again until next April. The good news is hydrangea bushes have become less boring as they're now the ones flowering, so you may want to think about swapping out some of the Animal Crossing bushes for pink or blue hydrate, it's worth mentioning this is only relevant to the northern hemisphere players in the southern hemisphere currently have Holly bushes in Animal Crossing New Horizons which remained bloomed until the end of the month.
3. Nooks Cranny
The upgraded Nooks Crannies store often redecorated throughout the year and displays different decals and decorations in their windows and on the outside of their store, with it being summer Timmy and Tommy have added some summery silhouettes to their windows showing off a seaside theme as well as some ACNH summer shell lighting above the doors. However that's not really the interesting change we see. If you head inside the store you'll notice there's a new display area in the bottom left corner of the store, this new spot showcases all new seasonal items that change every few days. The items available are themed around the summer season at least in the northern hemisphere and are available in different colors for the last few days.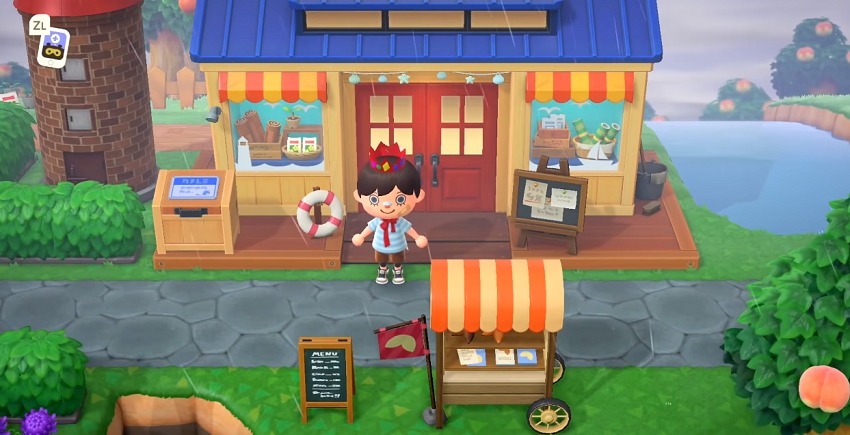 4. New Critters
As you'd expect with any new month a bunch of new bugs and fish can now be found around the New Horizons island. You may have already noticed some of the obvious ones. Furthermore, June is basically the start of summer in the Northern Hemisphere and the beginning of winter in the southern hemisphere, so more new critters than usual can be discovered. There's too many to mention here but most significantly June marks the start of the shark season in the northern hemisphere. As we can now find the likes of saw sharks, hammerhead sharks, great white sharks and whale sharks off the coast of our islands, this also means there's a good chance you'll stumble across shark island on the mystery island tour and see fin fish pretty much everywhere. So keep an eye out for that one, most of these sharks will only appear during the evening after 4 p.m. in case you haven't been able to spot any yet either way these fish are pretty cool and they sell for lots of Animal Crossing New Horizons bells.
5. Animal Crossing New Horizons Wedding Season
June introduced the wedding season which is a month long wedding event and brings both Reese and Cyrus to harvest Island. Over the course of the event, we're able to decorate the cabin in a wedding themed Reese describes, and earned both limited time wedding items and all new Animal Crossing New Horizons Heart Crystals which are a temporary currency used to buy even more wedding items. If you want more information about this event check out the previous article: Animal Crossing: New Horizons Wedding Season Event - Items & Rewards, Update, End Time & More.
6. Father's Day In Animal Crossing New Horizons
June is certainly a busy month as it's also Father's Day on June, the 21st which also happens to be the same weekend as both the summer solstice and the first bug off. Father's Day is celebrated with a brand new exclusive item available to purchase from the Nook stop, you may have already spotted it but any time throughout the month of June you can head to the seasonal section of the Nook Stop and purchase a thank-you dad mug, you can see that just below the Children's Day items. I definitely recommend picking one of the up wireless available.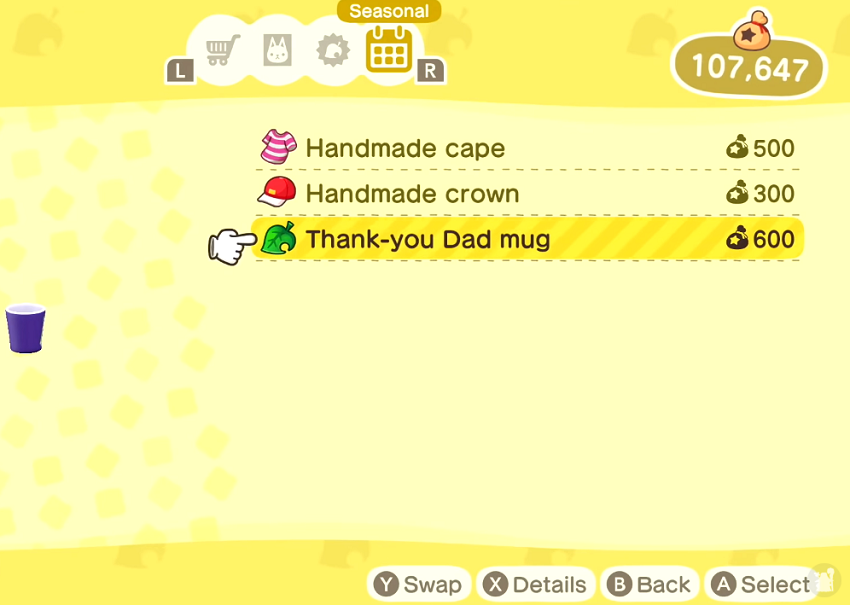 7. Weeds

If you've already played over the last couple of days, I'm sure you've already spotted the weeds currently grown on the Animal Crossing New Horizons Island. I believe for the first time in any Animal Crossing game, weeds look completely different depending on the time of year, and given the month of June has kick-started the summer season, the weeds around our Islands look completely different than they did even a week ago, it turns out weed sprite and bloom flowers differently throughout the summer and they lucia and larger than they did. Some of the older weeds don't even look like weeds at all and look more like flowers, but don't be fooled, there are still weeds and I still recommend picking them and selling them to leave when he next visits.
8. Summer Showers
One change you've most likely already heard about is the new crafter material that can be found along our beaches. If you're lucky you can find all new summer shells washed ashore, these items are the latest seasonal material and can be used to craft a bunch of new seasonal DIY recipes for Animal Crossing New Horizons. You should be able to find multiple shells each day, but you may have to keep clearing out existing shells until new ones spawn in the shell DIY recipes you need to use. These new ACNH summer shells are primarily found in the bloom presence that float across our skies just in case you didn't know, these actually replace the young spring bamboo items that we've been able to find over the last couple of months. So unfortunately, the young spring bamboo can no longer be farmed and the recipes no longer found.