Animal Crossing: New Horizons Summer Shells Crafting Material - All Summer Shell DIY Recipes
6/5/2020 9:55:56 AM
June has a few surprises in store for us including a month-long wedding season event which will see us celebrating recent Cyrus's wedding anniversary but also the latest seasonal items and their DIY recipes. Starting in June and all new blue shells will start washing ashore. These are Summer Shells that can be used to craft certain DIY Recipes. Today we are taking a look at the new Summer Shells crafting material and how to get Summer Shells fast in Animal Crossing: New Horizons, what you can do with them, and give you a full list of Summer Shells DIY recipes.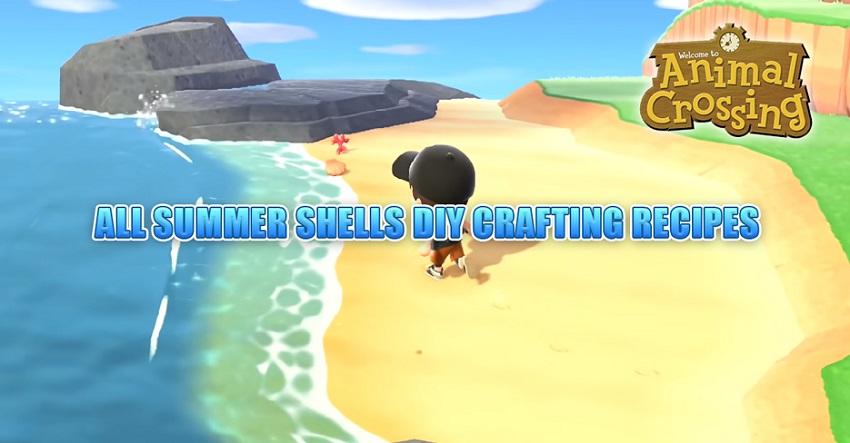 Wedding Season Event: While you're here, check out our complete Animal Crossing: New Horizons Wedding Season event guide for how to get all of the Wedding items and the most Heart Crystals!
ACNH Summer Shells Guide - What Are Summer Shell Recipes & What Can You Do With Summer Shells
The wonderful looking summer seashell is in fact the latest seasonal craft metal, it's a distinct blue color much like the young bamboo we can currently farm from bamboo trees, and not too dissimilar to the cherry blossom petals we saw a month or so ago. They are used in crafting special seasonal DIY recipes. As before, these Animal Crossing Summer Shell recipes will only be available for a limited time, from June to August and they will only appear for players currently in the northern hemisphere. Unfortunately, those playing in the southern hemisphere will have to wait until December to find these unless you trade or visit someone else's Island. Anyway, these Summer Shells will act in the exact same way as ordinary seashells, they'll wash up ashore at random times throughout the day and can be collected or sold. It has been suggested by multiple outlets that we'll be able to find up to three Summer Shells at any one time around our island, but just like the other shells if we collect them and do the rounds again later more of course will spawn.
I recommend collecting as many shells as you can see every time you find yourself at the beach, just to increase the chances of finding more ACNH Summer Shells as well as freeing up the locations on the beach where shells can spawn. Now the Summer Shells are the latest seasonal craft limiter to be added to New Horizons and will be replacing young bamboo, so if you still need a bunch of young bamboo or you want to store some, you can craft the currency's noir items later, make sure you grab as much as you can.
How To Get Summer Shell Recipes In Animal Crossing New Horizons
The Summer Shells bring with them a bunch of new seasonal DIY recipes, we'll get to the items just shortly, but first it's worth pointing out that will find these Summer Shell DIY crafting recipes just like we would any other seasonal DIY recipe more often than not, we'll need to keep an eye out for the balloons floating across our Island sky as these will pretty much be the primary method for finding these new recipes and of course the young bamboo recipes. Unfortunately, there's no real way of knowing if a blue new spot will include a Summer Shell DIY recipe, so be sure to always carry slingshot and shoot down every balloon you see just quickly.
There's also a chance you'll get them during the morning announcements or from other villagers, but these floating presents will only be available during the summer. If you miss any, you'll have to time travel, attend an island of somebody still enjoying the event, or simply wait until this time next year.
Summer Shells Sell Price
If you don't want to craft the Summer Shell Recipes in Animal Crossing New Horizons, you can sell them to Timmy & Tommy at Nook's Cranny. You'll get 600 ACNH Bells a piece, making them pretty valuable when compared to other shells.
Animal Crossing New Horizons Summer Shell DIY Recipes List
The Summer Shell seasonal material in Animal Crossing: New Horizons can be used to craft some new summer themed beach shell items including the shell wreath which is pretty cool, the shellfish etched older bag, the shell wand which is really cute, the water flooring, the underwater flooring, underwater wallpaper, the starry sand flooring and the tropical Vista wallpaper, all these items are pretty cool. The following is a list of all the different Animal Crossing New Horizons Summer Shell DIY recipes, alongside the number of Summer Shells required for each.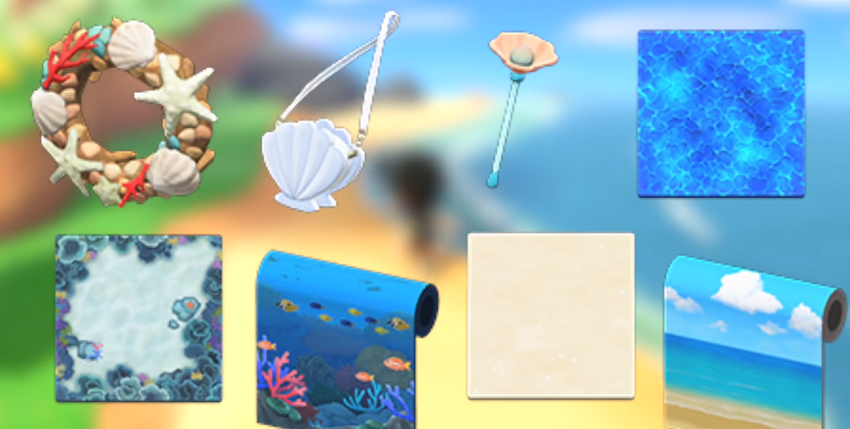 How to Craft Underwater Flooring
Summer Shell x3
Coral x3
How to Craft Underwater Wall
Summer Shell x3
Coral x5
How to Craft Shellfish Pochette
Summer Shell x6
Giant Clam x2
How to Craft Shell Wand
Summer Shell x3
Star Fragment x3
How to Craft Starry Sands Flooring
Summer Shell x3
Sandy-Beach Flooring x1
How to Craft Tropical Vista
Summer Shell x5
How to Craft Water Flooring
Summer Shell x6
How to Craft Shell Wreath
Summer Shell x1
Sea Snail x1
Sand Dollar x1
Coral x1
Giant Clam x1
Cowrie x1
Some of the walls and flooring might not seem like much at first, but they're all animated with things like water ripples and fish swimming around and stuff like that, so they're definitely worth crafting.
These seasonal items can be found in June, July and August throughout the entire summer. So don't worry if you don't find any. Finally, don't forget to collect all the shells you see because it turns out some of these recipes actually use normal shells to craft, so you're gonna want a whole bunch of different variety of shells to be able to craft these items not just the Sun of shells.