Animal Crossing New Horizons Bugs and Fish Coming and Leaving in July | New ACNH July Fish and Bugs
6/28/2020 10:48:39 AM
Approaching the end of June, an array of ACNH critters will leave after this month and a batch of new fish and bugs is arriving next month. In this article, we'll list all the new Animal Crossing New Horizons bugs and fish coming and leaving in July. Please note that there is neither new fish and bugs arrive nor leave in July in southern hemisphere.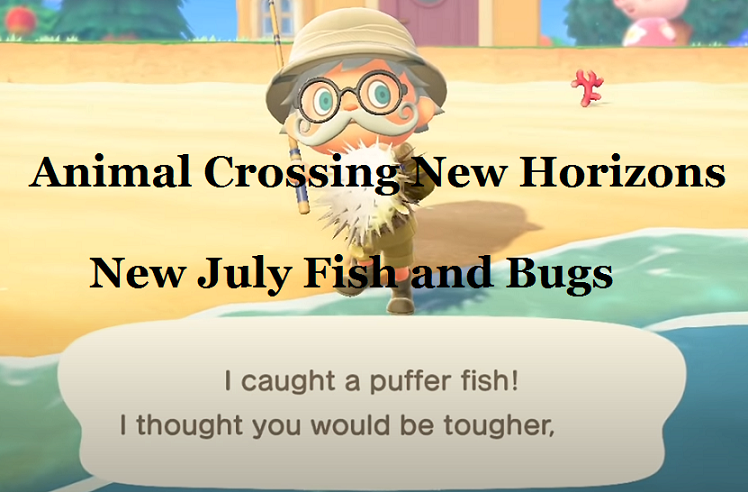 More: All Animal Crossing New Horizons Sea Creatures
Animal Crossing New Horizons Bugs and Fish Arriving in July (Northern Hemisphere) - ACNH New Fish and Bugs July
In the northern hemisphere, there are totally 61 Animal Crossing bugs and 58 fishes available in July , 5 fish and 21 bugs are new in July, 1 fish and 1 bug will leave after July. In the southern hemisphere, 31 ACNH fish and 20 bugs can be caught in July, but none of them is arriving or leaving. Check out where and when to catch these Animal Crossing fish and bugs, as well as how many ACNH bells each critter cost. Here is the list of new ACNH July bugs and fish. Each bug or fish will arrive on July 1st and leave before August 1st in Animal Crossing New Horizons, which means this is your last chance to catch them until they return next time.
New ACNH July Fish in Northern Hemisphere
| | | | | |
| --- | --- | --- | --- | --- |
| Fish Name | Location | Shadow size | Time | Price |
| Sweetfish | River | Medium-small | All Day | 900 bells |
| Napoleonfish | Sea | Huge | 4 AM - 9 PM | 10, 000 bells |
| Puffer fish | Sea | Medium-small | All Day | 250 bells |
| Blue marlin | Pier | Huge | All Day | 10, 000 bells |
| Ocean sunfish | Sea | Huge with fin | 4 AM - 9 PM | 4, 000 bells |
New ACNH July Bugs in Northern Hemisphere
| | | | |
| --- | --- | --- | --- |
| Bug Name | Location | Time | Price |
| Grasshopper | On the ground | 8 AM - 5 PM | 160 bells |
| Brown cicada | On trees | 8 AM - 5 PM | 250 bells |
| Robust cicada | On trees | 8 AM - 5 PM | 300 bells |
| Giant cicada | On trees | 8 AM - 5 PM | 500 bells |
| Evening cicada | On trees | 4 AM - 8 AM & 4 PM - 7 PM | 550 bells |
| Cicada shell | On trees | All day | 10 bells |
| Blue weevil beetle | On palm trees | All day | 800 bells |
| Earth-boring dung beetle | On the ground | All day | 300 bells |
| Scarab beetle | On trees | 11 PM - 8 AM | 10, 000 bells |
| Saw stag | On trees | All day | 2, 000 bells |
| Miyama stag | On trees | All day | 1,000 bells |
| Giant stag | On trees | 11 PM - 8 AM | 10, 000 bells |
| Cyclommatus stag | On palm trees | 5 PM - 8 AM | 8, 000 bells |
| Golden stag | On palm trees | 5 PM - 8 AM | 12, 000 bells |
| Giraffe stag | On palm trees | 5 PM - 8 AM | 12, 000 bells |
| Horned dynastid | On trees | 5 PM - 8 AM | 1, 350 bells |
| Horned atlas | On palm trees | 5 PM - 8 AM | 8, 000 bells |
| Horned elephant | On palm trees | 5 PM - 8 AM | 8, 000 bells |
| Horned hercules | On palm trees | 5 PM - 8 AM | 12, 000 bells |
| Walking stick | On trees | 4 AM - 8 AM & 5 PM - 7 PM | 600 bells |
| Walking leaf | Disguised as leaves | All day | 600 bells |
Animal Crossing New Horizons Bugs and Fish Leaving in July (Northern Hemisphere)
ACNH Fish Leaving After July
| | | | | |
| --- | --- | --- | --- | --- |
| Fish Name | Location | Shadow size | Time | Price |
| Tadpole | Pond | Tiny | All day | 100 bells |
ACNH Bugs Leaving After July
| | | | |
| --- | --- | --- | --- |
| Bug Name | Location | Time | Price |
| Honeybee | Flying | 8 AM - 5 PM | 200 bells |