Animal Crossing New Horizons Special Characters Spawn Rates Revealed After Summer Update 1.3
7/6/2020 5:11:24 PM
Animal Crossing special characters are animals in the game with unique features or special roles, which is different from villagers. They are usually the host or manager of shops, towns, islands, or seasonal events. Knowing Animal Crossing New Horizons visitor schedule and plan ahead. How often will these special villagers appear after the ACNH 1.3 update? Check out the latest revealed Animal Crossing New Horizons spawn rates below.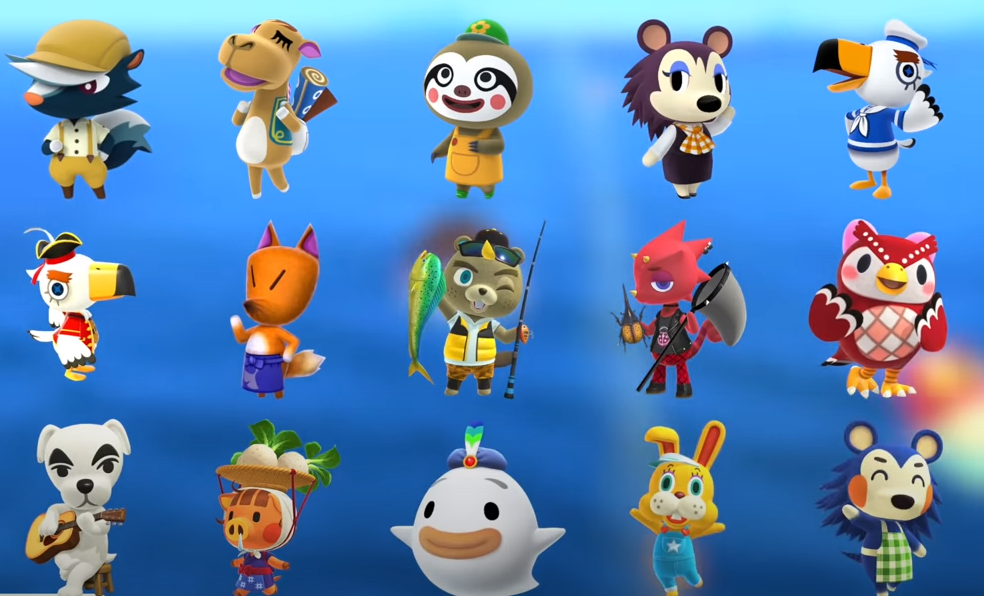 Related Read: 10 Most Hated Villagers in Animal Crossing New Horizons
Latest Animal Crossing New Horizons Special Characters Spawn Rates (Reveal in Summer Update 1.3)
According to the latest data in Animal Crossing New Horizons Summer Update 1.3, which brings a set of Animal Crossing items like Sea Creatures, Mermaid Recipes, and gameplay updates, thanks to a Twitter post by user Ninji, which shared the visitor NPCs spawn time in ACNH after 1.3 update, the spawn rates of special characters in ACNH are changed as below. Check out when they will appear or requirements of encountering these Animal Crossing villagers.
- Mabel Able: appears when Able Sisters is not built.
- K.K. Slider: is always scheduled for Saturdays unless in which case he is moved to Sundays. On bug-off and fishing tourney days, the K.K. Slider concert will be moved to Sunday rather than Friday, so the NPC slot on Friday that week is available.
- Daisy Mae: a special visitor introduced in New Horizons, will always visit on Sundays as long as Nook's Cranny is upgraded.
- Wisp: often appears when there are no other villagers, may appear one time during Monday and Friday if all your weekday slots are full.
- Zipper: during the Animal Crossing Bunny Day event.
- Celeste: appears in any random day with a Meteor shower as long as there is no K.K. Slider concert, after the museum is built, usually pick a day with a heavy shower over a light shower. Celeste will only visit during one of these random showers if you have multiple a week.
- Leif: guaranteed during Nature Day events.
- Pirate Gulliver (Gullivarrr): appear if you have bought a wetsuit, you can have both Gulliver and Gullivarr within the same week, but not consecutively.
- Flick: a newly introduced Animal Crossing New Horizons visitor, appears only when Resident Services upgraded.
- C.J.: the same condition as Flick
- Redd: requiring Blathers asked about art.
- Saharah: have a chance at a weekday slot per week, only after the tent has been upgraded.
Note:
- In Animal Crossing New Horizons version 1.3, Leif, Saharah and Kicks are no longer guaranteed every week.
- If exclude all these characters that have either schedules or requirements, there are 9 Animal Crossing New Horizons special characters (Saharah, Kicks, Leif, Gulliver, Label, CJ, Flick, Mabel and Redd) to visit on the five random days (Monday to Friday) each week, with four who don't get to visit in the first week. They randomly come in the order:
1) Characters you missed out on seeing the last time a schedule was made
2) Characters you have the last time
3) Wisp, if there is any gap
- On every day of the weekend (Saturday and Sunday), one villager slot is available as long as there is not a K.K. Slider concert. If the Able Sisters is not upgraded, Mabel is possible to appear, if it's done, you may see Wisp.
- Celeste and Wisp are evening visitors.
What are Special Characters in Animal Crossing New Horizons
Special Characters are the animals must be unlocked in some way before they visiting the island on any given day, they generally host or manage the shops or events in the game, here is the list of ACNH special characters with their schedule or original unlocking conditions:
Tom Nook
Timmy
Tommy
Isabelle
Resetti
K.K. Slider (Unlocked by achieving a 3-star island evaluation, show up every Saturday)
Wisp
Blathers
Celeste
Kicks (Unlocked by building Able Sisters shop)
Harvey
Sable
Mabel (Unlocked by constructing Nook's Cranny, ceases visitation after constructing Able Sisters)
Label (Unlocked by building Able Sisters shop)
Saharah (Unlocked by upgrading from a tent)
Gulliver
C.J.
Flick
Daisy Mae (show up every Sunday morning)
Orville
Wilbur
Lloid
Zipper T. Bunny
Rover
Leif (Unlocked by upgraded resident services building)
Redd (Unlocked by talking to Blathers after having 60+ items in the museum)
Reese
Cyrus
Pascal (Day & Night)