Top 10 Most Popular Villagers In Animal Crossing New Horizons - Best ACNH Villagers (August 2020)
8/8/2020 5:05:13 PM
People from the Animal Crossing community vote for their favorite villagers every month, today we'll take a look at the 10 most popular characters in Animal Crossing New Horizons for the month of August 2020 including Raymond, Zucker, Marshal, Roald, and Sherb!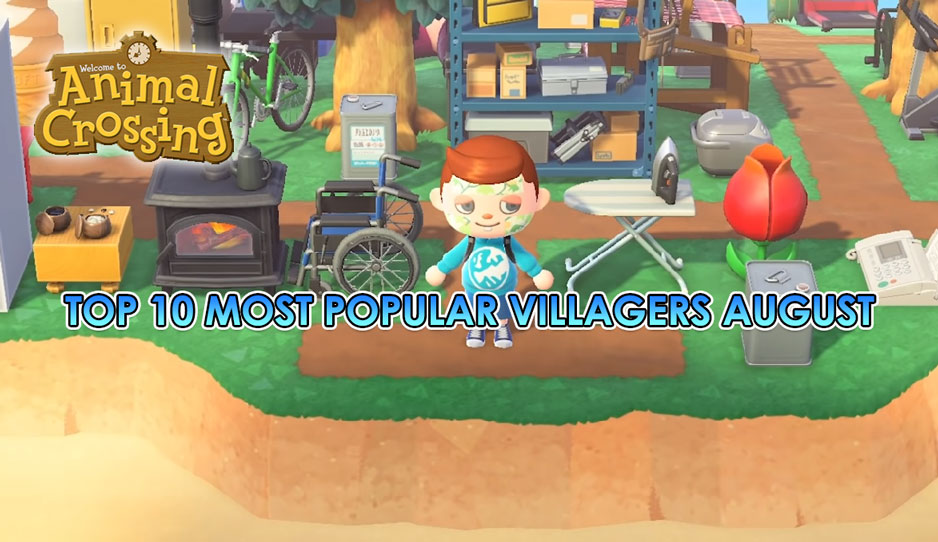 Animal Crossing Best Villager Tier List
Every month, the website called Animal Crossing Portal updates their list of the most popular, most sought after and and more importantly, most expensive top tier Animal Crossing New Horizons villagers. There are six tiers of popularity, with Villagers in the top tier being the most valuable/sought and worth between 10-20 million ACNH Bells, or 1,000 Nook Miles Tickets. While the list shows which villagers are the most popular. The list will update twice a month, every 15th, and the end of the month (30th or 31st), so you can check the popularity list at the right time and make the best villager trade.
Tier List At A Glance (Updated 8/6)
Click here to check the full list of Animal Crossing villager popularity list and vote for August's poll.
S-Tier: Super popular. Just about everyone wants them on their island.

A-Tier: A great villager. You should consider adding them to your island.

B-Tier: Above average.

C-Tier: Average villager.

D-Tier: Below average or awful.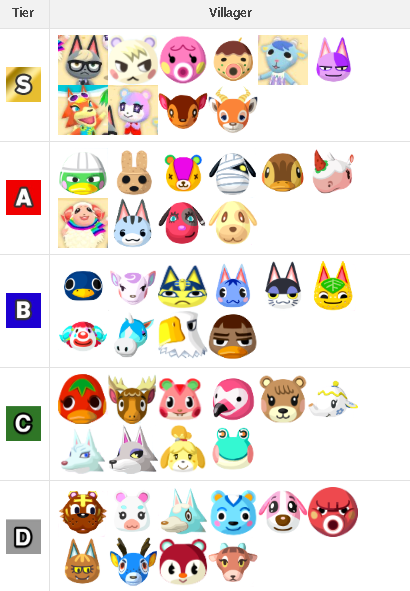 Tier 1 - Max worth 15-20M Animal Crossing Bells/1000 NMT

Tier 2 - Max worth 8M Bells/100 NMT

Tier 3 - Max worth 5M Bells/50 NMT

Tier 4 - Max worth 1 M Bells/25 NMT

Tier 5 - Max worth 250K Bells/10 NMT

Tier 6 - Often giveaways
August Top 10 Most Popular Villagers In Animal Crossing New Horizons
Each and every month, Animal Crossing players get together on Animal Portal to vote on who they think the most popular villagers are in Animal Crossing New Horizons. Now this is a community list people voted covering the 10 most popular villagers for August 2020, and we tell you what makes these cute little critters so popular in August.
More read: Animal Crossing New Horizons Bans & Deletions Of Dream Addresses - How To Prevent Getting Banned In ACNH
Top 10 - Ankha
Ankha has been in tenth place for the last month or so now. Clearly she's rather popular, but not quite popular enough to move up the chart. Anka's striking design has won her an army of admirers, take her headdress for instance it's adorned with a cobra and it resembles the nemez crown something that symbolized kingship in ancient egypt. She's based entirely on Egyptian history, and her name is actually a reference to the hieroglyph of the same name. Anyone who is into their Egyptology will find her an essential addition to their island.
Top 9 - Roald
Roald is a penguin with a jock personality. Rolled retains that classic penguin colour scheme, he has the added advantage of having super cute ultra wide eyes that stare dreamily off into space. This guy is based on a real world explorer who visited the most remote locations on Earth. Having him on your island must be an absolute dream. His custom house interior has incredible icy animated wallpaper and funky frosted flooring which makes it look like he's living on an iceberg, not only that but he's also decorated it with two huge ice statues of polar bears, a massive ice archway and best of all an ice block table that comes complete with two cool blue ice lollies which will be grabbed up in snow time at all.
Top 8 - Dom
Dom, the sheep with a jock personality and if you've never seen him before that'll be because it's his first time in the top 10. It might be down to his incredibly cheery disposition something which is echoed by his big sparkly eyes, his hot pink horns and his bright tie-dye t-shirt. It's not just dom's personal style that sheer bliss for players though those of you out there who've got Dom's custom home will know how cool it all looks, as it's set out like a little backyard with a hay bale bed, a red brick oven and backyard style wallpaper and flooring manure in for a treat if you manage to get dom on your island.
Top 7 - Stitches
Stitches clearly resembles a child stuffed toy right down to the way the coloured panels of his fur are visibly sewn together. As a lazy personality type, Stitches cheerful disposition makes him pretty popular with players but combine that with his colorful coat and unique house interior which is full to the brim with toys and you've got one lush plush for your collection. Overall, Stitches is one of the more extravagant villages in the game in terms of character design and colouring at least. so it really should come as no surprise that people are teddy and waiting to have him move onto their islands.
Top 6 - Marina
Her soft pink color scheme is super sweet and it's accentuated by her big light yellow cheeks, the wisp of pink hair atop her forehead and the small pink bow on the back of her head which ties the whole look together. It's not just her outward appearance, it's cute though Marina takes her strawberry pink persona and themes her whole existence around it. And if you go inside her custom house you'll find it decorated wall-to-wall with soft baby pink furniture that perfectly suits her pure personality. Marina is by far one of the cutest villagers in the game.
Top 5 - Judy
Judy is back in fifth position once again this month. Judy's look is inspired by the night sky and her eyes are full of sparkling stars while her beautiful pastel coloured fur mimics the blended colours of the aurora borealis with subtle pinks making way for deep purples and magnificent galaxy blues. Judy enhances her beauty by wearing light blue eyeshadow with just a hint of blusher and this all works towards giving Judy an intense cuteness that has earned her an army of astronomers who desperately want to gaze at this star. Judy's personality is also quite unique as she's the only snooty cub in the game and this means she's obsessed with style and appearance to this end. Judy has decorated the interior of her home to match her eyes and fur with star wallpaper, star garlands and cute pastel coloured block furniture.
Top 4 - Zucker
When it comes to imaginatively designed villagers, Zucker has to be one of the very best in the game. Zucker's look feels like a pretty weird fashion choice for an octopus to adopt the attention. Zucker is also the second lazy villager to appear on this list proving that this super chill personality type is one of the most popular in the game. Having a lazy personality means that Zucker will rarely lose his tempura with your other villagers, so he should settle in very quickly if you invite him to live on your island. The interior of his home which is set up to look like he's an outdoor vendor complete with multiple food carts and a lovely view of the city.
Top 3 - Sherb
Sherb is one of the 8 brand new villagers in the game so that means sure better believe you're going to need to track him down or trade for him if you want him, because you won't be able to use amiibo cards to summon him onto your island. This blue boy is by far one of the purest and cutest characters in the game and the interior of his house which is furnished with numerous ACNH items from the cute set completely complements his adorable personality. He's probably the laziest Villager you'll ever come across. Most of the time, he'll just be sitting around and annoying other Villagers, or talking about what he's going to eat.
Top 2 - Ramond
Raymond is very much second best this month. He'll still be able to pull in the big bucks if you fancy trading him in so this means you're sat on a tidy fortune if you no longer want this awesome office worker on your island. Raymond is a one-of-a-kind kitty and that means collectors aren't able to use old amiibo cards to import him into the game more than that though are his unique traits including his complete heterochromia a condition where the iris of one eye is a different colour to the iris of the other eye, and his personality type which is one of a kind as he's the only cat character in the Animal Crossing series to have the smug personality type with individual cat tributes. Raymond will be making his ray back to the top of the charts very soon but as of this month he's paused his rule so his fans will have to make do with him cat-napping in second position.
Top 1 - Marshal
Marshal was the most popular Villager for July, and it seems as though he's firmly overtaken Raymond now as one of the most popular Villagers for August 2020. This mighty majestic marshmallow is now the undisputed crown prince of Animal Crossing but be warned as he's the top of tier 1, he's going to make a real rodent in your savings if you decide to buy him from the AC black market. Marshal is mainly done to his looks because quite simply Marshall is a cutie, the way he looks is reminiscent of the chibi drawing style from manga cartoons which put a huge emphasis on cuteness, the drill big eyes, big head, tiny body in a bit of a blush, combine all this with his default expression which is resting cranky face and you get a cute Splosion especially when you actually talk to him and find out he's one of the sweetest characters around the eyes.