Fantastic Moonrise Island Tour - Animal Crossing New Horizons
8/20/2020 10:03:57 AM
This article is about a very popular online game, Animal Crossing: New Horizons is a 2020 life simulation video game developed and published by Nintendo for the Nintendo Switch. marking the fifth installment in Nintendo's popular life-simulator series. New Horizons was released in all regions on March 20, 2020.
In New Horizons, the player assumes the role of a customizable character who moves to a deserted island after purchasing a package from Tom Nook, a tanuki character who has appeared in every entry in the Animal Crossing series. Taking place in real-time, the player can explore the island in a nonlinear fashion, gathering and crafting ACNH items, catching insects and fish, and developing the island into a community of anthropomorphic animals.
New Horizons received acclaim from critics, with many praising its gameplay and customization options. It sold five million digital copies in its first month, breaking the console game record for most digital units sold in a single month. It became the best-selling game in the Animal Crossing series and the second best-selling game on the Nintendo Switch, with over 22 million units sold. Its success has been partially attributed to its release during the COVID-19 pandemic, with players seeking a sense of escapism amid worldwide stay-at-home orders.
Next, I am going to tell you about the video that I saw on youtube. The player has designed the most romantic island I ever saw. First, the Island's name is Moonrise name after one of the movies the Moonrise Kingdom. Just like this beautiful name, this island has its own unique beauty. Let's see, shall we?
Through the little entrance, there are some nice flowers and peach trees, now it's the right season to eating peaches in China, Looks like every girl just like the flavor of peaches. In the center, we have the moon and crescent moon chair. Just to fits Island's name Moonrise. After looking at the matching color in the picture, I am sure the bad mood would go away. Good things make people forget all the bad things.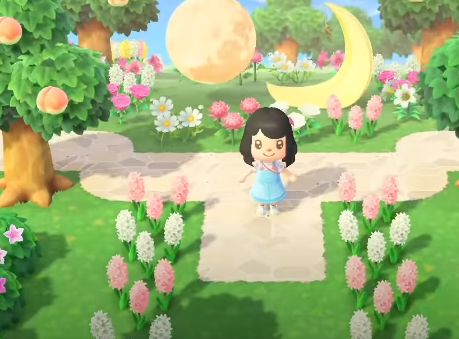 To the left entrance, we have a public garden with a nice fancy fountain and some Shrubs with flowers on it are around two white benches. So happy with this area came out.
Next, we had the museum and I've seen so many people have extravagant entrances with dinosaur fossils, but here we also have the very cute dinosaur guy. Suddenly a present with a balloon that falls slowly from the sky. Can't believe anyone still struggles using a slingshot. Ops, She only took 2 shots to get the present. This cute character made an angry face after gets the standing toilets. Looks like she does not like the present. I am guessing she should give this as a present to Chinese friend. Since only the Chinese can do Asian squard.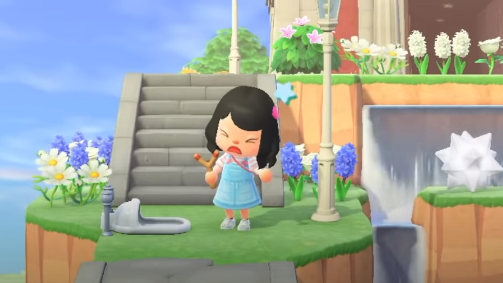 Also, can we take a moment to appreciate the museum because I feel like it's so underrated but do you see these graphics just like wow? Big fountain in the center even Butterflies are circling around. I feel like maybe this time that the leading actress and the actor should be filming the romantic moment right now. It's a perfect place to make movies even though it's not true.
Nintendo has seriously outdone themselves. Here comes to my favorite room, it is a stunning aquarium. Seriously? For me, I have never been to aquarium before. I come from a small city, doesn't have a place like this. That's why I always dreaming to visiting aquarium. Thankfully this player has designed a big and incredible aquarium, and these are actually marine organism swimming in the water. Thanks the designer has my dream come true. Most importantly it's a free aquarium tour.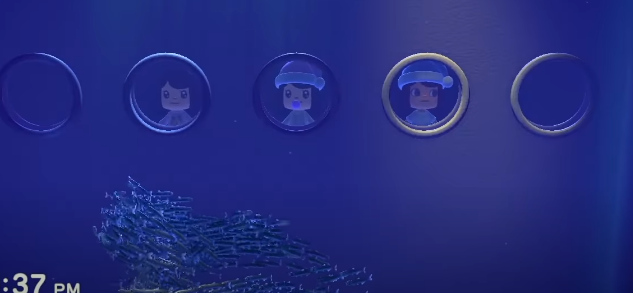 These are just some clips of having fun in the museum. I am sure all the boys are dying to come here. Seems to me boys are more interested in History of Physics Biology Mathematics. Some extinct animal fossils such as dinosaur fossils. Feeling a little bit scared in it, it was so dark in it, no lights at all.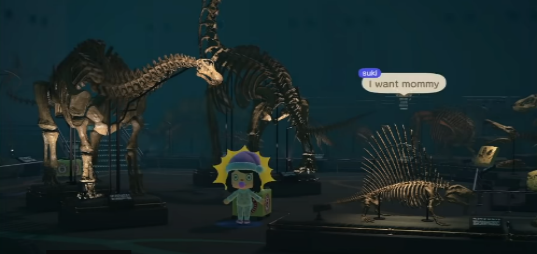 Outside this little outdoor garden area for the villagers to rest after get a little cultured. We have a book a puzzle which customized to be a scene from spirited away. The other table served cream and sugar for villagers to have coffee.
Right below is the picnic area. What can I say girl really like a good picnic.We have variety of food options, Fruits, Sushi, Xiaolongbao, and sandwich. I will say that this area is a bit more secluded so it would be perfect for a date. Everything is so exquisite and fancy.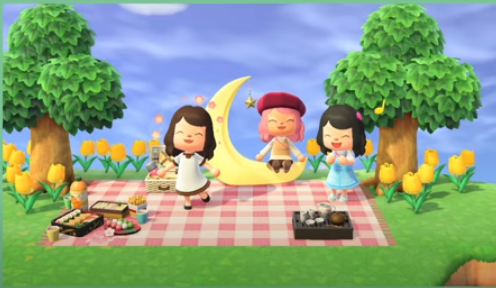 A tiny flower field and she told us the flower looks the best at 5pm that golden hour lighting. And people say that if you customize the beach towel to look like the grass then you can lay in your flower bad and it looks so nice and you can get some really cool shots. Taking pictures in a place like this I am sure is every girl's dream.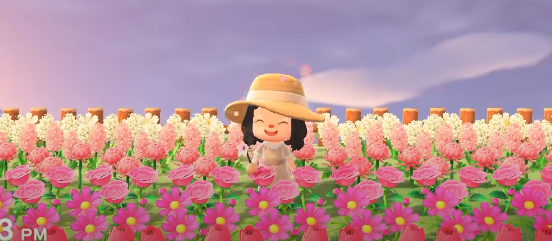 Down here this was going to be her little wedding area. Since August is a wedding season. She designed a simple but romantic place to be her wedding place. Just near the sea, you still can hear
The sound of water beating against the shore. Probably this player has known all girls favorite. Because all girls want is romantic and concern.