ACNH 9 Maple Leaf Items & Recipe - Tricks And Tipps To Get Them Easy in Animal Crossing New Horizons
11/17/2020 3:24:27 PM
Here we at the latest seasonal change in Animal Crossing New Horizons, gorgeous maple leaves spawning around on the island for the first time. Hurry up to craft the final seasonal material before fall is gone away. Today, at mtmmo.com bring you the all things you need to know about maple leaves items, maple leaves recipe and catching tips and tricks, so that you can get ACNH maple-themed items to decorate an authentic fall vide Animal Crossing island next year.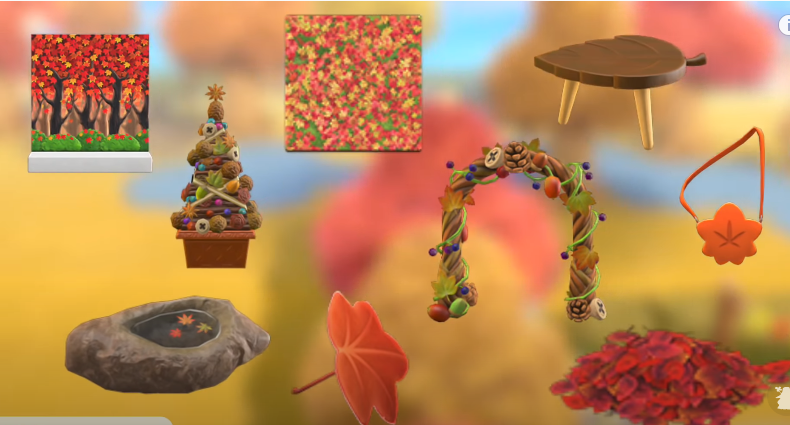 When Does the Maple Leaves Start In Animal Crossing New Horizons?
On November 16th, beautiful autumn leaves started to fall around from the skies in Northern Hemisphere Animal Crossing island. You can start catching those maple leaves and using them as
crafting material for exciting new maple items. You'll be able to find it until the 26th of November.
From May.16th to May. 26th in the southern hemisphere, you will have to cherish as begins to transition from autumn into the winter season. Make sure you seize the chance and hurry up to find the quick way to get the new maple leaves & new items before they proofed away.
Tips & Tricks Cathing Maple Leaves - How To Catch Maple Leaves Easy In Animal Crossing New Horizons
When you see the maple leaves floating through the air you'll need to catch them with your net. Fortunately, they are not too rare to find, but a little bit tricky to catch. Maple leaves appear more throughout the day time than at light, you'd better spend most of your time hunting maple leaves during the daytime. Don't worry, maple leaves are easier to catch than farm mushrooms! They will be plenty floating around, unlike the mushrooms aren't limited to a certain amount per day.
You can not catch all the maple leaves that you see floating around the sky. You will be able to distinguish which type of maple leaves that you can catch. Most of the maple leaves falling downwards and disappear, you will pay attention to the maple leaves are larger and redder, they are moving slower than others, then you can catch maple leaves when the timing is right.

If you are struggling to find more new maple leaves item on your island, you can enter into Animal Crossing buildings like villager house, shop, etc coming back again can reset the spawn rate.

You can prepare a second spare net to catch the maple leaves, in case your net happens to break when you about to hunting leaves. If you're going to buy a new one from the Nooks Store, the spawn rate changed, maple leaves might nowhere to be found.

The ways catching maple are the same thing when you trying to catch a bug, you failed to catch them for the first time, they just fly away and disappear. So when you find one, get yourself ready in a position and follow it around then let go of your net.
ACNH New 9 Maple Leaves Items & DIY Recipes - How To Get Them Easy In Animal Crossing New Horizons
Isabel will give you the maple leaf pile recipe during an announcement, the only way you'll be able to find the rest of the items is via balloons, you'd better hang around the beach more often try to find balloons and get new maple recipes. They'll come in from whatever direction the wind is blowing and this will change later at 6 pm.
Once you collect enough maple leaves you can craft nine brand new ACNH autumn-themed & maple leaf item. Following is the Animal Crossing New Horizons DIY Recipe for maple leaves, hunt maple leaves to get these amazing autumn seasonal decorative items!
NO.1 Colored-Leaves Flooring Recipe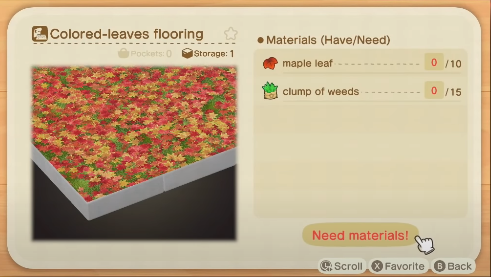 NO.2 Tree's Bounty Arch Recipe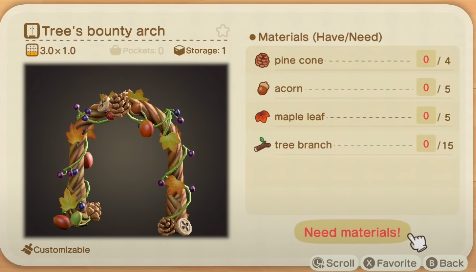 NO. 3 Real-Leaf Pile Recipe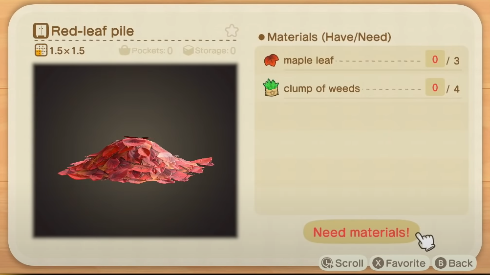 NO. 4 Maple-Leaf Pochette Recipe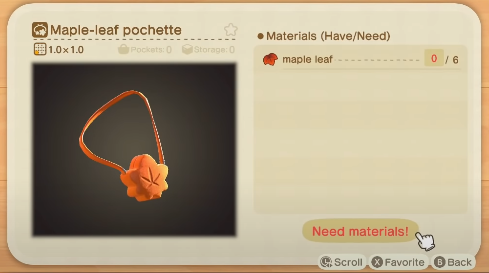 NO.5 Maple-Leaf Pond Stone Recipe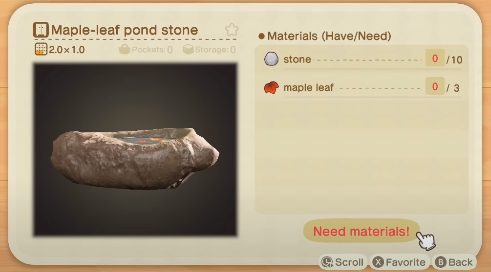 NO.6 Autumn Wall Recipe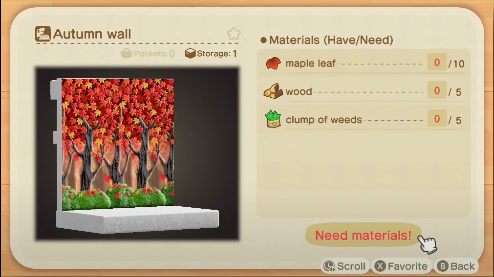 No.7 Maple-Lead Umbrella Recipe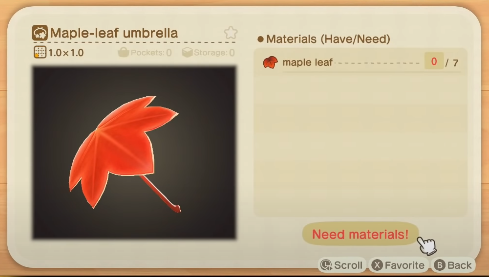 No.8 Leaf Stool Recipe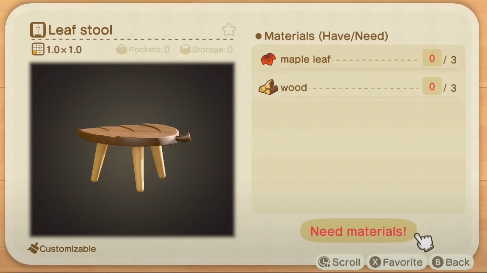 No.9 Tree's Bounty Big Tree