ACNH 1.9.0 Update Guide - 1st Anniversary, April Seasonal Events & Items In Animal Crossing New Horizons
3/17/2021 3:25:06 PM
Animal Crossing: New Horizons Anniversary 1.9.0 update scheduled on March 18 has been reconfirmed by Nintendo that never disappoints its fans, with an announcement full of news: from the features that many expected to new and really unexpected content. Let's find out together what we can achieve with ACNH 1.9.0 update!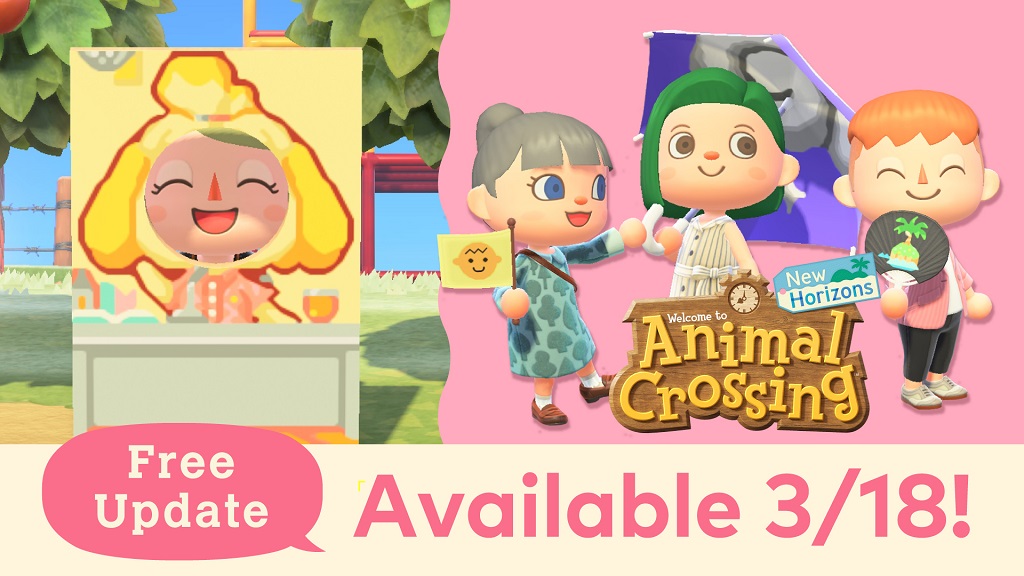 Animal Crossing New Horizons 1.9.0 Anniversary Update
The new ACNH anniversary update will be available on March 18th that will bring the game software to version 1.9.0 and introduce various innovative elements for an even more immersive gaming experience. The ACNH 1.9.0 update will bring not only the introduction of Sanrio series items in Animal Crossing: New Horizons but changes will be introduced both to the quality of life of the game and in view of the celebrations for the first anniversary of the title. Let's discover all the details together, analyzing every single point!
Sanrio Themed Villagers & Items
The villagers inspired by the most famous people of Sanrio are coming! As previously announced, finally with the new version of the game we can use amiibo in collaboration with Sanrio within Animal Crossing: New Horizons. In fact, it will be possible to invite as many as six new characters who, in addition to unlocking the series of items dedicated to them, will be able to settle on our islands. Thanks to the cards already usable in Animal Crossing: New Leaf, it will be possible to have Chai, Étoile, and other friendly inhabitants, as well as a set of special themed Animal Crossing items, including new and exclusive furniture.
More Custom Design Slots and Options
Custom Design Pro Editor + is definitely one of the main novelties of this update. By going to the Nook Point at the service center, it will in fact be possible to introduce a new feature that you will add to your Nook Phone: the expansion of slots for patterns: just like this, at great request by the community, Nintendo fulfills our desires, giving us extra space to create and preserve fantasies and designs. Specifically, the available space will be 100 slots, divided into two parts, 50 spaces for normal models and 50 for pro models. Being creative has never been so good!
Also regarding custom models, we have another novelty that introduces four custom designs in the Pro section. We can, in fact, create custom designs dedicated to umbrellas, uchiwa fans, flags and even develop a fantastic photo stand.
Another novelty, obtainable with Nook miles, immediately after updating, will be to have the possibility to bring the Custom Design Portal, which is normally only found in the Able Sisters' Shop, directly on your Nook Phone.
ACNH 1st Anniversary Gift
March 20th will be an exact year from the release date of Animal Crossing: New Horizons and Nintendo have chosen to give us a gift to celebrate this first year together. In this regard, every player who downloads from this Thursday the update to version 1.9.0, will receive directly in the mailbox a gift dedicated to this anniversary: let's talk about the 1st anniversary cake, with typical colors and decorations in full Animal Crossing style!
April New Seasonal Items
With the advent of spring, new seasonal items also arrive, available at the dedicated section in the catalog or at the Ago&Filo tailoring, which will bring joy and fun to our islands.
Here's a preview of the items that will be obtainable from the end of this March to April:
- From 26 March to 1 April we can buy Whoopie Cushion, a nice tool to make a few jokes to friends on the occasion of April Fools Day;

- From 1 to 30 April, Prom Night Wall, Prom Night Flooring, Prom Stash, and more Prom Night themed items will be available;

- From 1 to 10 April we will find the Forsythia, a plant with yellow flowers, to celebrate the Singmogil, a typical south Korean holiday that is celebrated on April 5th;

- From 15 to 22 April we can buy the Cool Globe to celebrate Earth Day.
New Exclusive Item for Nintendo Switch Online Subscribers
For subscribers to the Nintendo Switch Online service, in addition to the already available Nook Inc Velvet Carpet Nook Inc., it will finally be possible to obtain an in-game version of the Nintendo Switch Lite console. In the Nook Catalogue, in fact, it will be possible to obtain for 19,980 Animal Crossing bells this delicious items in the color of your choice between yellow, coral, gray and turquoise. Don't let her get away!
Bunny Day Return With New Items
As previously hypothesized, we have official confirmation that from March 28th it will be possible to find the colored eggs hidden around the island. These elements can be used to create unique items with DIY schemes or we can exchange them for exclusive items, taking them to Zipper T. Bunny on April 4 Bunny Day. In addition, we can find unique themed items at Nook's workshop in the period related to this event: don't miss one!
Nook Link App: Nook Points
The NookLink feature within the Nintendo Switch Online smart app will be updated at the end of March. With the update it will be possible to start collecting and collecting Nook Points that will allow us to get items within the game. No further information is currently available on this.
Island Tour Creator Web Service
From March 24th we will have at our disposal a new tool that will allow us to show the world the strengths and wonders of our island! Nintendo, in fact, provides us with the Tourist Editor of the island! Using it is very simple: just upload the videos or photos from our Switch console to a smart device and then upload everything to the tourist editor's website. From here it will be possible to create digital posters and tourist videos that highlight the qualities of the island and can then be shared on social media, so as to allow everyone to see these creations. It is important to point out that this service will only be available for a limited period of time, so let's take advantage of it as long as we can!