How to Get Sanrio Villagers and Items in Animal Crossing New Horizons - ACNH Sanrio Amiibo Cards Guide
3/18/2021 4:48:54 PM
The ACNH 1.9.0 update arrives and brings a bunch of new items, characters, and features to the game. Once you download the latest version, you can access the new Sanrio villagers and related Animal Crossing items, villager posters.
Animal Crossing New Horizons Sanrio Update 2021 March
ACNH Sanrio Villagers
There are six Sanrio-inspired villagers who can be invited to your island, they are Rilla, Marty, Étoile, Chai, Chelsea, and Toby.
Rilla, a Peppy personality Gorilla villager, inspired by Hello Kitty.
Marty, a Lazy personality Cub villager, inspired by Pompompurin.
Étoile, a Normal personality Sheep villager, inspired by Little Twin Stars.
Chai, a Peppy personality Elephant villager, inspired by Cinnamoroll.
Chelsea, a Normal personality Deer villager, inspired by My Melody.
Toby, a Smug personality Rabbit villager, inspired by Kerokerokeroppi.
ACNH Sanrio Items
Also, there is a total of six sets of Sanrio items. The villager and items can be unlocked corresponds with each of the Sanrio Amiibo cards. 75 different Sanrio items are available in the game now.
Rilla (Hello Kitty) Furniture & Clothing
Hello Kitty Bed
Hello Kitty Chair
Hello Kitty Clock
Hello Kitty Dresser
Hello Kitty Planter
Hello Kitty Table
Hello Kitty Wall
Hello Kitty Flooring
Hello Kitty Rug
Hello Kitty Poster
Rilla's Poster
Hello Kitty Hat
Hello Kitty Tee
Hello Kitty Dress
Hello Kitty Shoes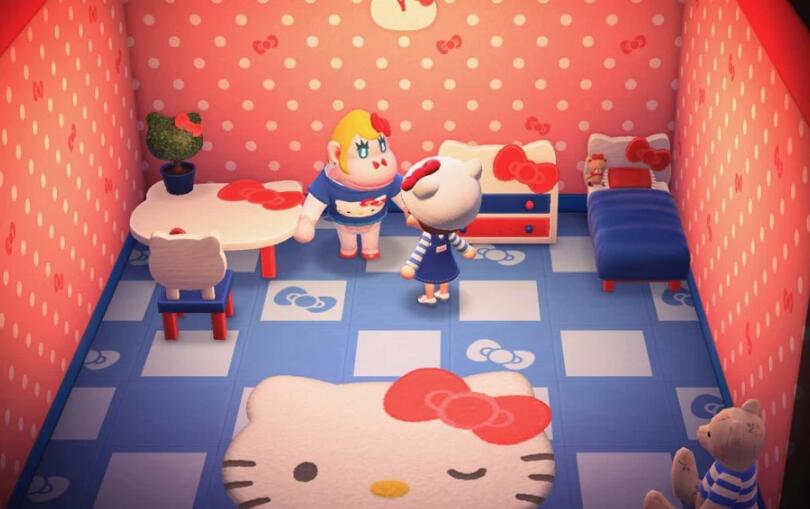 Marty (Pompompurin) Furniture & Clothing
Pompompurin Bed
Pompompurin Chair
Pompompurin Pudding
Pompompurin Rack
Pompompurin Table
Pompompurin TV
Pompompurin Wall
Pompompurin Flooring
Pompompurin Rug
Pompompurin Poster
Marty's Poster
Pompompurin Hat
Pompompurin Tee
Pompompurin Outfit
Pompompurin Boots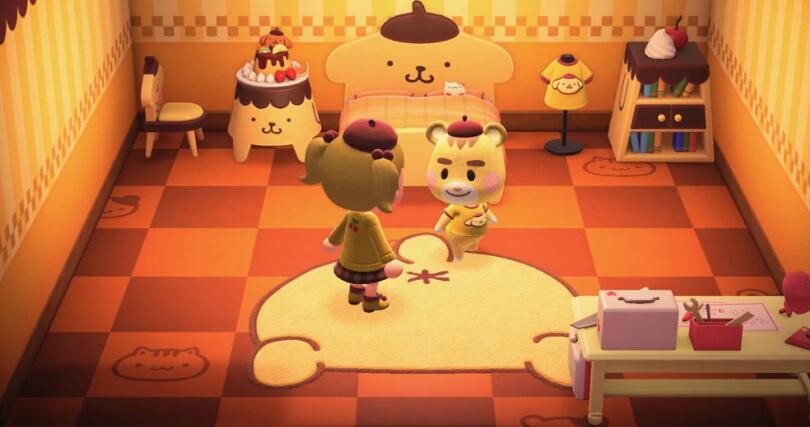 Étoile (Little Twin Stars) Furniture & Clothing
Kiki & Lala Bed
Kiki & Lala Clock
Kiki & Lala Cloud Maker
Kiki & Lala Sofa
Kiki & Lala Table
Kiki & Lala Wall
Kiki & Lala Flooring
Kiki & Lala Rug
Kiki & Lala Poster
Étoile's Poster
Kiki & Lala Wand
Kiki & Lala Pin
Kiki & Lala Tee
Kiki & Lala Dress
Kiki & Lala Shoes
Kiki & Lala Socks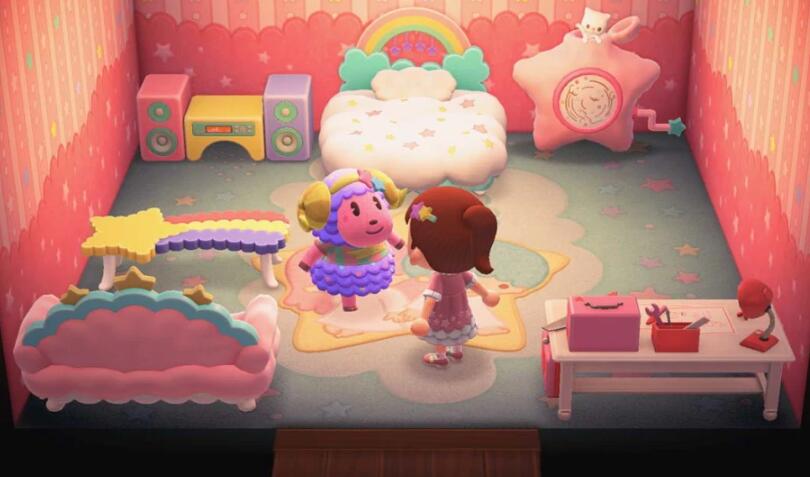 Chai (Cinnamoroll) Furniture & Clothing
Cinnamoroll Parasol
Cinnamoroll Signage
Cinnamoroll Sofa
Cinnamoroll Stool
Cinnamoroll Table
Cinnamoroll Tray
Cinnamoroll Wall
Cinnamoroll Flooring
Cinnamoroll Rug
Cinnamoroll Poster
Chai's Poster
Cinnamoroll Hat
Cinnamoroll Jacket
Cinnamoroll Puffy Blouse
Cinnamoroll Sneakers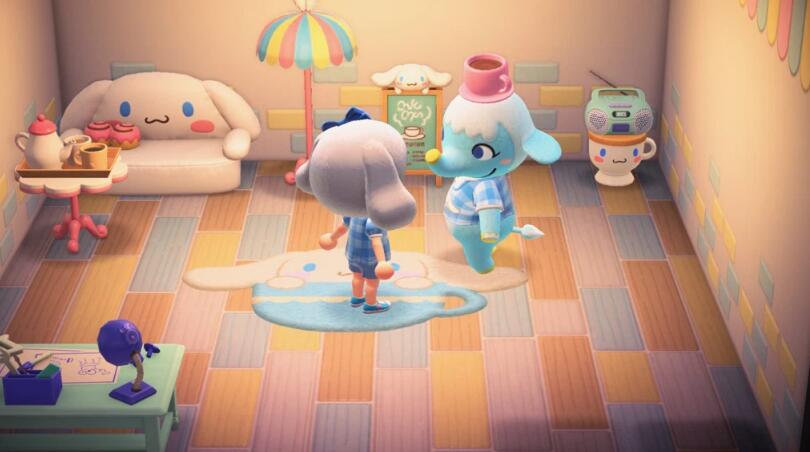 Chelsea (My Melody) Furniture & Clothing
My Melody Bed
My Melody Chair
My Melody Clock
My Melody Dresser
My Melody Table
My Melody Wall
My Melody Flooring
My Melody Rug
My Melody Poster
Chelsea's Poster
My Melody Hood
My Melody Shirt
My Melody Dress
My Melody Boots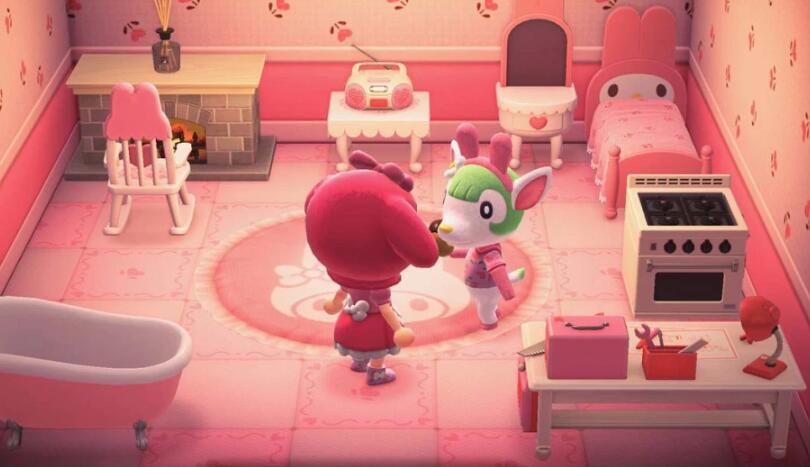 Toby (Kerokerokeroppi) Furniture & Clothing
Kerokerokeroppi Bridge
Kerokerokeroppi Doll
Kerokerokeroppi Hallway
Kerokerokeroppi Lantern
Kerokerokeroppi Snack
Kerokerokeroppi Tray
Kerokerokeroppi Wall
Kerokerokeroppi Flooring
Kerokerokeroppi Rug
Kerokerokeroppi Poster
Toby's Poster
Kerokerokeroppi Pin
Kerokerokeroppi Tank Top
Kerokerokeroppi Outfit
Kerokerokeroppi Boots
Kerokerokeroppi Socks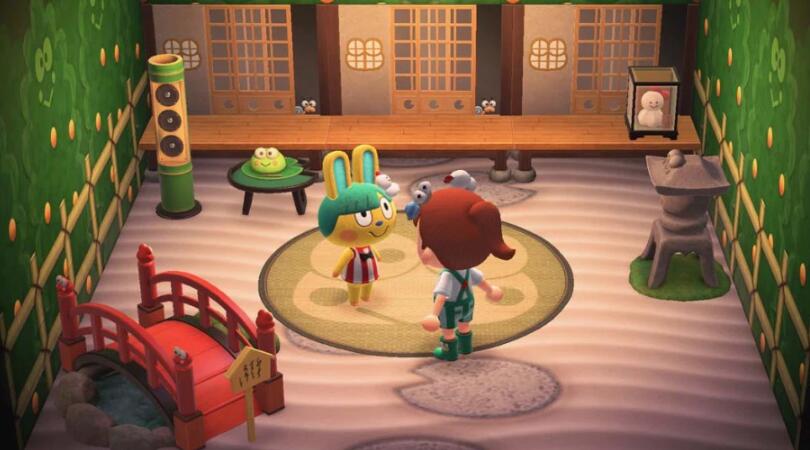 How to Get ACNH Sanrio Villagers, Items and Posters?
You need to scan the Sanrio Amiibo cards on your Nintendo Switch to unlock villagers and items.
The steps to get Sanrio villagers and items with Amiibo cards:
1. Prepare Sanrio Amiibo cards you are going to scan.
2. Scan Amiibo cards at the Nook Stop Terminal in Resident Services using "Invite Amiibo Camper", limit once per day.
3. You can also scan Sanrio Amiibo cards at Photopia on Harvey's Island, multiple times are allowed.
4. Once unlocked, you can buy Sanrio items from the Promotion tab in Nook Shopping, only 5 items are available for each day.
If you have no Amiibo cards, trading actual Sanrio items you want with others may be a solution. But it's not possible to trade the Sanrio villagers for other players without the Sanrio Amiibo Cards.
How to Scan Sanrio Amiibo Cards for Animal Crossing
1. Ensure your console has the latest system update.
2. Start the game and follow the on-screen instructions.
3. Touch the amiibo to the NFC touchpoint.
- On the Joy-Con, the NFC touchpoint is located on the right control stick.
- On the Pro Controller, the NFC touchpoint is located at the top-center of the controller.
- On Nintendo Switch Lite, the NFC touchpoint is located on the right control stick.