ACNH May Day 2021 Guide - Animal Crossing New Horizons May Day New Items & Rewards
4/15/2021 4:07:39 PM
The first big event of May is coming to Animal Crossing New Horizons, and most likely alongside the next 2.0 update! We are talking about the ACNH May Day 2021, which is a special event that takes place during a more particular tour of the islands than usual where a special character returns with bringing exclusive rewards and items! What new content and changes will be added to the event this year? Let's dive into the Animal Crossing New Horizons May Day Event in 2021.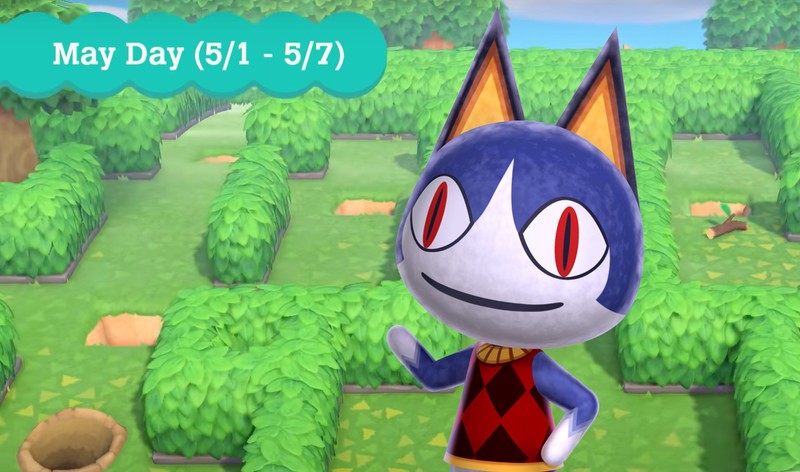 Animal Crossing New Horizons May Day Event 2021
Time flies, Animal Crossing New Horizons has been released for a year, and those major events we experienced last year are returning to the island again, which will give players another chance to collect these special items. Surely May Day will also be celebrated again in Animal Crossing New Horizons soon.
ACNH May Day Event 2021 New Items & Content
There is no doubt that May Day, as the first important festival in May, will definitely return to ACNH, and the theme of the event will not change. But based on Nintendo's update of the events that return to the island, such as Bunny Day, it is clear that we can expect some new content or items to appear in this year's May Day. As you know, in the Bunny Day 2021, a new selection of Bunny Day-themed items for sale in Nook's Cranny means that players not only can still collect the old Bunny Day series items with DIY recipes but also could buy new Bunny Day items with bells in the shop. In addition, on the occasion of the 20th anniversary of the release of Animal Crossing, Nintendo may bring more surprises to players in ACNH 2.0 udpate. Therefore, we can expect Wilbur to bring more free rewards.
If Nintendo follows the rules of last year, then we can determine when and how ACNH May Day 2021 will start.
ACNH May Day 2021 Start & End Date
May Day will last from May 1st to May 7th, 2021 (TBA)
ACNH May Day Event Guide (How Does The Event Go On)
On Animal Crossing: New Horizons, the May Day festival is actually an event we can attend from May 1st to May 7th. Although you can complete everything in a day, we keep in mind that we have, however, a whole week to be able to participate in the activities and get the rewards, in particular the Rover's briefcase!
Get May Day Ticket From Tom Nook
After the event has started, we will have Isabelle who will warn us on the home screen that we can go to the Resident Services to redeem a particular ticket, namely May Day Ticket. In fact, going to talk to Tom Nook, we will have all the info about it: in this case, he will tell us that the event is available from 1 to 7 May and he will provide us with the May Day Ticket, indispensable to leave for the special themed mystery island which you could not use Nook Miles Tickets to travel to normally.
Take The May Day Island Tour
The May Day event takes place on one of the islands accessible through our airport, selecting the "May Day Island Tour" option. As usual, we will leave with Wilbur who will accompany us on this island. Clearly, using a normal Nook Mile will not be helpful for the purposes of the event.
We have to be careful: we only have one May Day Ticket available On May 1st, so it is better not to waste it and follow this guide to the letter to get to the end.
Another peculiarity of this May Day Ticket is that we will not be able to bring any items with us and, therefore, we will not be able to have the tools with us, even those in fragile version.
There will be no need to empty our pockets, as, at the airport, Wilbur will take care of it all: let's not worry, he will return our items to us on his return from the trip. We will not even be able, upon arrival on the island, to rent tools from Wilbur: the only way to have them is to check around on the island, it is very important, therefore, to be careful how to use them, avoiding breaking them immediately.
Explore the May Day Maze & Meet Rover
The peculiarity of the special island of the May Day event is that it will have a maze made of hedges inside! Our goal is to find Rover, thus managing to get out of all the intersections and obstacles that we will find along the way. In the end, what we can bring home will be only two Animal Crossing items, namely Rover's briefcase and some starlet Bell voucher, which is the reward for completing the maze.
Get May Day Reward - Rover's Briefcase & Bell vouchers
Rover's briefcase is an exclusive item, obtainable only through this event, and therefore not reorderable from the Nook Shop! In addition, while it is guaranteed to obtain this item, it is important to make sure that we have at least 3 fruits when we get to talk to Rover: only in this way, in fact, we can get 9 Bell vouchers, which can be sold at the price of 3,000 bells each from Timmy and Tommy, thus obtaining a total of 27,000 bells.
We keep in mind that all the items obtained will be sent by mail, so it is good to check the cassette. Finally, after finding Rover, the cute cat will make a mention of meeting again, so who knows, maybe we will find him soon in another event.