ACNH May Update 2022 Guide: Events, Seasonal Items, DIYs, Critters In Animal Crossing New Horizons
4/3/2022 8:03:03 PM
May arrives on Animal Crossing New Horizons islands, let's check out the new events, seasonal items, scenery, and critters (bugs, fishes, sea creatures) that will arrive in the last month of Spring or Autumn.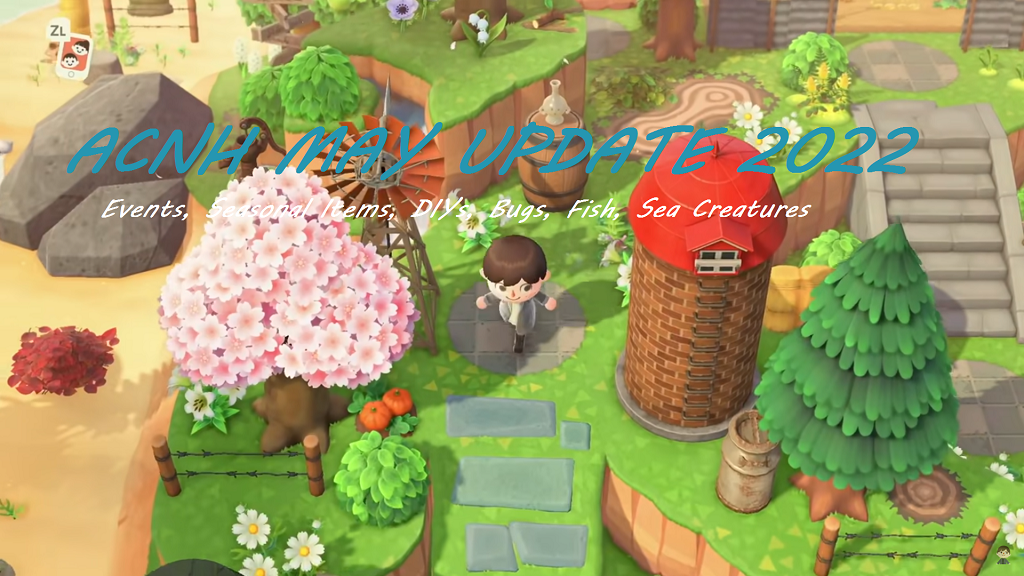 Animal Crossing New Horizons May Update 2022 Guide (Events, Seasonal Items, DIYs, Critters)
In May, we enter the last month of this season, Spring is wrapping up in Northern Hemisphere, while Fall is ending in Southern Hemisphere. Even new players know by now new months bring a bunch of new content and activities to keep us occupied. Now as always there's quite a lot to get through including minor changes to seasonal events, new DIY recipes, island natural scenery, as well as new bugs, fishes, and sea creatures returning to our island. If you want to know more details about the new content, follow us to dive into each part.
ACNH Island Scenery Changes in May
As with every new month, we start to see changes to be aesthetics of the ACNH island, especially as we're approaching the start of a new season. At the end of May, players in the Northern Hemisphere will say goodbye to the Bamboo season, the greenery of the leaves and grass will become lusher, and the weather will become more cloudless. While in Southern Hemisphere, as players progress into the last month of Fall and the winter season draws near, your tree will gradually change from orange to red until it turns dark brown.
ACNH May Events 2022
Thanks to the most recent content update, ACNH has even more seasonal celebrations and items in 2022 than last year. While in May, it seems we will only see the returning of some original events. But Nintendo will make some minor changes such as adding new exclusive items to each event to refresh the events. Here we sort out the schedule of all events that will happen in May and the related items expected to get:
Nature Day (April 23rd to May 4th)
Items To Get: Nook Miles currency, Hedge Fence (Bush)
Nature Day is also known as Earth Day, is an event that starts in April for demonstrating support for environmental protection, but runs for two weeks until May 4th. During the period of the event, we will have Nature Day Nook Miles+ activities and by completing the missions we will have the opportunity to generously increase our Nook Miles currency and receive a Hedge Fence DIY Crafting recipe.
Boy's Day (April 28 to May 5)
Items To Get: Carp Banner, Newsprint helmet
May 5 is Japanese Boy's Day (children's day) and we will also be able to celebrate it in Animal Crossing: New Horizons thanks to the addition of two new seasonal items that reproduce the typical decorations of this event.
May Day (April 29 to May 7)
Items To Get: Rover's Briefcase, Rover's Photo, Bell Vouchers
To commemorate the Worker's Day, the tour event May Day will be held on the Mystery Island again by Rover to marks the starting of May. To complete the spectacular May Day maze on Mystery island, you will receive some a bonus set of Bell Vouchers and other rewards.
Mother's Day (May 1 to May 31)
Items To Get: Carnations, Thank-You Mom Mug
During the month of May, Animal Crossing: New Horizons also celebrates Mother's Day: throughout the month you will be able to obtain an exclusive item linked to this anniversary not available in the rest of the year!
International Museum Day (May 18 to May 31)
Items To Get: Art Plaque, Fish plaque, Bug plaque, Fossil plaque
International Museum Day is an stamp race event held during the second half of May: as the name suggests, the event focuses on the museum of our island and brings with it many exclusive prizes, obtainable only in this period. The various activities planned are to be carried out inside the museum of our island: inside the various exhibition rooms, in fact, there will be stamp points, useful for filling our card: in this guide, in fact, it will be possible to find the list of all the points and directions on where to find them, as well as the prizes that can be obtained from the event.
ACNH May DIY Recipes 2022
Now May is the final month of Spring in the Northern Hemisphere, and the end of Fall in the Southern Hemisphere, so seems to transition into a new season which, means the Spring and Fall seasonal materials will be instead of all-new seasonal crafting materials very soon, so if you don't want to miss the time to make some certain items, don't forget to collect the below DIY recipes and materials which are only available in May:
Young Spring Bamboo DIY Recipes & Items (February 25 to May 31, Northern Hemisphere)
In Northern Hemisphere, this is the last month of 2022 you are able to collect the Spring Bamboo in Animal Crossing New Horizons unless you do time travel. So if you want to craft some Bamboo Set furniture by yourself, don't miss a great time.
Mushroom DIY Recipes & Items (May 1 to May 31, Southern Hemisphere)
As the southern hemisphere enters late autumn, all kinds of Mushrooms emerge from the soil under the trees, and those mushroom series items that stand out in fairy design are made of them. Even if you don't want to make the furniture, it's a good idea to gather some to taste.
Maple Leaf Season (May 16 to May 25, Southern Hemisphere)
Still in the southern hemisphere, don't forget to capture some flying Maple Leaves in the wonderful Autumn, which can be used to craft some charming Maple themed items.
ACNH May New Critters (Bugs, Fishes, Sea Creatures)
Finally, the most obvious change we can expect to see during May is of course some new critters including bugs, fish, deep-sea creatures across both hemispheres.
ACNH May New Bugs
List of new bugs arriving in Animal Crossing: New Horizons in May:
Northern Hemisphere
Animal Crossing Bugs
Location
Bug Price
Months available
Times available
Banded Dragonfly
Flying around
4500
May to October
8am to 5pm
Diving Bettle
On ponds and rivers
800
May to September
8am to 7pm
Great Purple Emperor
Flying around
3000
May to August
4am to 7pm
Pondskater
On ponds and rivers
130
May to September
8am to 7pm
Queen Alexandra's Birdwing
Flying around
4000
May to September
8am to 4pm
Rosalia Batesi Beetle
Appears on a tree stump
3000
May to September
All day
Scorpion
On the ground
8000
May to October
7pm to 4am
Violin Beetle
Appears on tree stumps
450


May to June
September to November
All day


Southern Hemisphere
| Animal Crossing Bugs | Location | Bug Price | Months available | Times available |
| --- | --- | --- | --- | --- |
| Damselfly | Flying around | 500 | May to August | All day |
| Mole cricket | Underground | 500 | May to November | All day |
| Tarantula | On the ground | 8000 | May to October | 7pm to 4am |
ACNH May New Fishes
List of new fish arriving in Animal Crossing: New Horizons in May:
Northern Hemisphere
| Animal Crossing Fish | Location | Fish Price | Months available | Times available |
| --- | --- | --- | --- | --- |
| Angelfish | River | 900 | May to September | 4pm to 9am |
| Betta | River | 2500 | May to November | 9am to 4pm |
| Catfish | Pond | 800 | May to October | 4pm to 9am |
| Frog | Pond | 120 | May to August | 24 hours |
| Giant Trevally | Pier | 4500 | May to October | 24 hours |
| Mahi-Mahi | Pier | 6000 | May to October | 24 hours |
| Nibble Fish | River | 1500 | May to September | 9am to 4pm |
| Rainbowfish | River | 800 | May to November | 9am to 4pm |
Southern Hemisphere

| Animal Crossing Fish | Location | Fish Price | Months available | Times available |
| --- | --- | --- | --- | --- |
| Bitterling | River | 900 | May to September | All day |
| Blowfish | Sea | 5000 | May to August | 9am to 4pm |
| Tuna | Pier | 7000 | May to October | All day |
| Blue marlin | Pier | 10000 | May to October, January to March | All day |
| Football fish | Sea | 2500 | May through September | 4pm - 9am |
ACNH May New Sea Creatures
List of new deep sea creatures arriving in Animal Crossing: New Horizons in May:
Northern Hemisphere
| Animal Crossing Sea Creatures | Sell Price | Months available | Times available |
| --- | --- | --- | --- |
| Sea Urchin | 1700 | May to September | 24 hours |
| Slate Pencil Urchin | 2000 | May to September | 4pm to 9am |
| Gigas Giant Clam | 15000 | May to September | 24 hours |
| Vampire Squid | 10000 | May to August | 4pm to 9am |
| Spotted Garden Eel | 1100 | May to October | 4am to 9pm |
Southern Hemisphere
| Animal Crossing Sea Creatures | Sell Price | Months available | Times available |
| --- | --- | --- | --- |
| Sea cucumber | 500 | May to October | All day |
| Sea pig | 10000 | May to August | 4pm to 9am |
| Dungeness crab | 1900 | May to October | All day |
| Snow crab | 6000 | May to August | All day |
| Red king crab | 8000 | May to October | All day |