ACNH May 2022 Events & Updates - Children's Day, Mother's Day, Cheese Rolling Day and Seasonal Items
5/4/2022 11:27:07 AM
May is here along with surprisingly challenging mazes 2022 for ACNH and a well-traveled cat, marking the final month of the season. Today we are taking a look at all the Animal Crossing New Horizons May 2022 events & updates and highlighting all of the new limited-time seasonal items that are available from the Nook Stop in honor of the real-world events.
Related Read: How To Complete May Day 2022 Maze In Animal Crossing New Horizons
Animal Crossing New Horizons May 2022 Events, Updates, Changes, Seasonal Items
May Day is underway and we have a hugely underrated stamp rally to look forward to towards the end of the month. There's still a handful of mini seasonal events that take place in the meantime. The next wave of seasonal events are returning from last year and bring with them a bunch of exclusive items that will soon be available. This is especially exciting news for new players or anyone who hasn't played through May last year but it's also a great opportunity for Veteran players to celebrate some real world events and enjoy some exclusive items. Here are the exclusive seasonal events & changes, and items associated with May.
1. ACNH Children's Day
The first seasonal event to distribute exclusive items during ACNH May 2022 is Children's day that although is traditionally celebrated in May began in April running from April 28th through to May 5th. This holiday is traditionally celebrated in Japan and other local regions with the real world event honoring children and wishing them good health. In Animal Crossing New Horizons, Children's Day introduces 2 new items including the carp banner and the newsprint helmet that are available from the Nook Stop for the duration of the event. Unlike past games, seasonal items like this are no longer region locked and are available in both hemispheres across all regions. Neither of these items are customizable, but they don't need to be because they're awesome as they are.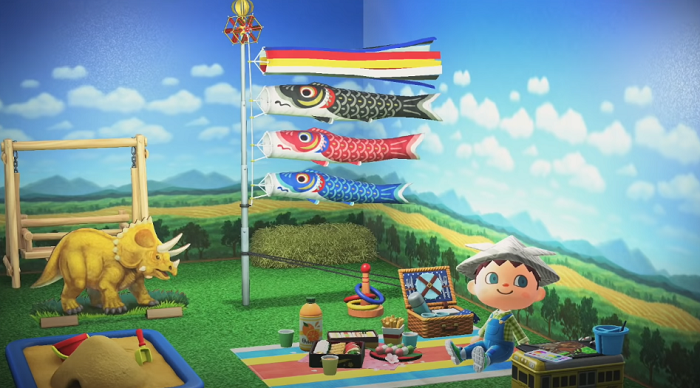 2. ACNH Mother's Day
Mother's Day is the second seasonal event to distribute exclusive items on the New Horizons island. Mother's Day begins from May 1st and runs for the entire month until May 31st which is one of the longest running seasonal events in the game. This holiday traditionally honors parents all around the world and gives us a chance to show gratitude and say thank you. At launch Mother's Day only introduced 1 exclusive item, however, an additional item was added in the April update around this time last year. Since then, Mother's Day introduces the thank-you mum mug and the carnations which are both available from the next stop for the duration of the event. Again, these items can't be customized but are a great way to celebrate Mother's Day.
3. ACNH Cheese Rolling Day
This is the third seasonal event that was also added in April's update last year alongside the new Mother's Day item. Cheese Rolling Day takes place at the end of the month running from May 22nd through to May 31st and introduces a single exclusive item. Cheese Rolling Day is super fun, introducing the double gloucester cheese item that is available from the nook stop for the duration of the event. The real world cheese rolling event is a celebration of cheese across Europe and sees people gather together to race wheels of cheese down hills. Sadly, the double gloss of cheese can't roll down inclines and isn't edible either. However, it is an awesome decorative food item and great for those who wish to celebrate cheese rolling day.
Seasonal Items Added To Animal Crossing New Horizons May 2022:
Carp Banner

Newsprint Helmet

Thank-You Mum Mug

Carnations

Double Gloucester Cheese