ACNH August Update 2022 - Events, Items, DIY Recipes & Critters In Animal Crossing New Horizons
7/12/2022 11:24:49 AM
Rewind 2022 is cruising and we're already at a brand new month as the summer sizzles on. The flowers are in full bloom and it's time for the August update in Animal Crossing New Horizons. Are you excited for the new month of Animal Crossing? In this ACNH August update guide 2022, we go through all the events, all the new items, all the new DIY, the fish the bugs, and the deep sea creatures.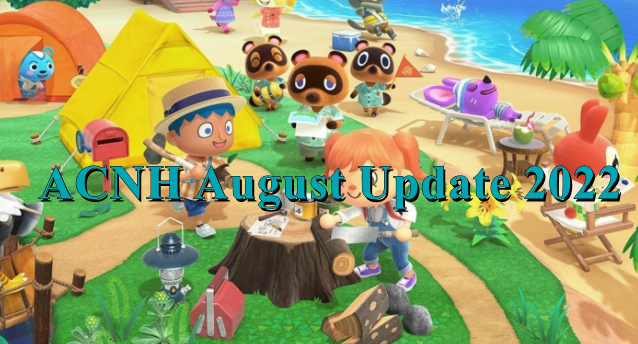 ACNH August Update 2022 - Events, Items, DIY Recipes & Critters In Animal Crossing New Horizons
ACNH August update is almost here, therefore we may expect to see some changes around the island, as well as a slew of new activities. Some of these alterations and upgrades to events and holidays are, of course, seasonal changes to DIY recipes and weather occurrences. However, not much will be changing in terms of the island's aesthetics in the near future, because we are entering the final month of summer. More than that, August brings us fresh ACNH items and events to keep us occupied.
ACNH August Events 2022
Fireworks Show Event
ACNH Fireworks Festival 2022 is held every Sunday from 7 pm to 12 AM. Luckily, we have 5 Sundays in August, the 3rd, 10th, 17th, 24th, and 31st. We have 5 opportunities to see Isabelle wear with her little boppers. Isabelle will be out of resident services for the ACNH Firework Show. Redds Raffle is going to provide quite a few new items and there's not a whole lot of complication to how you acquire them. Every Sunday, Redd will show up in the plaza. Players can pay 500 ACNH bells at Redd's Raffle booth to pull a number of random prizes.
Bug Off
Does anybody get bored of the Bug Off yet? The Bug Off is towards the end of the month August 30th, the fourth Saturday in August. And this is for the northern hemisphere only. Flick is looking really excited about the Bug Off. You can participate by talking to Flick in front of the Resident Services. From 9 am to 6 pm, you can collect bugs. You need to catch as many bugs as you can within 3 minutes. But the prizes are the same.
Obon
One of the festivals that are going to happen this month is the Obon festival. A Japanese holiday honoring departed relatives took place on August the 12th. It typically involves Cucumber horse and Cucumber cow type items.
Qixi Festival
Available during the month of August for Cowherd and Weaver Girl Day, a Chinese festival celebrating the annual rendezvous of 2 star-cross lovers. It is also observed in Japan during the Tanabata Festival. You can buy Hikoboshi and Orihime outfits from Nook Shopping.
ACNH August DIY Recipes 2022
Summer shells will be available till the end of August for northern players, who will have just finished the season. However, gamers in the southern hemisphere who are approaching the last month of winter may continue to gather snowflakes until August 26. The 27th of August will mark the beginning of the spawn of young spring bamboo for players in the last week of August. Now is the best time to craft summer shells, snowflakes, and young bamboos DIY recipes.
ACNH August Items 2022 & How To Get Them
From Redd's Raffle
There are 12 new items available via Redd's raffle and these are special because they are holdable items. If you buy into his raffle it is going to cost you a couple of ACNH bells and you have access to a Redd sparkler, a blue sparkler, a fountain firework, a bubble blower which only gives you 5 bubbles, uchiwa fan, pinwheel, tweeter, blue balloon, Redd balloon, yellow balloon, green balloon, and the pink balloon.
From Isabelle
Now you will receive a bopper from Isabelle every single time. So make sure to talk to her each show, so you can collect the star bopper, the heart bopper, the flower bopper, and the bulb bobber. As long as you hit 4 of the weekends, you will be able to collect all 4 and add to Redd's set of 12 raffle items for 16 new items. Plus you can get sparklers from residents which will be 17 items and you can get a free firework show wallpaper which is 18 items.
From Able Sisters
Able sisters have special firework clothes. So they have Casual Kimonos, Kabuki-Actor Yukata, Morning-Glory Yukata, and Zori on sale at the Able Sisters on Sundays. Not just during the ACNH Fireworks Show event, but on Sundays. You can grab these which should add even more items to our list for the August update in Animal Crossing New Horizons.
ACNH August Bugs, Fish & Deep Sea Creatures 2022
August is not a big month for the southern hemisphere in terms of creature collection. But on the northern side, we do have quite a bit to grab and quite a bit to get.
Bugs
Migratory Locust, Rice Grasshopper, Walker Cicada (Northern Hemisphere)
Tiger Beetle (Southern Hemisphere)
Fish
Soft-shelled Turtle, Moray Eel, Ray (Northern Hemisphere)
Deep-Sea Creatures
Flatworm (Northern Hemisphere)
That is what we have in this glorious month. There are a lot of new items to collect and you to get them all as fast as possible in ACNH August summer update.